10+ Fantastically Fun Things to Do in Belleville & The Bay of Quinte
Many may flock to Prince Edward County for their plethora of wines but for those looking for a change on your next Ontario road trip, I highly recommend heading a wee further north. In the heart of the Bay of Quinte lies a vibrant city with so much to offer. With plenty of history, great restaurants, a budding craft beer scene and lots of great natural spots, there are so many fun things to do in Belleville! 
Disclaimer: This post contains affiliate links where if you make a purchase, I may receive a kickback at no extra cost to you. It helps keep IBB alive so thank you!
About Belleville Ontario
Long before settlers arrived, various Indigenous nations have called this land home since time immemorial. This includes the Anishinaabe, Haudenosaunee (such as the Mohawk), the Mississauga and the Wendake Peoples. They found this area appealing due to its sheltered waters and easy access to Lake Ontario and therefore the Great Lakes as well as the abundance of natural resources such as fish and other animals. There is evidence that an Anishinaabe/Mississauga village first stood here known as Asukhknosk.
1789 marked the first large arrival of settlers when approximately 50 United Empire Loyalists began to lay roots. Captain John Waldern Meyers was the most notable of them as he established a sawmill, gristmill and distillery as well as operating a trading post and brick kiln. Quickly the community drew additional settlers and it became known as Meyers' Creek. A little over a decade later, England's demand for timber had Belleville transforming into a buzzing lumber town. 
FUN FACT: When Lieutenant-Governor Sir Francis Gore visited in 1816, his wife Lady Arabella referred to it as 'la belle ville'… and the city became known as Belleville!
With the arrival of the Grand Trunk Railway in 1856, Belleville was then directly linked with Montreal and Toronto. This increased trade and the railway quickly became the city's largest employer. In the late 1900s, the lumber trade began to decline which meant other industries began to boom such as furniture making, wagons and carriages. As time has progressed, Belleville has attracted a number of different industry sectors including but not limited to various automotive production elements, production of household personal care products… and tourism!
You can read more about the history of Belleville here.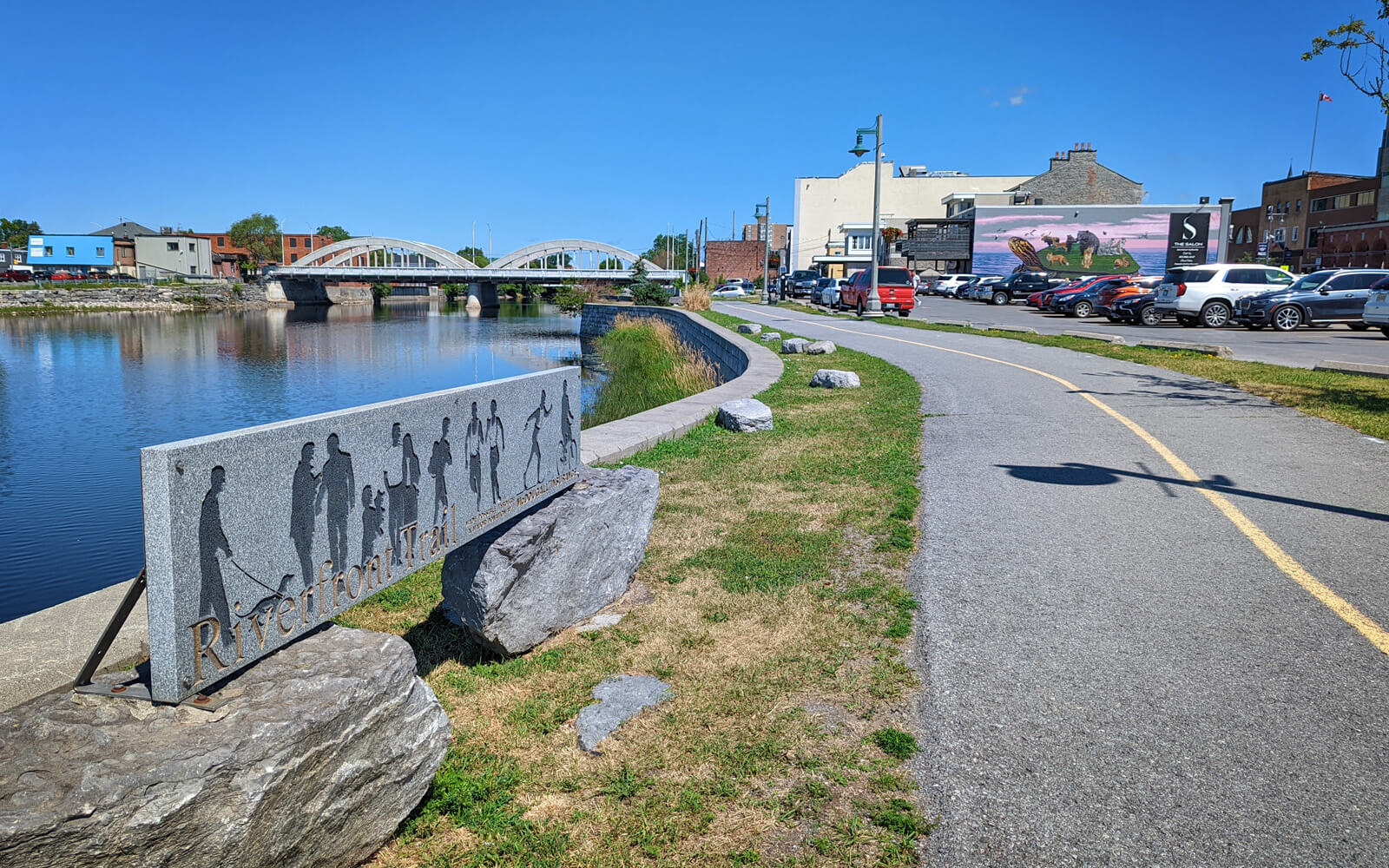 Fun Things to Do in Belleville
As the name says, Belleville is a beautiful city with lots to offer. Whether you're a history buff, enjoy some quality nature time, like to shop or have foodie tendencies, there are plenty of fun things to do in Belleville!
Stroll Belleville's Waterfront Trails
This is honestly one of the biggest assets Belleville has to offer. I was absolutely blown away by the beauty of their trails! If you're going to explore any of them, it has to be the Parrott Riverfront Recreational Trail. Following the banks of the Moira River, this 1.6 kilometre paved trail follows the edge of downtown, giving you direct access to a number of shops and restaurants. 
My favourite of the trails I explored was definitely the Kiwanis Bayshore Recreational Trail. Part of the Waterfront Trail that runs along the shores of Lake Ontario, this 2.75 kilometre long path stretches from the Meyers Pier Marina through Jane Forrester Park to East Bayshore Park and the Herchimer Boat Launch. This trail is popular for both walking and cycling so be aware of your surroundings and share the path.
Another great option is around Zwick Centennial Park as 3.25 kilometres of paved trails wind their way around the edges of the park. Not only will you enjoy beautiful views of the Bay of Quinte but there are picnic areas, playgrounds and plenty of benches around. This is also where you'll find the Quinte Dog Park in case your furry family member is looking to make some new friends!
Whichever trails you choose to explore, be on the lookout for Belleville's peace poles. These subtle pieces of art serve as a reminder that people of all cultures, races and religions are welcome in the city!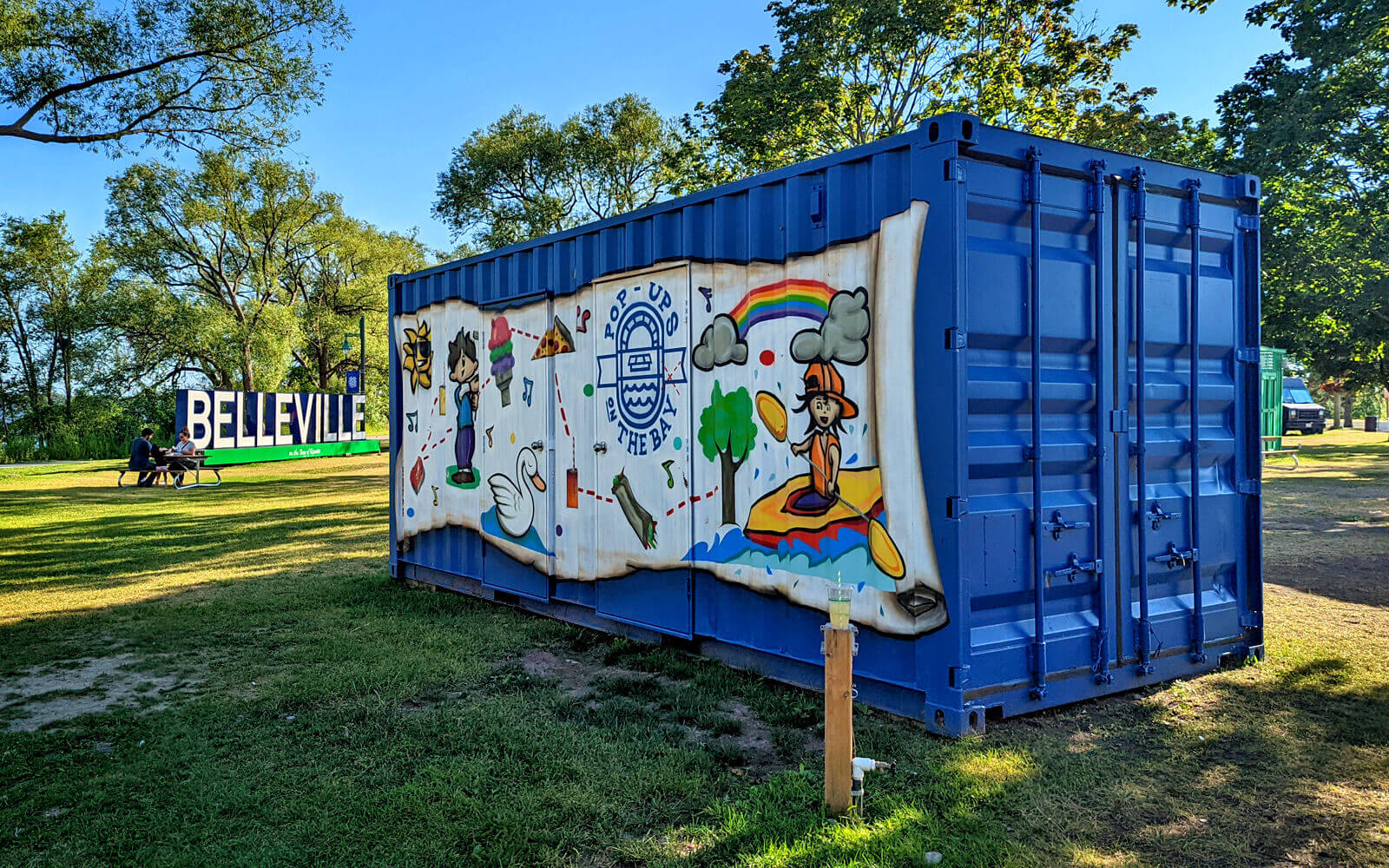 Check Out the Pop-Ups on the Bay
Speaking of Zwick Centennial Park, the summer months mean the Pop-Ups on the Bay are back! Located specifically in West Zwick's Park, visitors will be treated to a variety of foodie experiences from sweet to savoury and everything in between. Whether you're looking to grab a bite to eat or a cool beverage on a hot day, there's something delicious to be found.
You'll also be treated to some beautiful murals as 14 artists from the region have painted masterpieces on the sides of the shipping containers that are scattered throughout the park. Not only do they nod to Belleville's history and culture but they make perfect backdrops for all the food photos and selfies you're going to take. Don't deny it – we all know you will.
Lastly, there are also some activities on hand to enjoy during your visit! Venture Outfitters is on hand to help you get out on the water. Rent a canoe, kayak or stand-up paddleboard for some splashy summer fun! If you'd rather stay on land, there's always a round of mini putt waiting for you. You can find out more about the pop-ups here.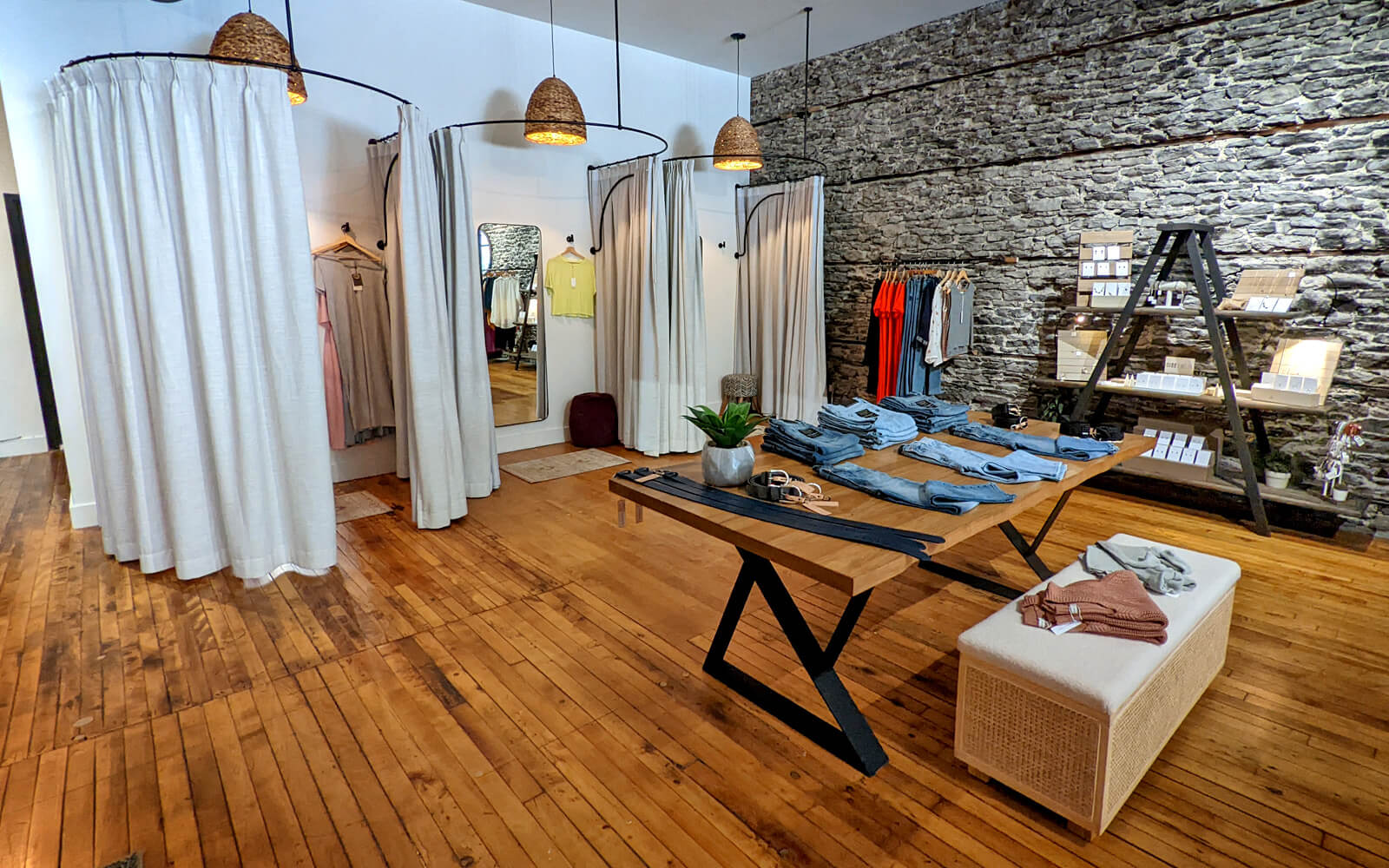 Go Shopping in Belleville
All along Front Street, you'll find a menagerie of boutique shops in the heart of downtown Belleville. Pop in and out of whatever catches your eye but here are a few that I adored and some I'll be checking out during my next visit.
Pure Honey Boutique is an adorable women's clothing store with a variety of items that are cozy yet chic. The owner, Jess, carefully curates the collections she carries and chooses a limited amount of each brand and style to ensure there's something fresh and new every time you visit. You'll also find cute accessories and small gifts in-store.
Happy Buddha Gifts Wellness & Health is an eco-friendly shop with a variety of items from kitchen supplies to skin care. Definitely spend some time perusing the store as they carry a number of unique lines that are kind to the planet. I picked up a few items from Bee by the Sea while I was there and I have to say, I'm definitely over the moon with my purchase thanks to the help of their kind staff!
MO|CO General Boutique features adorable items for babies and kids as well as the moms who raise them. Whether you're looking for self care items, clothing or treats for you and the little one, there's something to be found at MO|CO. Plus, when the store motto is 'love you more' and is meant as a reminder to love yourself more, you know you're in good hands.
She's High on Vibes is the place to go if you're looking to make some changes and achieve your goals and dreams. This Indigenous creator has transformed herself and her life from one of living in fear to one of living in wonder. She's commited to providing every one of her clients with the knowledge, understanding, accountability and support in a safe space where all human beings are accepted exactly as they are. I'm so sad I missed checking out Melissa's store but it'll be one of the first stops I make upon my return!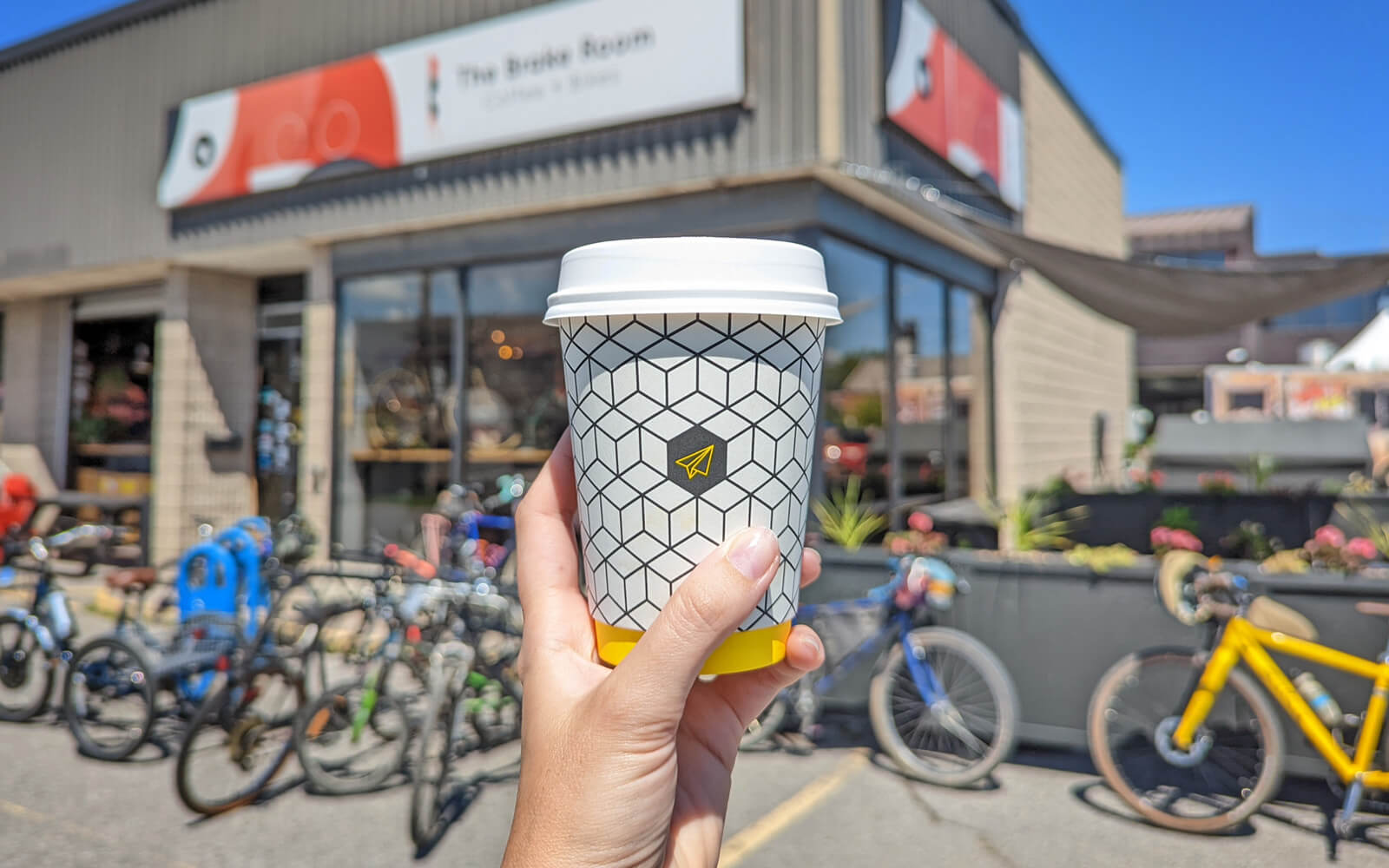 Grab a Coffee From The Brake Room
Wandering around is always better with a coffee in hand! At the corner of Pinnacle and Dundas, you'll find The Brake Room where bike shop meets cafe. You'll find a plethora of bikes on hand and a wide range of accessories from patch kits to bike seats and anything you may need for a bike tune-up. While the emphasis is certainly on the bike shop aspect as it encompasses the majority of the space, The Brake Room has a cute little patio for those of us who come for the coffee.
I'm not an avid cyclist by any means (full disclosure – I can barely ride one) but it was fascinating to walk around the shop and check out all the gear. Of course, I couldn't resist grabbing something caffeinated so I had their Blume Reishi Hot Cacao latte which is top notch. It might sound weird to you but reishi is a mushroom that offers soothing, stress relief qualities and paired with the tasty serotonin-boosting cacao and a kick of coffee, it's a fantastic pick me up for your day!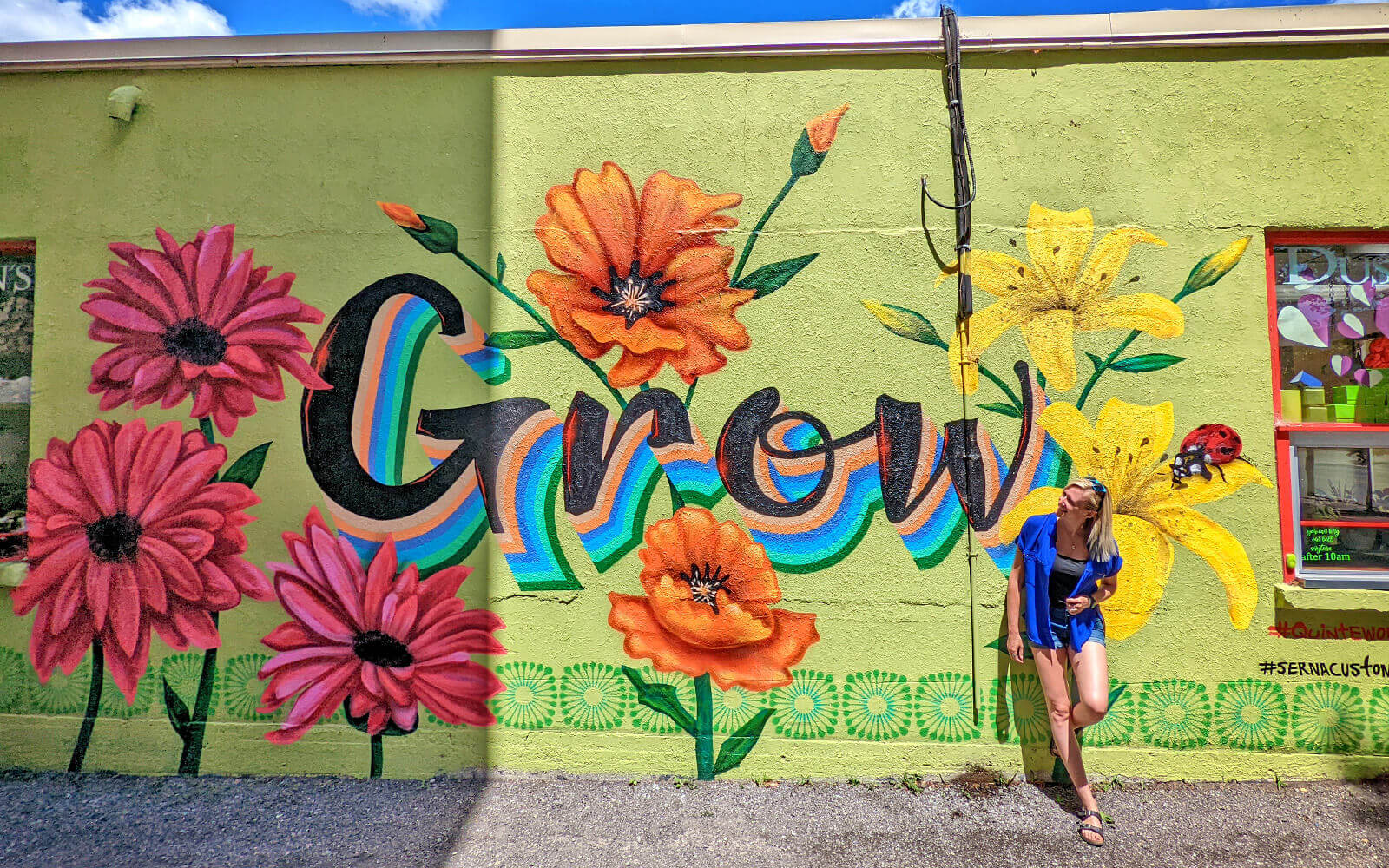 Hunt for Street Art
Now that you have a latte in hand, let's continue to wander in downtown Belleville – keeping your eyes peeled for vibrant street art! You'll find a number of beautiful murals and sculptures along Front Street and the Riverfront alone. Here are some of the mural I spotted with their locations so that you can enjoy these masterpieces as well!
The grow mural pictured above is located on the side of Flowers by Dustin on Front Street. Fitting for the shop, don't you think? You'll find an ode to Belleville on the side of Ekort Realty just down the road from the grow mural. There's also one with wild animals on the back of a turtle on the side of The Salon, also on Front Street. One of the most important murals in the city, the Every Child Matters piece, is on the side of The Smokin' 116 Bistro & Bar. Of course, there are the aforementioned Pop-Ups on the Bay that has some beautiful works of art on their shipping containers so don't forget that!
I'm sure there's plenty that I missed so if you know of one I haven't mentioned, please pop it into a comment below so I can see it next time I visit Belleville!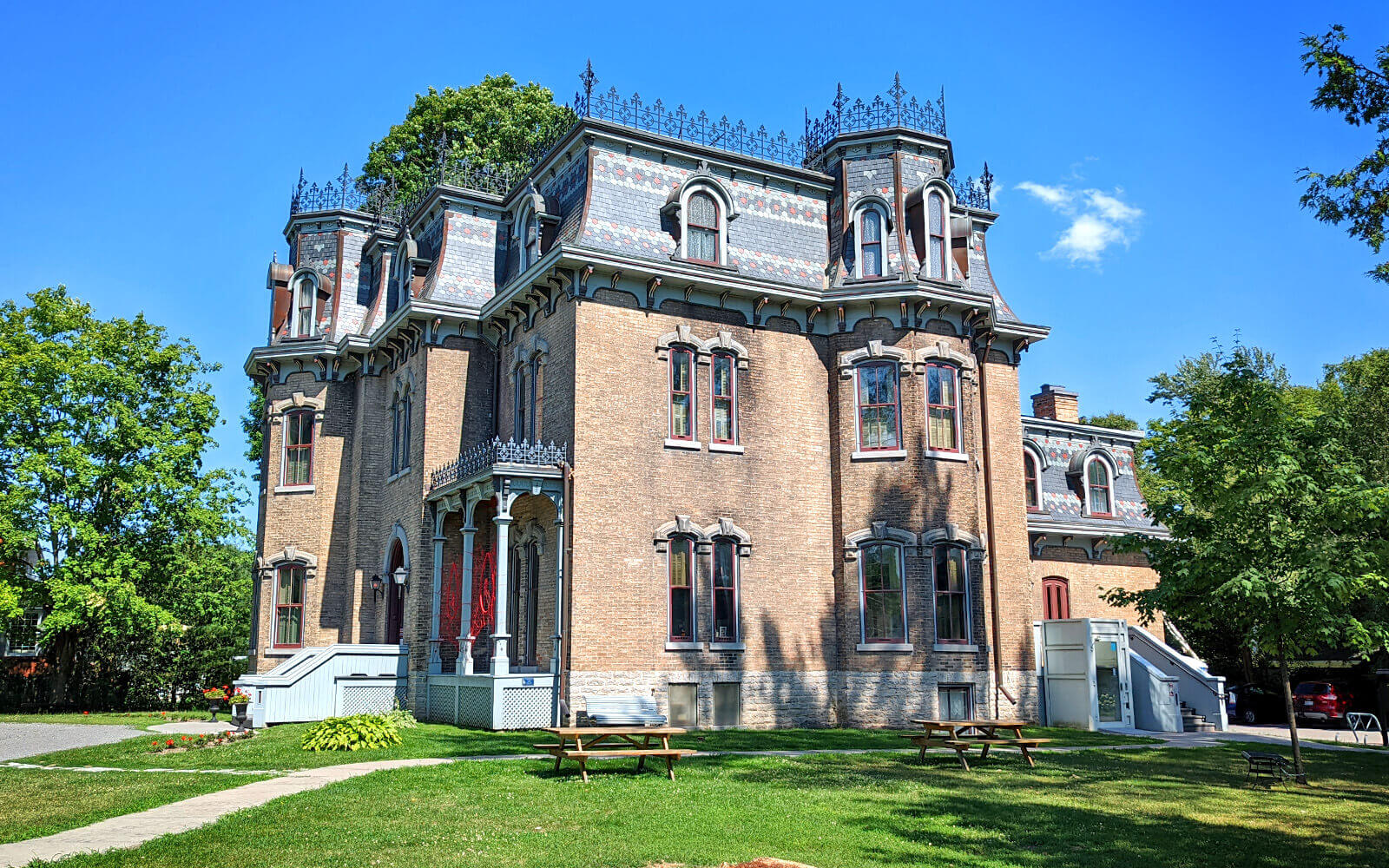 Visit the Glanmore National Historic Site
For over 50 years now, Glanmore National Historic Site has been preserved as it's a spectacular example of Second Empire architecture. This style of architecture is best recognized by how it utilizes a number of different historical styles in a decorative way as it incorporates modern materials like glass skylights and ironwork. It was designed by local architect Thomas Hanley for J.P.C Phillips, a wealthy banker, and his wife with construction being completed in 1883. 
Since its historic designation in 1969, the Glanmore National Historic Site has had extensive restoration work done so that it accurately depicts what the house would have looked like when the Phillips family lived here in the 1880s. You'll enjoy a self-guided tour with your admission fee, however staff are always on hand to answer any questions you may have about the exhibits. Don't forget to try your luck at Glanmore's "Find Flattie Hattie" scavenger hunt if you're visiting with the little ones!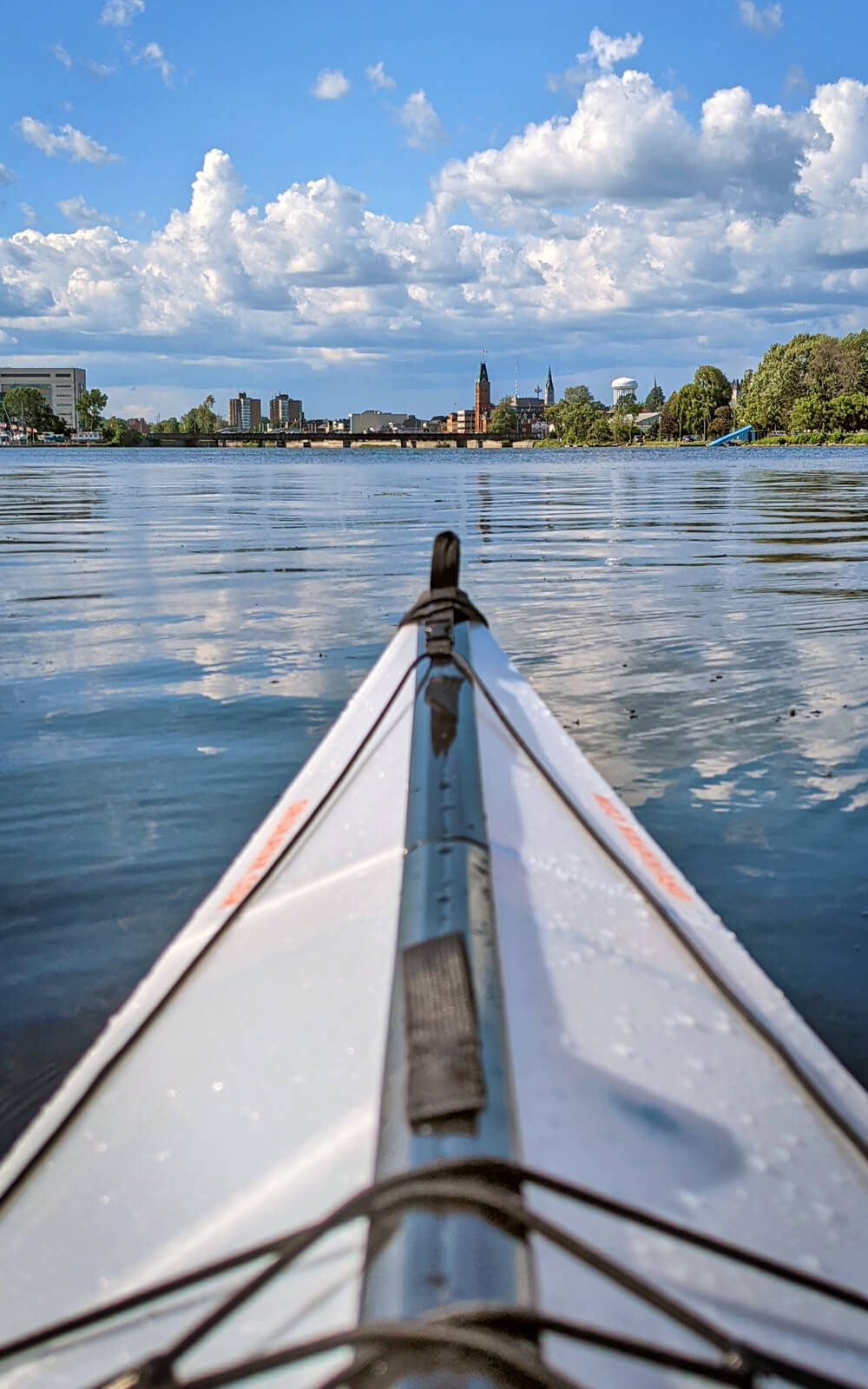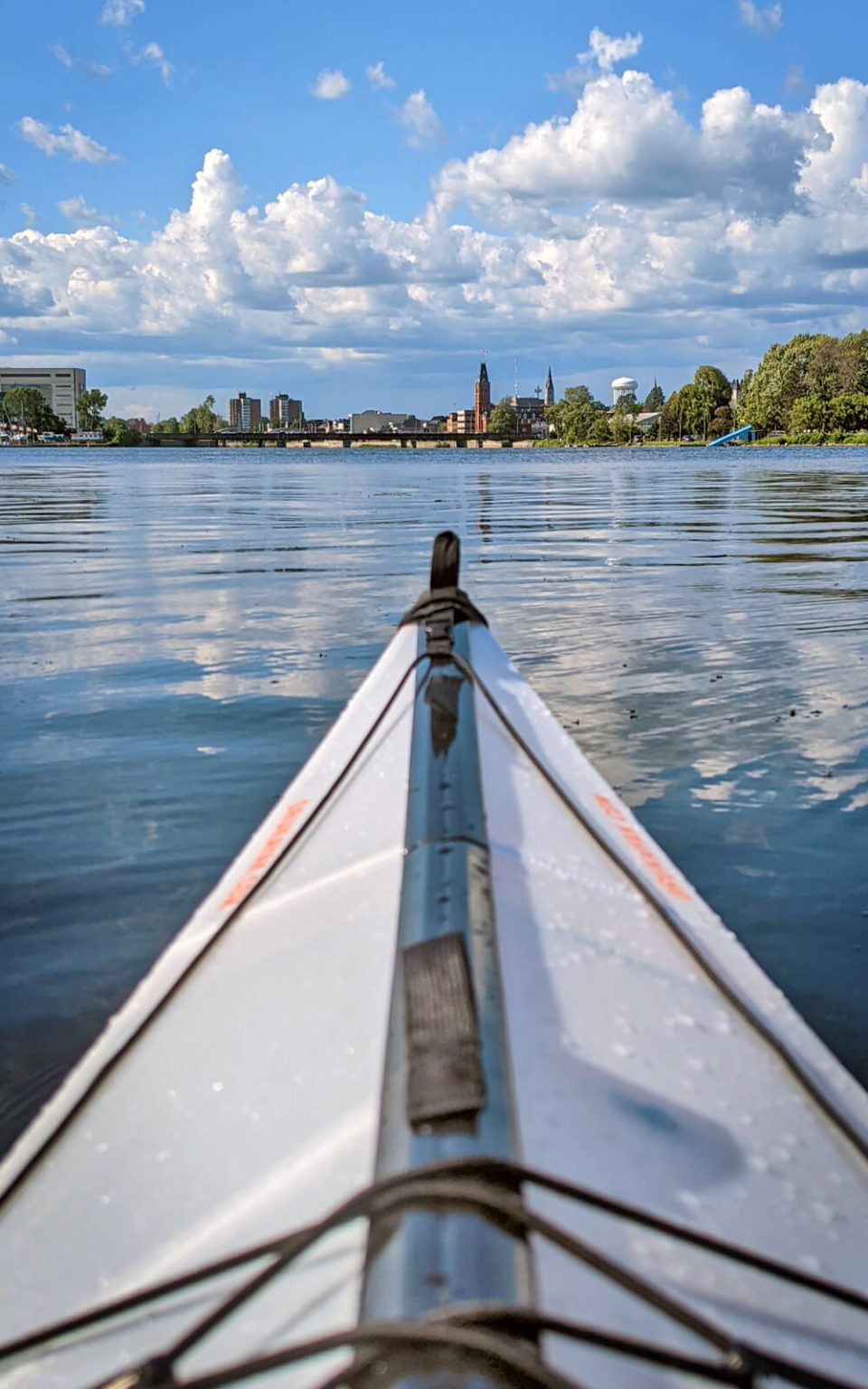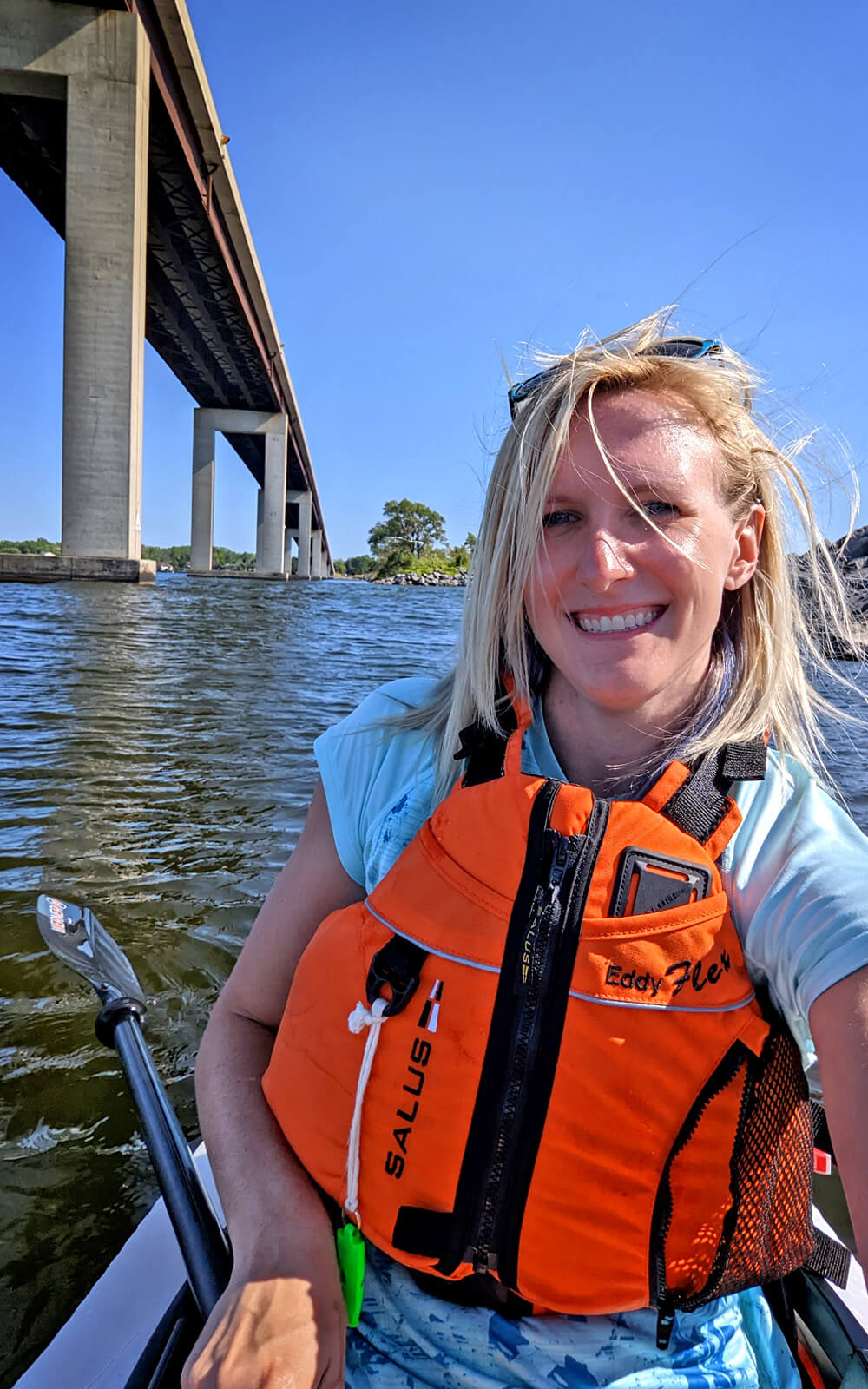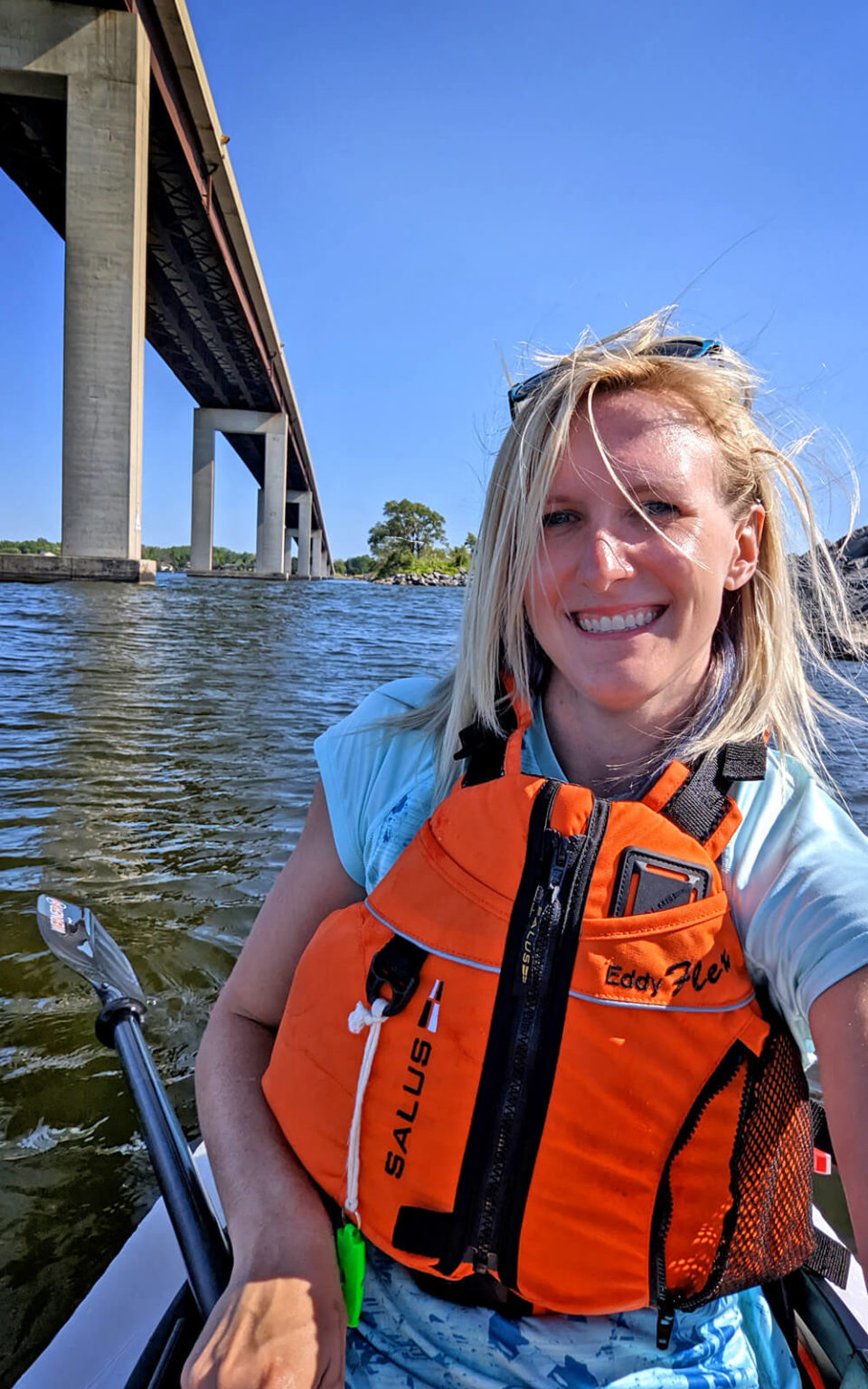 Do Some Paddling in Belleville
One thing I love about the Bay of Quinte is how easy it is to get out on the water – and Belleville is no exception! If you have your own vessel like I do, head to the George Street Boat Launch right beside Jane Forrester Park. There's plenty of free parking, benches, washrooms and a cantine – making it the perfect spot to set sail!
From here you can follow the shoreline along the Bay of Quinte or you can head towards the heart of town along the Moira River. One thing to note is that there is a popular marina here so you'll want to keep an eye on your surroundings, especially on weekends when the waterway can be busy!
If you don't have your own canoe, kayak or stand-up paddleboard, that's no problem at all. If you head to the Pop-Ups at West Zwicks Park, that's where you'll find the aforementioned Venture Outfitters who will be happy to get you suited up for a day on the water.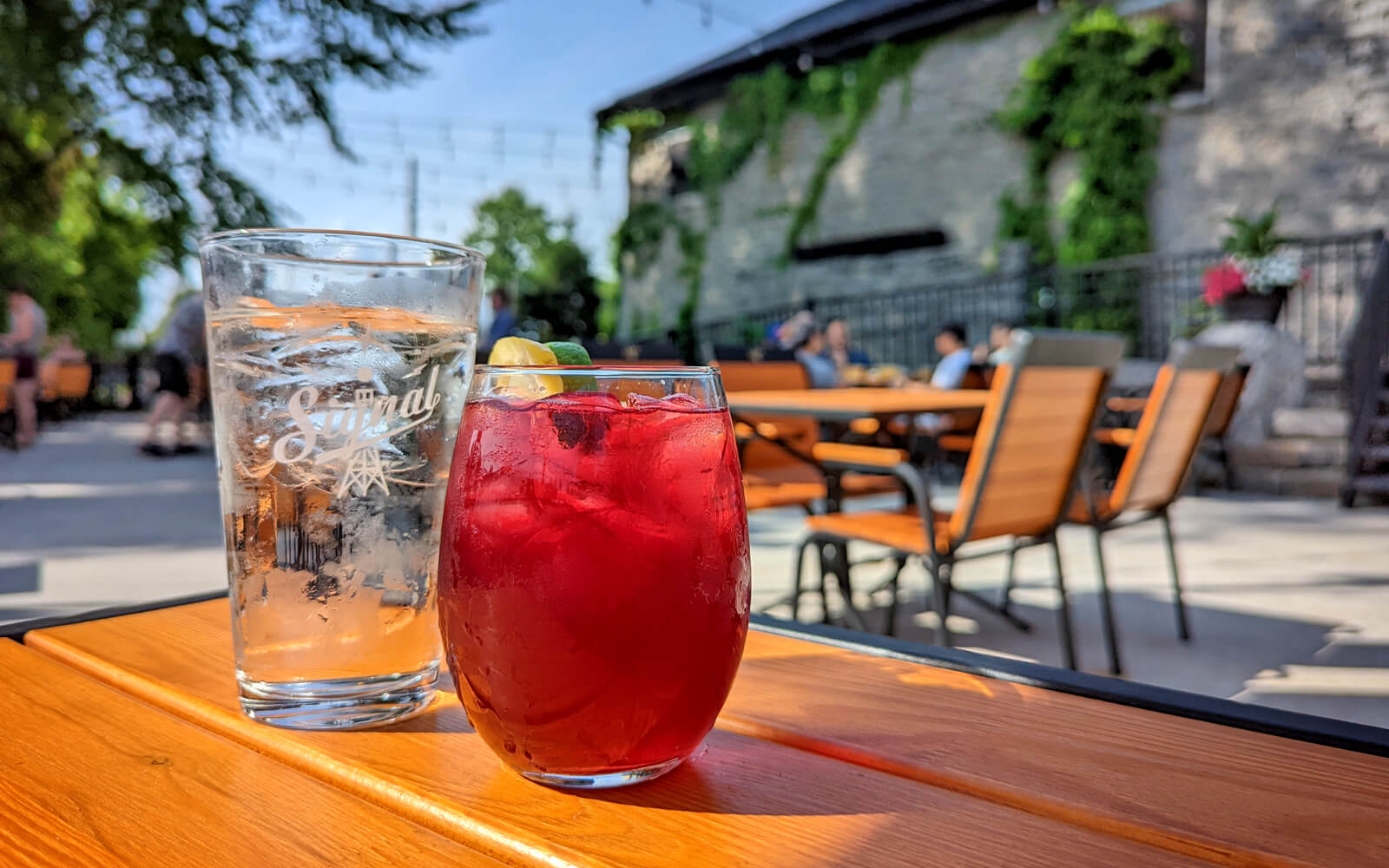 Things to Do Near Belleville
While there are lots of things to do in Belleville proper, there are a few destinations outside the downtown core that are worth driving out to visit!
Grab a Beer Cocktail at Signal Brewery
Signal Brewery is keeping the history of spirit-making alive in the Bay of Quinte! About a 10 minute drive north of downtown Belleville, this beautiful complex is in the heart of the historic Corbyville distillery district. While they aren't making whiskey like the good ol' days, they're serving up fantastic beer where you can taste the love and passion in each brew!
Step inside to admire the beautiful architecture of the original whiskey plant. The grand ceilings and exposed brick are a sight to behold! In the summer though, that's when Signal Brewery shines. Their patio is located along the shores of the beautiful Moira River, offering breathtaking sunset views with adorable hanging lights twinkling above you come nighttime. Both on the patio and inside, you'll notice that the majority of the tables are communal. This is on purpose as Signal Brewery believes in bringing the community together so you never know what new friends you may make during your visit!
One thing I really love about Signal Brewery is that they get creative with their beverages. While a pint or a flight is always a good idea, I highly recommend giving one of their beer cocktails a whirl. I absolutely loved their Signal Volt Sangria made with whatever is on tap for their Volt Sour series. Another refreshing option is their Volt Wave, a mixture of their Volt Sour and their Wave New England Pale Ale. I didn't get a chance to try their shandy this visit but it's first on my list when I head back to Belleville! 
I should also note that if you find yourself at Signal Brewery for an extended period of time, definitely indulge in their food menu. They have some fantastic items and often daily specials that focus on farm to table, meaning their offerings will always be fresh and delicious!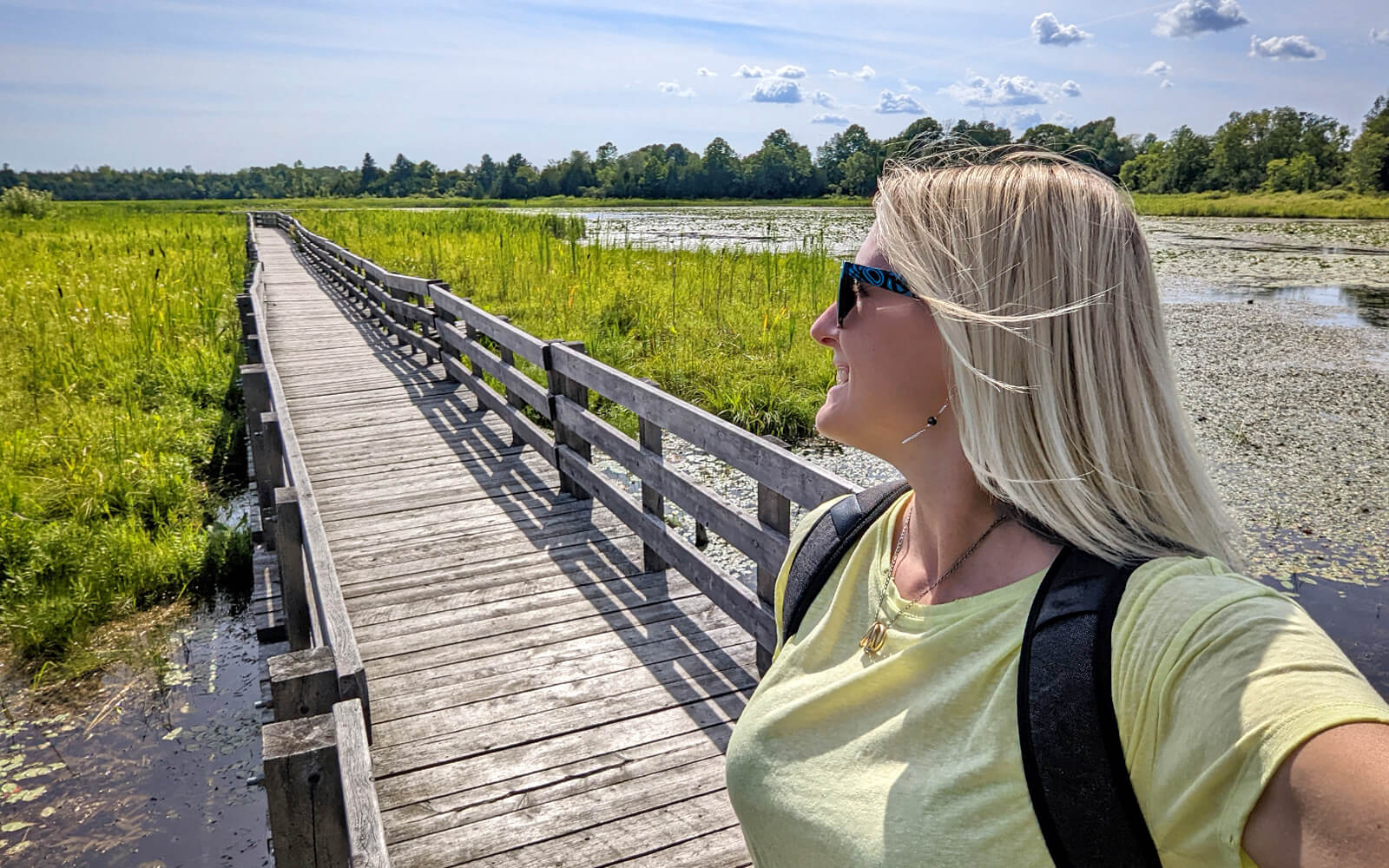 Hike at the H.R. Frink Conservation Area
Home to 12 kilometres of trails, the H. R. Frink Conservation Area is a great spot to get out for a hike near Belleville. Located along Thrasher Road, the area is divided into two areas. To the north, you'll find an education centre that is very popular with local school boards as well as eight interlinking trails that will take you along the Moira River and through mature hardwood forests as well as a silver maple swamp. On the south side, you'll find five trails including the area's popular Wetland Ecology Boardwalk.
The park is home to over 25 native species of trees so be sure to keep an eye for them along the Woodland Trail! If you're exploring with little ones, keep an eye out for the fairy homes scattered throughout the north side of the park. This is definitely one of the great things to do in Belleville for families!
SOMETHING TO NOTE: This is a spot where you will NOT want to forget bug spray – and yes, I'm speaking from experience. The horse flies are relentless and will follow you along the trails so be prepared!
While both the north and south sides are open to the public, parking is found only along the south side. Take a look at the H.R. Frink Conservation Area trail map to plan your route.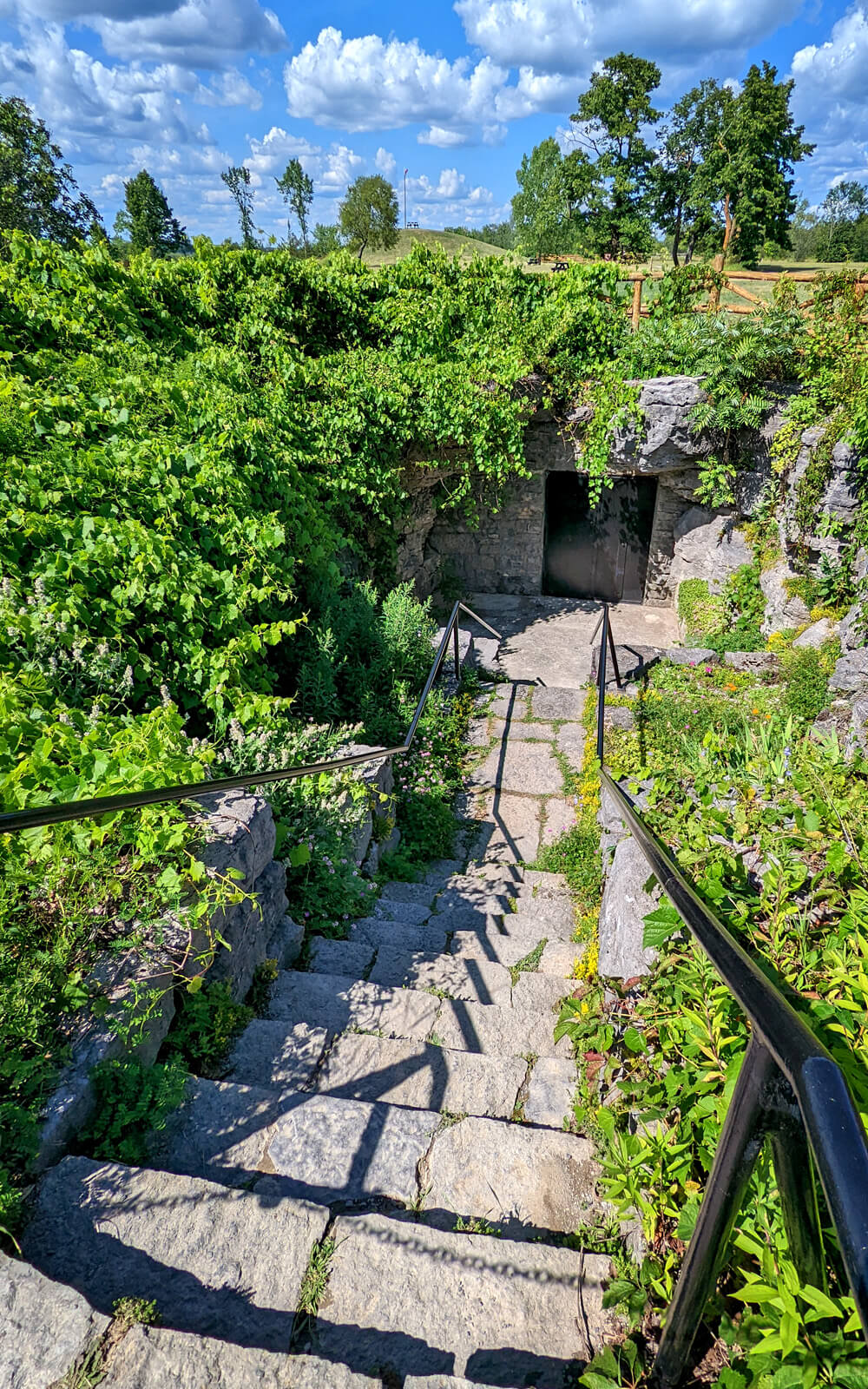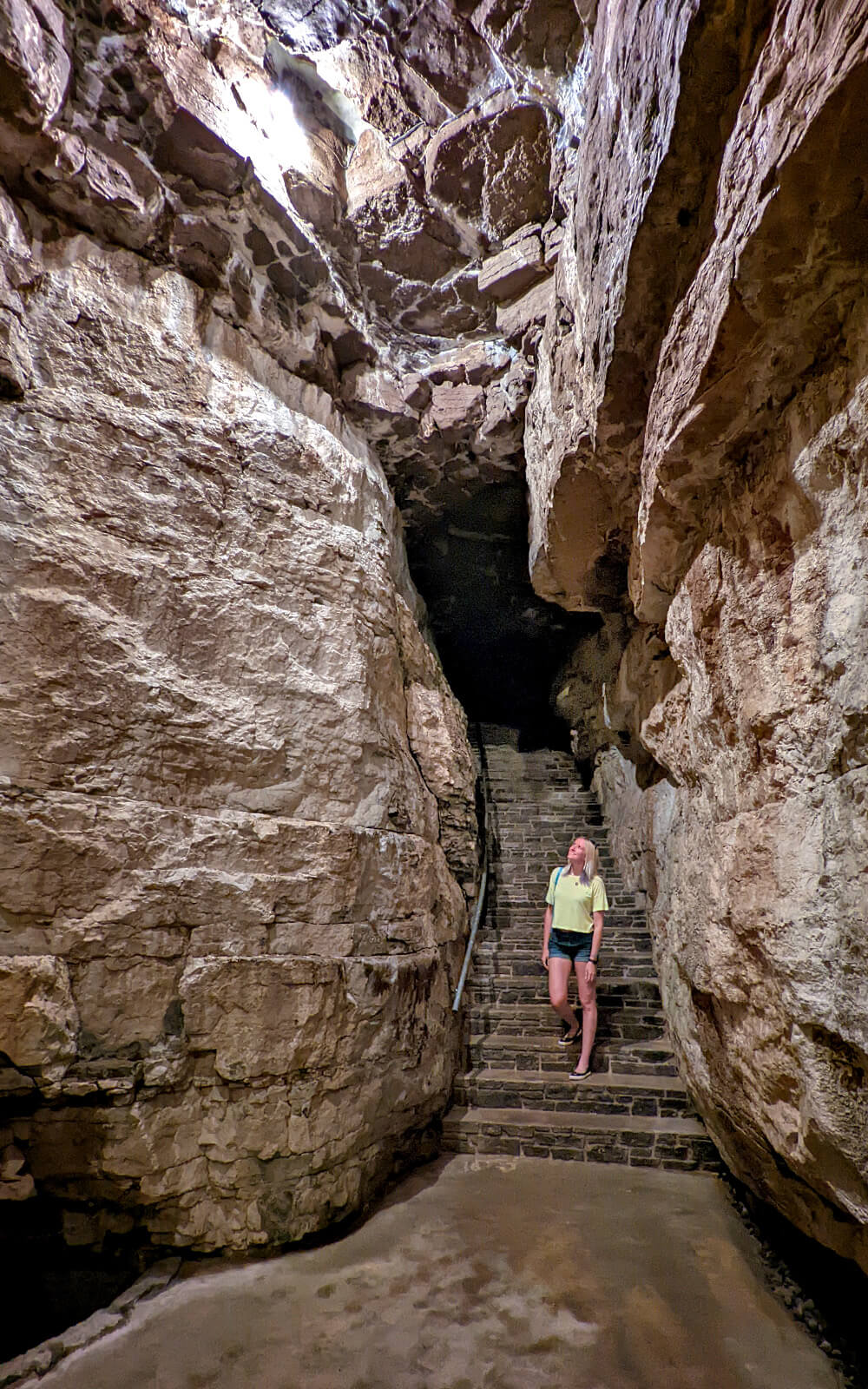 Go Underground in the Tyendinaga Caverns
Say hello to the largest known naturally formed caverns in all of Ontario! The Tyendinaga Caverns has been giving visitors the opportunity to go spelunking for 14 seasons and counting! 
Enjoy a guided tour of the property as you're educated on some of the area's history as well as the caverns below the surface. Your journey will begin as you peek at fossils found either in the caves or on the surrounding property dating back to 300-400 million years ago! Follow your guide as you walk across the top of the caverns that you will be descending into later on, learning about sink holes and other caves that aren't yet accessible to the public. Then you'll descend 10 metres below the surface as you enter the main cavern.
Stalagtites, stalagmites and flowstone – oh my! You'll see a number of geological wonders as you explore the underground caves. Enjoy the reprieve from the heat on a hot summer day as you admire the natural formations around you. If you're not claustrophobic, try squeezing your way through the tiny side passage to get up close and personal with the stone walls. 
Once you're done exploring underground, you'll reappear at the earth's surface. Take a moment to check out the lookout at the top of the hill for a view of the property and then stroll along the walking trail before departing for your next stop in Belleville.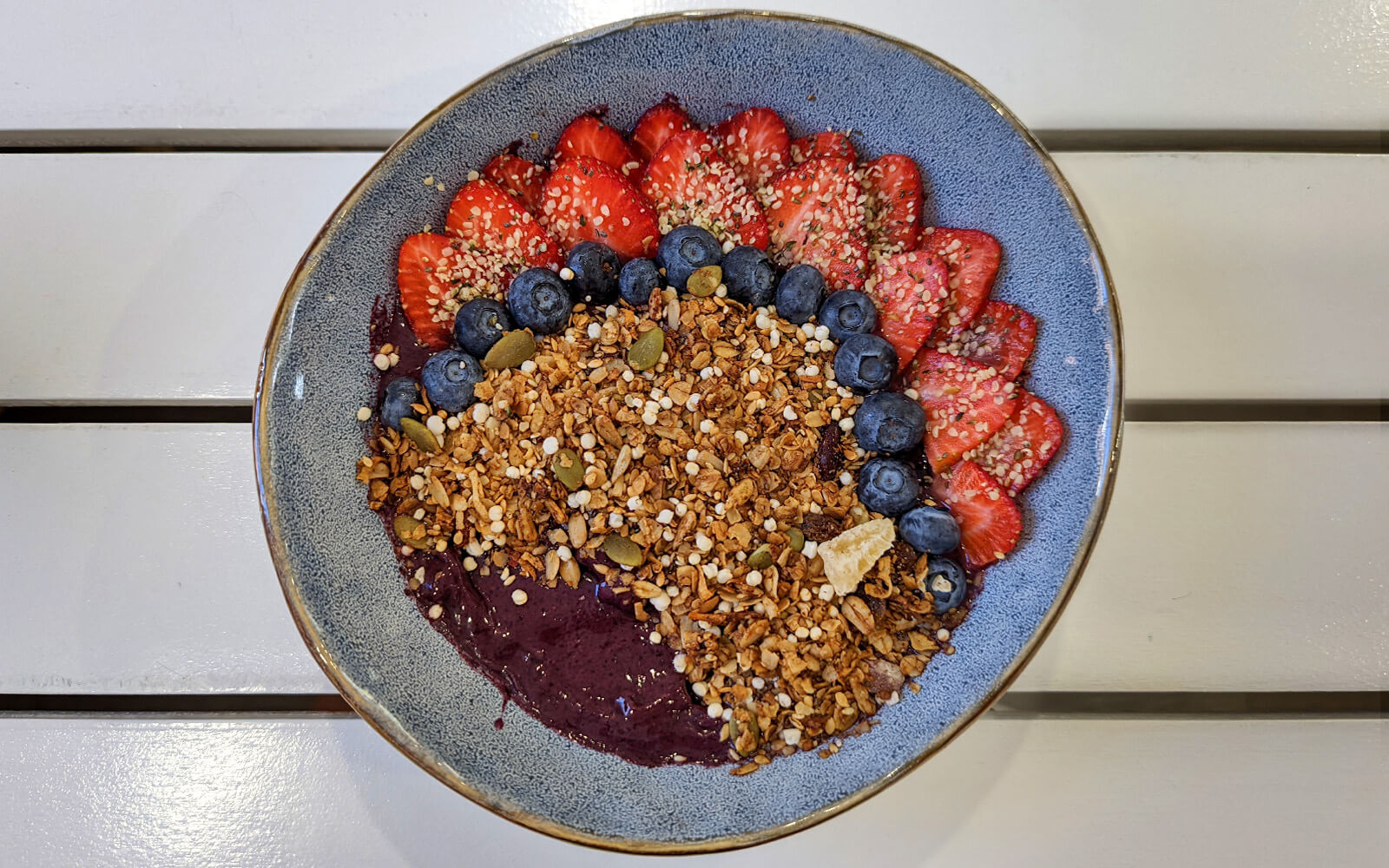 Belleville Restaurants to Eat At
As you can imagine, there is only so many hours in a day and only so much room in my belly. However, you can guarantee that these restaurants in Belleville are delicious as they have been tried and tested by yours truly! Once I return to the city, you can bet that I'll be updating this list with even more great Belleville Restaurants to fuel your adventures in the Bay of Quinte.
Tropical Blends Cafe
Looking for that peaceful vibe that comes with being in the tropics without having to travel too far? Look no further than Tropical Blends Cafe on Pinnacle Street!
Owners Emily and Charles were inspired by their magical vacations to Hawaii. They always left with a sense of never wanting to leave that 'aloha' lifestyle… so they brought it to Belleville! Opening just five months ago at the end of February 2022, these new kids on the block are knocking it out of the park.
While the perfect way to start your day is with one of their 'The Mermaid One' smoothie bowls, if you're in a hurry then you have to get their Aloha Latte. This Hawaiian-inspired latte consists of delicious espresso and steamed milk with a healthy dash of macadamia nut syrup. On those hot summer days, having this iced is a delicious way to cool off!
Also, I recommend following them on Facebook or Instagram as they sometimes post secret menu items that you won't want to miss out on.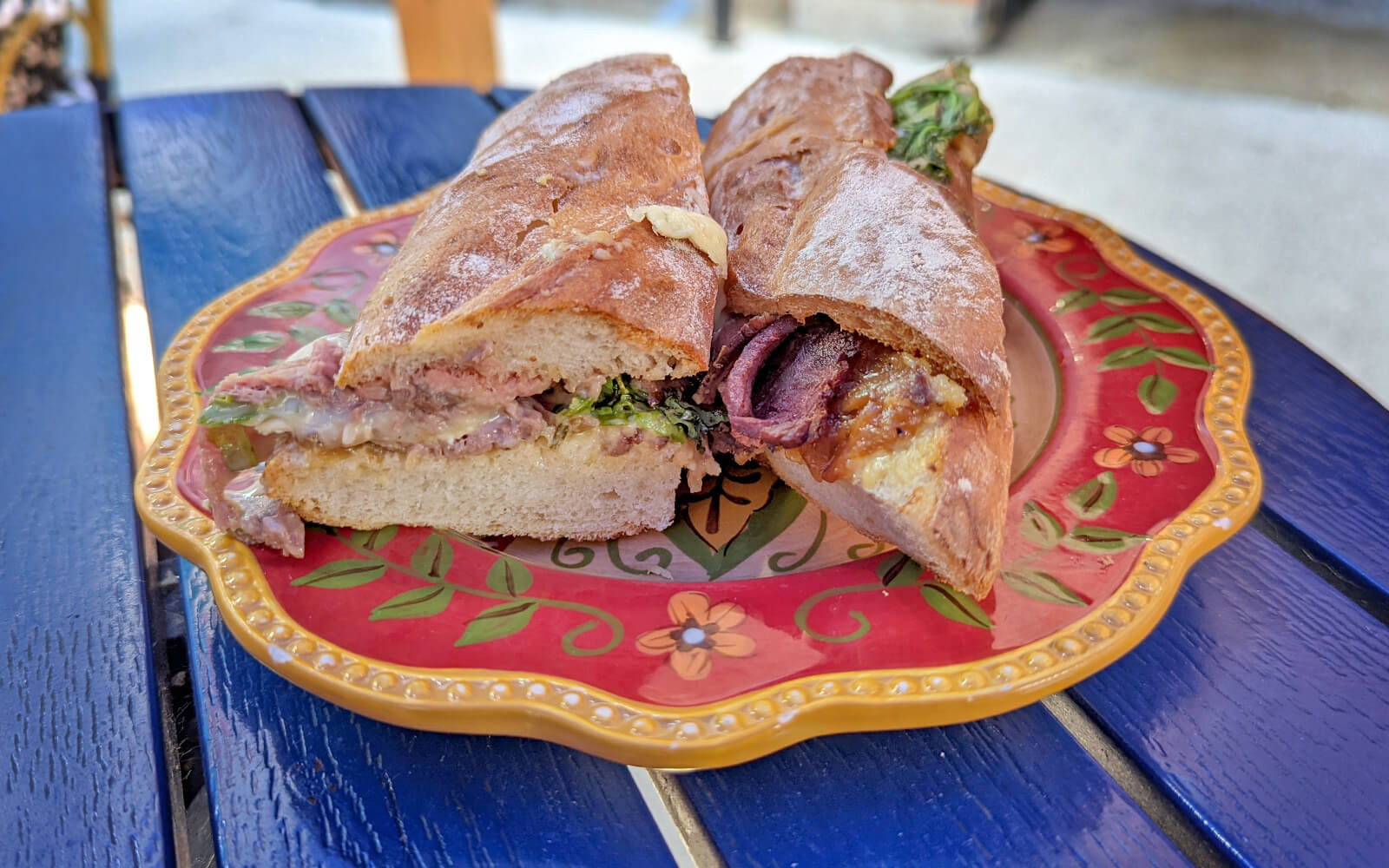 L'Auberge de France
When I saw how adorable L'Auberge de France's sidewalk patio was, I couldn't resist grabbing lunch here! Enjoy a little taste of Paris courtesy of Chef Jean-Marc Salvagno. Originally from Avignon, France, he was trained at the Brevet d'Études Professionnelles de Cuisine and owned a highly respected restaurant with a focus on Provencal dishes. Not only this but he's been a member of the French Sommeliers Union for almost 40 years now. No wonder everything is such high quality with these credentials!
For the last 14 years, Jean-Marc and his wife Sheranda have been making croissants and bread fresh by hand. This takes their incredible sandwiches to the next level such as their French Parisian Baguette and Roast Beef. Bursting with top quality roast beef, it's topped with roasted garlic paste, caramelized onions, arugula and Brie cheese as it's surrounded by their incredible sourdough baguette. You can also find quiches, fish and vegetarian options on the menu.
If you don't have a meal planned here during your time in Belleville, at least pop by as they have a number of gourmet items for sale that you can take to go like imported cheese, charcuterie, pastries, wine and more!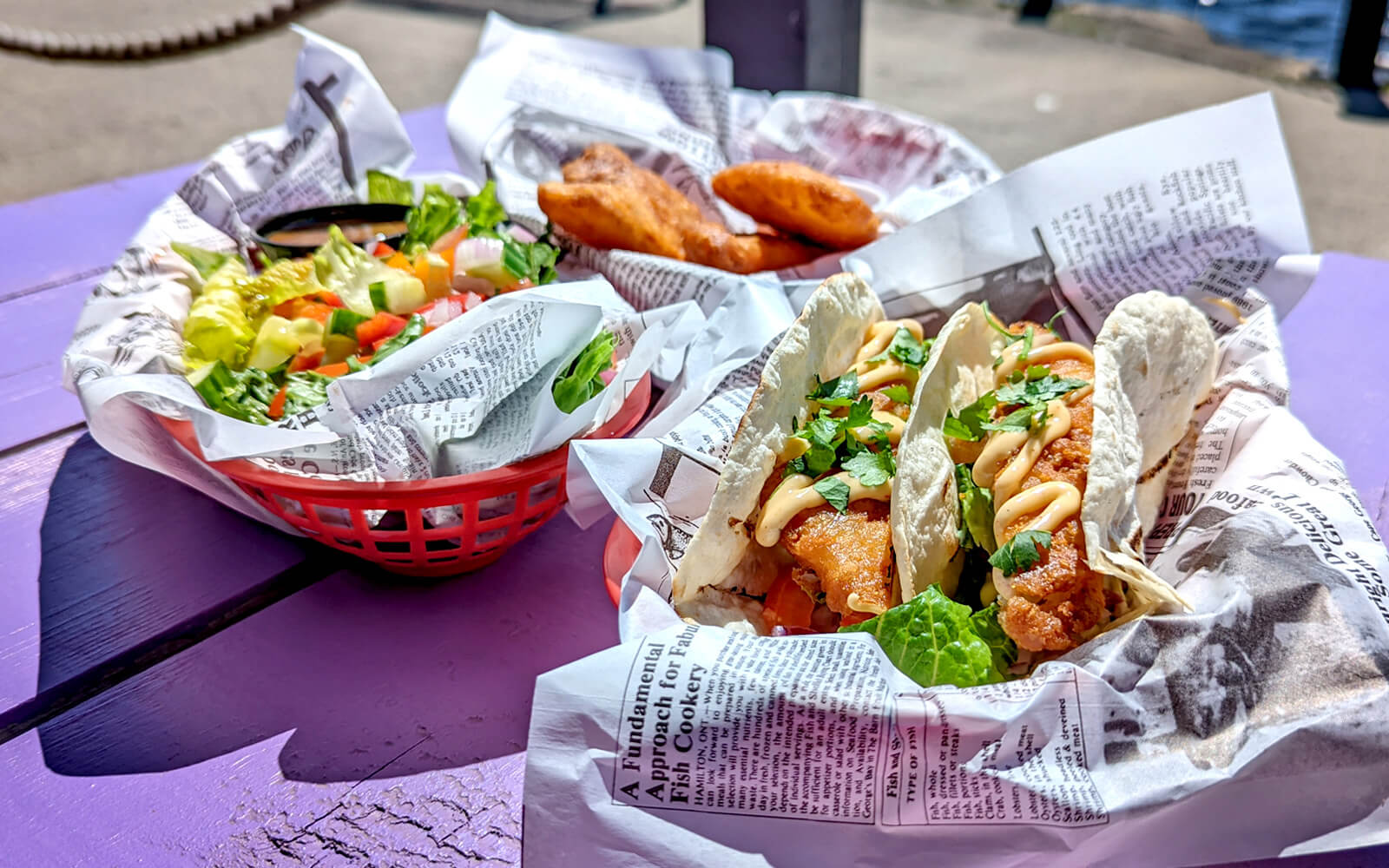 Pier Patio Bar & Grill
Settle into one of the colourful picnic tables and watch the boats go by along the Bay of Quinte! Located at the tip of Meyer's Pier, the Pier Patio Bar & Grill is a great low-key spot to enjoy a beverage or two and some solid eats.
They have a decently sized menu with a number of shareable pub style items like deep fried pickles and onion rings and a few mains with a heavy focus on wraps. I started with the Alaskan Wild Pollock and I was really surprised not just at how large they were but how they were perfectly fried. Think chicken finger but fish instead! Afterwards, I had their Baja Fish Tacos which had a great flavour and again, plenty of fish in each taco. Also, their side salads are an impressive size for only $6-$7!
INSIDER TIP: If you're a fan of poutine, pop in on a Tuesday and you'll save $2 on their classic, bacon, donair, or Philly cheese steak poutines!
What you don't want to miss though are their frozen drinks. While a strawberry daiquiri and pina colada are always a good choice, give one of their unique cocktails a go. I absolutely loved the Mermaid's Kiss with vodka, melon, blue curacao and lime. Definitely the perfect patio drink on a hot summer day!
They also claim to have Belleville's best sunset view so if you're looking for a spot to end the night with some live music on Saturdays, you'll want to keep the Pier Patio Bar & Grill top of mind for your Belleville adventure!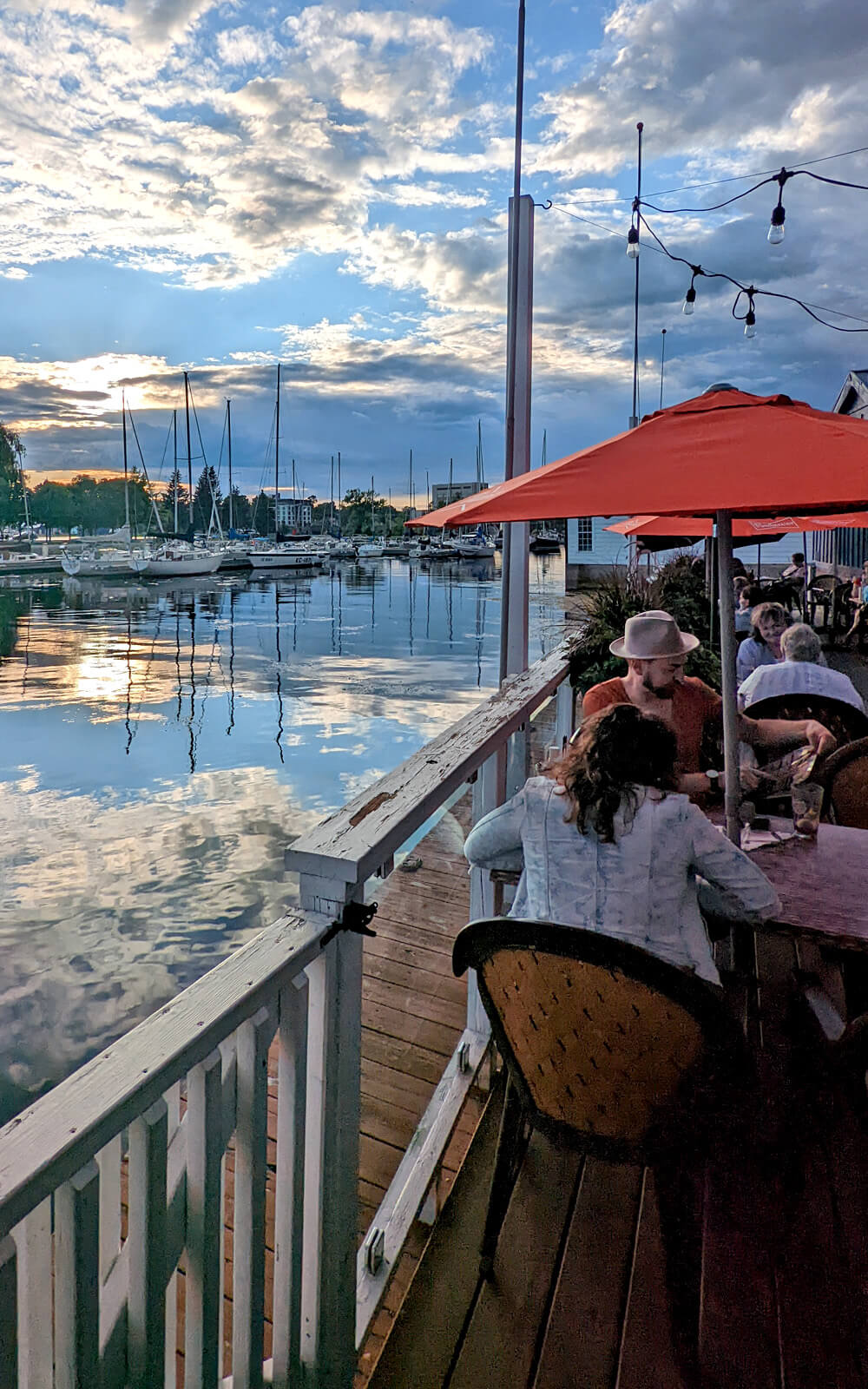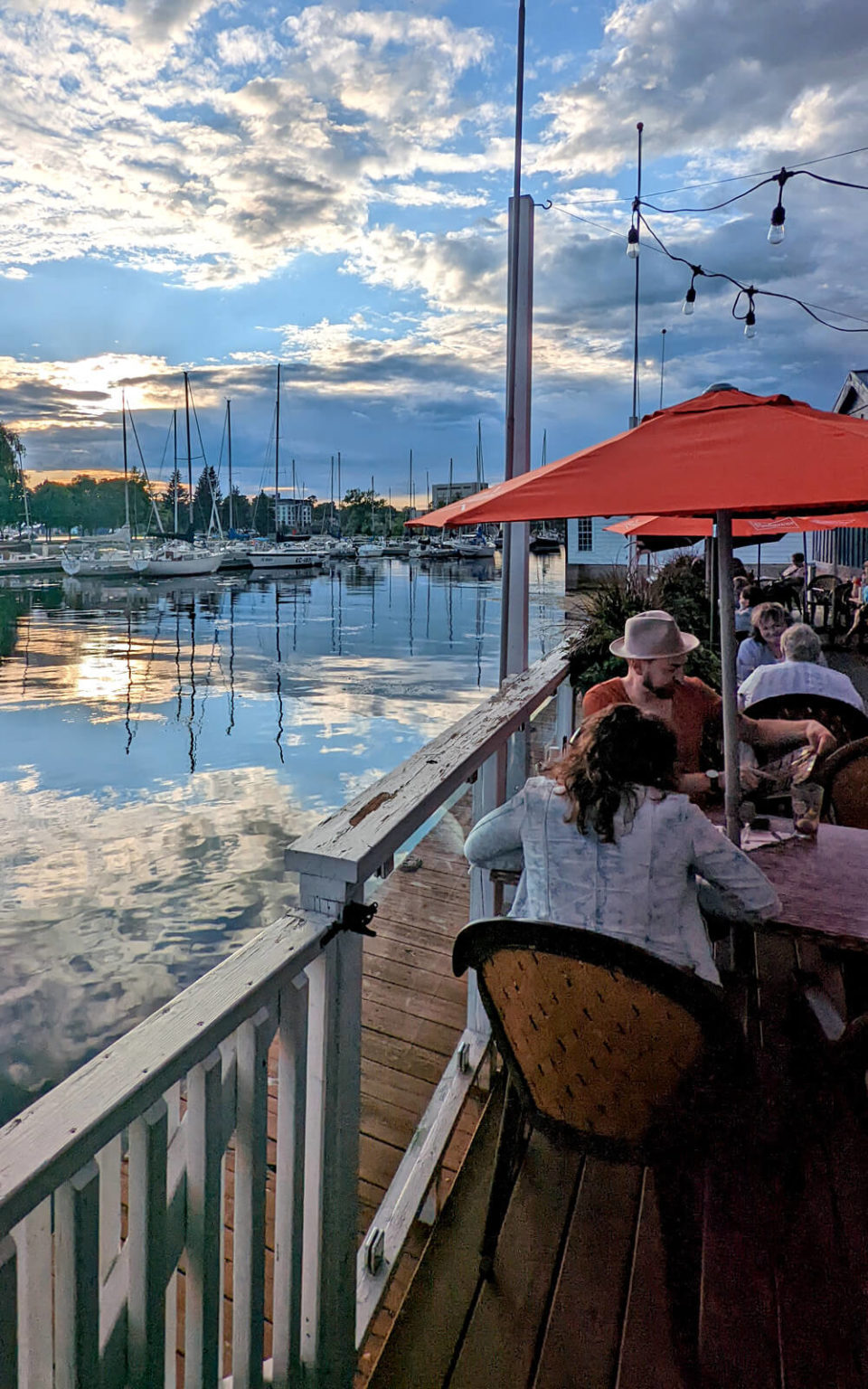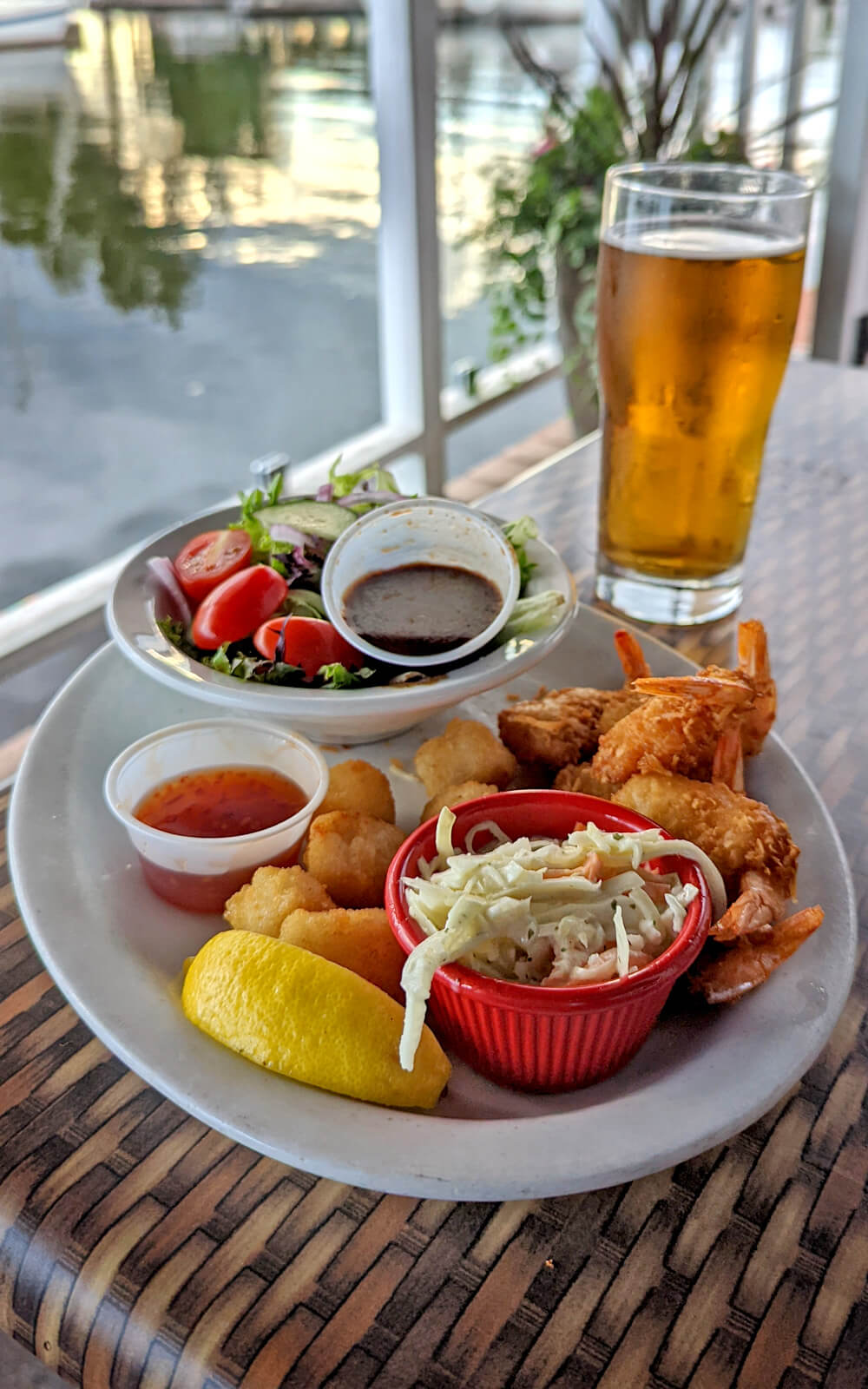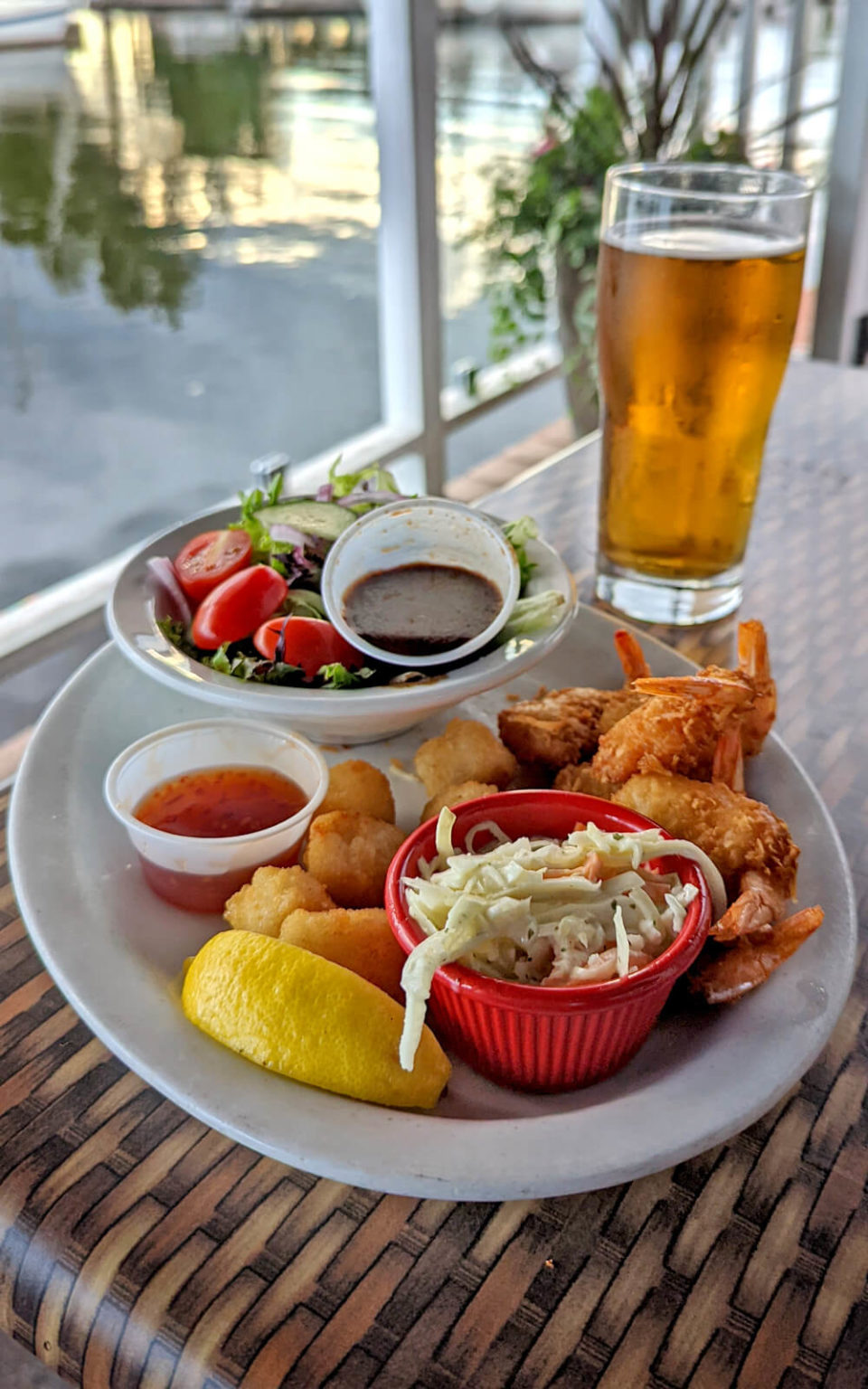 The Boathouse Seafood Restaurant
To get your seafood fix, there's no other restaurant in Belleville to visit than The Boathouse. A staple along Victoria Harbour for 20 years now, they've been crowned with a number of accolades such as Quinte's Favourite Readers Choice Seafood Restaurant 17 years as well as 2019's Best Seafood Restaurant in Ontario at the Ontario Food Awards!
Don't be alarmed at how massive their menu is as there are pages and pages of deliciousness awaiting you. From fish to scallops to lobster and everything in between, I guarantee you'll find something on there to satisfy your appetite. They have some unique items on their menu that you won't find elsewhere such as their PEI Mussels in their Creole sauce. Even if you're pretty much married to garlic and white wine, trust me and give this a go – I forever regret ever doubting my server Amanda because the flavours are just incredible!
While a number of items on the menu are deep fried like you'll see on the Admiral's Platter (it is SO delicious though), there are some healthier options like soups and salads that you can add your choice of protein to. And for you crazy people that come to a seafood restaurant and want beef or chicken, don't worry as they have menu items to fill your belly.
Be sure to ask your server about their daily food and drink specials and if you're able to snag a seat on a Saturday night, your ears will be treated to live music. Also, the Boathouse is open year-round and has some fantastic winter offerings as you can skate right on Victoria Harbour as long as Mama Nature cooperates!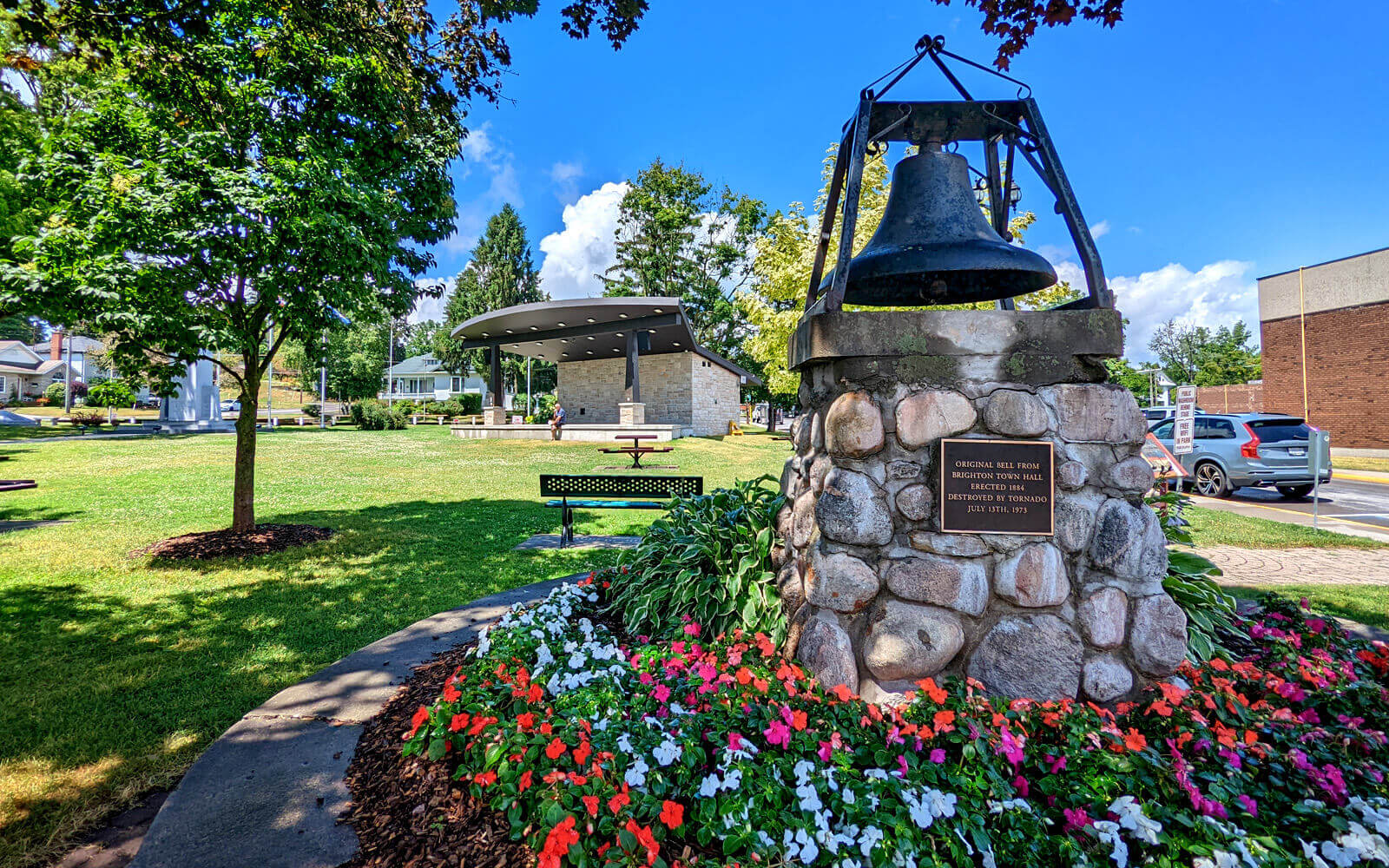 Things to Do in the Bay of Quinte
The Bay of Quinte encompasses the communities of Brighton, Quinte West, Belleville, Tyendinaga and Napanee. As you can imagine, Belleville is a great spot to call home base as you explore these other destinations. Here are some ideas of things to do in each of them once you're looking to get out of Belleville!
Things to Do in Brighton
Let's begin with a day of fun in the adorable town of Brighton. If you're coming in from Toronto, Niagara or that direction, this is your entry point into the Bay of Quinte!
What better way to start your day than with Lola's Cafe. A staple in the core of Brighton for 13 years and counting, their focus is fuelling your body with local, healthy and organic eats with their farm-to-table cafe. Vegetarians, vegans and those who are gluten-free, you'll find plenty of options at Lola's! While I am none of the above, I can confirm they make incredible breakfast muffins with a fried egg, tomato, pesto mayo, cheddar and greens along with the option to add bacon (do it!). Their coffee (sourced from The County Roasters in Picton) is incredible as well and I highly recommend their iced red velvet latte!
With coffee in hand, take a stroll along Main Street and explore some of the adorable shops you'll see in the heart of town. Enjoy a stroll through Memorial Park where you'll spot the bell from Brighton's original town hall that was decimated by a tornado in 1884. This is also where you'll find the town's Cenotaph so take a moment to pay your respects to those who sacrificed their lives so that we may enjoy the freedoms we have today.
FUN FACT: During the summer, this is where Brighton has their Concerts in the Park series. Here you can enjoy live bands at the grandstand for free! Just grab a blanket or some lawn chairs and enjoy every Wednesday evening from June 1st to August 31st. Check out the line up here.
Just a few blocks north, you'll find the Proctor House Conservation Area. This is a great spot to stretch your legs and enjoy a lovely stroll through nature by Butler Creek. On the property, you'll find the area's namesake, the Proctor House. It was built in 1853 by Isaac Chamberlain Proctor and then later expanded by his son, John E Proctor who was a prominent businessman in Brighton. It now operates as a museum where you can learn more about the family history as well as the evolution of Brighton.
Stomach starting to grumble? Head to the waterfront and grab a seat on the patio of The Whistling Duck! Located right beside the Presquile Marina, you'll be treated to beautiful views of the bay as you indulge in a bite to eat from their vast menu. Soups, salads, sandwiches, fish, steak, burgers – you name it, chances are they've got it! I highly recommend their seafood linguine as not only is their rosé sauce incredibly flavourful but it's bursting with lobster, shrimp, PEI mussels and crab. 
Once your belly is full, it's time to head to Presqu'ile Provincial Park. It might not be very big as it covers just over 9 kilometres squared but it has plenty to offer! The park is quite flat meaning it's fantastic for cyclists, offering both paved and unpaved trails. This also lends well to hiking as the park offers six trails of various lengths. Of course, paddling and fishing are fantastic here with all that water surrounding the park! Bring your own vessel or rent a canoe from the park store during your visit. It's very easy to spend an afternoon enjoying all Presqu'ile has to offer. Don't forget to check out the lighthouse before you depart!
Chances are you worked up an appetite with all that fun in the sun so settle in for a fantastic dinner at The Gables Restaurant. Dating back to 1872, this house is one of the oldest in Brighton! While it has been a private dwelling for most of its life, it was converted into the beautiful restaurant you see today in 1996. Focusing on meat and pasta dishes, everything on the menu is crafted with care. The half rack of lamb melts in your mouth and is served with mashed potatoes, grilled vegetables and a blueberry red wine reduction. Bursting with flavour, this dish offers the perfect mix of sweet and savoury!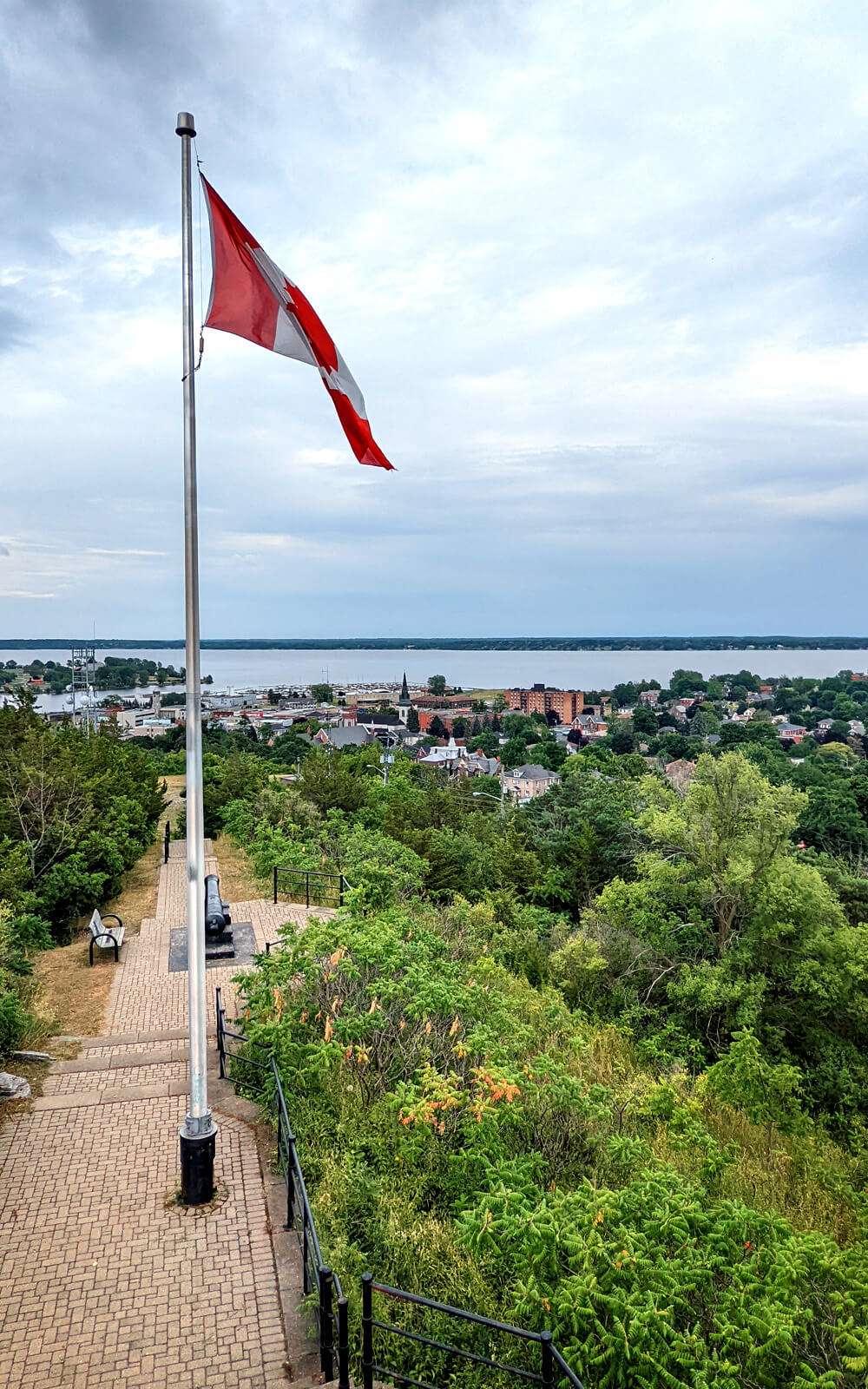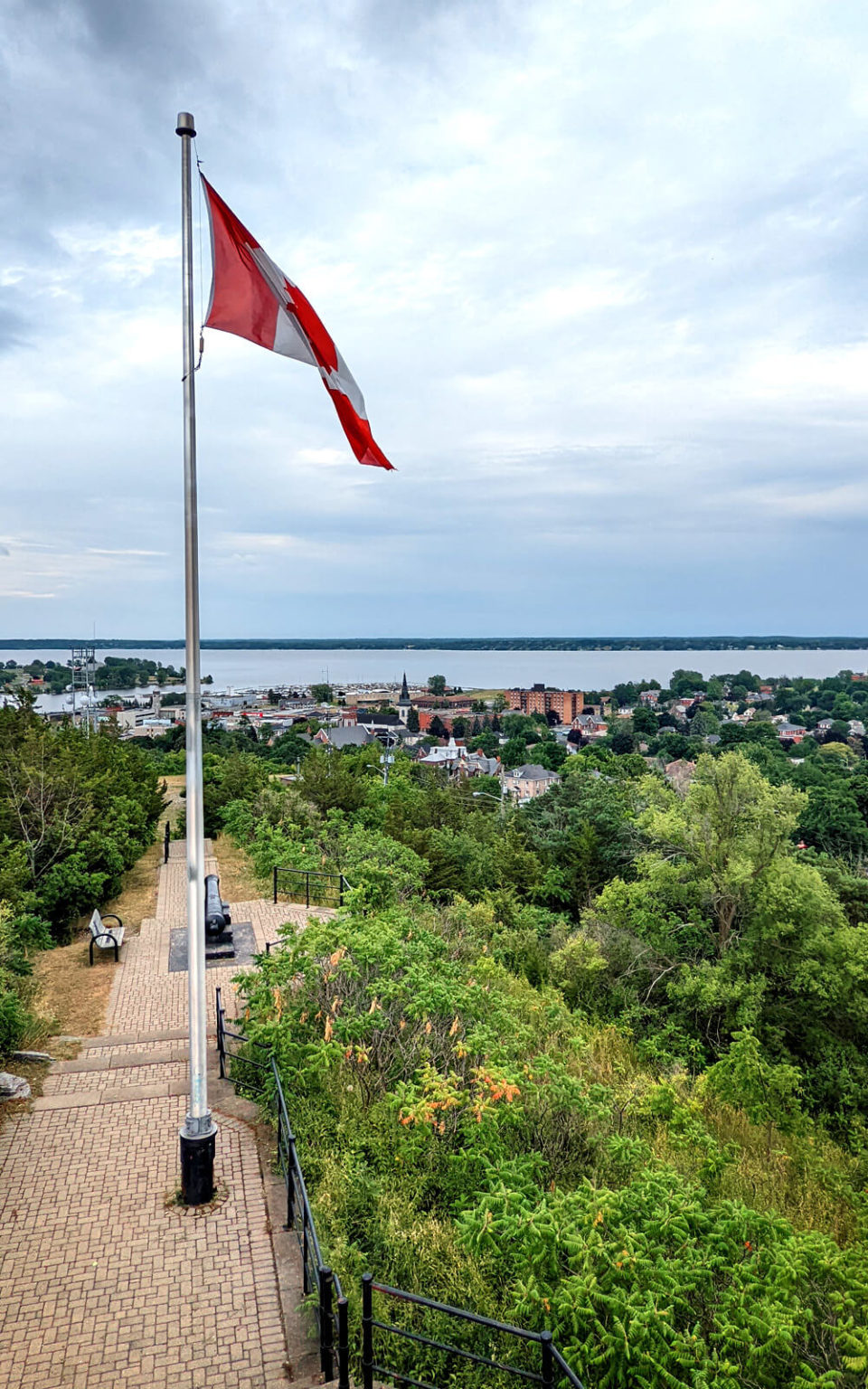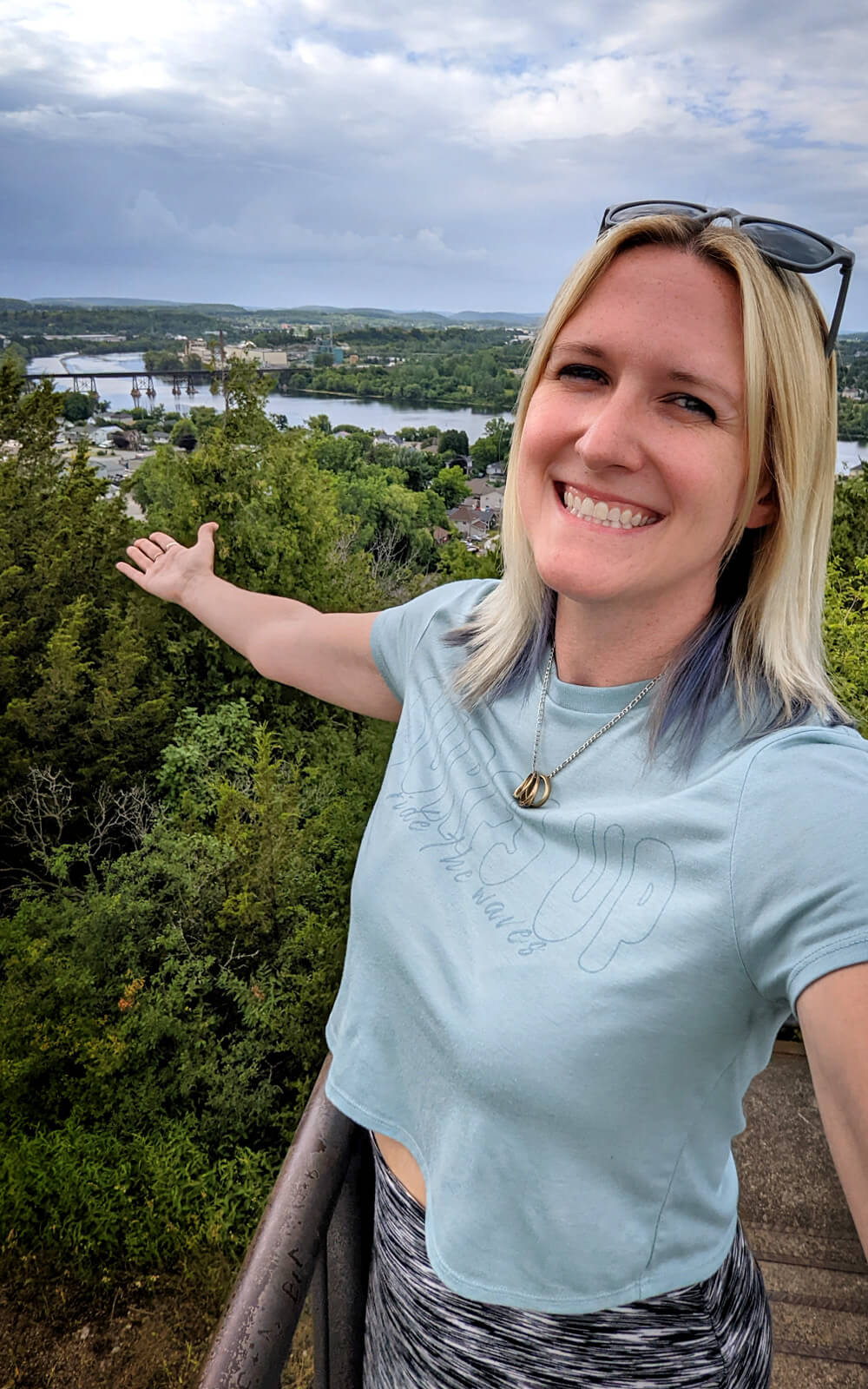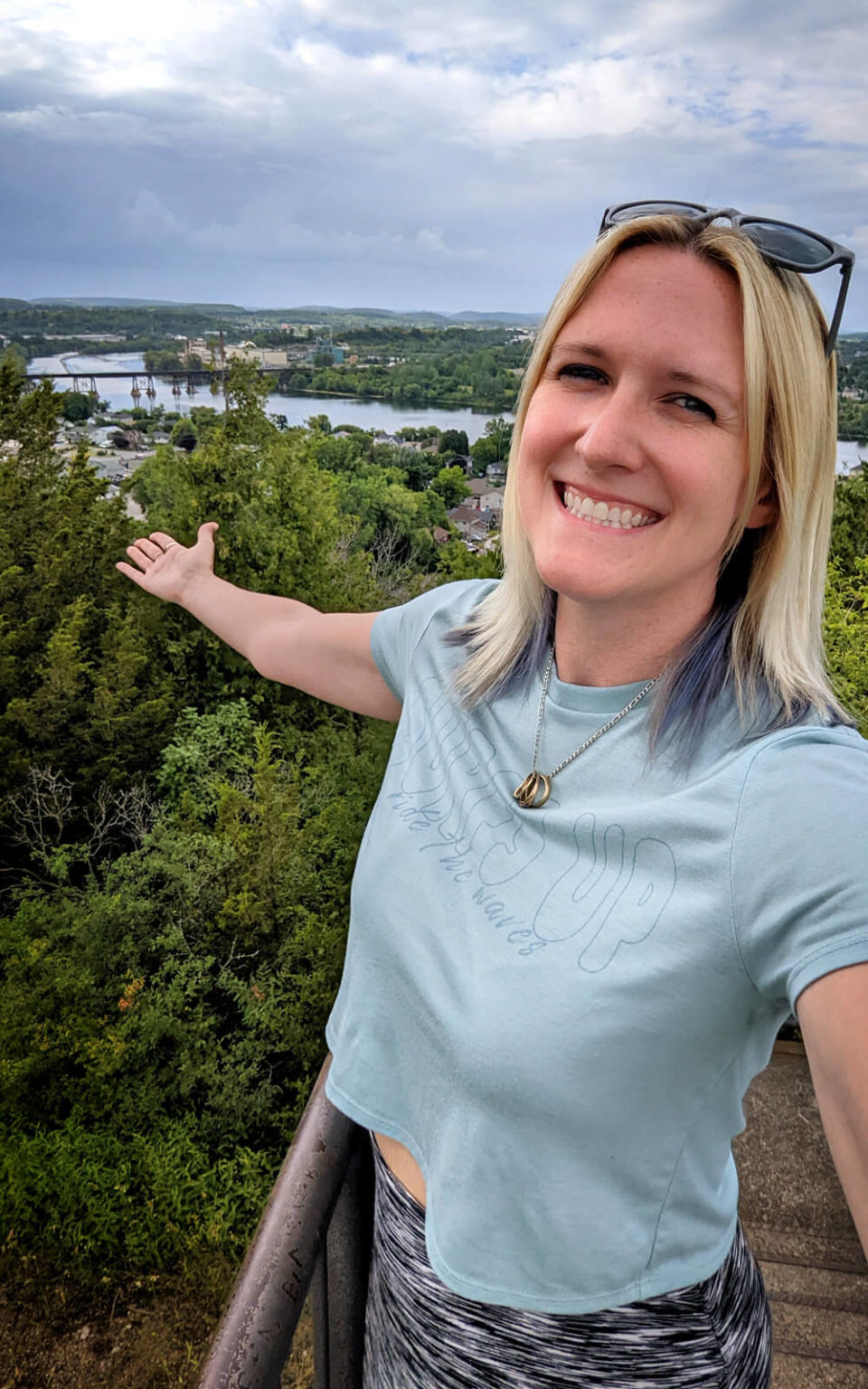 Things to Do in Quinte West
You may not have heard of Quinte West but chances are you've heard of Trenton and this is the next spot to visit in the Bay of Quinte! Chances are you know of Trenton because of the Canadian Forces Base and quite possibly the National Airforce Museum of Canada alongside it but the area has much more to offer than the planes you'll see flying overhead.
First, let's stop in at The Riverbrake Cafe for a bite to eat. Featuring a gorgeous patio overlooking the Trent Severn Waterway, you'll find healthy yet hearty eats on the menu. Their focus is on soups, salads and sandwiches along with breakfast features until 11:00 am. While they have their set menu, I'm always a fan of the daily specials and opted for their grilled Thai spinach wrap with fresh spinach, tomatoes, red onions, pickles and Havarti cheese. Accompanied by your choice of side soup or salad, it will fill you up without that post-meal digestion energy lull!
After taking a wee stroll in the heart of Trenton, make your way up Mount Pelion. Just a few blocks north of Dundas Street West, it offers some fantastic views of the Bay of Quinte (pictured above) as well as the surrounding area. While Google says you can drive up there, the road is very narrow and not in the best of shape. I recommend parking by the end of Maclellan Avenue before the terrain starts to climb and walk up. The extra steps will just make the view from the top that much sweeter!
Now, let's make our way up the Trent Severn Waterway, starting at Centennial Park! This is a great spot to launch if you're looking for another spot to go for a paddle close to Belleville. You'll also find the Quinte West Pop Ups here! These adorable little huts host approximately ten different local businesses featuring handmade items, savoury eats and sweet treats. There is also some public art installations that are perfect for a photo op along with activities that are fun for the whole family.
Once you're done here, stretch your legs with a jaunt along the Jack Lange Memorial Walkway. Named after a well-loved veterinarian in the Quinte area, the trail is a flat, gravel path that follows the river's edge. While there is a loop option that's popular with locals, you can follow it all the way to Lock 1 of the Trent Severn Waterway. It might not look nearly as snazzy at Peterborough's Lift Lock (aka Lock 21) but it's still fascinating to see this engineering marvel that we still utilize to this day!
Who loves a kitschy stop when on a road trip in Ontario? I know I do which is why I couldn't resist paying a visit to the Bleasdell Boulder Conservation Area. This glacial erratic is the largest in the province and quite possibly in North America! Way back in the day when the Laurentide Ice Sheet began to melt, this chunk of Precambrian Shield travelled at least 40 kilometres to where it rests today. Follow the loop trail to check out this massive rock before carrying on along your way.
Chances are all that adventuring has made you a bit thirsty so why not pop into Wild Card Brewing for a pint! Started by two beer-obsessed brothers in 2015, you'll find an eclectic collection of brews including double New England IPAs, red Canadian lagered ales, Belgian quads, sours and more. While you'll find limited seating in the winter months, summertime is when Wild Card shines as they have a fantastic outdoor patio complete with games like cornhole that will guarantee countless laughs during an evening of beers with your buds.
There's no better spot to end your day than with a delightful dinner at Tomasso's Italian Grille. Owned and operated by the Kostovos family, they're serving up traditional Italian dishes based on their family recipes that have been passed on for generations! Using the freshest (and local whenever possible) ingredients, their menu has everything from escargot to chicken marsala. I opted for their lobster stuffed mushroom caps but then was torn between their "house special" spaghetti and veal parmigiana. Luckily you can blend the two together for the best of both worlds! Also, if Wild Card Brewing isn't open during your visit, you can always enjoy one of their beers at Tomasso's as they have some on tap.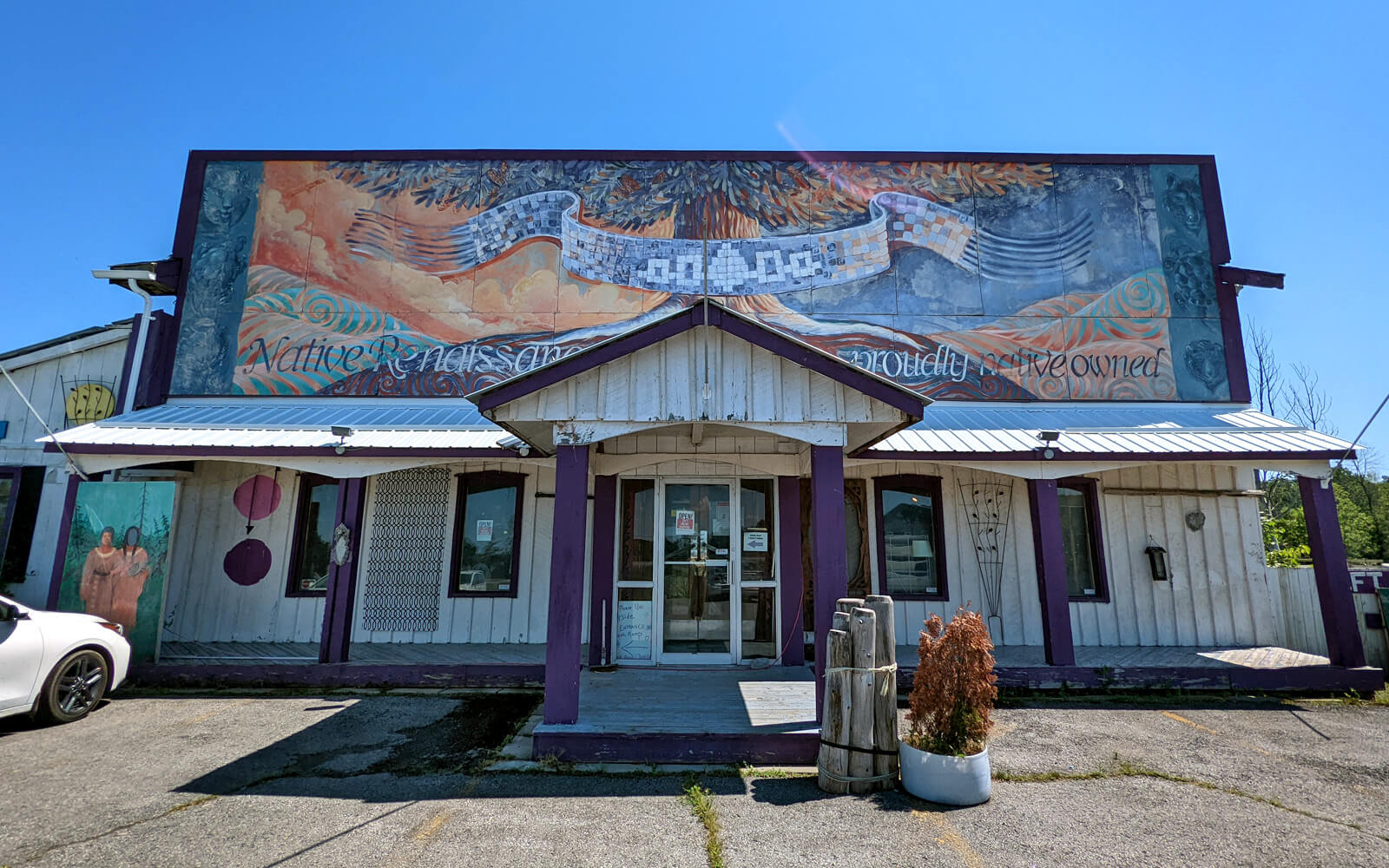 Things to Do in Tyendinaga
So I'm going to make a claim that Tyendinaga is probably the coolest part of the Bay of Quinte. Okay, maybe I'm a little biased but it's for good reason – hear me out.
First, where else can you get a croiffle? You're probably wondering what in the world that is but let me tell you, it's a match made in heaven. Croissants are cooked like waffles and topped with delicious goodies such as caramel sauce, strawberries, whipped cream and more. AND the only place you can find these tasty little morsels is at The Coffee Shop Cafe along Highway 49.
Next, you will find a number of incredibly talented artists in Tyendinaga like the beautiful featherworks of Rebecca Maracle. You'll be in awe of the intricate designs whether it be earrings and jewellery, dreamcatchers, medicine shields or another of her creations. Her passion and wisdom are shared through every item she crafts and, if you are open to it, the item that catches your eye just might heal you on a deeper level. 
A staple of Tyendinaga is Native Renaissance which has been a pillar in the community for over 40 years now. Established by award-winning stone sculptor and musician Thomas B Maracle, you'll be in awe of the variety of items you'll find. The bottom floor features an abundance of items from clothing with Indigenous prints to bracelets to kitchenware. However, the top floor is truly magical as this is where you'll find the art gallery featuring some of Thomas' works as well as other talented Indigenous artists. I couldn't believe the intricate sculptures made of soapstone, corn husk, bone and other natural materials. It's a must-visit when exploring Tyendinaga!
What about some of the freshest Korean dishes and sushi? From a food truck?! That's exactly what you'll get at Better Sushi on Old Highway 2. The lovely couple (I didn't catch their names unfortunately) are serving up some of the best Asian food I've had in a long time! I can't recommend the donburi and the salmon crunch roll enough. While it isn't on Google Maps (yet!), just click here to navigate right to this deliciousness. Trust me, your belly will thank you!
SOMETHING TO NOTE: Some of the shops in Tyendinaga like Better Sushi are cash only so it's best to come prepared to avoid disappointment!
Yes, Better Sushi is located right next to one of the Better Buds trailers. They have a few locations scattered throughout Tyendinaga and it's a great spot to grab some "herbal" goodies for later if that's what you're into! Of course, you'll find a plethora of these kinds of shops each offering a variety of recreational items that are both smokeable and edible – if you catch my drift.
And let's not forget the ever-amazing Lil Crow Cabin complex right on the waterfront. With two adorable pods, a rustic tiny home and a gorgeous cabin featuring a private courtyard complete with hydro spa hot tub and screened-in porch, it's the perfect spot for a romantic getaway, a girls' weekend or a space for creatives to recentre themselves. I had the pleasure of staying in one of their pods… click here to jump to my experience!
So, have I convinced you that Tyendinaga is an incredible destination and should be your next Ontario road trip? I already can't wait to go back!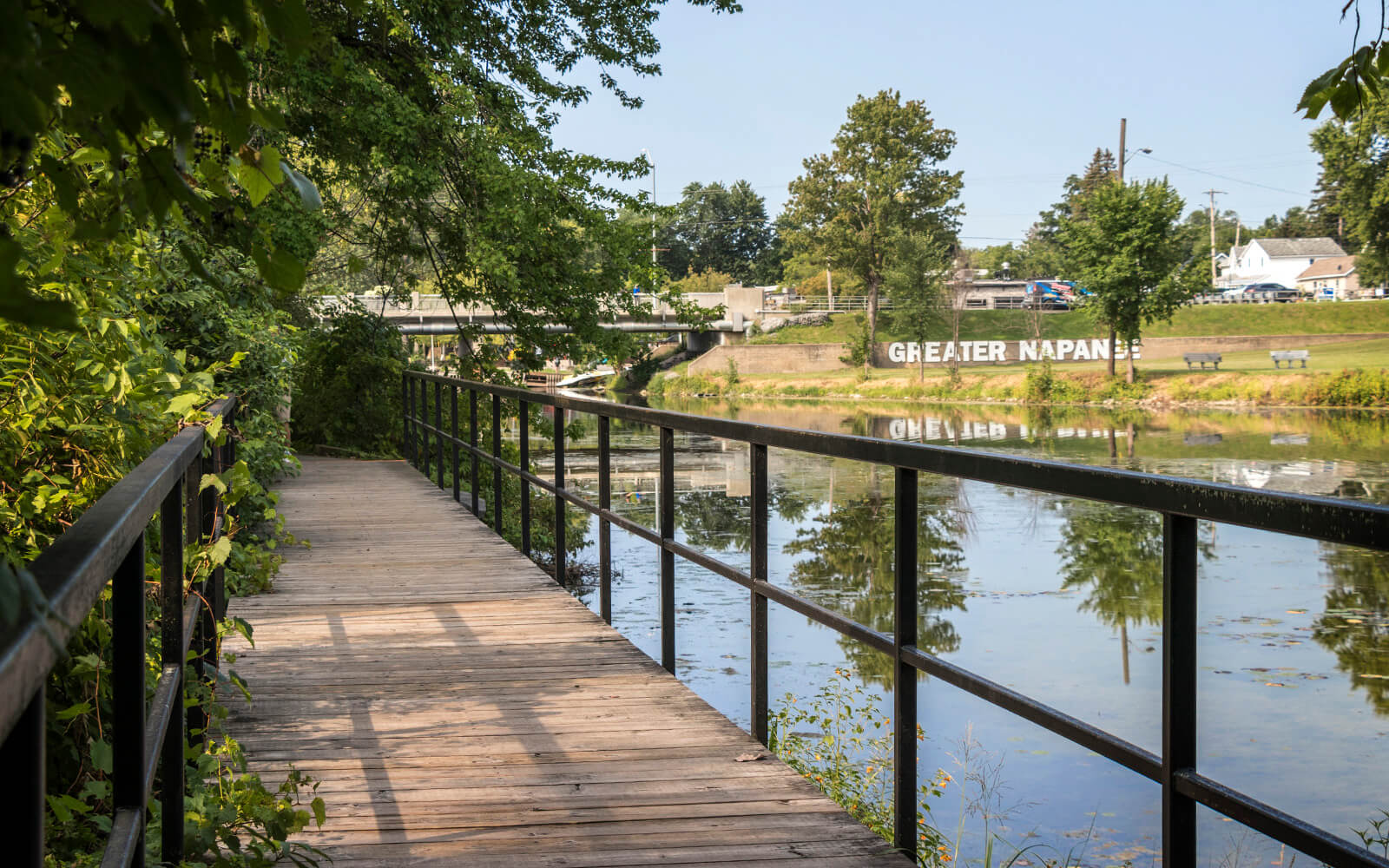 Things to Do in Napanee
I had the pleasure of visiting Napanee last year and yes, we're talking about Avril Lavigne's hometown. While there isn't much in regards to honouring our punk rock princess, the town has a lot to offer!
One thing you cannot miss is a stroll along the Riverwalk in Napanee. It connects the town's beautiful waterfront at Napanee Conservation Area to the gorgeous Napanee Falls. Along the way, you'll see historic plaques in addition to the serene views of the Napanee River. Make sure you grab a coffee before you depart from either Ellena's Cafe or Coffee Cravings. Both have excellent caffeinated beverages including lattes, iced coffee and more!
One thing you might be surprised by is the number of fantastic restaurants in Napanee! Not only this but there's a wide variety of cuisines to choose from including Chinese, sushi, pizza, Greek and of course, your classic pub fare. There are too many fantastic spots to include but luckily this guide to all of the top Napanee restaurants will guide your culinary adventure!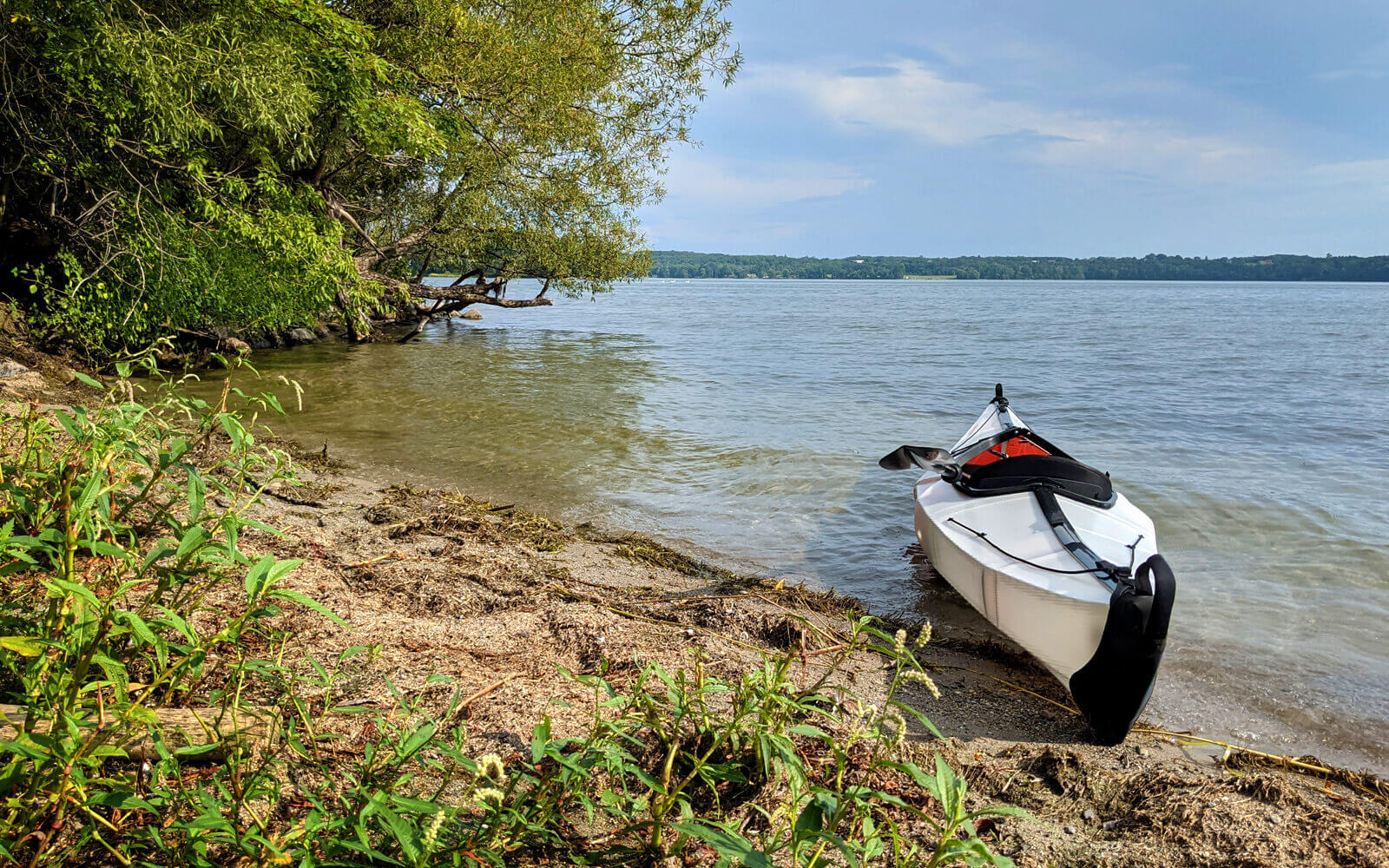 As for the surrounding area, there are plenty of great attractions and things to do near Napanee. If you're an avid paddler, Greater Napanee has a plethora of great launch spots. Looking for something fun to do with the family? Pay a visit to the Hickory Lane Alpacas! How about some adult-only time? Head to Bergeron Estate Winery for a glass in their vineyard.
Honestly, I'm just scratching the surface here because I have a full guide to this fantastic town! Check out my full post all about the fantastic things to do in Napanee to plan your visit.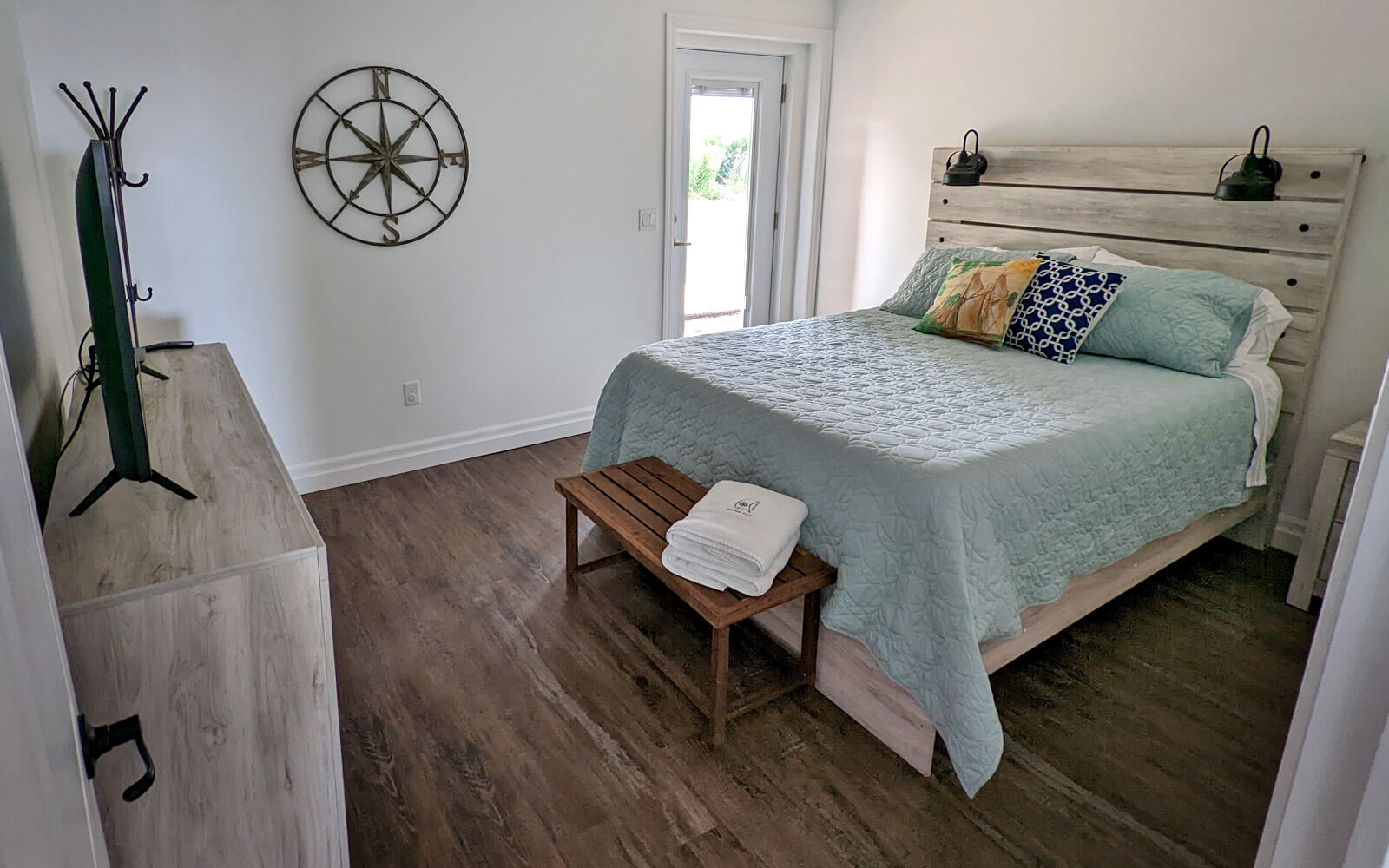 Where to Stay in the Bay of Quinte
While you may be tempted to stay at one of the hotels in Belleville, the Bay of Quinte has a number of amazing accommodation options that you'll certainly want to check out. Of course if they're booked for your dates, a Belleville hotel will do the trick!
Spinnaker Suites in Brighton
Located on the shores of Presqu'ile Bay, Spinnaker Suites is an adorable boutique motel featuring nautical-themed suites. Each one is fully furnished including a complete kitchen with any and every utensil you could ask for, a cozy electric fireplace, Samsung smart TVs as well as a private balcony. Four of the suites feature one bedroom (known as the Jib rooms) with the Main suite featuring two bedrooms and the Spinnaker with three. 
My suite had ample room, especially as I tend to work as I go. It's always a dream to have a couch to lounge on after a long day of adventuring, especially with a cozy fireplace to come "home" to! There is also a full fridge, stove, microwave and all the dishware you could need for cooking. Guests have access to a barbecue outside as well as the laundry facilities on-site.
Don't feel like cooking? That's a-okay as the Harbourview Marina & Restaurant is just a few steps from your door! They have a beautiful patio overlooking Presqu'ile Bay that's a great spot to soak up the summer sun. This is also where you can launch a canoe or kayak if you're looking to get a paddle in during your stay. No boat? No problem! Just connect with Jay in advance and he'd be happy to help arrange a rental for you so you don't miss getting out on the water.
If that's not enough, there are a number of common areas that all guests are welcome to utilize! Right next door you'll find an adorable tiki bar as well as a beach volleyball court for those looking to get a friendly game in. In the parking lot, you'll notice the "Hippy Trailer" where you can buy ice cream and beverages during your stay. I'd say these are best enjoyed as you put your feet up in the refurbished sailboat lounger or while cozied up by one of the two outdoor firepits. A stroll along the waterfront is never a bad thing either!
Feeling a little tired and sore after all the outdoor adventuring that's available in the Bay of Quinte? Spinnaker Suites saves the day as you can book one of three registered massage therapists to help you work out the knots in your muscles. And yes, they even come right to your suite!
As you can see, the Spinnaker Suites is a fantastic spot to stay and offers a great home base for all the great things to do in Belleville as well as the Bay of Quinte.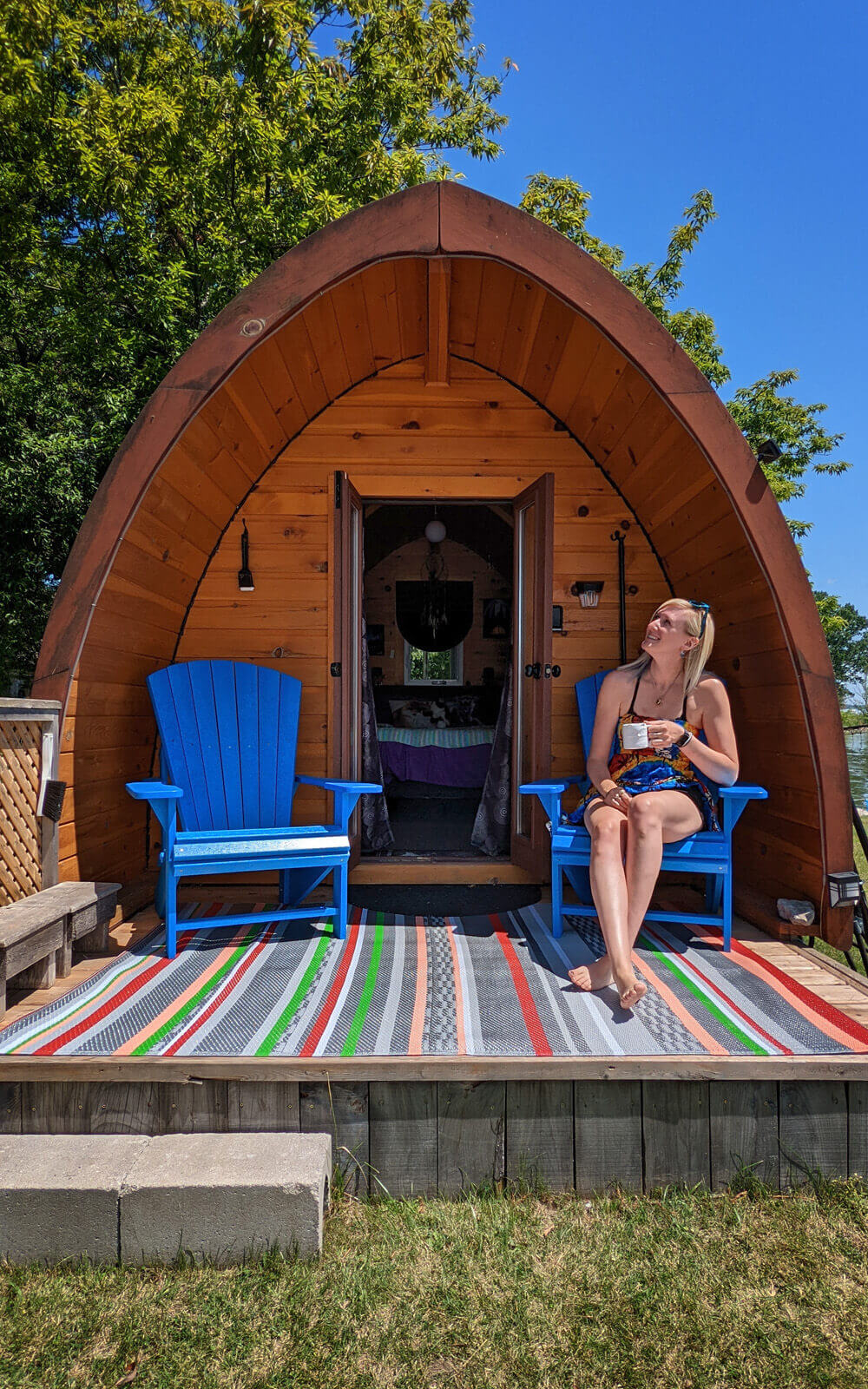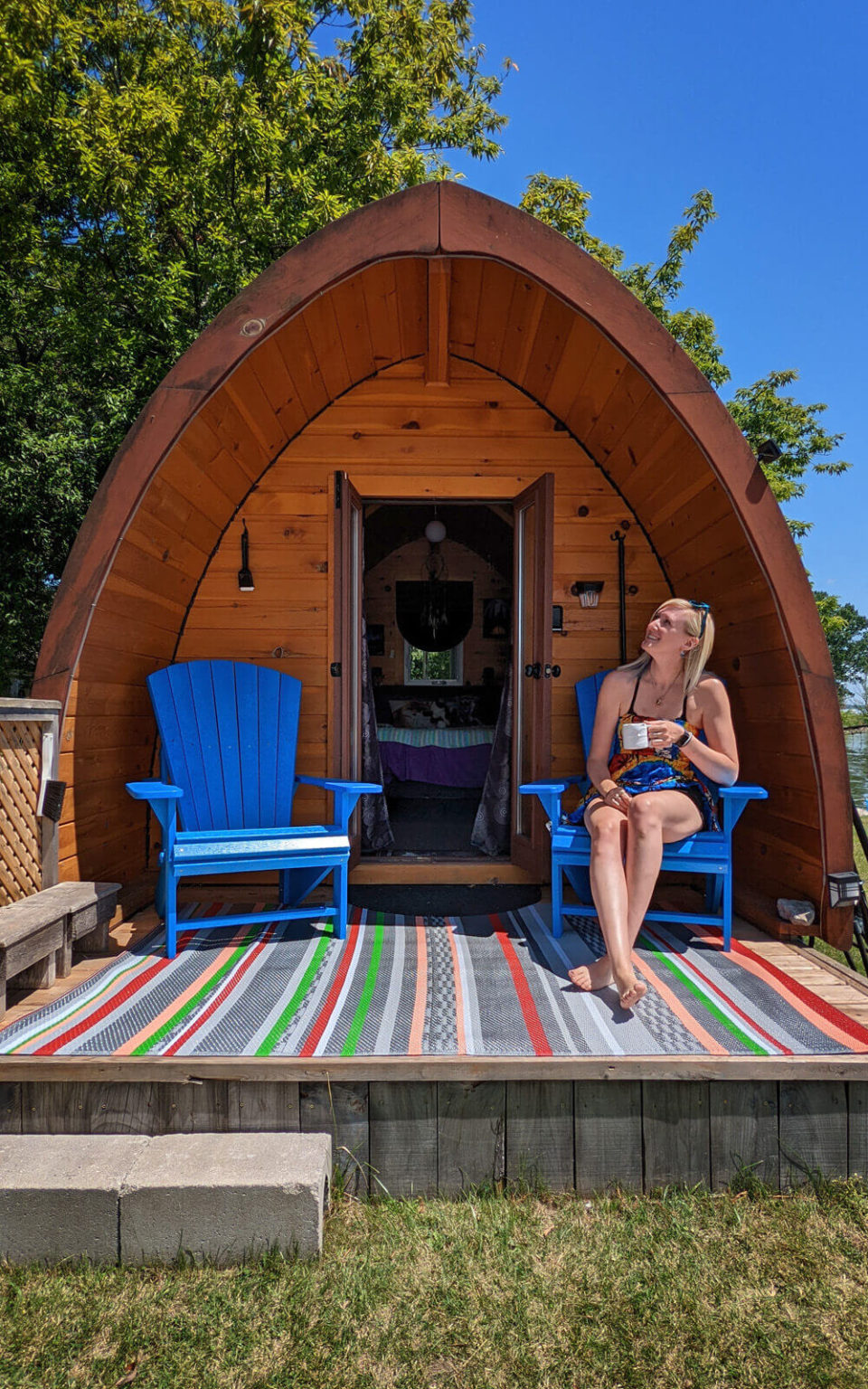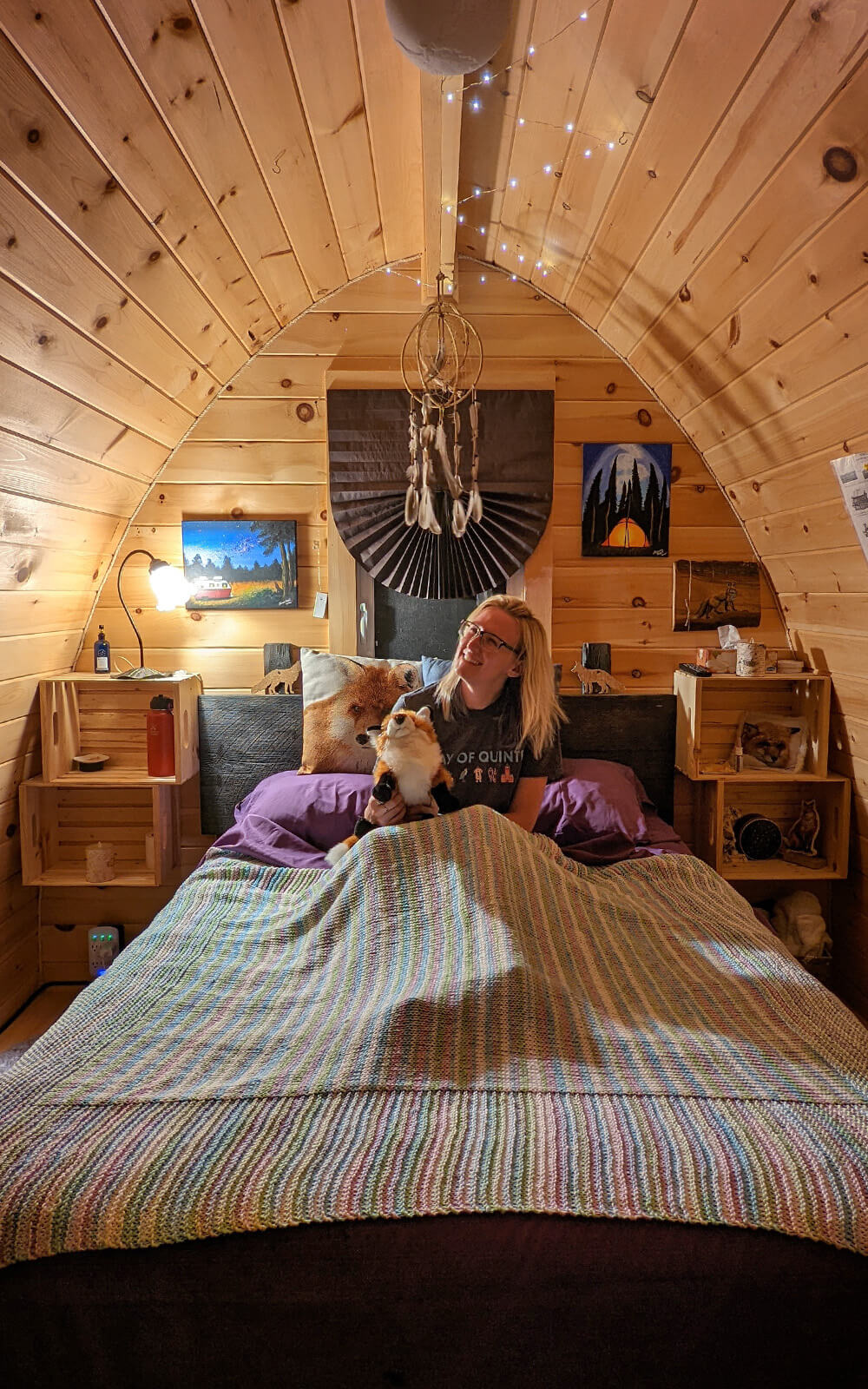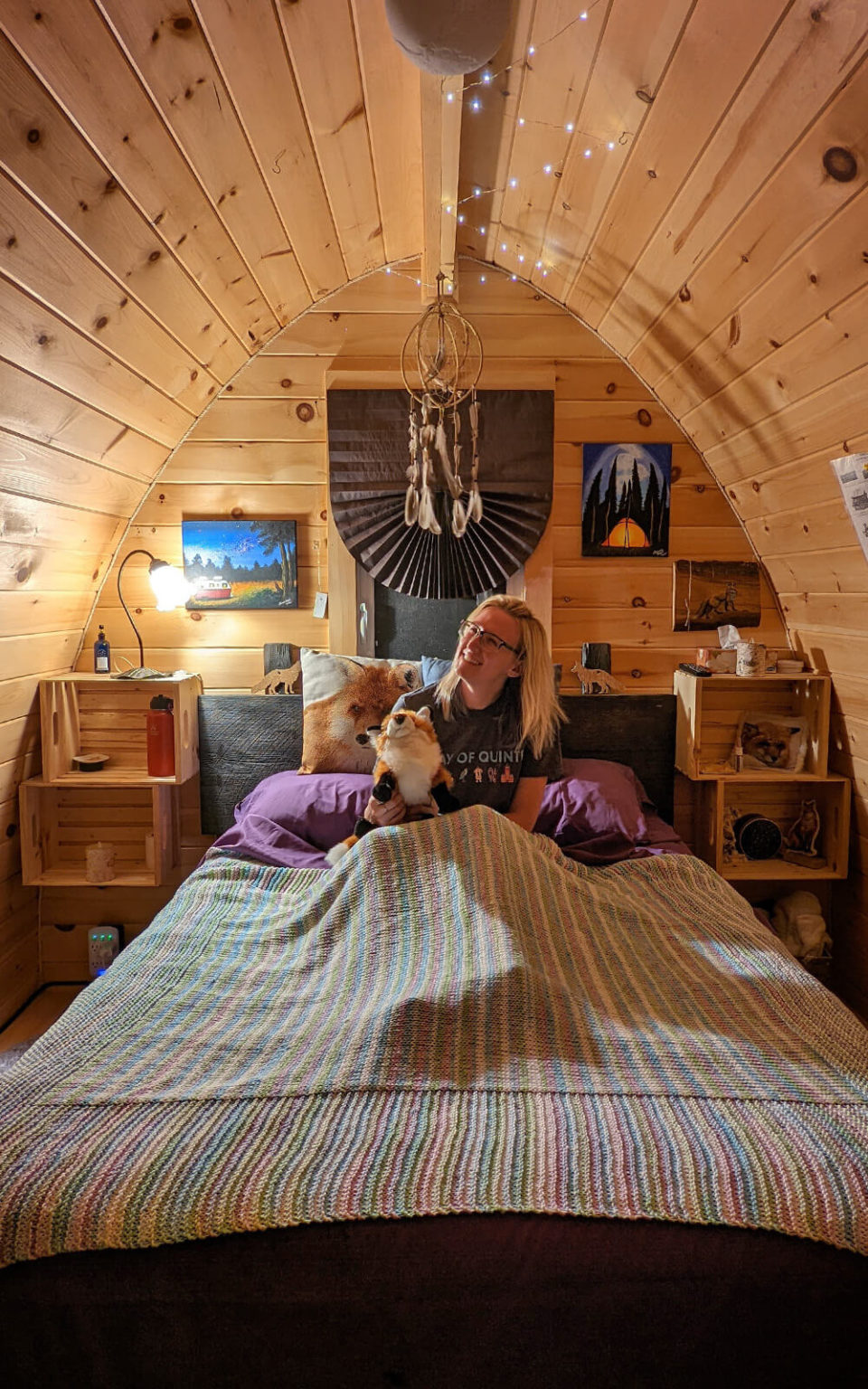 The Fox Pod Den at Lil Crow Cabin
I'm sure I already piqued your interest earlier in the article but let me tell you, there's a reason Lil Crow Cabin was rated the 2nd best romantic getaway in southeastern Ontario. While I haven't been to the top one, I have a hard time believing they beat Lil Crow Cabin as it's easily the cutest accommodation near Belleville and dare I say the entire Bay of Quinte area!
As I mentioned, the Lil Crow Cabin complex features a gorgeous cabin with a private courtyard complete with hot tub and screened-in porch as well as a rustic tiny home complete with its own screened-in porch as well. While I can't speak to them specifically as I didn't stay in them (though I can say the hot tub is AMAZING – thank you again KimberLee for letting me utilize it!), I DID get to stay in the newest addition to their adorable little housing collection… The Fox Pod Den.
This cozy little glamping space is perfect for a couple's getaway or for a self-care extravaganza. Inside you'll be surrounded by adorable fox trinkets and artwork. There's also a mini fridge, an electric fireplace and a small fan to ensure guests are nice and cozy during their stay. Complete with twinkling lights above, you'll immediately feel the stress of everyday life melt away as you burrow into your bed – especially with the beautiful waterfront views in front of you!
FUN FACT: Foxes can be seen as a signal in your life to broaden your horizons and to teach yourself to be more adaptable and understanding. I'd say it's very fitting for this little slice of paradise in Tyendinaga!
Outside there is a picnic table for use during your stay as well as a small electric grill that you can cook on. Of course, the fire pit is always at your disposal if you wish to end the night with the classic camp meal of hot dogs and s'mores while watching the sunset over the Bay of Quinte!
One thing to note is that the Fox Pod Den doesn't have a bathroom attached. However, you do have a private bathroom complete with sink, toilet and shower but it's just a few steps away close to the cabin. Just make sure to grab the key from your pod before you go!
What makes staying at the Lil Crow Cabin complex extra special? Besides the extraordinary hospitality of the ever talented David Maracle and his partner KimberLee, guests have access to amenities like their canoes, kayaks and stand-up paddleboards! There's also a "rec room" building featuring a number of entertaining extras like a variety of books, a dartboard, bikes and much more. I absolutely loved being able to launch right from their private dock behind the pod and enjoy the beautiful waters during golden hour.
If the Fox Pod Den is booked during the dates you want – never fear! The Beaver Lodge offers the exact same amenities, it's just themed with this loveable dam building critter. This is honestly the best way to take your Bay of Quinte visit to the next level. Just check out these reviews on TripAdvisor if you don't believe me!
Things to Know For Your Belleville Visit
At just an hour from Kingston and an hour and a half from Toronto, Belleville makes a perfect day trip or weekend adventure. Here are some frequently asked questions and things to know to make the most of your visit to Belleville!
What is Belleville Known For?
Once known for its bustling lumber industry and a hotspot for trade along the railway, Belleville is now a multi-faceted city with plenty to offer from beautiful outdoor green spaces to a plethora of entrepreneurial endeavours and even a great boating destination!
How Do I Get to Belleville?
Belleville is a perfect day trip or weekend destination from Toronto as it is just two hours east along Highway 401. If you're coming from Niagara, tack on an extra hour as you traverse the Queen Elizabeth Way and Highway 403 until you meet up with the 401.
Heading to Belleville from the east? Located about one hour along the 401 from Kingston and Gananoque, it's the perfect destination for a day trip when you need a little change in scenery. Following Highway 7, Belleville is just two and a half hours from our capital city of Ottawa and the perfect weekend trip destination.
Is Belleville Worth Visiting?
With a plethora of things to do in Belleville itself such as great eats, fantastic trails, fascinating history and beautiful architecture scattered throughout, Belleville is certainly worth visiting. Plus its location in the heart of the Bay of Quinte makes it the perfect spot to call home base when exploring the region!
Disclaimer:
This post is brought to you in partnership with Bay of Quinte Tourism. While I was compensated for my time, all of the content and opinions here are honest and speak to my personal experience!
Don't Forget These Fantastic Things to Do in Belleville & Pin It For Later!
The post 10+ Fantastically Fun Things to Do in Belleville & The Bay of Quinte appeared first on I've Been Bit! Travel Blog.