10 Fun Ways to Exercise With Your Toddler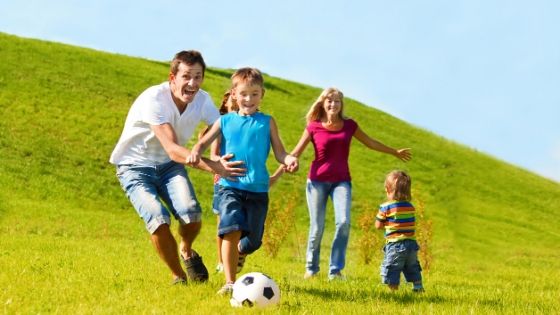 I don't know about you, but simply having a toddler is exercise enough most days. However, we all try our best to stay healthy, and that usually includes a workout.
When you have a busy toddler running around, trying to fit in a workout is pretty hard. That's why it's best to give in to the idea that you likely won't be exercising by yourself anytime soon.
But that's a good thing, because your toddler can be a part of your workout. There are ways you can use this time to be with your toddler, teach them about physical fitness, do exercises with them, and still work up a sweat.
1. Go for a walk as a family.
Rather than trying to fight your toddler off when it's time for a healthy workout, take your child with you. Going for family walks is a great way to spend time with one another, get outside, and stay fit.
If your toddler likes the stroller, you can push that for a better workout with more weight. If you want, you can even take things up a notch, and try running with your toddler in a jogging stroller.
If your toddler likes to walk, make a game out of racing to the next light pole in order to get your heart rate up. If your little one needs a break, a few minutes in a baby carrier can be just the thing.
Either way, you can still get your workout in every day, even when you can't get any time alone.
2. Have a dance party.
Kids love music. It's good for your kids to listen to music every day because it stimulates their mind and enhances their development. Boogie down to some of your favorites or choose silly songs your child would like.
Dancing can really make you work up a sweat, and it's a fantastic cardio exercise. If your toddler would rather dance with you, you can carry them for an even harder workout while you groove. You'll be able to laugh at each other's moves and bond over your love of tunes.
3. Use daily activities as workouts.
Rather than take the elevator at the doctor's office, use the stairs. Park at the back of the parking lot when you go shopping. Walk to the mailbox instead of driving. There are lots of ways to sneak workouts into your normal daily activities.
4. Don't watch commercials.
Everyone hates it when the commercials interrupt their favorite show. Instead of being a couch potato, get up and move during the commercials. It'll make the time go by faster, you won't have to watch that same annoying ad at every break, and you'll get your body moving.
5. Play a family sport.
Get the whole gang – even your toddler – involved in a friendly backyard game of tag, baseball, or soccer. Move around, race across the yard, do jumping jacks, or make up your own game.
You can designate one day a week to be family sports night in the backyard. It mixes up your workouts, cross trains your muscles, and keeps your body guessing.
6. Do yard work.
The gardening, the mowing, and the raking need to be done anyway. Use that time as your exercise time and have your toddler help you. Toddlers can rake, dig, plant, and water. Teach them how to tend to the lawn and garden now so they'll enjoy it for a lifetime.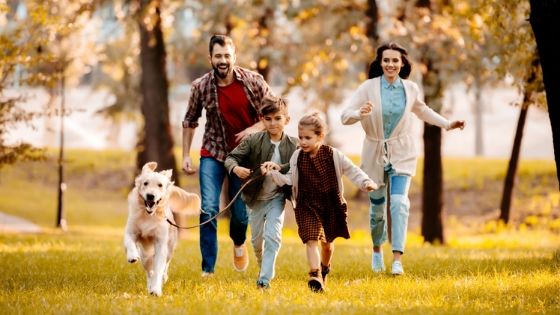 7. Walk the dog.
Family pets are great excuses to get moving. Your dog needs exercise to stay healthy, too. Involving your toddler in caring for the dog will teach them about responsibility and caring for others.
It's an important less that all children need to learn, so if you have a family pet that loves a little leash time, use that to keep everyone fit.
8. Watch an exercise video.
Most toddlers love watching TV. Most toddlers also love imitating adults. Use that to your advantage. Put on a workout video and have your toddler do it with you. They probably won't do any of the exercises right, but they'll have a blast.
You'll likely get a kick out of how they interpret the exercises in the video, you'll both have a blast, and it helps you get your workout in. It also teaches them the importance of taking the time for self care and exercise.
9. Go to the playground.
The playground doesn't have to be for kids only. Sure, you may look like a helicopter parent up there with your child, and some of the equipment may be too small for you, but you can still actively engage with your child at the playground for some all around fun.
Your toddler will love to have you play with them, and you'll probably look pretty silly doing it, which makes for some awesome memories.
Or mix it up by finding playgrounds with trails where you could ride bikes instead. You might even get a toddler bike seat so that your little one gets to ride and feel the wind in their hair while you pedal along.
10. Make an obstacle course.
You can do this inside or outside. It's a really good rainy day activity in the house. Create an obstacle course out of the furniture in the living room, the stairs, or the kitchen island. The bigger, the better.
Use the whole house to make it interesting. Then time yourselves to see who can complete the course the fastest. You'd be surprised at how quickly a toddler can navigate tight spaces and switch gears. They may beat you at your own game.
Just because you have a toddler doesn't mean you have to lose out on staying healthy and getting your exercise. You just need to get creative with how to involve them in it rather than stressing about finding some time to yourself.
You'll both be in great shape, have positive attitudes toward health and fitness, and create memorable experiences together.
Author Bio: Cristin Howard runs Smart Parent Advice, a site that provides parenting advice for moms and dads. Cristin writes about all of the different ups and downs of parenting, provides solutions to common challenges, and reviews products that parents need to purchase for babies and toddlers.
The post 10 Fun Ways to Exercise With Your Toddler appeared first on Mombrite.