10 Underrated British Comedy Series You Need To See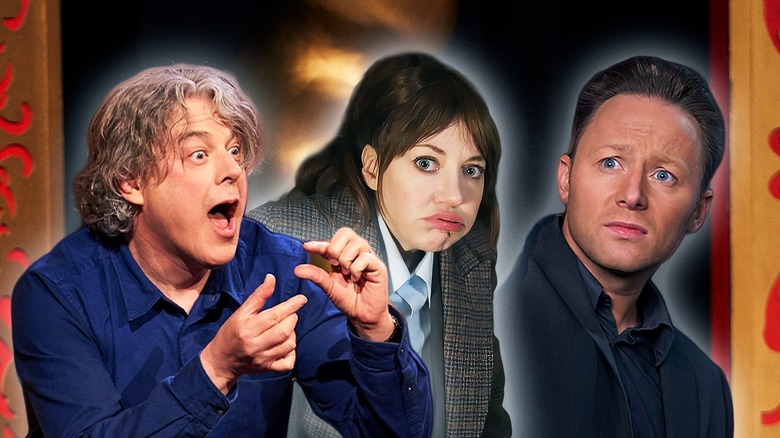 British comedy. For years, it has amused and sometimes bemused audiences with its often dry and frequently out-there humor that's either understood and swiftly adored or ditched quicker than a dead parrot. That said, it's certainly had (and continues to have) a huge impact on the shape and overall direction of modern comedy. From the surrealist gags of "Monty Python's Flying Circus" to the painfully awkward realism of "The Office," British comedy series have helped pave the way towards what we now consider the stuff that tickles our funny bones best.
That said, for every David Brent, there are countless other characters -- and their accompanying shows -- that fly under the radar and go criminally unnoticed by international eyes. While British broadcasting may only feature five primary terrestrial channels, its output is large, varied, and colorfully eclectic, with a number of series deserving of far more praise than one nation alone can offer.
With that in mind, we've gathered some underrated British comedy series that you need to see. If you're loving series like the Kiwi-inspired comedy "What We Do in the Shadows" or created-by-a-Brit hit "Succession" and are searching for a top-up of the playfully weird or the bitingly witty, then here's a batch of must-see shows to add to your watchlist. Their concepts may be a little left field but each reward repeat viewings and deliver pure comedy gold.
Taskmaster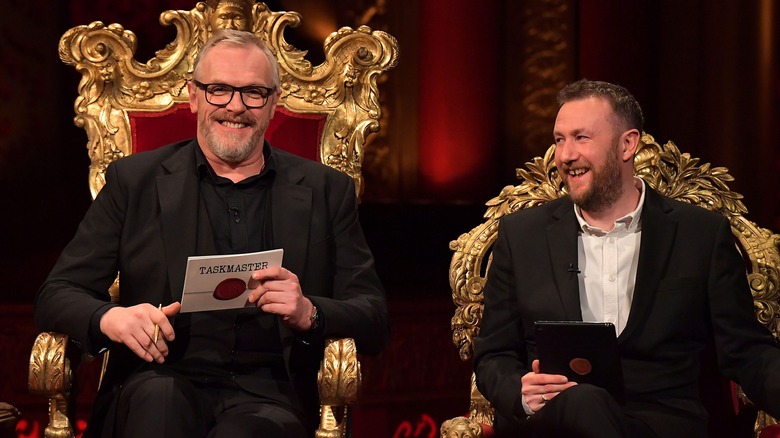 The gist of "Taskmaster" is deceptively simple; five comedians complete random tasks to earn points and emerge victorious. These tasks can be anything -- from finding your own hand in a room covered in photocopied pictures of hands to moving a boulder as far as you can in an hour -- and are often filled with hidden hacks or sneaky rules that make the whole job extra hard. Episodes feature three previously-recorded tasks with contestants completing their fourth live at the end of each show. Every episode has an individual winner, with points tallied to reveal an overall champion at the end of each season.
At the helm is the Taskmaster himself, fellow comedian Greg Davies, who is responsible for dishing out points however he sees fit, regardless of contestant skill or success. Whatever happens, it's Davies' word that decides players' fate -- and his word is final. Meanwhile, the man behind the tasks (and the show format), is Davies' loyal sidekick, right-hand-man, and the Taskmaster's biggest fan, Alex Horne -- or "Little Alex Horne," as he's regularly referred to. Still with us? Good.
While the idea of watching comics completing random tasks may seem a bit bizarre (did we mention they're competing for a gold statue of Davies' head? They are), seeing how each comedic mind approaches (and usually fails) their assignment is routinely hilarious and joyous. With new comedians taking part in each season, "Taskmaster" stays fresh and unpredictable, making it the gift that keeps on giving.
Stath Lets Flats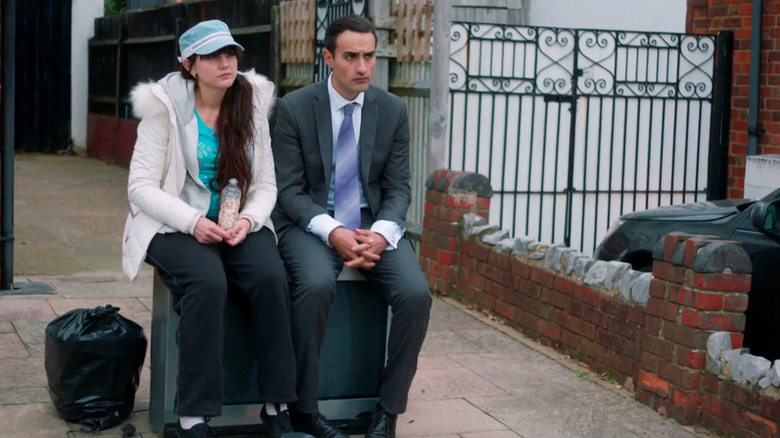 You may have seen the sibling stars of "Stath Lets Flats," Jamie and Natasia Demetriou, in a few things already. The former was in "Cruella," while the latter was in the vampire comedy "What We Do In The Shadows." That said, if you haven't come across them yet, their brilliant comedy skills mean that it's surely only a matter of time until you do -- and the equally brilliant "Stath Lets Flats" is the perfect entry point.
First off: the name. In the U.K., renting a property is often referred to as "letting a flat," and that's exactly what this show is about. Writer/creator Jamie stars as Stath, a perpetually optimistic -- yet wholly rubbish -- letting agent, who wants nothing more than to make his Greek father proud, and maybe even one day inherit the family letting agency. Through Stath we meet his wannabe-singer sister Sophie (Natasia), her best pal Katia (Ellie White), and the infinitely awkward Al (Al Roberts), alongside the other oddball characters that work at Michael and Eagle lettings.
That's the elevator pitch -- but the genius here comes in the 100% useless nature of Stath and his bizarre and disjointed British-Cypriot phrasing and general grasp of the English language. Throughout the show, we watch Stath fumble his way through a number of odd property viewings and life events, eventually becoming an unlikely father and giving us some of the most quotable moments in recent British comedy.
Limmy's Show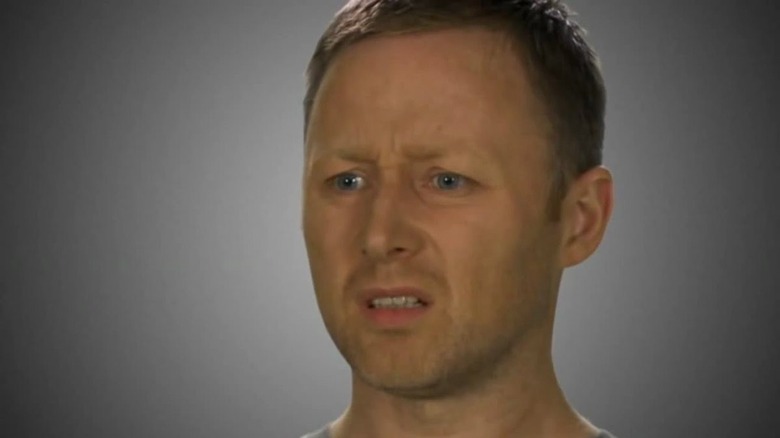 Before he was a full-time Twitch streamer and self-labeled online jester, Brian Limond -- or Limmy -- was the creator and star of "Limmy's Show." Originally running on BBC Scotland, this sketch show presented skits that regularly involve dark humor, incredibly niche-yet-relatable bugbears, and some truly bizarre, boarding-on-surreal characters and concepts. Think the manic pace and production quality of "Tim and Eric's Awesome Show, Great Job!" filtered through a healthy shot of cynicism that only growing up in somewhere like Glasgow can instill, and you're close to what this smart and very funny show offered.
That said, no matter how weird things got (and they got pretty weird), there was always an element of Limmy's sketches that left you relating to the point that he was trying to make. It's likely why many of them have since become memes or used to illustrate points on social media. Meanwhile, his characters -- people like TV video game host Falconhoof, the vocally sober Jacqueline McCafferty, or sadistic psychic Raymond Day -- provided something a little more sardonic than the work shared by similar sketch shows.
Sadly, "Limmy's Show" only ran for three seasons. While he took many of his best bits on the road for a limited U.K. tour, you'll now mainly find Limmy on livestreams. That said, he did release a one-off episode filmed and edited entirely by himself in his home back in 2018 that once again delivered the goods.
Black Books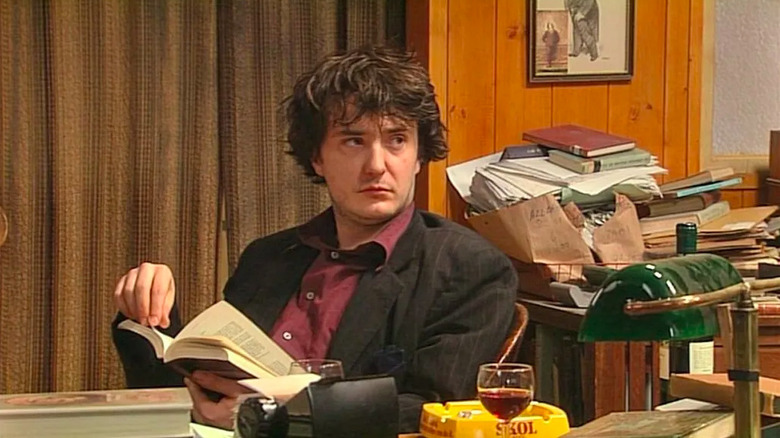 Based largely around the sozzled comedic style of its star Dylan Moran, "Black Books" is a show from the mind of Graham Linehan, one half of the writing team behind the classic British comedy "Father Ted." Here, the action is transported from rural Ireland to a tiny bookshop in the heart of London, owned and operated by the frequently intoxicated Bernard Black (Moran). Unfortunately, Bernard's precious alone time is ruined when he accidentally hires new employee Manny (Bill Bailey), a guy who used to be permanently stressed, but has since found a calmer way to live. Together, with their mutual mate Fran (Tamsin Greig), the trio tries their best to survive life while Bernard does his darndest to ensure no one steps foot in his tiny city-center store.
Co-written by Moran, the show features guest appearances from notable British stars like Simon Pegg, Peter Serafinowicz, Martin Freeman, and Olivia Colman, and frequently segued into the surreal to tell its stories. Like all good British comedies, its episodes stick in the mind thanks to their delightfully off-kilter hooks; there's the one where Bernard and Manny accidentally drink the expensive wine, the time they try (and fail) to write a kids' book, and Fran's steamy obsession with the rich tones of a shipping forecast presenter. Put these together with some brilliant recurring gags (what is the "thing" lurking in Bernard's shop?) -- and you've got a modern-day British comedy classic on your hands.
Peep Show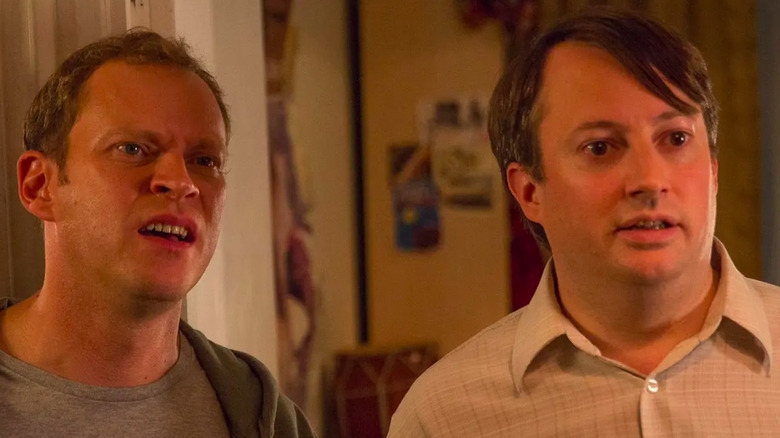 Before he was winning awards with "Succession," writer Jesse Armstrong was mining the depraved hilarity of social awkwardness with the truly brilliant "Peep Show." Airing on Channel 4, this long-running series is not only notable for being many Brits' first introduction to the talents of the now-Oscar-winning Olivia Colman, but also for its production style. Essentially, the whole thing is shot in the first-person point-of-view, with scenes framed as if from the eyes of either the high-strung Mark (David Mitchell) or his stoner pal Jeremy (Robert Webb).
This unusual format also crucially lets us hear the brutally honest and frequently laugh-out-loud inner monologues of our leading characters. While a little jarring at first, the whole thing quickly fades into the background, with viewers easily swept away by the quality of the show's gags and overall writing. Speaking of which, Armstrong, his writing partner Sam Bain, and their wider team successfully plumb the depths of the overall despair, floundering fear and the purposeless meandering of middle age, and in turn capture something that deftly encapsulates that strange transition we all encounter when our youth slips away and is replaced by sobering adulthood.
In all honesty, there are too many great "Peep Show" moments to fit into one pithy blurb. With the help of the comedy duo Mitchell and Webb, all of Armstrong and Bain's comic situations are perfectly delivered via superbly-crafted dialogue that elevates the series above most other Brit comedies. For those who can't get enough of the wit of "Succession," this is a must-watch.
Nathan Barley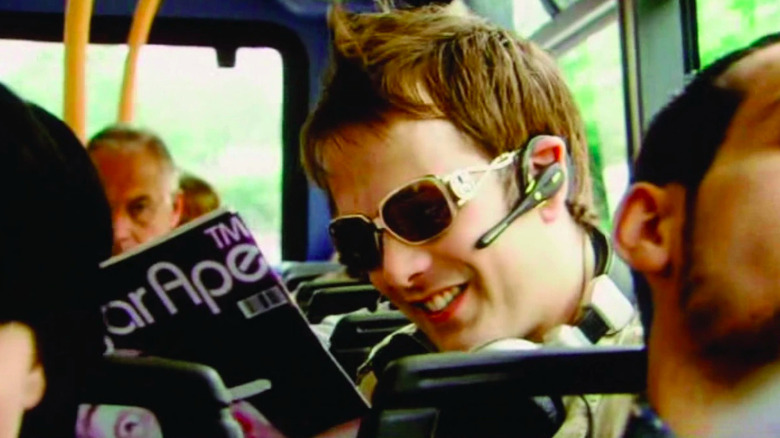 You've likely heard of "Black Mirror" but this modern-day "Twilight Zone" wasn't creator Charlie Brooker's first foray into telly. Back when he was still transitioning from a red-hot Guardian writer to one of the most celebrated program makers working today, Brooker cut his TV teeth with the help of "Brass Eye" mastermind Chris Morris on Channel 4's "Nathan Barley." Released in 2005, it deliciously skewered the rising trend of hipsters, vloggers, and media types with seemingly made-up jobs by introducing us to its ridiculous titular star. Barley encapsulates all of these things; an individual that's failing upwards and permanently terrified of being deemed uncool, all while never being quite sure exactly what "cool" really is.
This spoof of the preposterous nature of youth and trendiness perhaps best manifests itself in Barley's utterly stupid catchphrases, which, like him, sound like they mean something but are actually full of hot air. Lines like "well bum," "well plastic," "that is well Jackson," "it's gonna be totally f***ing Mexico" or "keep it foolish" are probably the biggest fan takeaways from this short-lived show that was stupid and smart in equal measure. "Nathan Barley" was maybe a little too ahead of its time, arriving at a moment where people just like its ludicrous lead were actually failing upwards in life themselves, leaving its irony lost on early-noughties eyes. These days, however, it's considered a cult comedy classic.
Toast Of London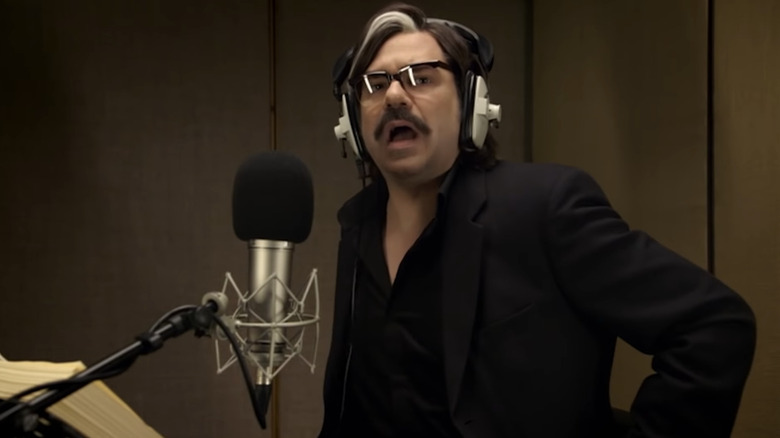 Let's be honest. Matt Berry is usually the best part of anything he's in; something wider American audiences learned firsthand via his ace turn as vampire Laszlo in "What We Do In The Shadows." However, blood-sucking aside, Berry's other most celebrated role is likely that of pompous actor Steven Toast in Channel 4's very quotable hit "Toast of London." Co-written by Berry and "Father Ted" scribe Arthur Matthews, this series takes aim at the overly-pretentious nature of stage and screen actors, as unfulfilled star Steven Toast tries to secure a level of fame that always remains just out of his reach.
While this theme forms the show's backbone, Berry and Matthews have a ball weaving in some weird characters and surreal moments that take Steven's adventures into a world of their own that's not quite based in reality. Just as its writers revel in poking fun at theatrical types (and their farcical stage names), they seem to have equal amounts of fun taking aim at hipsters, with Steven's infuriated interactions with voice-over studio operator Clem Fandango (Shazad Latif) resulting in some of the show's funniest moments.
Unlikely guests like "Mad Men" star Jon Hamm and Queens of The Stone Age frontman Josh Homme pop up in the show's original three-season run, but this was pushed into overdrive during season four's stateside-set "Toast of Tinseltown." Here, people like Larry David, Fred Armisen, and Bill Hader all brushed shoulders with this acting icon.
This Time With Alan Partridge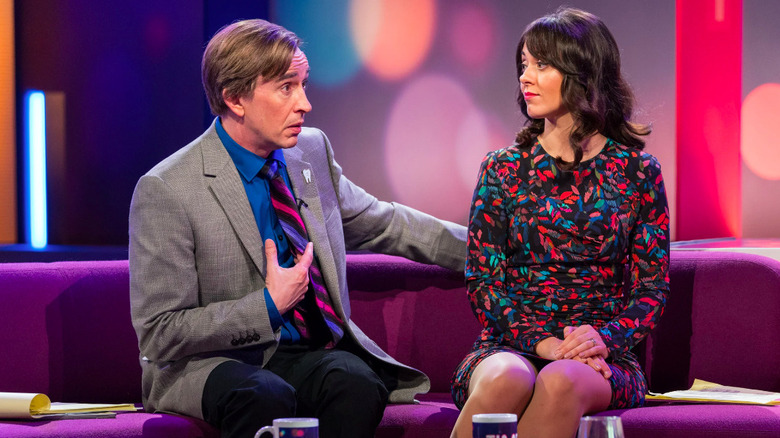 The (fake) career of Alan Partridge -- Steve Coogan's enduring alter ego -- is something that stands alone in the pantheon of British comedies. Decades after his first appearance on 1991's "On The Hour," Partridge has had a life on screen that's lasted longer than most real-life showbiz personalities. We've seen him host his own chat show (and accidentally shoot a guest), get booted off the BBC and relegated to local radio, live in a static home and endure a bit of a midlife crisis, and received a brief career resurgence after helping to navigate a hostage situation in 2013 movie "Alan Partridge: Alpha Papa."
However, with polarizing media personalities with a disdain for cancel culture wokeness on the rise in the wake of Brexit, Partridge suddenly felt like the unlikely spokesperson for our troubling times. It's this path that led to "This Time With Alan Partridge," a series that sees him co-host a magazine show that perfectly showcases both his fame-hungry on-camera persona and brash off-camera personality.
Co-written by Coogan and his new "Partridge" collaborators Rob and Neil Gibbons, and featuring Partridge pal Simon (Tim Key) and the return of his long-suffering assistant Lynn (Felicity Montagu), "This Time" boasts new gags that have already become classic Partridge moments. Turns out, placing him back on live telly and watching him try to control guests or navigate things like #MeToo is the perfect continuation of this brilliantly written character.
Cunk On Earth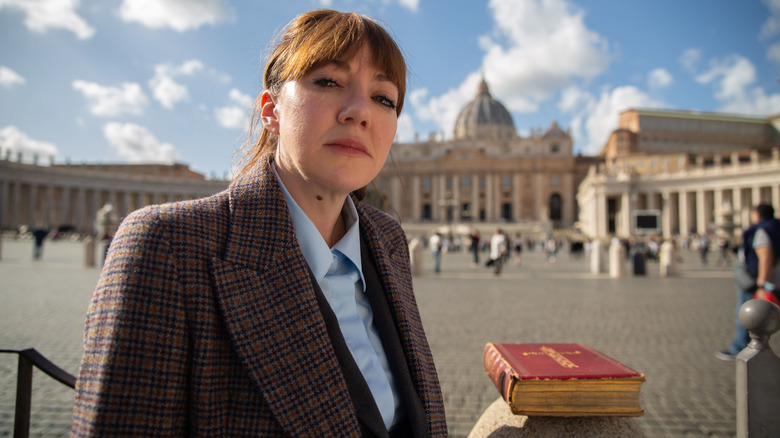 Raw stupidity delivered with stony-faced sincerity. It's something of a through-thread that connects many of the best British comedies -- and it doesn't get much more stupid than Philomena Cunk. Devised by comedian Diane Morgan, Cunk started life as a moronic talking head featured on the satirical TV review show "Charlie Brooker's Weekly Wipe," where she spouted nonsense and clearly incorrect facts. Soon, the character was developed further and spun off into her own comedy vehicle that stuck Cunk in the hot spot as the airheaded presenter of a fake factual documentary series. Needless to say, comedy most certainly ensued.
Following in the same faux-history show format as her previous series "Cunk on Britain," which looked at key moments in U.K. history and featured interviews with bewildered, real-life experts, "Cunk on Earth" allowed the character to broaden her horizons. Everything from the dawn of civilization, the emergence of faith, and the rise of modern-day machinery was put under Cunk's usually ill-informed microscope, with fellow Morgan collaborator Brooker getting involved in parts of the show's writing process and overall silliness.
Filled with giggle-inducing quotes that make little-to-no sense at all ("Do we know if China has a roof?"), and featuring a seemingly random running gag that places key moments in humanity's history within the context of the 1989 release of Technotronic's "Pump Up The Jam," "Cunk On Earth" -- and all of Cunk's output for that matter -- is stony-faced stupidity at its finest.
Friday Night Dinner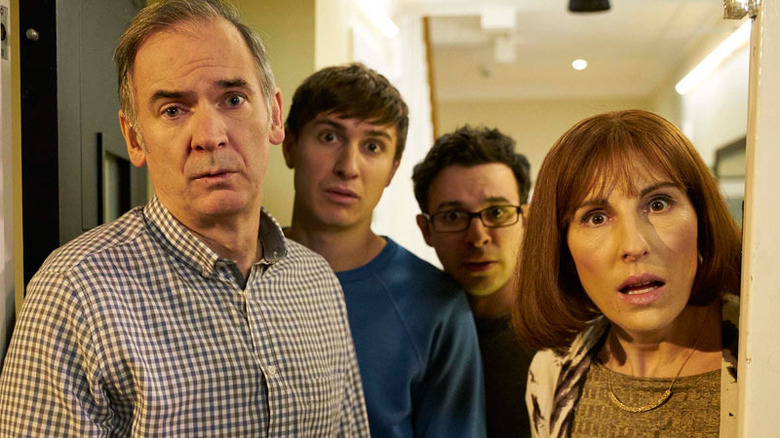 Devised by "Peep Show" and "Stath Lets Flats" collaborator Robert Popper, "Friday Night Dinner" ran for six seasons, and established itself as one of the most popular British comedies of recent years. Its concept is straightforward enough -- it follows two 20-something siblings Jonny (Tom Rosenthal) and Adam (Simon Bird) on their weekly visit back to their parents' house each week for Friday night dinner. When the duo isn't squabbling or playing pranks on each other, they're frequently being embarrassed by their parents Jackie (Tamsin Grieg) and Martin (Paul Ritter), the latter of whom is particularly fond of spending most of his kids' visit walking around semi-naked.
In addition to starring key players from similar Brit hits "Black Books" and "The Inbetweeners," "Friday Night Dinner" also features regular guest appearances from "Spaced" star Mark Heap as the family's oddball neighbor Jim. Inspired by Popper's own personal experiences growing up in a suburban British Jewish household, the show sadly came to a close following its sixth outing following Ritter's death in 2021.
Like many British shows, a number of American remakes have been attempted over the years, the most notable of which was spearheaded by "The Office" producer Greg Daniels and starring Allison Janney and Tony Shalhoub as the family's parents. That version ultimately didn't make it to series, but in July 2022, Amazon Freevee ordered 10 episodes of a U.S. remake under the title "Dinner With The Parents," with Popper helping to oversee the translation process.
Read this next: 20 Underrated Comedy Movies You Need To Watch
The post 10 Underrated British Comedy Series You Need to See appeared first on /Film.