16 Dollar Store DIYs That'll Knock Your Socks Off
Do you love fun and pretty DIY projects, but don't love it when they break the bank? You will love these Dollar Store DIYs!
With a little creativity and a few items from the Dollar Store, you can make easy, stylish decor. Even if you just have a few minutes for a quick craft, or even if you are new to DIYs,  we have some projects we think you will love.
"There is no greater joy in life than the joy of creating something." ~ Abhay Kumar, poet
Whether is a new chic coat rack, a beautiful rope-wrapped laundry basket, a succulent wreath or marbled mugs, you will surely find projects that delight and inspire your next project.
Beautiful & Functional Things You Can Easily Make from Things You Find at the Dollar Store
You are just a quick trip to the Dollar Store and a few minutes away from decorating your home with your newest decor DIY projects. No matter the season, it's always fun to spruce up a room with new decor. And it's even better when they are made with love and for only a few dollars!
1. DIY A Chic Coat Rack
With just a little marble adhesive film and spray paint, you can turn a plain accordion rack into a DIY chic coat rack!  This would be so beautiful, and so practical, in the entry of any home. This coat rack would look equally good in the bedroom. Certainly, it's the perfect creative solution for hanging purses, hats, and scarves.
Also, you can also make one for kids with a fun pattern of adhesive film and then hang it low so that the kids can easily hang their own things up. It would also be great at an entryway, the playroom (think costumes), or their own bedroom.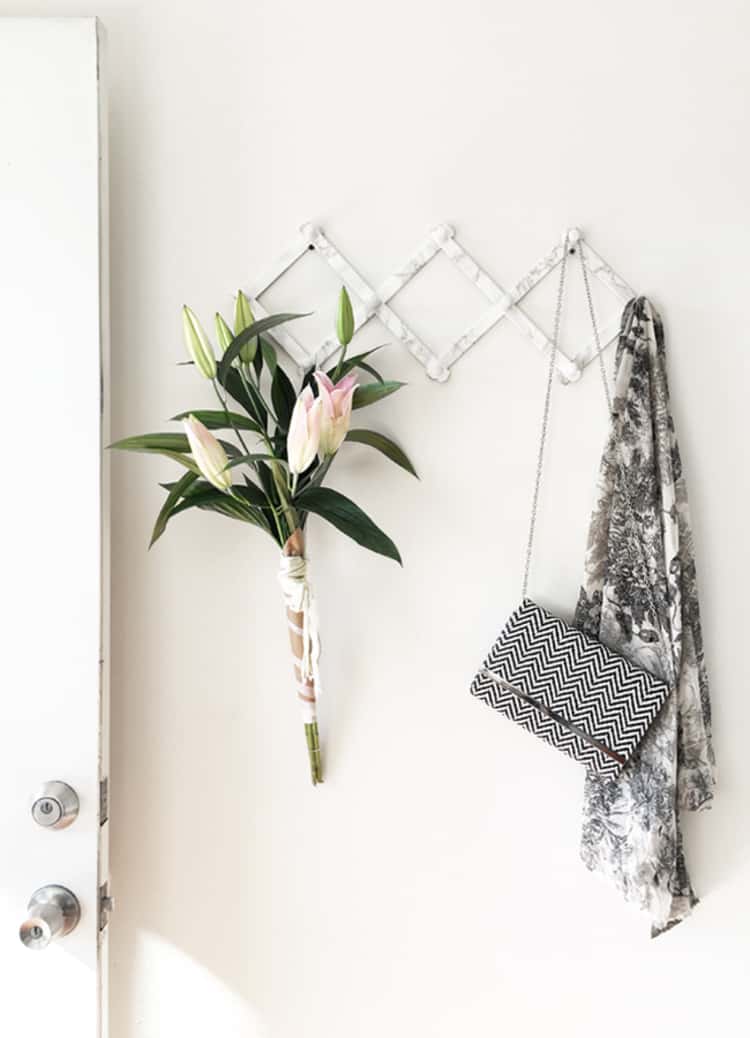 2. Simple Picture Frame Project
In just a few minutes, craft small birch logs from your backyard and a dollar store frame into a beautiful, simple photo display. This project would be beautiful any time of year! And it's so easy to change the photo any time you want. These are so easy to make that you could make extra, for instance, to give as gifts or to have a trio of these frames for a beautiful display.  Your Dollar Store shopping list and add your photo:
acrylic frame
thin birch logs (OK, you can get this from your backyard in many parts of the country)
saw (maybe pick this up from your garage?)
glue
plastic wrap or parchment paper
3. Easy Decorative Plate Hack
Want to jazz up your kitchen? Create these lovely decorative plates in just a few minutes! Using silhouette cutouts, plain white plates and mod podge turn plain dollar store plates into beautiful kitchen decor. You could even make sets for special holidays, like Thanksgiving or Easter. While it's easiest to make the silhouette with a fancy tool, it's not even necessary… you can do it yourself with a little creativity.
4. Craft Stylish Napkin Rings
Create chic and modern wire napkin rings using cheap floral wire.
With just a bit of floral wire from the Dollar Store, you can create these chic and modern napkin rings. You take a few feet of wire, wrap it around a small cylindrical object (like a craft paint bottle), tuck in the ends, and voila! It wouldn't take long to make a whole set and so you can transform your table in minutes.
5. Dollar Store DIYs: Laundry Basket Transformation
Can you believe that this gorgeous rope-wrapped basket was transformed from a cheap Dollar Store laundry basket? With just a few materials, you have a magazine-worthy project.
You start this Dollar Store DIY with a basket, you line it with felt, and then wrap it in rope. The magical part is painting it. This gorgeous color is Americana Decor Metallics Paint in Copper. The faded effect is created by painting lightly at the top and gradually applying more paint. It is magnificent!
6. Thrifty Magnets From Dollar Store Toys
These mini pallet photo magnets were made from a Dollar Store toy! Using blocks from a tumble tower game, and a little creativity, you can make your own fridge magnets. They would also make great gifts for Mother's Day, Christmas, or even to the teacher at the end of the year. These magnets were made with photos, but they could also be made with drawings – making them a wonderful keepsake.
7. DIY Gorgeous Painted Vases
These metallic painted vases would look beautiful in any room. You start with a Dollar Store vase, wrap it with a bit of tape, spray the bottom of the vase with paint and let dry. You can easily make an assortment of these vases in different sizes and colors… to suit every room and every mood!
8. Make A "Marble" Clock For Just A Few Dollars
Create this gorgeous marble clock by covering a simple Dollar Store round frame with contact paper and adding a clock mechanism. This thrifty wall decor looks so luxe that it's hard to believe it was made for just a few dollars. This might be one of our favorite Dollar Store DIYs!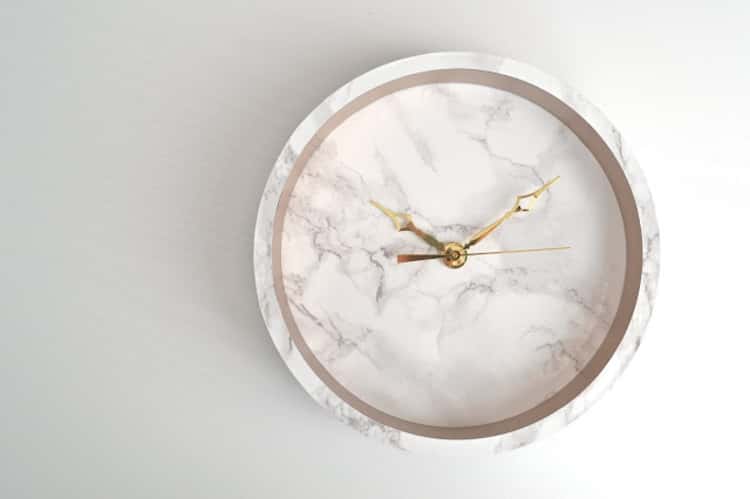 9. Spruce Up Your Night Light
A cute night light like this would make a great addition to any child's room or nursery. For making this project, you use a push light – the shape you choose could fuel your imagination!
To start, you paint the edges, then you cover the center with tissue paper and mod podge. To finish, you can even use a Sharpie to make polka dots or other patterns.
This project would be loved by kids of all ages and could easily be made by kids too!
10. Create A Dreamy Fairy Garden House
This sweet little DIY fairy garden house can be made using a dollar store birdhouse, seed packages and a little glitter. Then, set it in a pot with a bit of moss and a few miniature gardening tools (like a watering can or shovel) and you have your own fairy garden. This is a great project for the kids to help create and will be hours of fun to play with after!
11. Get This Look: Craft A Succulent Wreath
Do you love having a wreath on your front door? Make this stunning faux succulent wreath in minutes and have greenery on your door that lasts all year long. All you need for this Dollar Store DIY is a grapevine wreath to which you glue a variety of succulents and then finish off by adding a bit of moss.
12. Thrifty Sunglasses You Will Love
What says summer more than sunglasses? Make dollar store sunglasses look much more stylish with a DIY upgrade using tape and a bit of nail polish. Then you can make pairs to go with every outfit for just a few dollars and they would be so much fun to design! And, what a great way to use up extra nail polish.
13. Create Gorgeous Marbled Mugs On A Budget
Want to brighten up your kitchen? With this fun project you can turn those plain white mugs you find at the Dollar Store into gorgeous ceramic ware for your kitchen. This marbling technique uses nail polish to create a stunning effect. It's as easy as can be and it's another great way to use up that extra nail polish!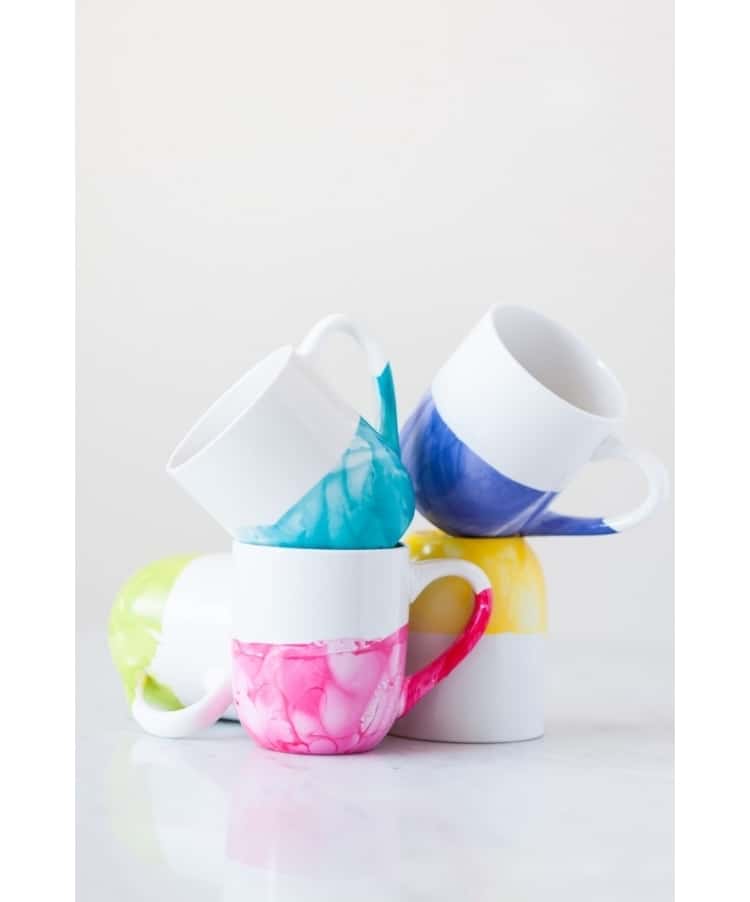 14. DIY Baskets That Will Look Good In Every Room
These baskets look so good, you'll want to use them in plain sight all around the house!
Cover cheap baskets with burlap for a stylish storage solution. Store everything from toys, books, craft supplies, toiletries, and towels in containers you will love. There will be no sticking these lovely baskets into the back of a cupboard!
15. Creative and Fun Dollar Store DIY: Animal Place Cards
Create your own special animal place cards. All you need is some plastic animals from the Dollar Store, a little galvanized wire and some spray paint. They would be perfect for a baby shower or an animal-themed kids' party. You can easily customize this project by choosing your favorite animals and paint colors. After the party is over, you could always use them to display photos or cards!
16. Painted Bookends That Adults And Kids Will Love
And here's another project for those plastic animals: painted animal bookends. Just affix the animal to a block of wood, paint and voila! You have yourself some nifty bookends. How fun would this be in a kid's room? You could craft bookends made with your child's favorite animal to hold all their favorite books in place. These bookends would look just as good in the living room or any spot where you keep your favorite books. Aren't these dog bookends just gorgeous?
The Dollar Store DIYs will brighten any room!
One of the best parts of these projects is that that they can be customized to suit your style and need. They are easy enough to do on a whim if you want to jazz up your home with a fresh new accessory. They are also quick enough to do if you need a gift – and who doesn't love a gift made just for them! The best part though is that these projects won't break the bank. Each of the projects costs no more than a few dollars at the Dollar Store. If you look through your cupboards,  you may have some of the materials already at home. Bonus savings!!
If you liked these inexpensive, easy-to-do projects, then you'll also enjoy:
The post 16 Dollar Store DIYs That'll Knock Your Socks Off appeared first on DIY House Hacks - One Crazy House.