19 Great Ideas for Empty Tissue Boxes
With cold and flu season gearing up, we think you'll have plenty of empty tissue boxes around your house. So, instead of tossing them in the trash, check out these 19 tissue box uses for some creative inspiration. Make a fun game for your kids, try your hand at crafting, or use it for a practical purpose around the house. Let's get started!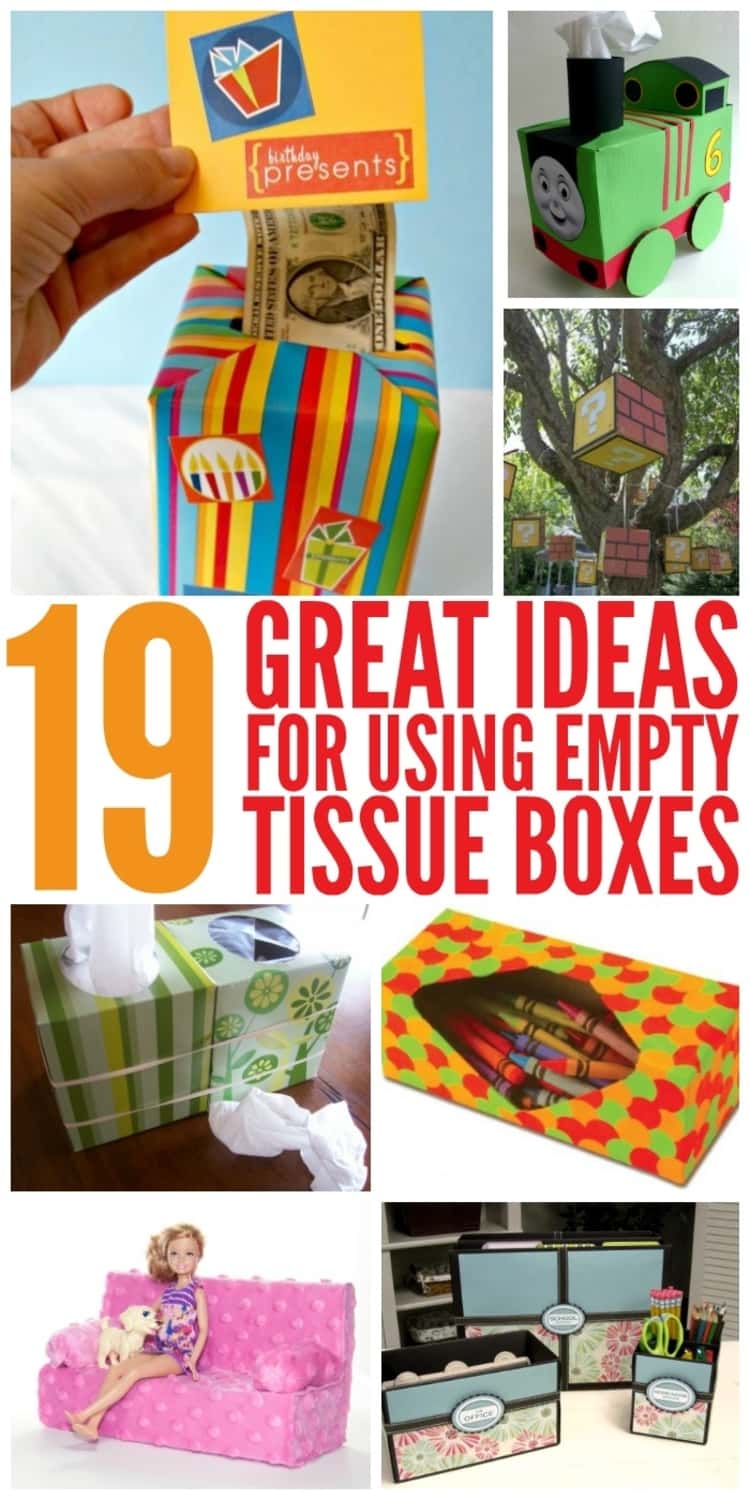 Things You Can Make Out of Tissue Boxes
1. DIY Couch For Barbie
Instead of splurging on another Barbie doll or another toy for your daughter's next birthday, why not surprise her with an additional accessory for her existing dolls? Make a couch for barbie. This'll look fab in Barbie's dream house mad out of a Kleenex box.
2. DIY Towel Holder
Can you believe this towel holder was an old Kleenex box? Wrap it in jute, fold a little bit of canvas over the sides (and cover the inside with canvas), and you've got yourself a gorgeous storage idea for the bathroom by recycling a Kleenex box!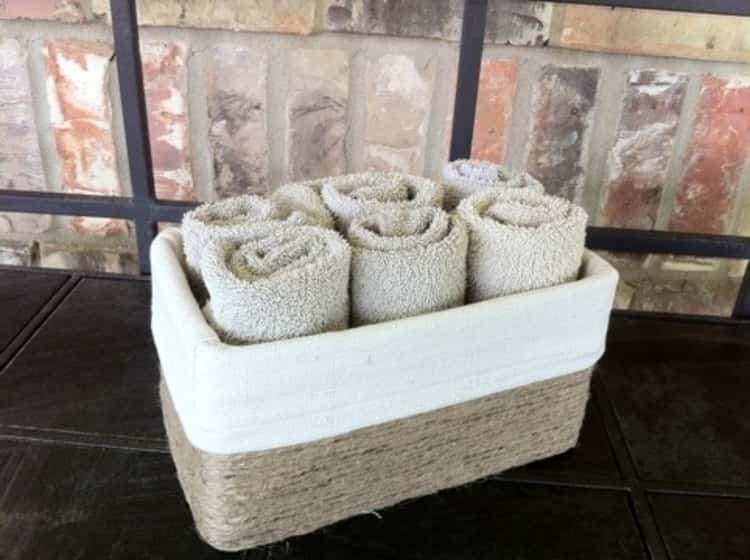 3. Easy Kitchen DIY Hack For Rags or Grocery Bags
Are there must-have items in your kitchen that are sometimes an eyesore? You guessed it right! Those clean rags or grocery bags never seem to look good, even when clean and well arranged.
Here's a quick and easy solution to organizing them: attach an empty tissue box to the inside of your cabinet and store your rags or plastic grocery bags. Genius!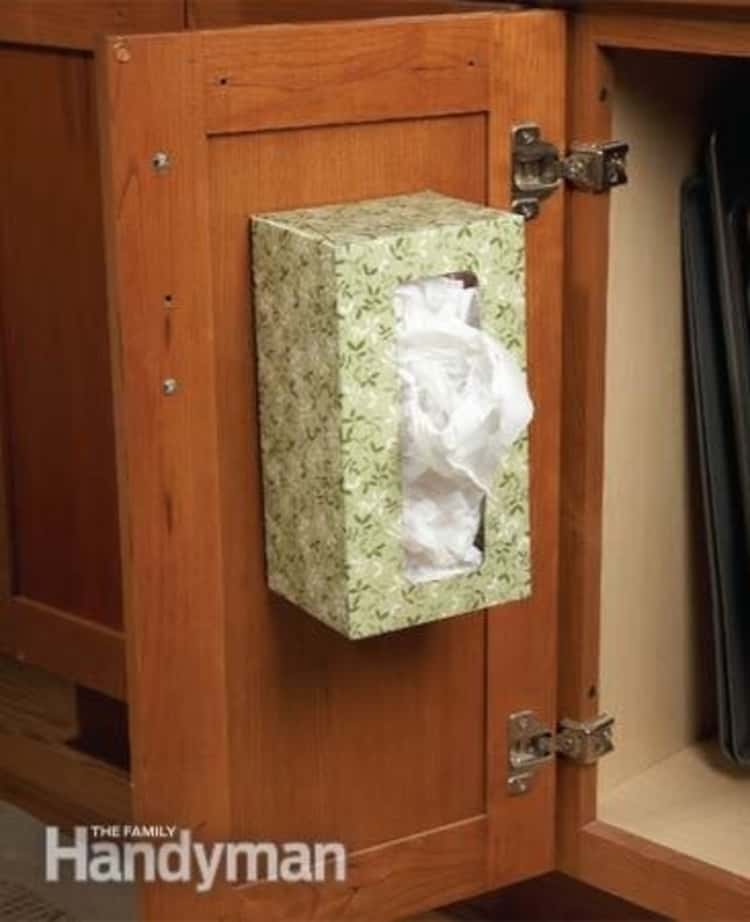 4. DIY Instant Mobile Trash Can Using A Tissue Box
Being down with the flu is no excuse for being messy. When you're sick, use rubber bands to attach a full tissue box and an empty tissue box together… an instant mobile trash can! See more tips for cold and flu season.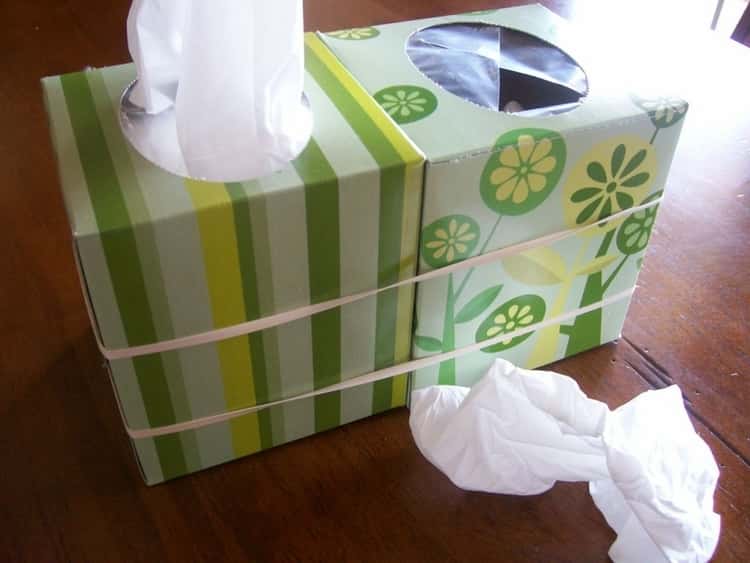 5. How Much Moolah Is In My 'Gift In A Box'?
Make money gifts a lot more fun and intense! This gift in a box is a hoot to open… when will the money chain end? Remember to capture the emotions on their faces as they're pulling out the money chain from this DIY gift in a box made from an empty Kleenex tissue box.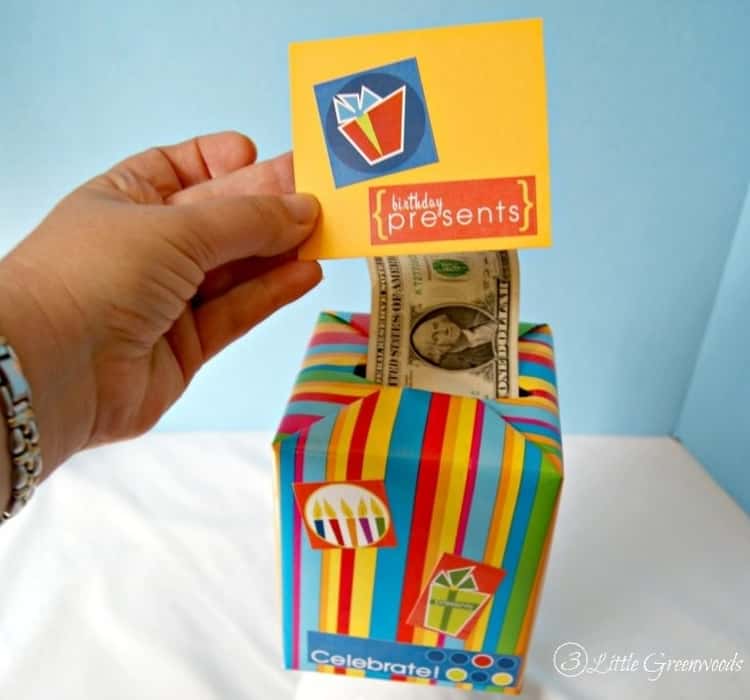 6. Choo Choo! Goes This DIY Tissue Box Train
Being tight on money is no reason to skip gifting your little one for their birthday. Take some time once you've tucked them in bed and make this absolutely adorable tissue box train. Can you imagine the smile on your little one's face if you surprise him or her with this?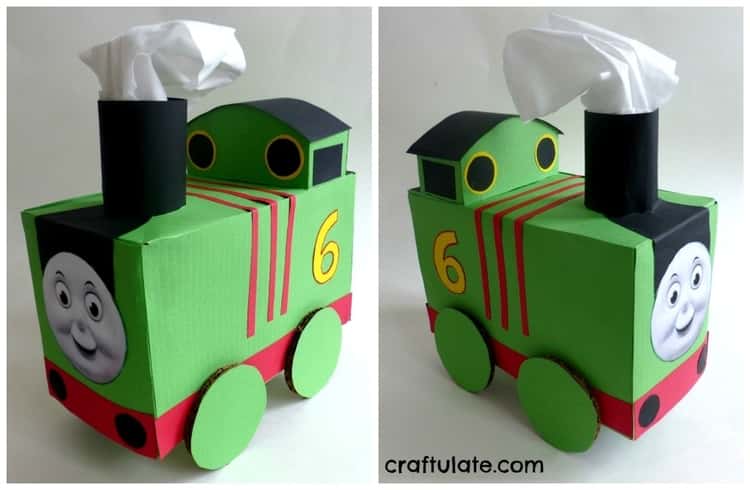 7. Customized Office & Homework Stations Thanks To Tissue Boxes!
Cover tissue boxes in pretty paper to create your own little office or homework station. We all love some good organization and these beautiful personalized tissue boxes make it even easier!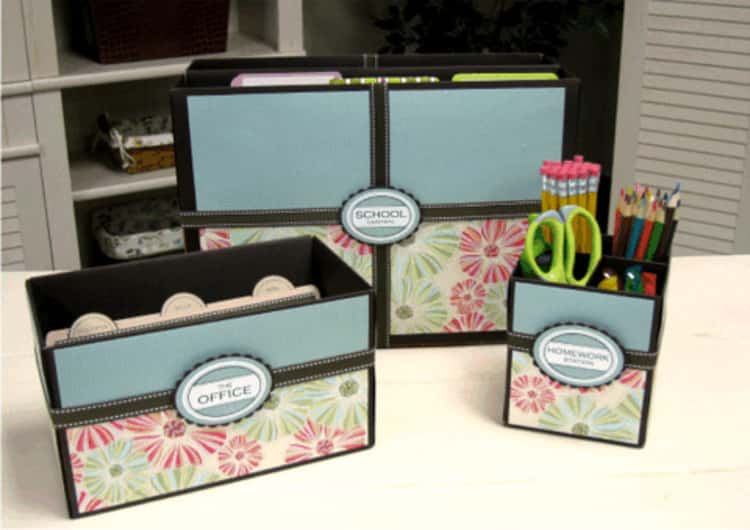 8. Mario-themed Party? A Super Cool Use For Tissue Boxes
Create some Mario bricks for an epic Mario or video game-themed party of your kid's choice. How cool are these? You can turn them into favor boxes for your guests, too.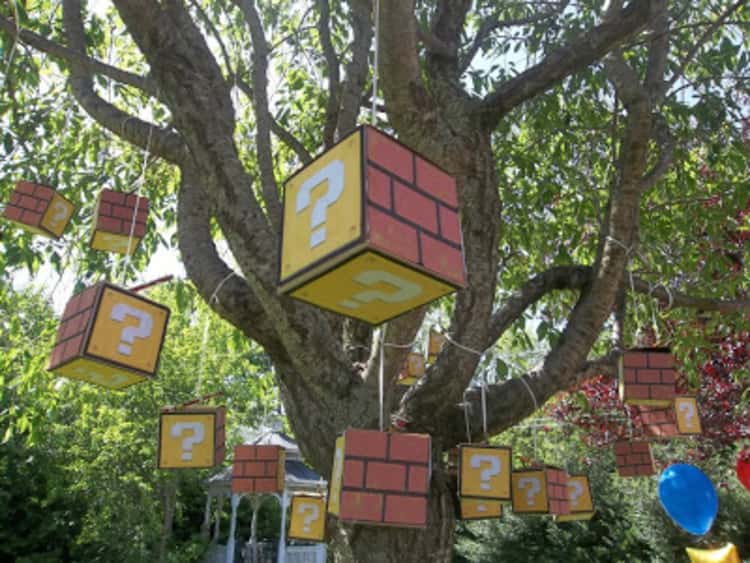 More Brilliant Tissue Box Uses To Try Out
9. Make Some Music With DIY Tissue Box Guitar
Got an empty tissue box, a used-up paper towel roll, and some rubber bands? Make a fun tissue box guitar for the kids then let them have at it with the decorating bit. They'll sure have a blast plucking out their favorite tunes on this thing.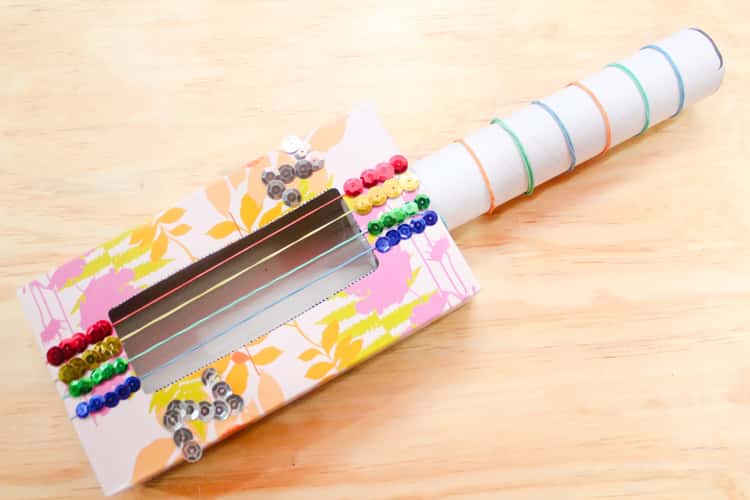 10. Got Junk In The Trunk? – For A Fun-Filled Party
Junk in the trunk is a fun party game, and all you need is a tissue box, some ping pong balls, and a ribbon to make a belt. Shake, shimmy, and dance to get the balls to fall out. It's hilarious.
Depending on the age of the kids, you can remove the thin plastic barrier (to make it easy) or leave it in (to make it harder). And let the games begin!

11. DIY Crayon Caddy
Use one as a crayon caddy in your kids' homework corner or in the classroom. You can choose to shape an empty tissue box, or simply make your work easy by using a sandwich bag box that comes already with the perfect opening for the little hands. Have the kids decorate and customize their crayon caddies with stickers, then arrange their crayons in and you're all set.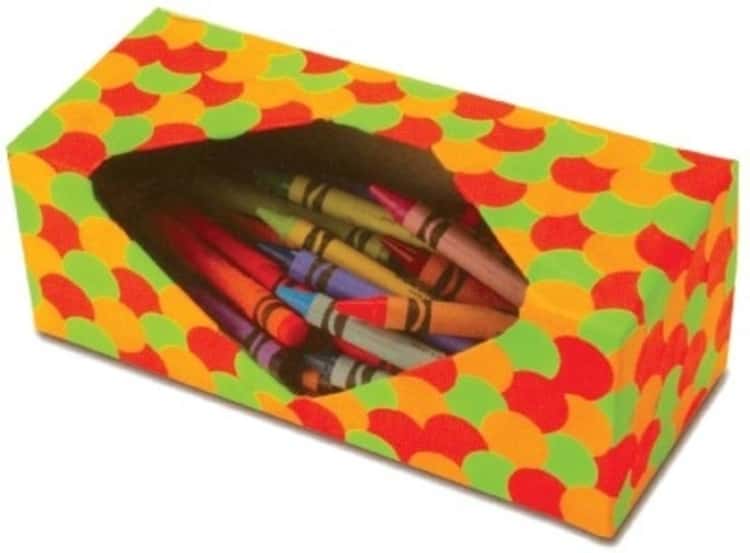 12. Your Own Animal Farm From Tissue Box Use
Before you throw out those empty tissue boxes, here's a fun project you can do with the kids. Aren't these tissue box farm animals too cute? This is a great idea for a farm-themed homeschool or classroom unit. You'll only be making the animal heads so this is a quick and easy fun project.
Draw and paint the eyes and noses of each of the animals. Next cut out their ears and glue them on. Finally, paint the tissue boxes in the different animal colors and leave them to dry.
13. Tissue Box Pinata
Make your own tissue box pinata for your next party. Tissue boxes are just perfect for use in making piñatas because they're readily available and already have a place for you to stuff in the candy/treats.
All you need for your tissue box pinata is the tissue box, crepe paper, ribbons, scissors, glue, and candy. Make 2 holes using your scissors on opposite corners of the box, then pull your ribbon through the holes you made. Make a large knot in your ribbon, large enough that it won't slip through either of the holes you've made in the tissue box.
Cover your box by gluing on fringed crepe paper and let it dry. Once dry, fill with candy, and seal. Your pinata will be destroyed faster than you can say Jack Robinson and it's all worth it!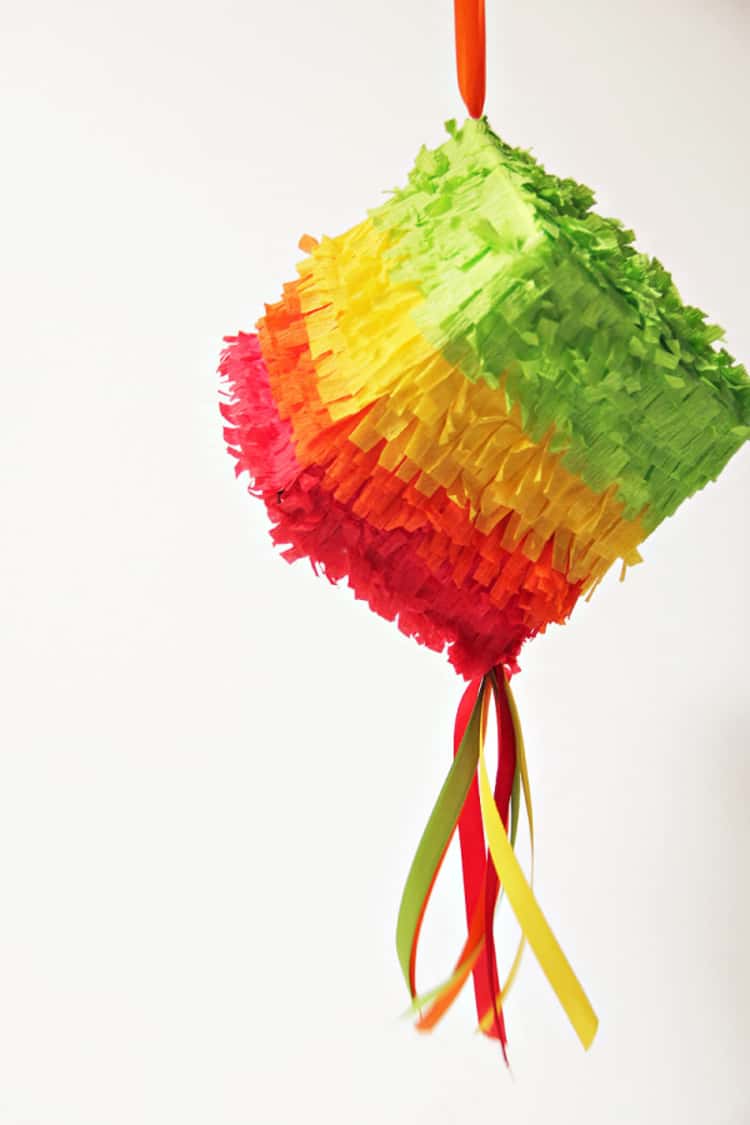 14. Play Dress Up With Tissue Box Dinosaur Feet
Halloween isn't the only day we can dress up and have fun. Try this and be a dinosaur for the day! Your kids will also adore having these tissue box dinosaur feet.
You can choose to go all out and decorate the tissue boxes or you could choose to leave them as is.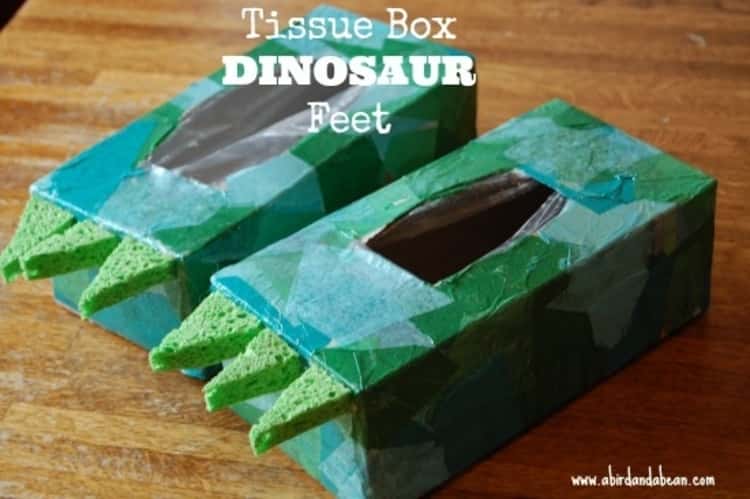 15. DIY Flower Vase – Tissue Box Uses
Use mod podge to cover an empty tissue box with newspaper to make this gorgeous flower vase for a centerpiece. To set up, use 2 empty paper cups to hold your flowers. First, set the cups inside the tissue box and then add water halfway.
Arrange your flowers in the cups, and no one is likely to guess your one-of-a-kind flower vase is made using a tissue box!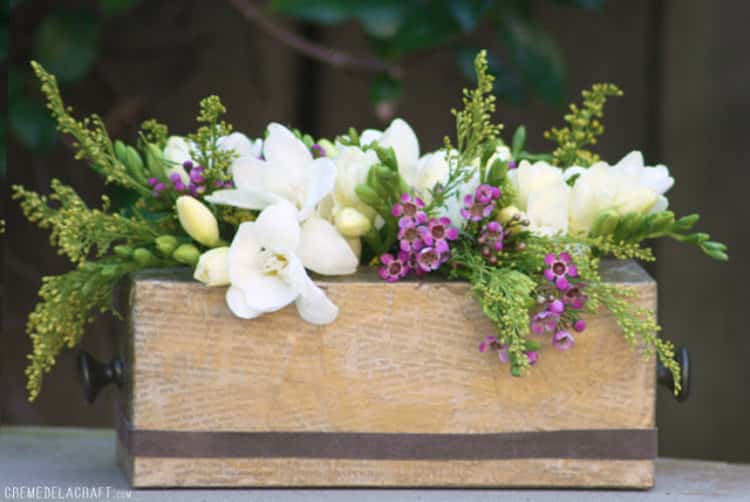 16. Use Tissue Boxes For DIY Yarn Dispenser
Are you a crafter? You know that one major pet peeve is having tangled yarn. Here's a neat solution – Your DIY Yarn Dispenser made from empty tissue boxes.
Drop the individual yarn balls in each tissue box and thread one end of the yarn through a hole you'll have made on one side of each box. Always keep balls of yarn in tissue boxes with the end hanging out so you can see which color or type you need at a glance.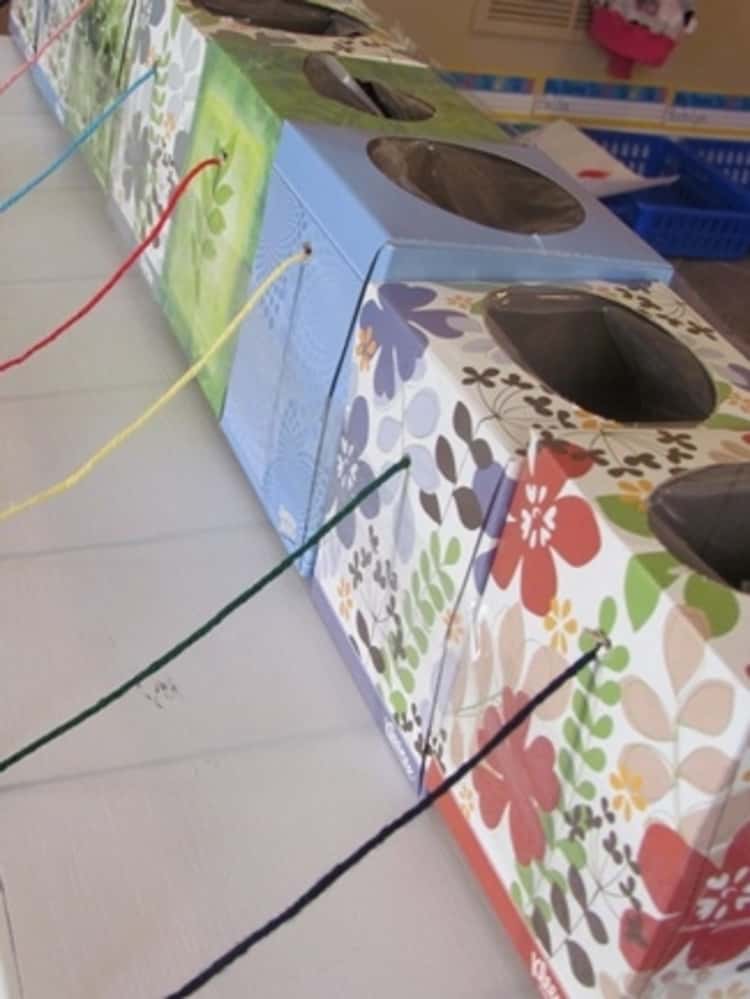 17. Lace Up Your Shoes!
Help your child learn to lace shoes with this fine motor lacing activity. The beauty is that it's easy, fun for the kiddos, and inexpensive.
While you could use a real lace-up shoe, using a tissue box makes it easy for the kiddos because it has bigger holes, won't give the same frustration experienced lacing up real shoes, and will make learning a fun experience.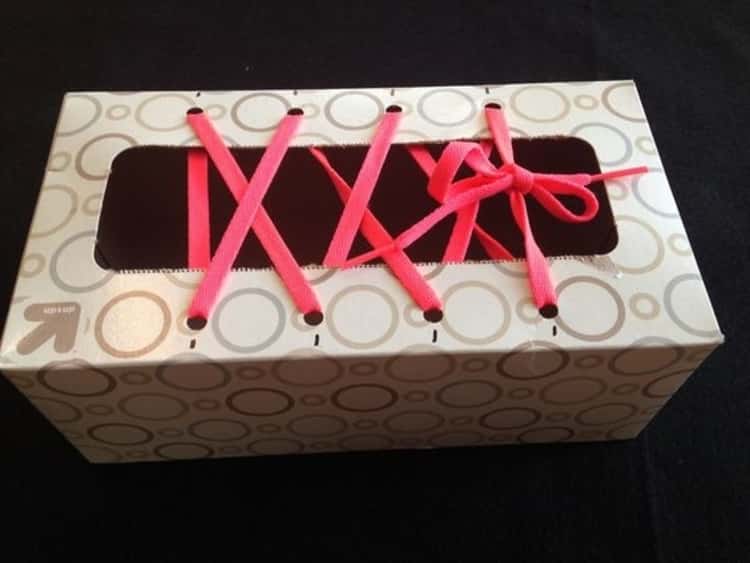 18. Use Tissue Box To Make "Move Like An Animal Cube" For Kiddos
This is ideal for those cold and rainy days when kids can't play outdoors. You can make this super fun "move like an animal" game cube to get your kids moving. This is an easy activity that will help them burn off the extra energy, strengthening their motor skills, and keep them engaged for a few hours.
For this, you'll need:
A color printer (or you can have the printing done at a printing shop)
A4 paper
Packing tape,
Pair of scissors
An empty square tissue box
Procedure:
Choose 6 animals with different types of movements and get their 4″ photos printed on 6 different papers.
Depending on the kids' ages, you can decide to type/write or completely leave out the movement words below the photo.
Cut out the animal shape from each of the papers so that you'll only be taping the shape of the animal onto the tissue box.
Cover the entire box with packing tape
Now the kids can start rolling the cube to see which animal movement they need to make.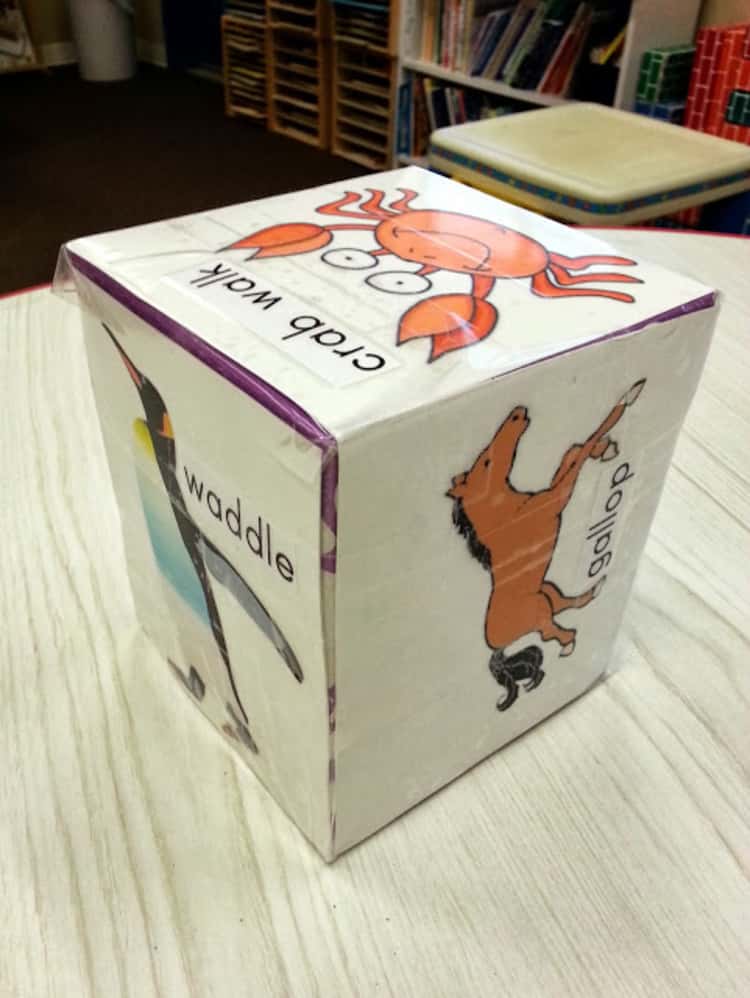 19. Inexpensive DIY Scented Tissue
Being frugal and buying unscented tissue doesn't mean you'll never get to enjoy scented tissue. You can do this inexpensively. Oh, and this trick isn't for empty tissue boxes, but it will make your tissues smell great! All you need are a few drops of your favorite essential oils.
Empty out all the tissue rolls, and pour a few drops of the essential oil in the tissue box, then return your tissue rolls back in. Your tissues will from then on be scented with your favorite essential oil.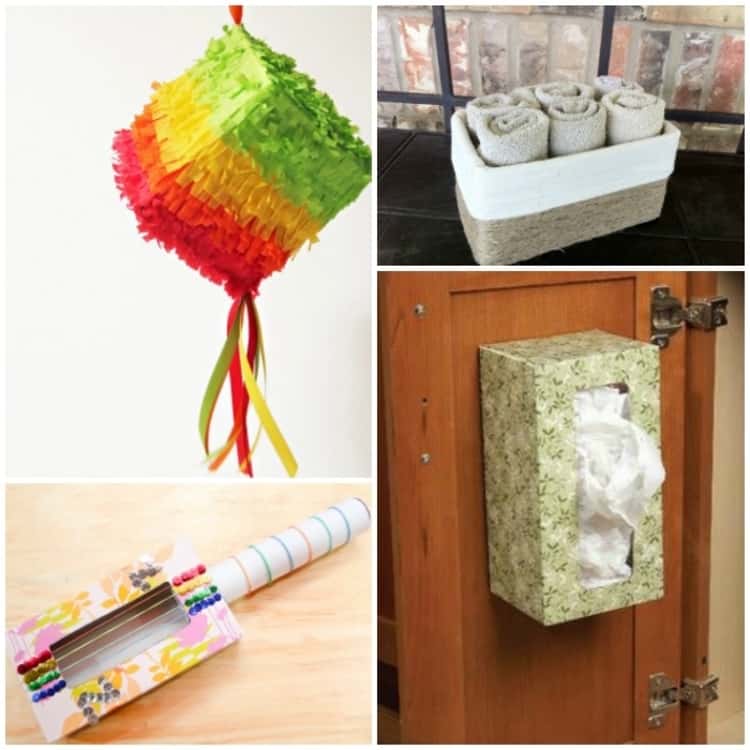 Did you enjoy crafting any of these DIY tissue box ideas, here are other DIY crafts that you may also love:
The post 19 Great Ideas for Empty Tissue Boxes appeared first on DIY House Hacks - One Crazy House.