23 Best Mother's Day Card Ideas to Show Your Love and Appreciation
Show your mom some love this Mother's Day with a special card from you. We have prepared a list of our favorite DIY Mother's Day card ideas, so be sure to check it out and pick one that will make her feel loved and appreciated.
With heartfelt messages and beautiful designs, your mom will love receiving a card from you on Mother's Day. Surprise her with one of these unique cards this year and let her know how special she is to you.
Best Mother's Day Cards Ideas to Try This Year
Check out the top Mother's Day cards that deserve your attention:
1. 3D Butterfly – Free Printable Mother's Day Cards
In most countries, Mother's Day is during springtime, which means that some of the best gifts for the occasion involve flowers and other related symbols, such as butterflies.
Well, the first entry on our list is a DIY card idea that will leave an everlasting impression, especially if your mom is a big fan of butterflies: the DIY 3D paper butterfly card.
Supplies:
Template
Colored cardstock
A pair of scissors
Glue stick
A marker
Paper
The best part about this particular card idea is that you have plenty of creative freedom. You can create your own butterfly template, play around with the colors, and even write words on the butterfly's wings.
2. Lipstick – Mother's Day Gift Card Ideas
If you run out of ideas about what to gift a special lady in your life, you can't go wrong with cosmetics (unless she has very specific preferences).
As such, another way to get original with your Mother's Day card is to turn it into creative packaging for lipstick. It's best to find out your mom's favorite lipstick, gloss, or lip balm since the whole idea is to get her something she'll like and wear with pride.
Supplies:
A tube of lipstick or lip gloss (your mom's favorite)
A hole punch
A glue stick
Pink ribbon
Cardboard
Scissors
A pencil
A ruler
Find out more about crafting a lipstick gift card.
3. Floral Bouquet – Happy Mother's Day Card
If you want to try something more durable than genuine flowers, you can always make a floral bouquet card.
Supplies:
Colored cardstock
Beige cardstock (cream will also work)
A pair of scissors
White cardstock
A black sharpie
A glue stick
Visit The Best Ideas for Kids for the complete instructions.
4. DIY Trading Cards – Things to Write in a Mother's Day Card
If you love spending quality time and playing games with your mom, you can make a Mother's Day card themed around the idea of trading cards.
Supplies:
A black sharpie
White cardstock
Colored sharpies
Some trading card templates
We like this particular Happy Mother's Day card idea because it gives you full creative control, whether you want to fill the cards with elaborate poems or write a simple and loving message that best describes your mom.
Head over to Design Improvised to learn more.
5. Button Flower – Cute Cards for Mother's Day
A common household item used in crafts is the all-too-common button since you always seem to have a drawer full of them. They come in all shapes and colors, and they shine like makeshift marbles.
Well, that's precisely what makes this Mother's Day button flower card so amazing.
Supplies:
Colored cardstock
A green foam sheet
A pair of scissors
Buttons
Glue
Admittedly, many clothes nowadays don't have colorful buttons anymore. So chances are you may need to go to a tailor or order a set online.
We found the original idea on Best Ideas for Kids.
6. Tulip – Pop-Up Mother's Day Cards
If you like the 3D butterfly card idea but want to add a floral touch, try making a pop-up tulip card for Mother's Day.
Supplies:
Green paper
A stick of glue
A green marker
A pair of scissors
Colored construction paper
Making this DIY card is significantly easier when using the printable template, which you can download from Easy Peasy and Fun.
And, if you want to gift your mother something else besides the tulip card, we suggest pairing it with genuine tulips.
7. Pie Chart – What to Write in a Mother's Day Card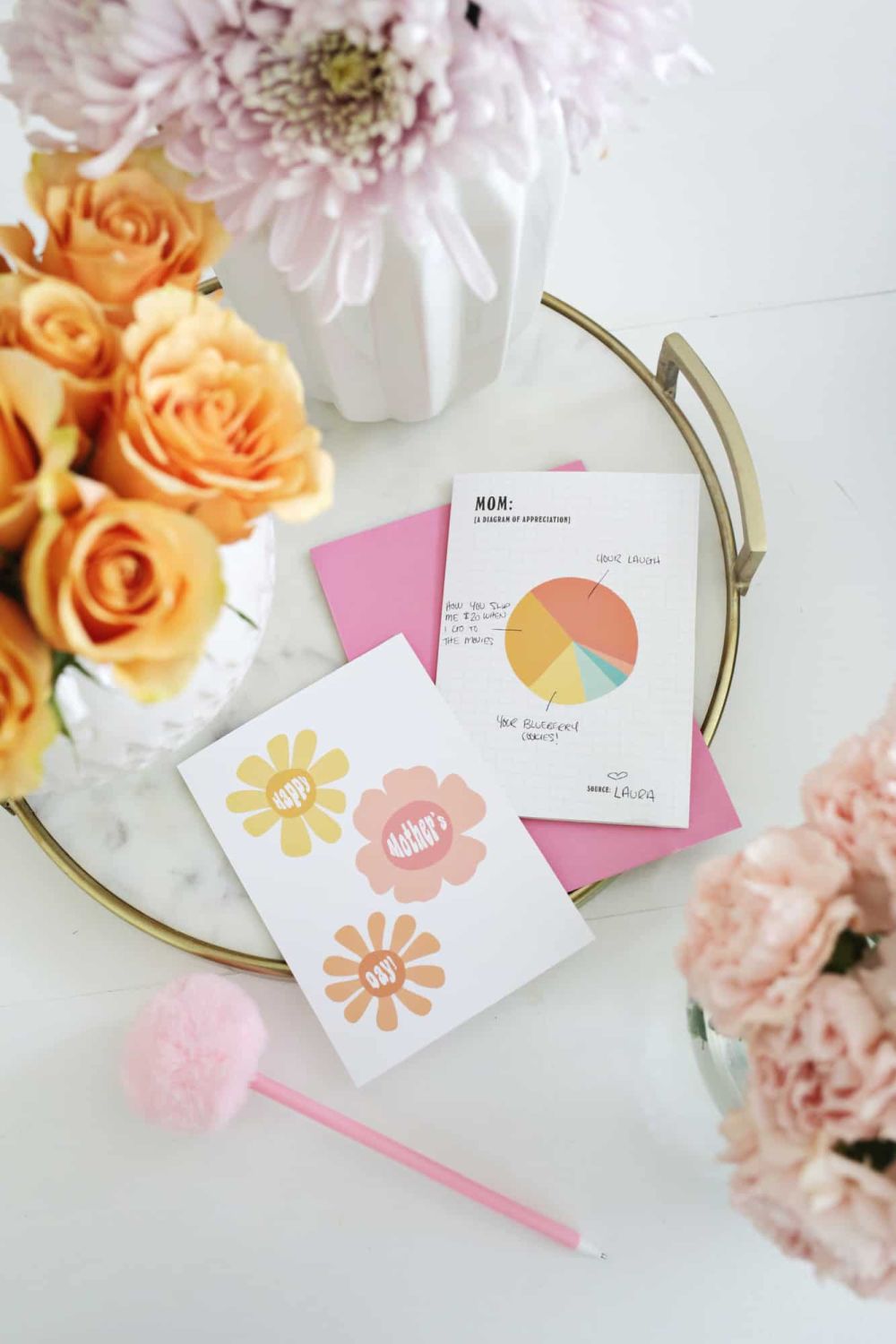 If you like being original, one way to surprise your mom on Mother's Day is to make a card that doesn't use any cliches, like hearts, flower motifs, or elaborate messages.
Instead, you can craft her a straightforward card, like a chart showcasing how much she means to you and how much you love her.
Supplies:
A ruler
A cutter
A printer
A pair of scissors
Card stock paper
Mother's Day card printable
The original idea comes from A Beautiful Mess, so be sure to check it out.
8. You Are My Sunshine – Mother's Day Gift Cards
Moms are always there to provide you with warmth and comfort, so what better way to showcase your appreciation than to remind them that they are your sunshine?
Well, that's exactly the theme of our next entry. It features a cute little sun and cleverly uses it as the letter O when spelling out MOM.
Supplies:
Light blue cardstock paper
A pair of googly eyes
Yellow cupcake liner
Colored crayons
Letter stickers (markers will also do)
A glue stick
Find out more at I Heart Crafty Things, where you can also download a sunshine card template to simplify the crafting process. And, with a bit of tweaking, you can easily turn it into a birthday card or even a Valentine's Day card.
9. You Were Right – What to Say on a Mother's Day Card
Getting into arguments with your mother is inevitable no matter how close you are. And Mother's Day is the perfect time for making amends. A card with the words You were right will show her that you set your pride aside and want to apologize.
Supplies:
Colored cardstock (white will also work)
Colored markers for the writing
We came across this DIY card idea on Studio DIY, and they even provide you with a free printable version.
Given the theme of this Mother's Day card, there are two types of texts that you can write inside: a heartfelt apology, or a funny message where you detail how she's right and you're wrong. Whichever text you choose, she'll cry tears of joy or laughter, so make sure to have a napkin at hand.
10. Watercolor – What to Write in Mother's Day Card
Watercolors are a fantastic choice for crafting Mother's Day cards. But if you don't have enough skills and fear that everything will get messy fast, you can use a printable template that resembles the watercolor effect.
Head over to How About Orange to get one.
11. Flowerpot Card – What to Say on Mother's Day Cards
If you love going through old pictures and using them in your crafting projects, check out this potted daisy chain idea from KareWares. The tutorial shows how to string pretty paper flowers and make them look like they pop out of a tiny paper pot that says Happy Mother's Day. And you can add cute pictures in the middle of the flowers.
12. Floral Mother's Day Pop-Up Cards
Adding pop-ups to a homemade card makes everything more exciting, no matter the occasion. Check out how Martha Stewart crafts a charming Mother's Day card using paper flowers.
13. String Heart Yarn – Mother's Day Greeting Cards
We love the way Hello Wonderful used their embroidery skills to create an adorable woven yarn heart with love.
14. Paper Flowerpot – Mother's Day Cards DIY
The cute little lacy-trimmed pot opens up into a card, while the flowers add personality and a pop of color to this paper flowerpot design from Julie Davison. Besides, you can use any colors you want.
15. Paper Lace, Ribbon, and Faux Flowers – Do It Yourself Mother's Day Cards
If you have fond memories of your mom decorating your childhood home with lace doilies, fresh flower vases, and pink, she will love this lovely card design from Crafty Sahm I Am. It uses embossed paper, paper doilies, and ribbons to complement stunning paper flowers that look like the real deal.
16. Printable Pop-Up Letters – Template for Mother's Day Card
Have fun making these adorable pop0-up cards with short messages featured on 1 Dog Woof. Besides, you can download the printable template and use your trustworthy cutting machine.
17. I Whaley Love You – Funny Mother's Day Cards
This charming whale design featured on Crafty Morning makes for a wonderful Mother's Day idea, especially if you and your mom are into puns and silly wordplay.
You can keep things simple by making the whale from construction paper or get fancy by using a felt stitch.
18. DIY Brag Book – How to Make Mother's Day Card
Here's another awesome idea that involves family pictures – making a brag book. You can write a lovely Mother's Day message inside to create the perfect conversation starter for your mom's next night out with the girls.
We love how neat and tidy the paper embroidery and accordion layout look. Visit Nalle's House for more details.
19. Water Bottle and Buttons – Make a Card for Mother's Day
Katie's Crochet Goodies teaches you how to use paint and upcycling techniques to design a cute little daisy shape. You have to dip and imprint the bottom of a water bottle on the front of a folded paper or card. Then, finish off the flower's stem and leaves, write a nice message, and voila.
20. Printable M&Ms – Happy Mother's Day Cards
If your mom has a sweet tooth, she will adore this M&Ms-themed card design from The Pin Junkie. Just make sure to also gift her real M&Ms. Download the printable and make your own label effortlessly.
21. Fingerprint Flowers – Cute Mother's Day Card
Have your kids join in and use your fingers to paint flowers, just like Starking Crafty and Party did here.
22. Fabric Scrap Bird – DIY Mother's Day Cards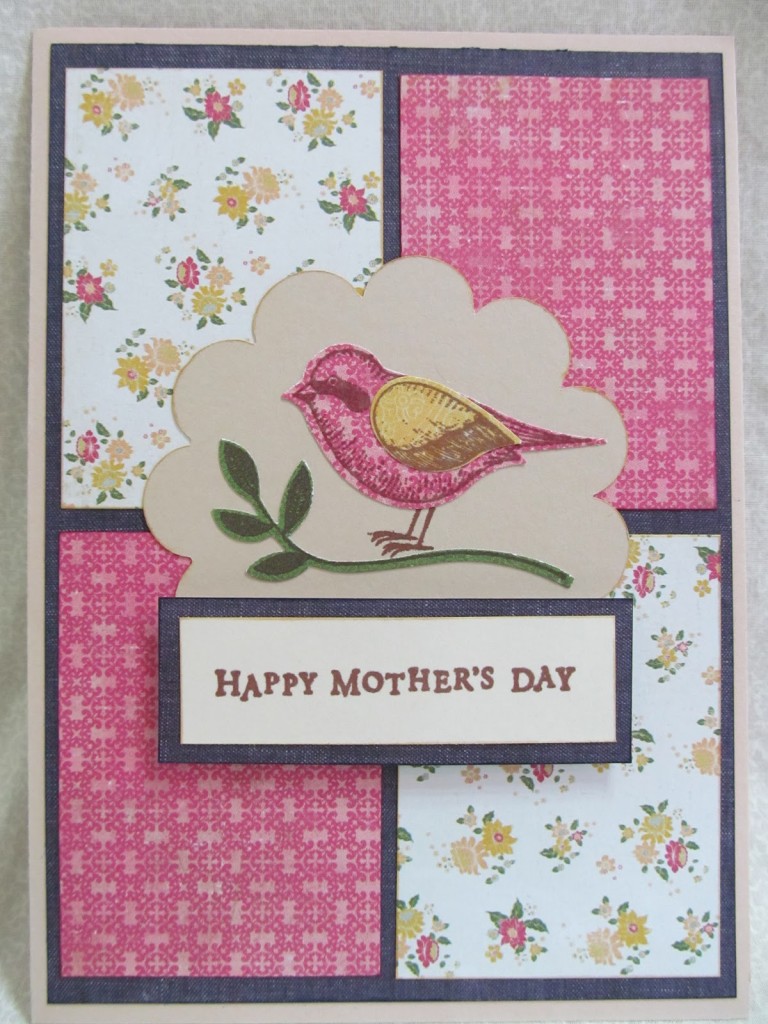 If you and your mom are sewing enthusiasts, you can make her a card that celebrates your mutual passion. We adore this fabric scrap card idea from Savvy Handmade, where the bird is a fantastic added touch since Mother's Day symbolizes spring.
23. Handprint Flowerpots – Easy Mother's Day Card Ideas
Treading on Lego demonstrates how to turn a simple handprint into a whole flowerpot, complete with an adorable Mother's Day poem to go with it.
Closing Thoughts
Before we end this article, we'd like to leave a word of caution – do not underestimate the power of handmade gifts.
Everyone loves it when people put their hearts and souls into a gift, and this is the kind of thing that people remember for a long time.
What are your favorite Happy Mother's Day card ideas? Let us know in the comment section below
The post 23 Best Mother's Day Card Ideas to Show Your Love and Appreciation appeared first on DIYs.com.