5 Furniture and Home Decor Micro Trends from Highpoint Market 2021
We're all up to date with the major furniture and interior design trends from my previous two posts, so today, I'm sharing what I'm calling "Micro Trends". :-)
These are things I saw that weren't everywhere, but repeated enough in different vendor showrooms to make note of and remember to watch for at the next market to see if they expand and take hold.
After all, about 3-4 years ago, I spotted the 80's modern style that is overwhelmingly out there now and was very prevalent at this market in 2021. So, you never know what will begin to spread like "curvy furniture" did! :-)
top 5 furniture and Home decor micro trends that will be interesting to watch!
Capsule shape

Hanging chairs

Skirted upholstery

Interesting cut out style back chair

Unique pillow shapes and tiny pillows
Micro Trend #1 - Capsule Shape
The capsule shape is appearing more and more as curves and modern style are becoming prevalent. Whether in a console, mirror or bench, this shape is simple and linear yet soft for a distinctive look.
This asymmetrical console in a capsule shape from Bernhardt works with a modern aesthetic.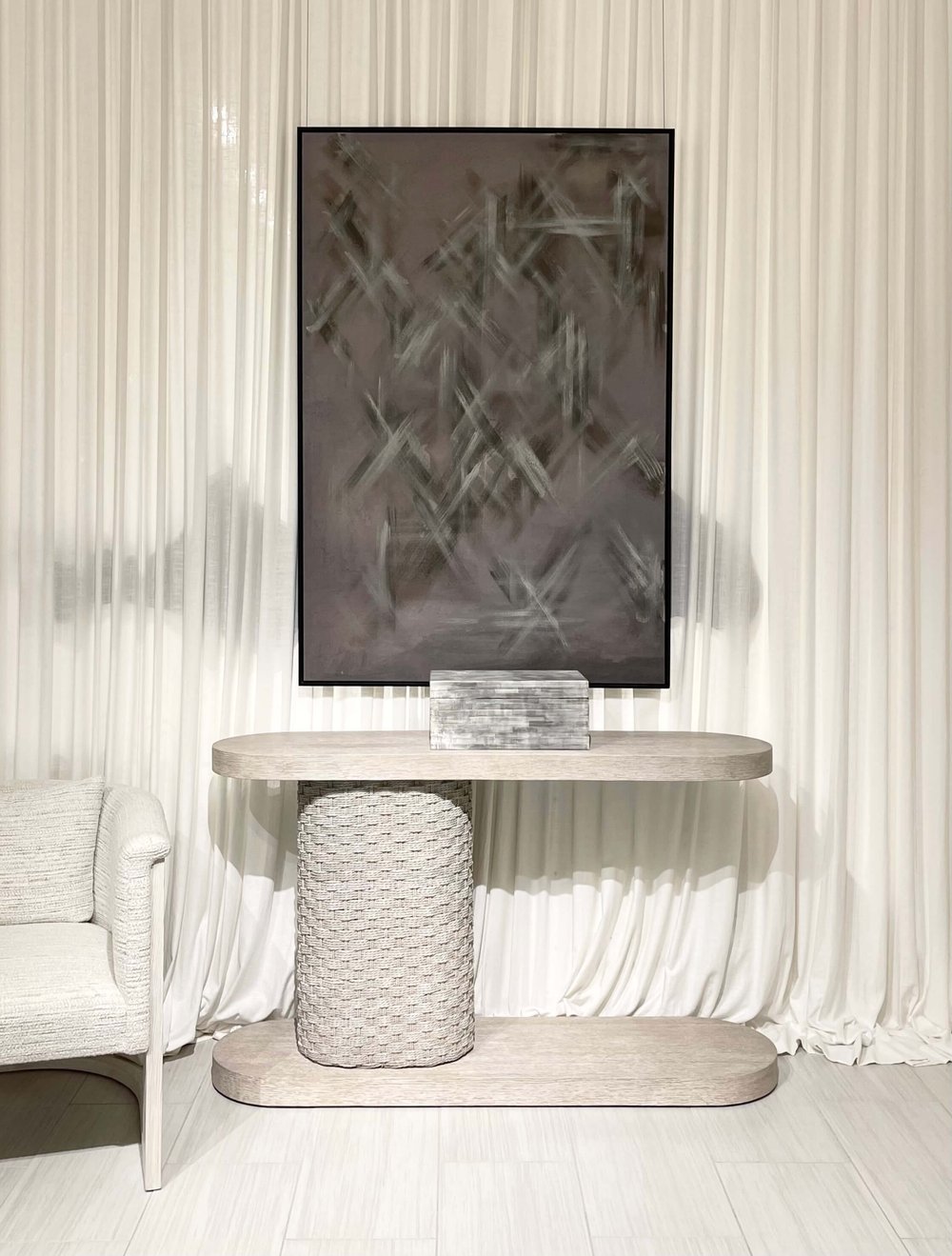 Here's another modern look from Vanguard, with a capsule shaped sofa table. Note the rattan inset in the legs, repeating another trend.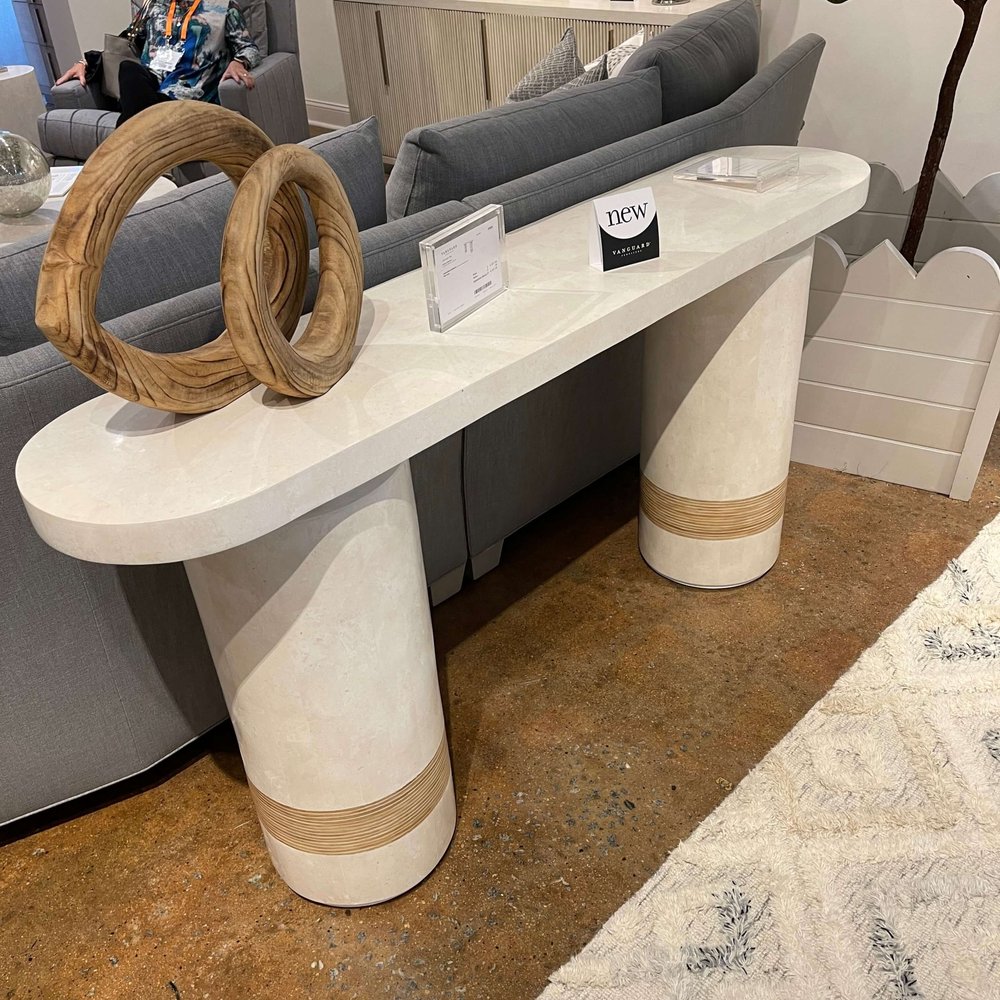 These two ottoman / bench styles, the first from CR Laine, the second from Universal Furniture, were new intros this market.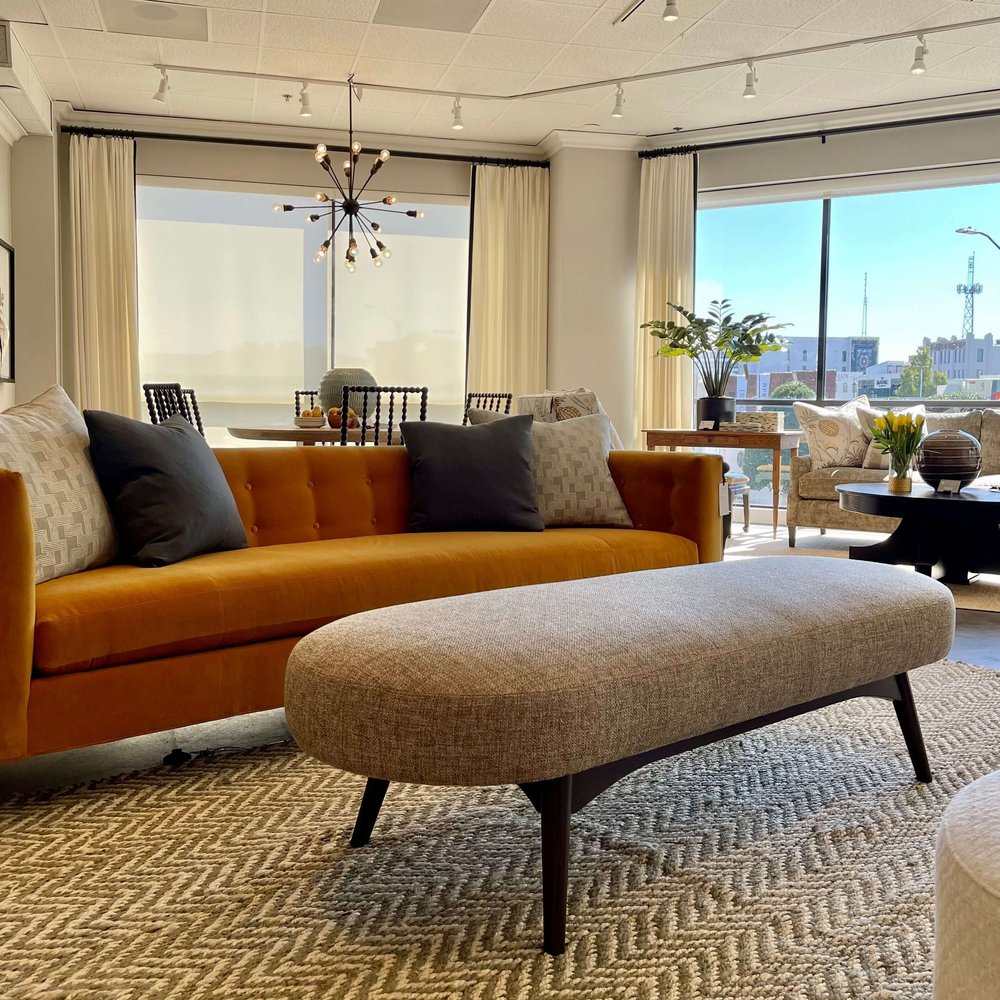 These capsule mirrors create a modern look and are great in a bathroom and can also be mounted horizontally. I've proposed the Howard Elliott mirrors on recent projects and the wood framed mirror from Union Home is a great size at 60" high, for a tall bathroom mirror. (Anything between a 42" and 72" are hard to find!)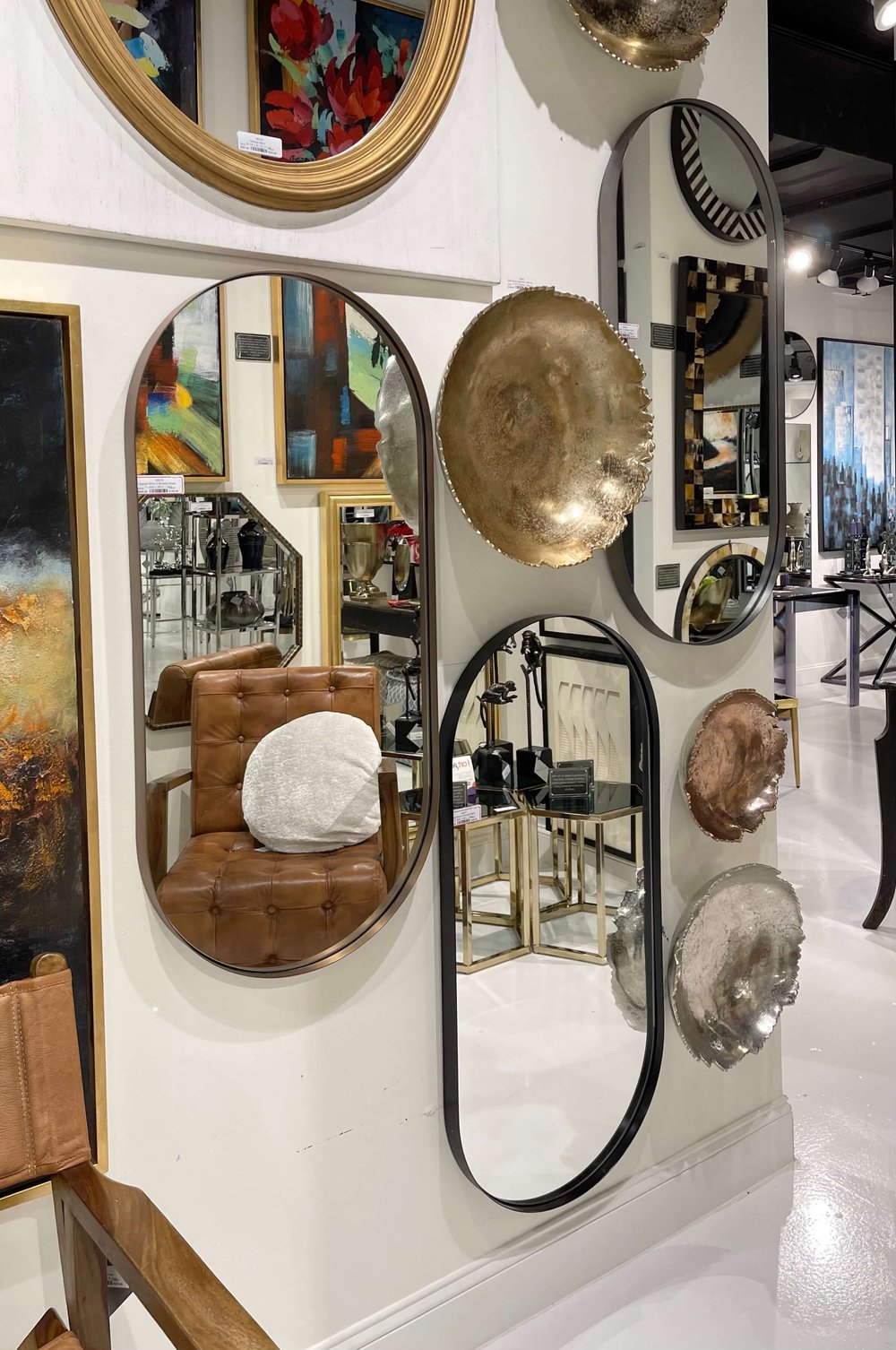 The outdoor dining furniture here from Moe's Home Collection creates a modern vibe with a capsule shape.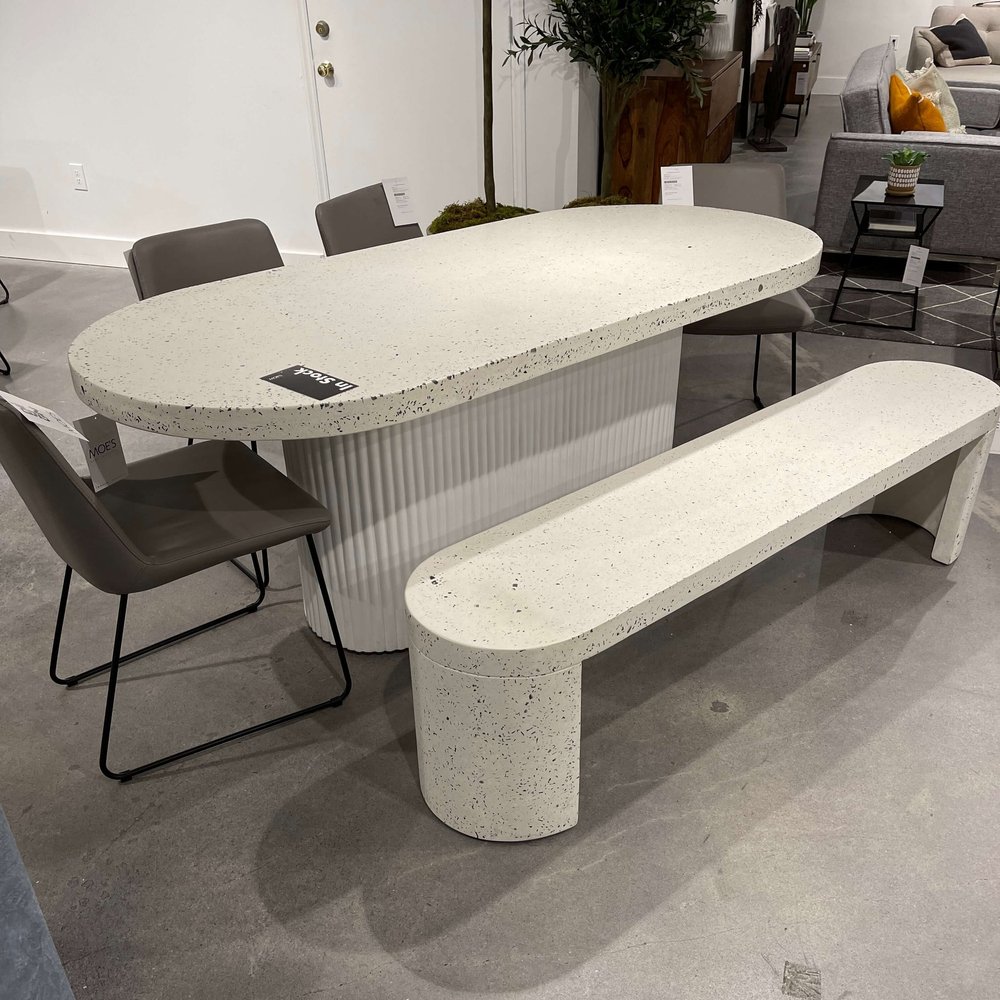 Here's a new desk from Universal Furniture in the modern capsule shape. I believe this was part of the Miranda Kerr line.
Micro Trend #2 - Hanging Chairs
If you don't have a hanging chair are you really in style? :-)
I saw more this time than I've ever seen before. This one from Roshambeaux.
Here's a lovely upholstered chair in a nubby, textural boucle fabric from Highland House.
This colorful ones are from Roberta Schilling.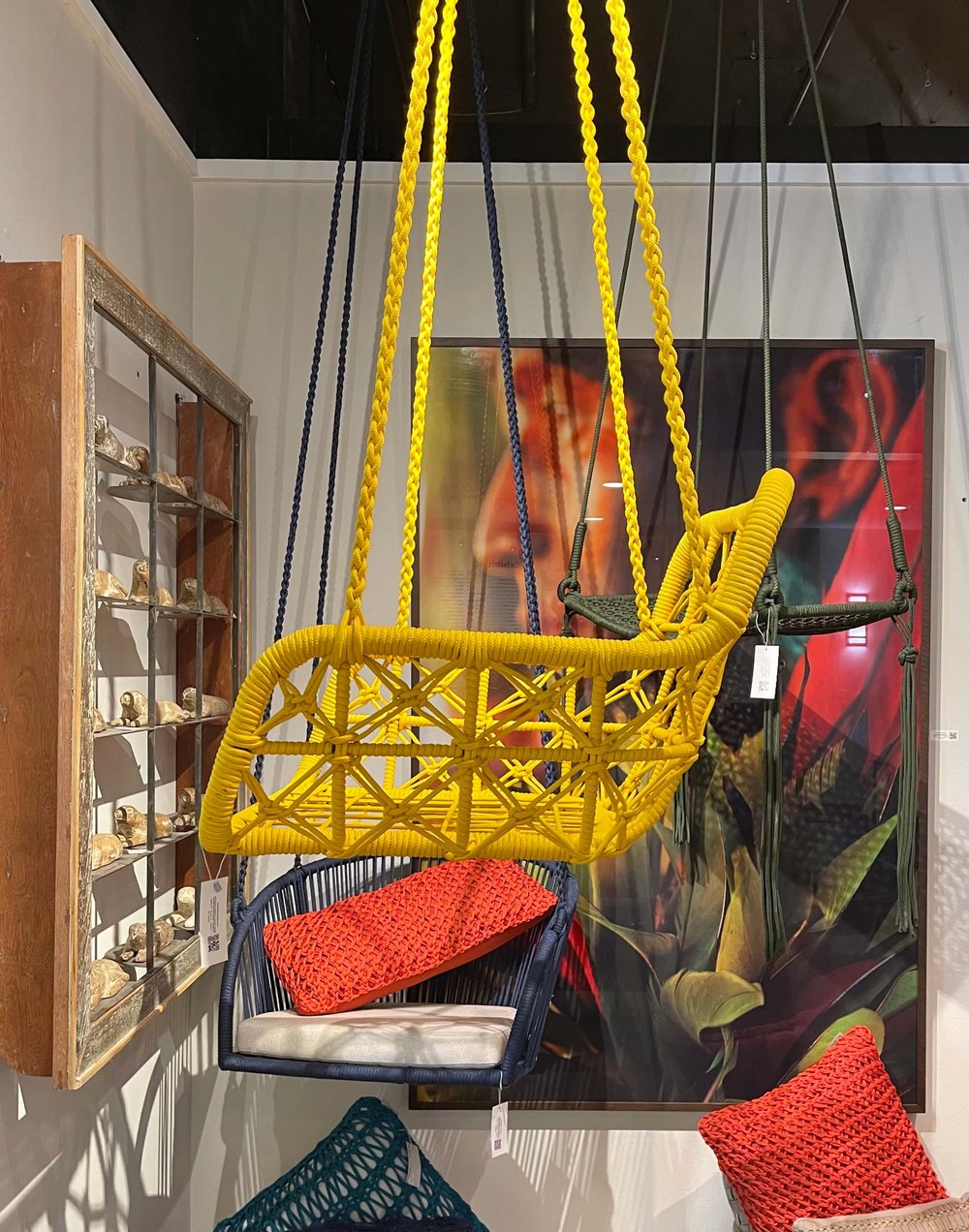 Love this beautiful rattan swing from Kennian Fine Rattan Furniture. Wouldn't it be great on a beautiful front porch?
Those wicker beach chairs are pretty cool too, aren't they?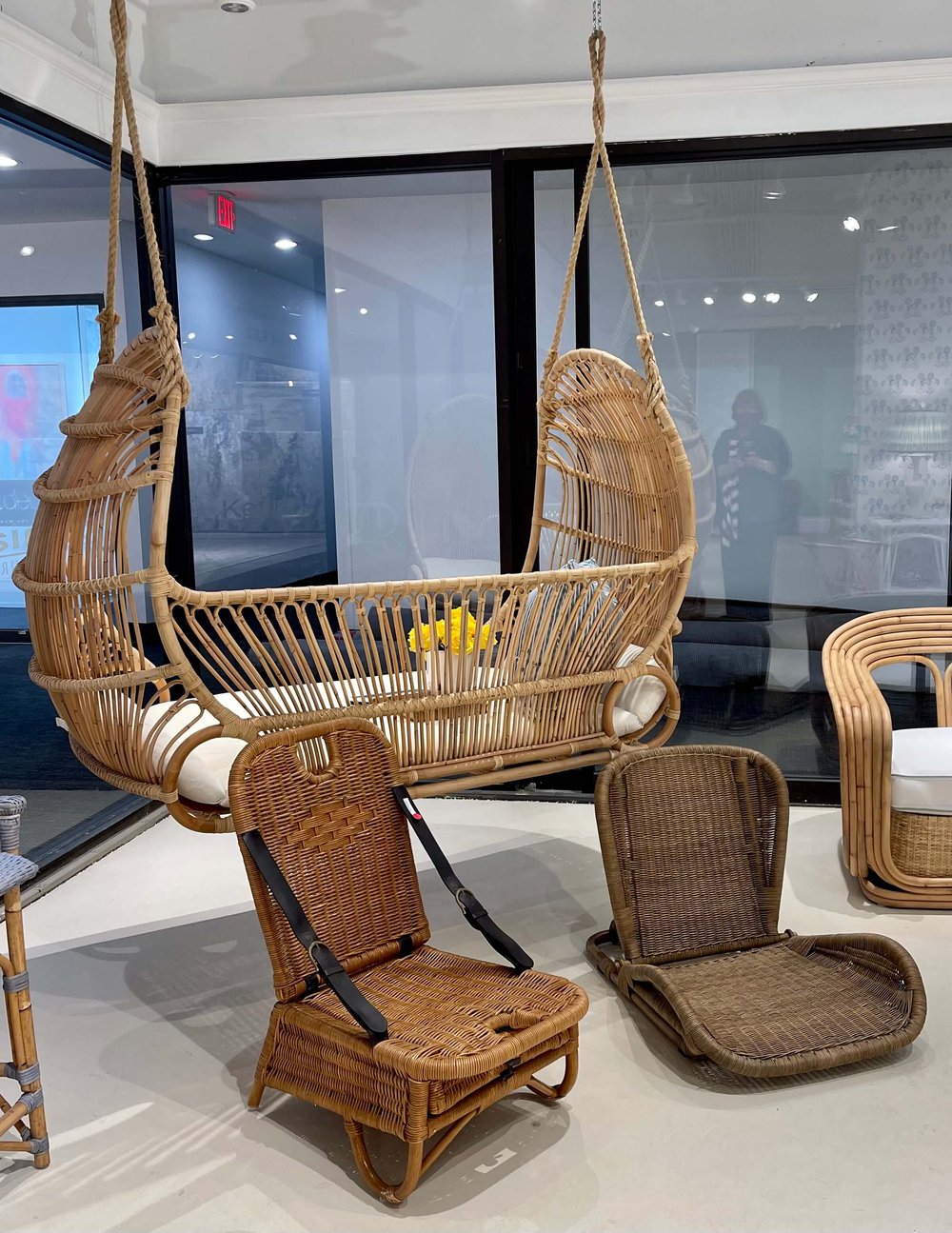 Here's another new intro from Hooker Furniture. I think this coastal look will be popular for them and the hanging benches here are so fun!
Micro Trend #3 - skirted upholstery
One of the reps showed me a pair of skirted sofas that were new intros. We've seen so much of the curvy upholstery that mainly works well as a tight piece of furniture with feet of some kind. Skirts have been relegated to more traditional upholstered items, which typically aren't new introductions.
I started noticing some upholstery with skirts after that convo.
Let me tell you, there is everything at Highpoint. All kinds of styles, shapes, quality and color. There is no one single design element, although there are definitely certain ones that are repeated and we notice that more.
So, don't get the idea that it is all modern, chunky, white and curvy. :-)
More traditional items will always be appreciated, usable and in style. Personally, I like to mix in a skirt now and then with upholstery, especially in transitional interiors. I love how they are done here, dropped from the deck or just as a long slipcover type look.
Short skirts……way too trad and old fashioned for me.
But these? Nice. :-)
This simple shape and style from Highland House is just right.
The vertical stripes on these skirted wing back dining chairs from Wesley Hall make for a tall, comfortable, relaxed look.
Check out the trim at the base of the skirt. It makes a nice detail on a simple longer look. This chair is from CR Laine.
Here's a skirted sofa from Sam Moore. The single seat cushion gives it a more modern and clean lined look.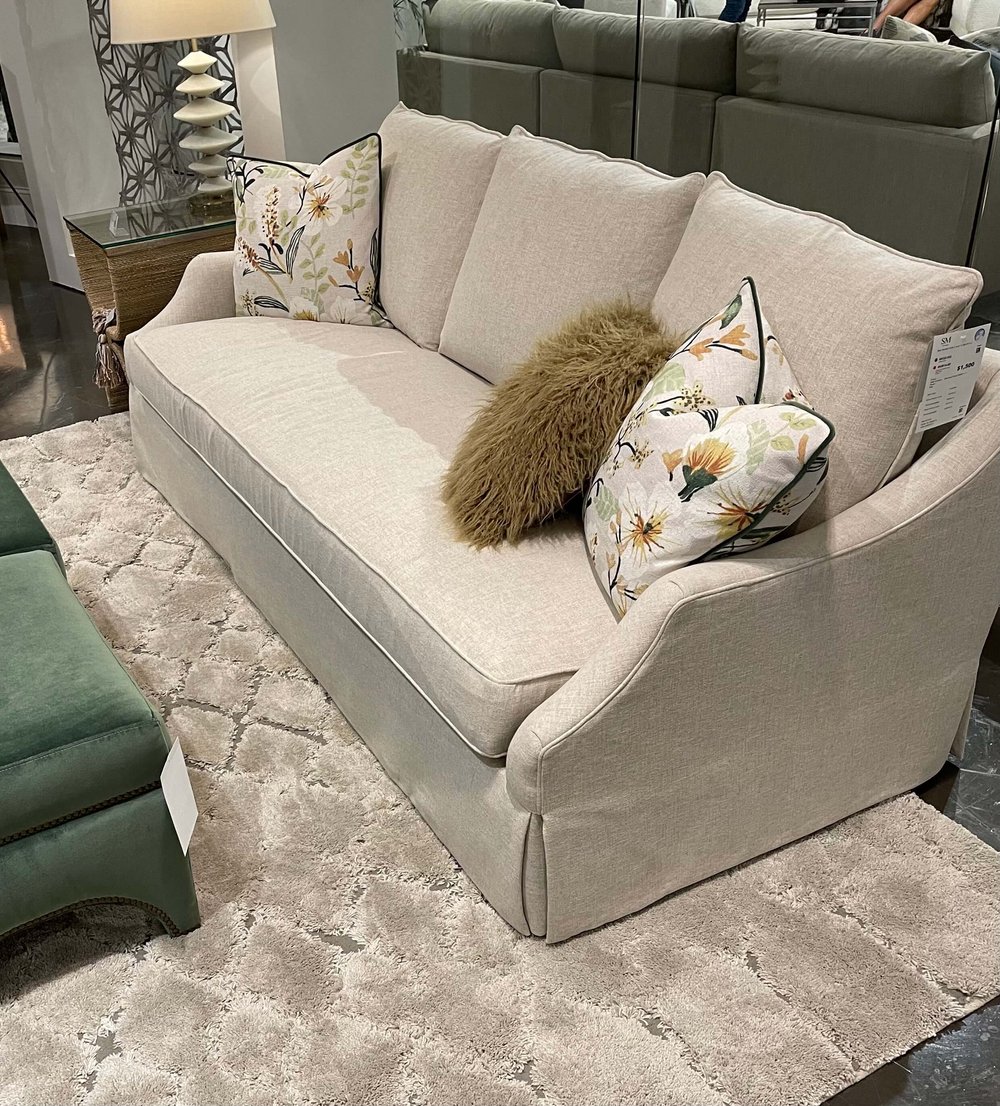 Two more skirted looks from Wesley Hall that I liked. Love that banquette.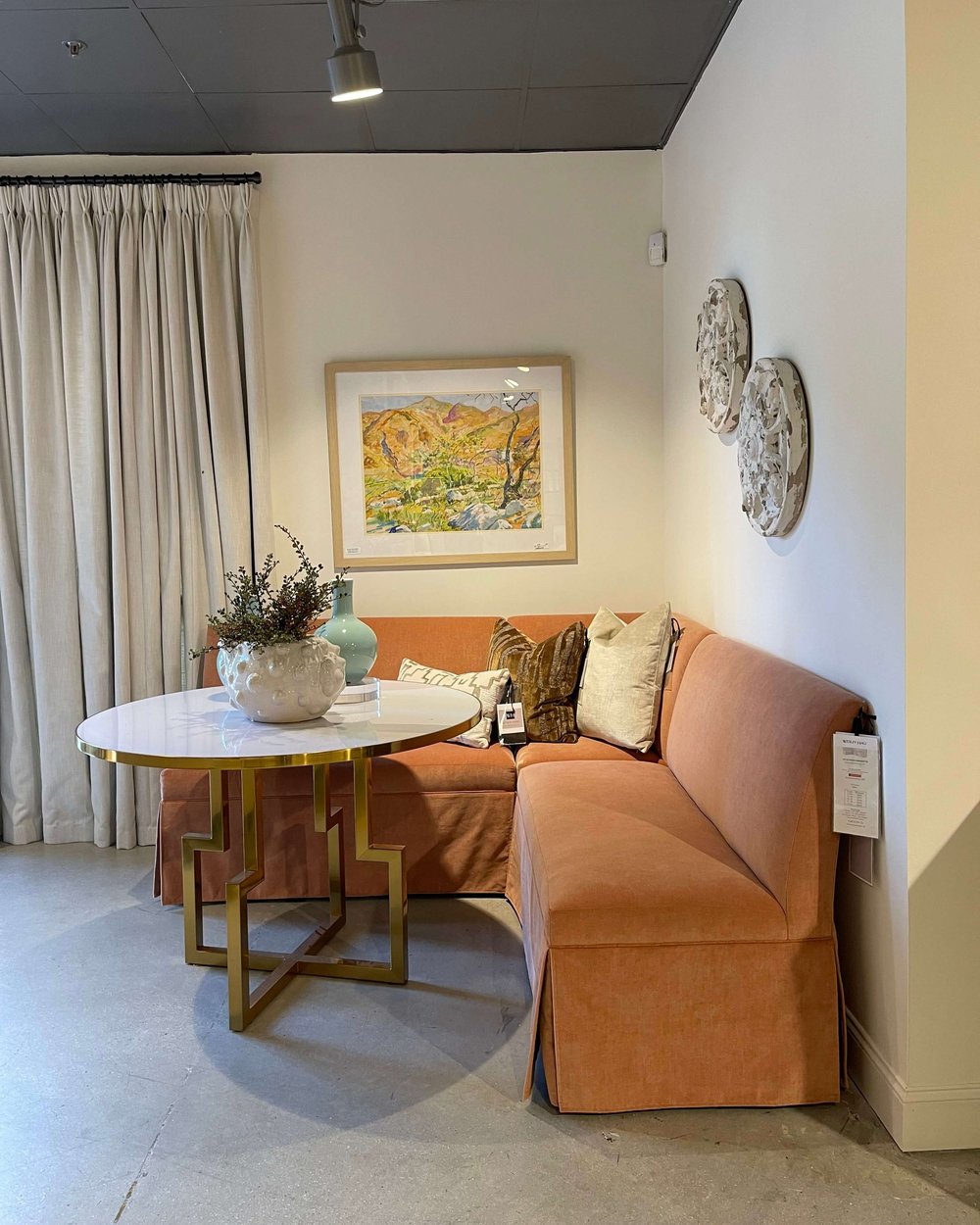 Lastly, here's an image I shared when I was talking about light woods and finishes in my previous trends post, but you can see that even on this more contemporary look from Vanguard, a skirt can look very appropriate.

Micro Trend #4 - Cut-out Back Style Chair
I saw this style chair in one or two showrooms two years ago, but now, it showed up in other showrooms as well.
This cut-out style back, with fully upholstered arms, seems to be trending. I love it, it creates an open, airy feeling and frankly, it isn't like some furniture design trends that might date themselves.
I think this look could last for decades in many differently styled spaces.
This one below is so graceful looking, from Highland House.
These from Bernhardt are like tub chairs but not so solid or heavy feeling.
Here's one from Century, I like it on legs too.
Fairfield Chair had two versions displayed.
This one, from CR Laine, is not on a curved piece and only has the arms, but it's the same idea with an upholstered arm. I think this style makes the chair look softer and more comfortable.
Here's another one from Highland House, on casters. Nice for a game table or even dining chairs.
Micro Trend #5 - Unique Pillow Shapes And Tiny Pillows
We've seen ball pillows popping up in this 80's mod trend of bulky details and rounded shapes, right? So I HAVE to put in some pics of the basketball pillows. :-)
I've actually been dying to do a post on them by themselves, but I didn't have that many images.
Well, I do now.
Here were some seen at Century and then Nathan Anthony.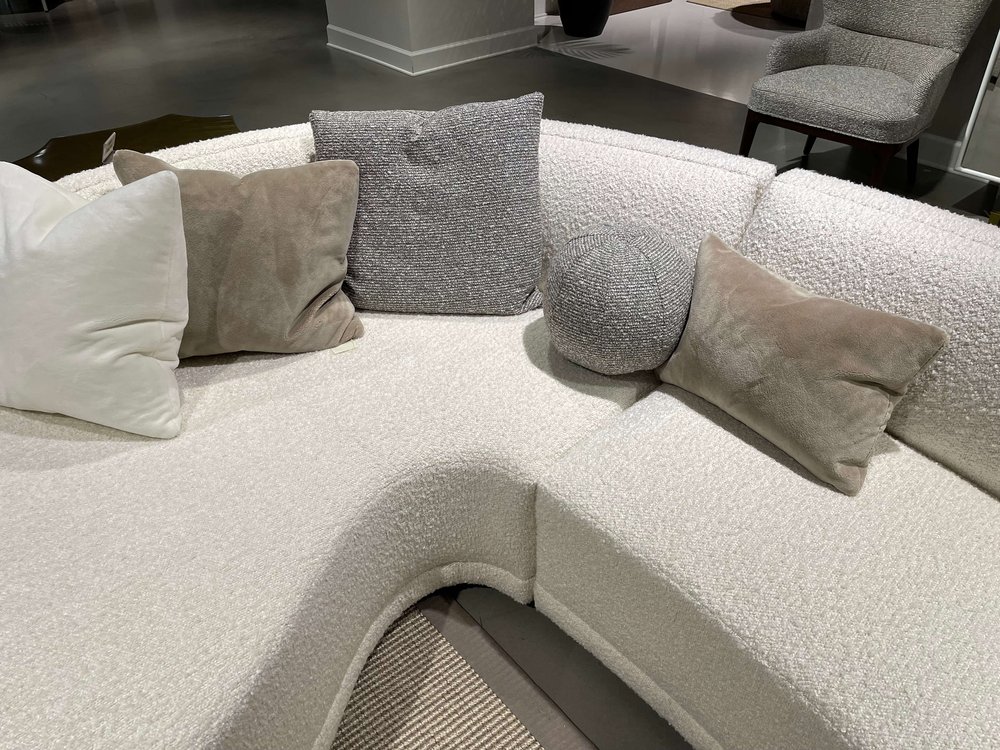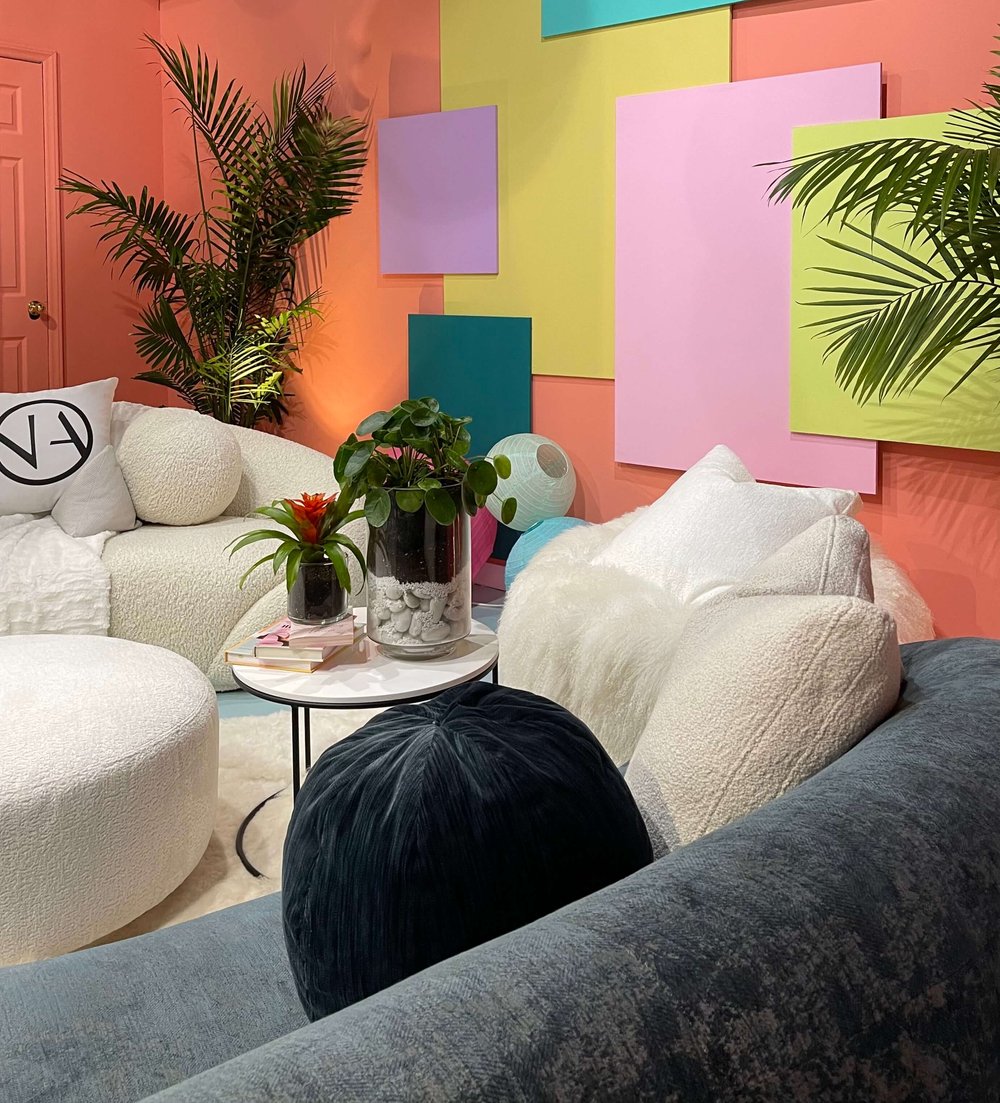 While I love large pillows at a 22" square minimum and a large lumbar type pillow, these little tiny pillows in round shapes or with funky details are kind of fun to just toss on a sofa or bed. It's just like a accessory, not really to help support you when sitting on the piece of furniture.
While I'm not that big of a fan of an over-embellished pillow (they can get tedious and destroyed by pets and kids easily), for these smallish pillows, a fancy button and some contrast welting seems very appropriate.
It's so funny how styles come back around. I can remember my grandmother having little round flat pillows like this on her "divan". :-) These two pretty colorful pillows were seen at Highland House.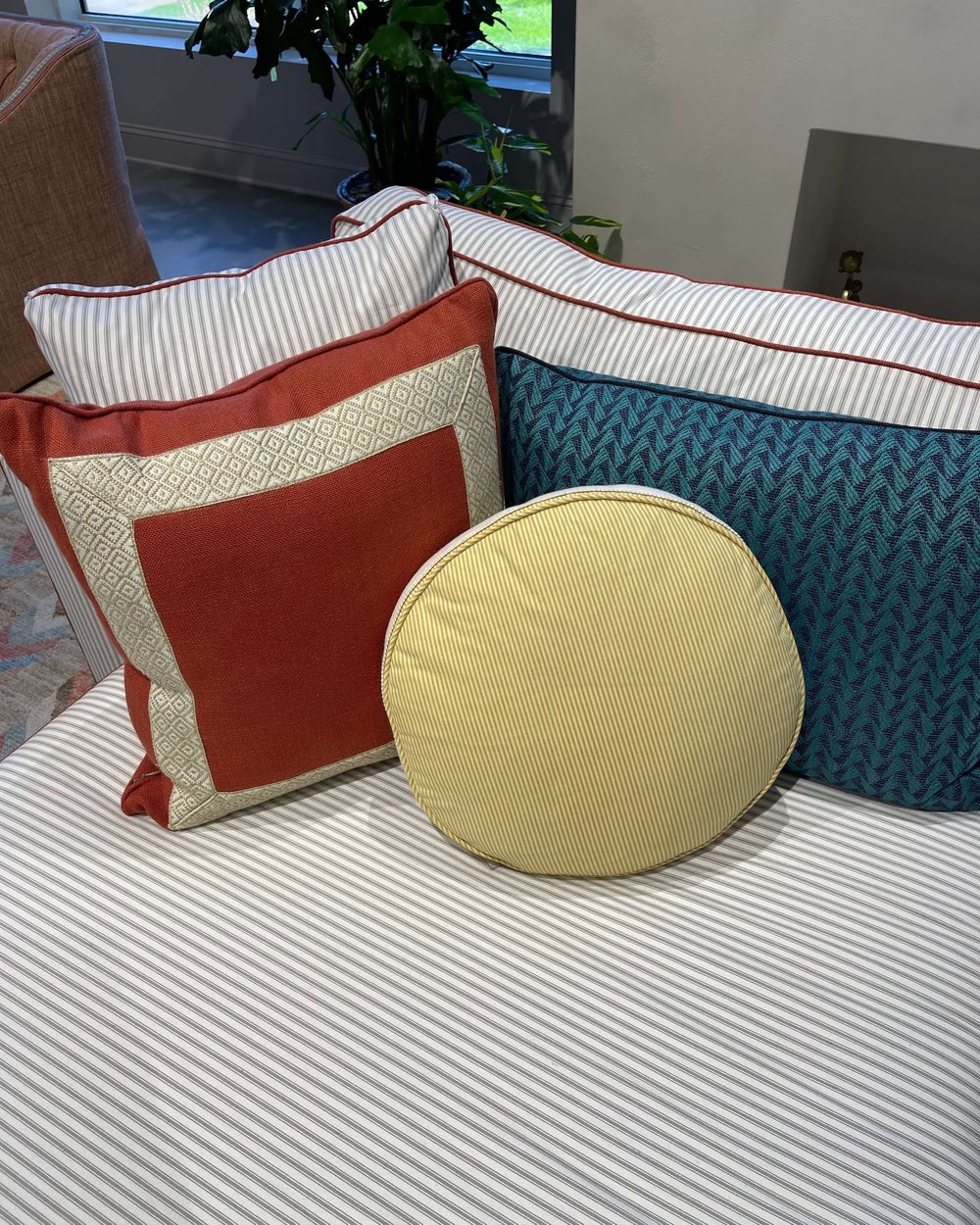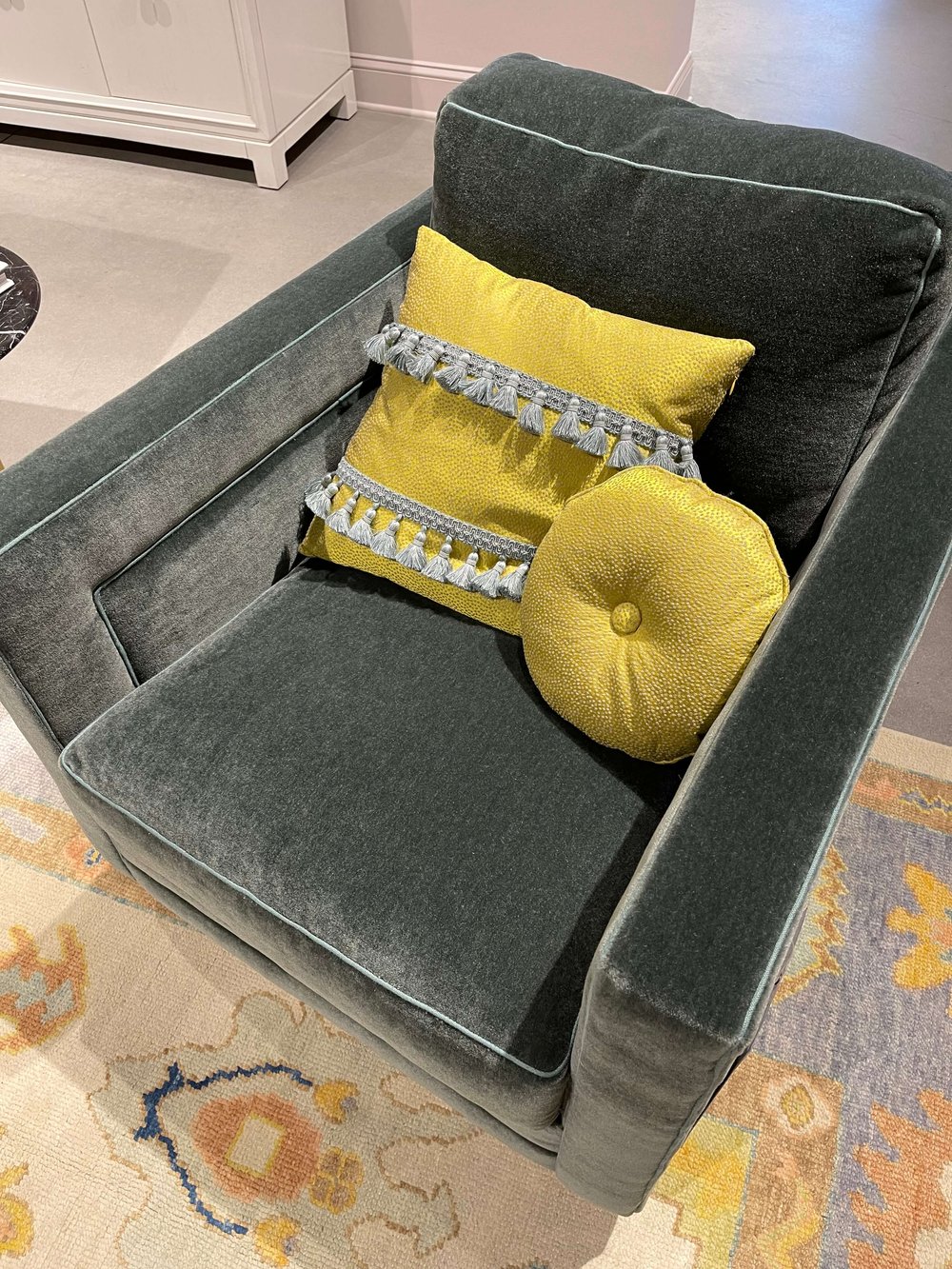 Global Views had these asymmetrical boxy pillows called "Rock". Interesting! These would be really cool in a modern space.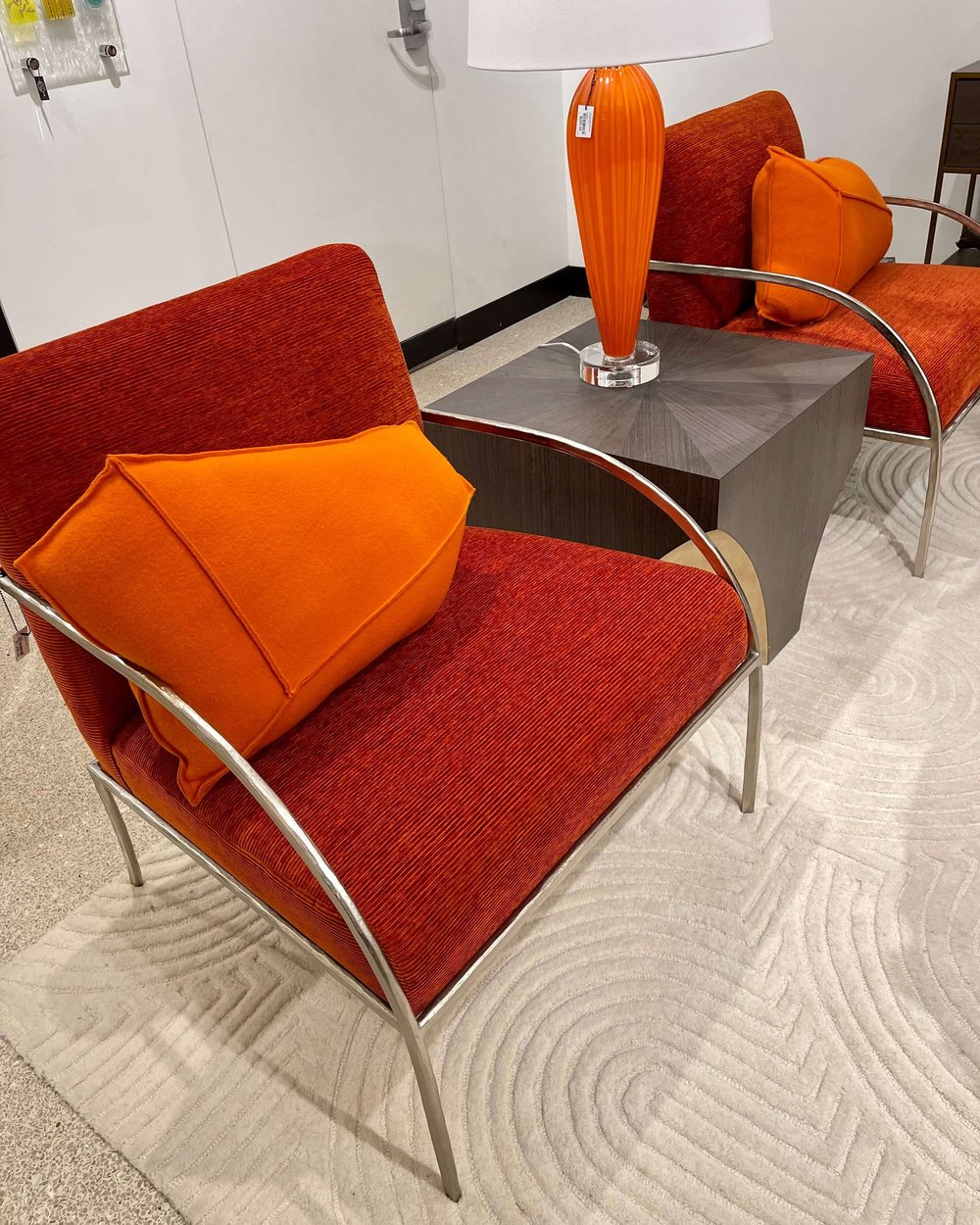 I have a quick video of these unique "stacked" pillows, also from Global Views.
---
If you missed the posts about the major trends from Highpoint Market 2021, then you can check them out below!
Pin this image to Pinterest to save for reference later!