7 Ways To Protect Your Kids From Wildfire Smoke And Bad Air Quality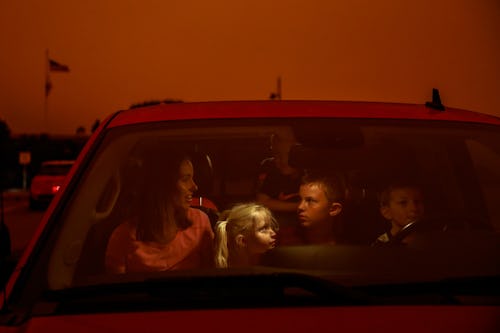 Smoke from the Canadian wildfires caught Northeasterners woefully unprepared earlier this month — and luckily the worst of it is over now. But that doesn't mean it's gone for good, for anyone in the U.S. The West sees wildfire smoke regularly, and last week parts of the Northern Plains and Midwest were hit hard, with Minneapolis reaching its worst air quality on record. And wildfire season hasn't even peaked yet. Wildfires from Canada, and likely the Pacific Northwest, will continue to usher air quality concerns across the U.S. throughout the summer, with forecasts for this week raising concerns for the Upper Midwest, Great Lakes and Northeast.
This is a problem for everyone, but especially for older people and people with asthma — and kids. According to Children's Hospital Colorado, children are particularly vulnerable to wildfire smoke because "Kids breathe faster, tend to be more active outdoors and, proportionally, take in more air for their body size than their parents do. Plus, their lungs are developing, which means poor air quality can have a long-term impact on their growth."
The danger with wildfire smoke is that it contains incredibly small PM2.5 particles, which can get deep into the lungs via the eyes, nose, and throat. These particles can damage heart and lung health and increase the risk for infection of the airways.
You were caught by surprise before. If your kids were exposed, don't beat yourself up. But although one-time exposure can cause issues, it's repeated exposure that presents the real problem for kids developing long-term health problems. So take this opportunity to prepare for the future with these seven steps, for when wildfire smoke comes around again. Because it will happen again.
1. Download The Airnow App
Airnow

Airnow

[TAG1]
Airnow is an air quality app run by the Environmental Protection Agency. If you want a simple, reliable, easy-to-interpret air quality app, this is the one. Airnow lets you enter a location and gives you the air quality is in terms of AQI — and whether that's Good, Moderate, Unhealthy for Sensitive Groups, Unhealthy, Very Unhealthy, or Hazardous — and in terms of PM2.5 and ozone in particular. The app also provides a forecast for the next day, so you can plan activities accordingly, and it gives recommendations on whether you should limit your activities outdoors. You can save multiple locations for ease of use, and the Map function allows you to see the air quality in surrounding areas.
Airnow includes a Smoke feature that details the risks from wildfire smoke where you are and in North America as a whole. It can also show you where large wildfires are currently burning. The app also comes in website form if you don't have space for yet another app on your phone.
2. Find N95s That Fit
The best type of mask to protect yourself from wildfire smoke is a respirator, such as an N95.
The problem is that there aren't any respirators made for children's smaller faces because they haven't been tested specifically on kids, so they don't get a tight seal and particles may be able to slip in through the sides. Some protection is better than none, however — just know that masks don't completely protect anyone, but especially children, from wildfire smoke.
According to Pediatric Environmental Health Specialty Units, kids age 7 and up typically will fit an adult small N95. Younger kids likely won't get a good seal, and it may be better for them to wear a surgical mask that fits well. Cloth masks will not provide significant protection against wildfire smoke. Children under age 2 should not wear masks.
Pediatrician and air quality expert Stephanie Holm, M.D., told Slate that she recommends duckbill N95 masks for kids rather than those that "have sort of a rigid cup shape" because they may fit children better.
3. Buy An Air Filter
HEPA-air filters are the variety needed to filter out the small PM2.5 particles found in wildfire smoke. Consumer Reports recommends six top-rated air purifiers for filtering wildfire smoke, ranging from $279.99 to $1,000.
If you don't have the cash to shell out on an air purifier, there are DIY versions you can make yourself, such as this one from Wirecutter.
4. Run Your Air Conditioner — Under One Condition
Obviously, you don't want the smoke from outdoors getting inside your house. That means closing all windows and doors. If it gets hot in your house, you can turn on fans and even your air conditioning unit — but only if it doesn't pull in air from outside. The A/C can even help filter air in your home, and as pulmonologist Panagis Galiatsatos, M.D., told the New York Times, "Anything that can help circulate the air is better than nothing." If you can, replace the filter in your A/C unit with a new one.
This guide can help you figure out if the type of A/C unit you have can be used when there's wildfire smoke outside, and if you will need to adjust your settings to have it recirculate air instead of pulling air from outdoors. And if you use a window unit, make sure the seal in the window is as tight as possible.
5. Avoid Activities That Worsen Indoor Air Pollution
When the air quality in your home is already going to be compromised, don't do anything that could make it worse. This includes smoking, vacuuming, lighting candles, or using a gas stove.
6. Prep Indoor Games For The Kids
When air quality is bad outside — particularly when it's above an AQI of 150, or 100 for sensitive groups — staying indoors with your air purifier and your A/C is your best bet. And as long as air quality in your home is within acceptable limits, as measured by a low-cost indoor air quality monitor, your kids can exercise inside too. These 12 activities for when kids are stuck indoors, compiled by Fatherly, can help keep your kids entertained.
7. Know The Signs Of An Emergency
Poor air quality can cause a range of symptoms in kids, including chest pain or tightness, shortness of breath, trouble breathing, coughing, wheezing, runny nose, burning throat, nose, or eyes, dizziness, and lightheadedness.
According to Children's Hospital Colorado, you should, "Call 911 if you notice any significant changes to a child's behavior, difficulty breathing or any change in their level of consciousness. If your child doesn't seem to be having any trouble breathing but you're still concerned, call your child's care provider."