Bark Bright Dog Dental Subscription Box August 2022 Review + Free Robe & Toys
Disclosure: This post contains affiliate links. I received this box for review.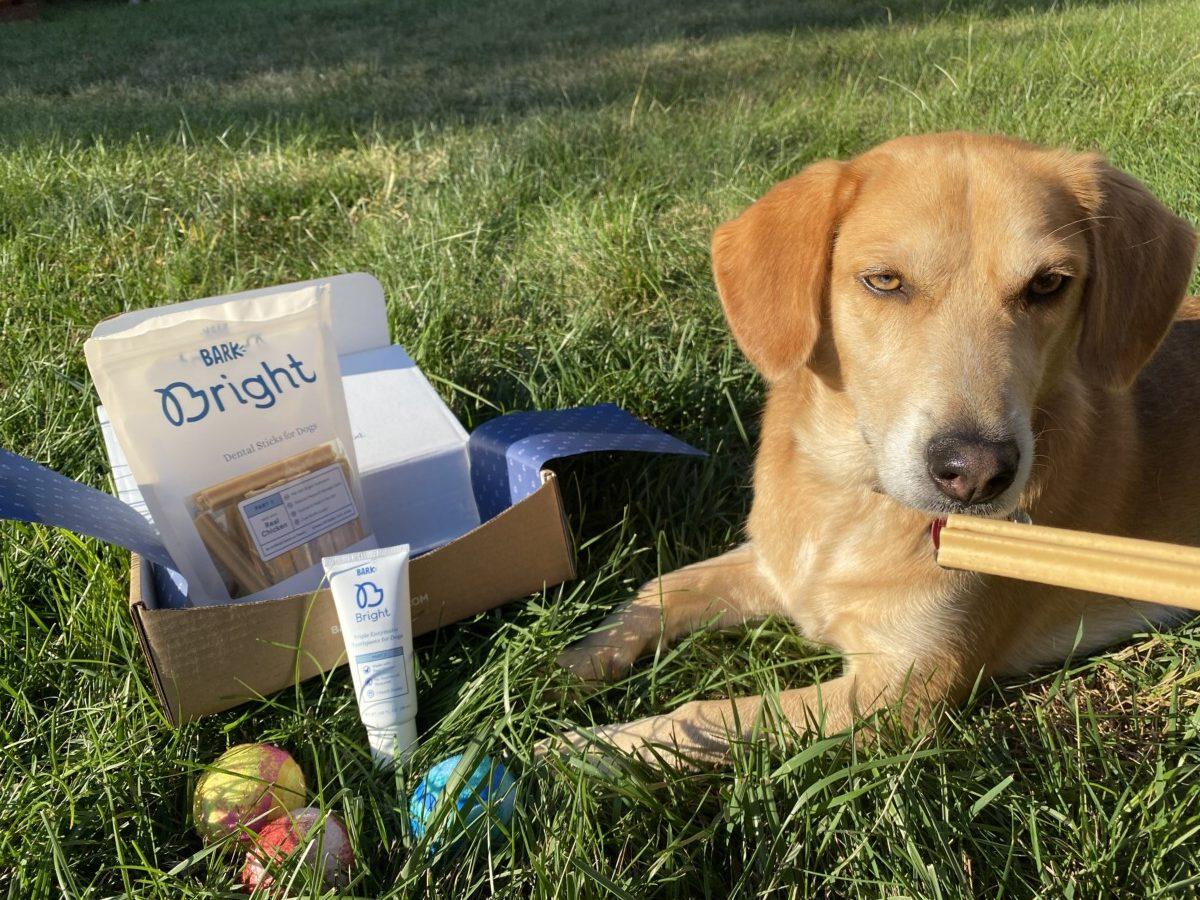 Bark Bright is a dental subscription box for dogs.
Monthly boxes are $30/month or $25/month with a six-month subscription. When you sign up, you select the size of your dog (small, medium, large). Each box contains triple-enzyme toothpaste and chicken dental chews.
The toothpaste is made with live and active enzymes. Your dog's saliva activates enzymes; those combined with the star-shaped chews let your dog's teeth get clean. Three main enzymes in the Bark Bright chews and toothpaste: Amyloglucosidase, Glucose Oxidase, and Lactoperoxidase. If your dog doesn't like Bark Bright. Bark Bright professionals will chat will you to find out how to help.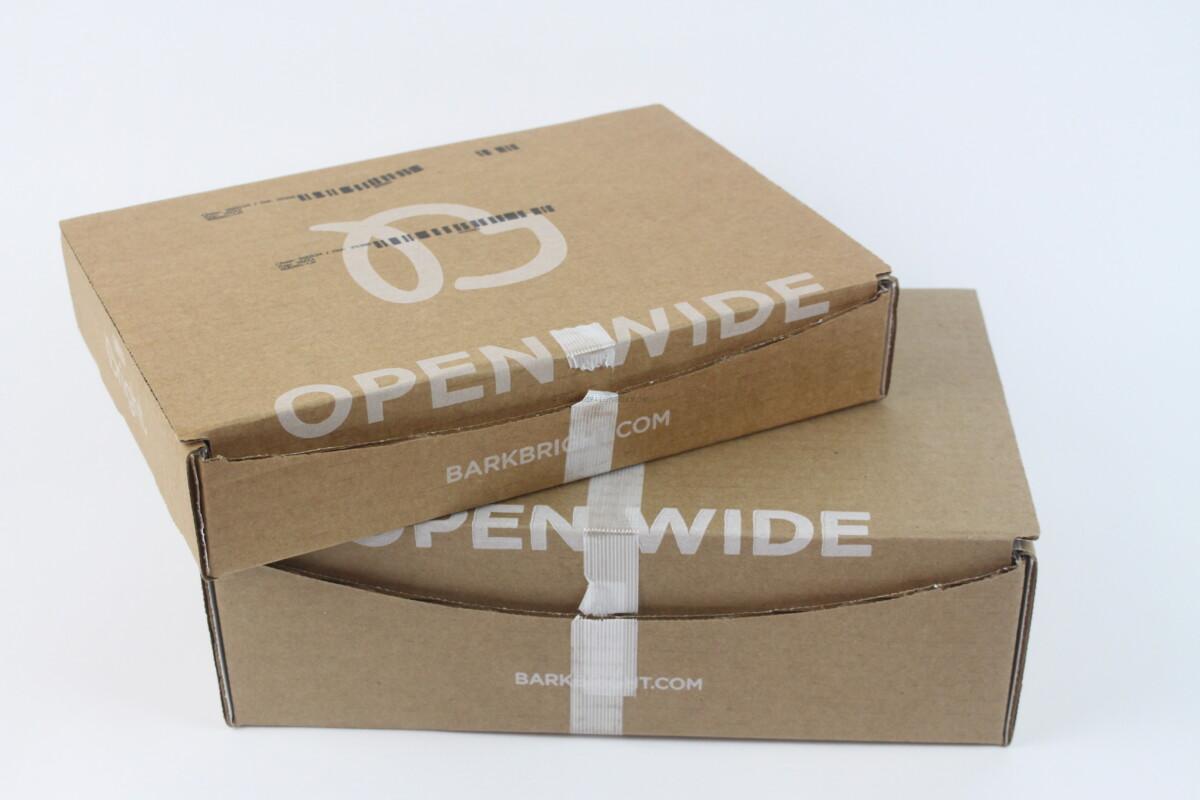 I was sent Bark Bright in Small and Medium.
Medium
The box has a dog profile with "Open Wide" under it.
First Look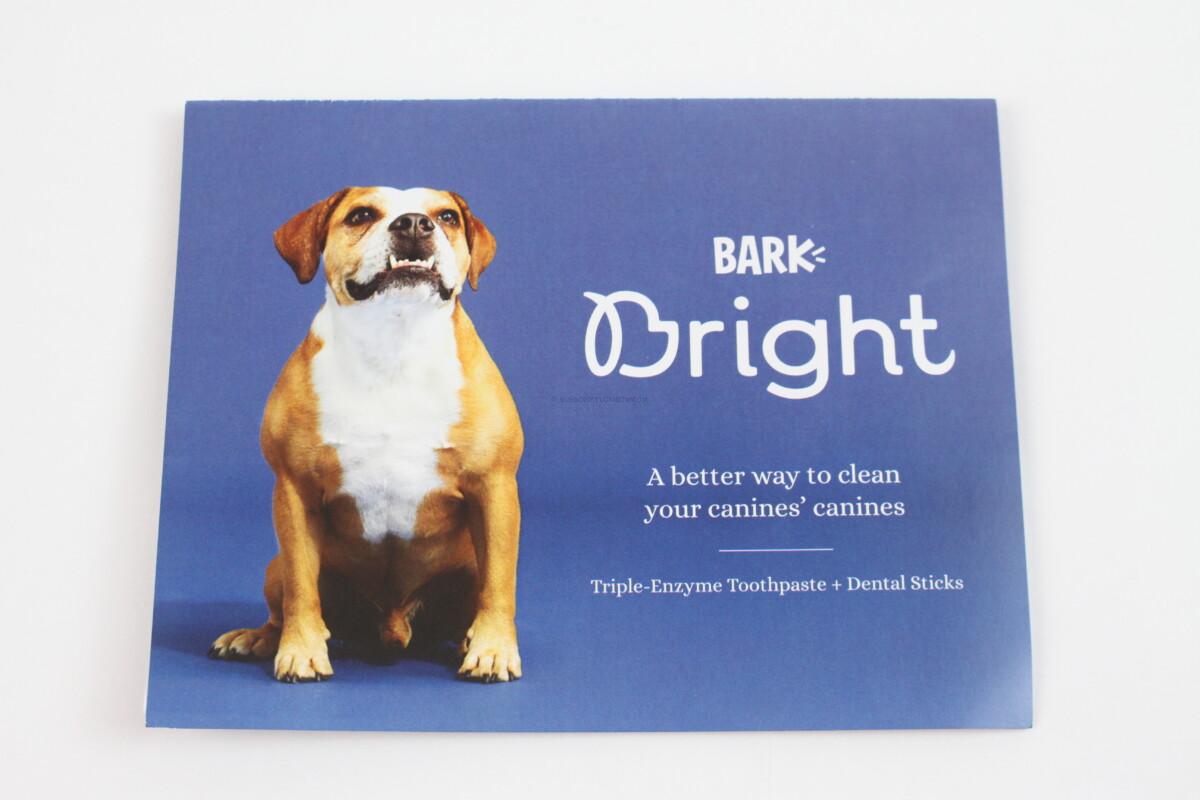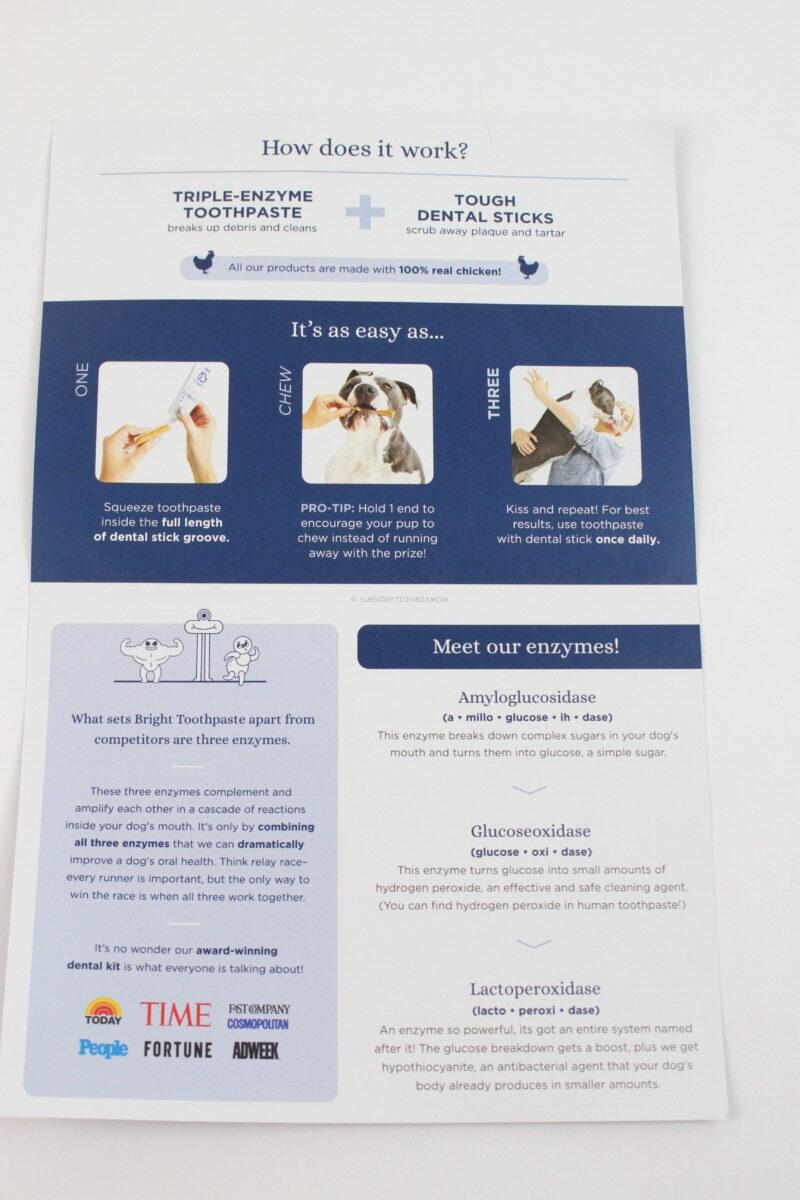 Bark Bright sends an informational flyer detailing the toothpaste, chews, and enzymes.
Bark Bright Triple Enzymatic Toothpaste For Dogs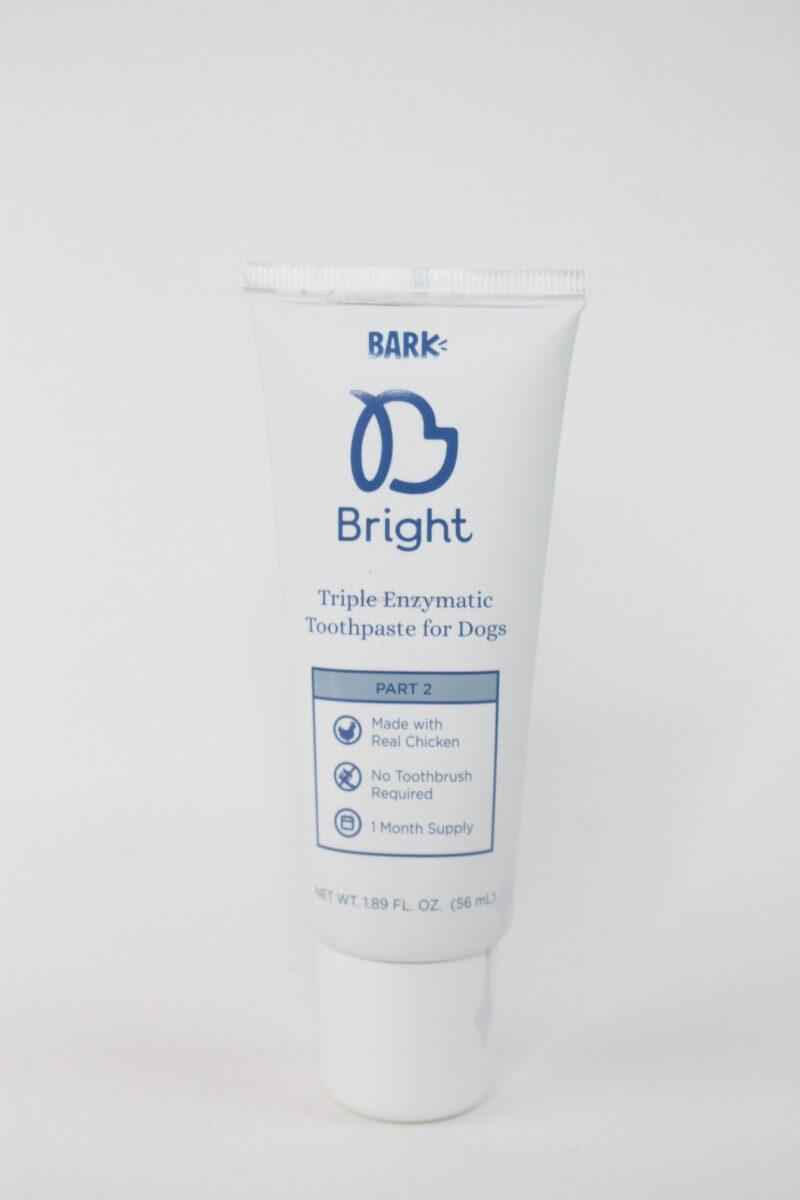 The box comes with a 1.89oz tube of toothpaste. It has a pointy tip, so you can easily apply the toothpaste to the chews. Once you open the toothpaste, you should keep it refrigerated. Be sure to let your kids know this isn't food for them! The toothpaste is made with real chicken, so your dog will want to eat it.
The ingredients in the toothpaste are Water, Lactose-Free Skim Milk Powder, Glycerol, Sorbitol, Chicken Powder, Microcrystalline Cellulose, Alginate, Citric Acid, Enzymes, Potassium Sorbate, Carboxymethyl Cellulose. Active enzymes: Amyloglucosidase, Glucose Oxidase, and Lactoperoxidase.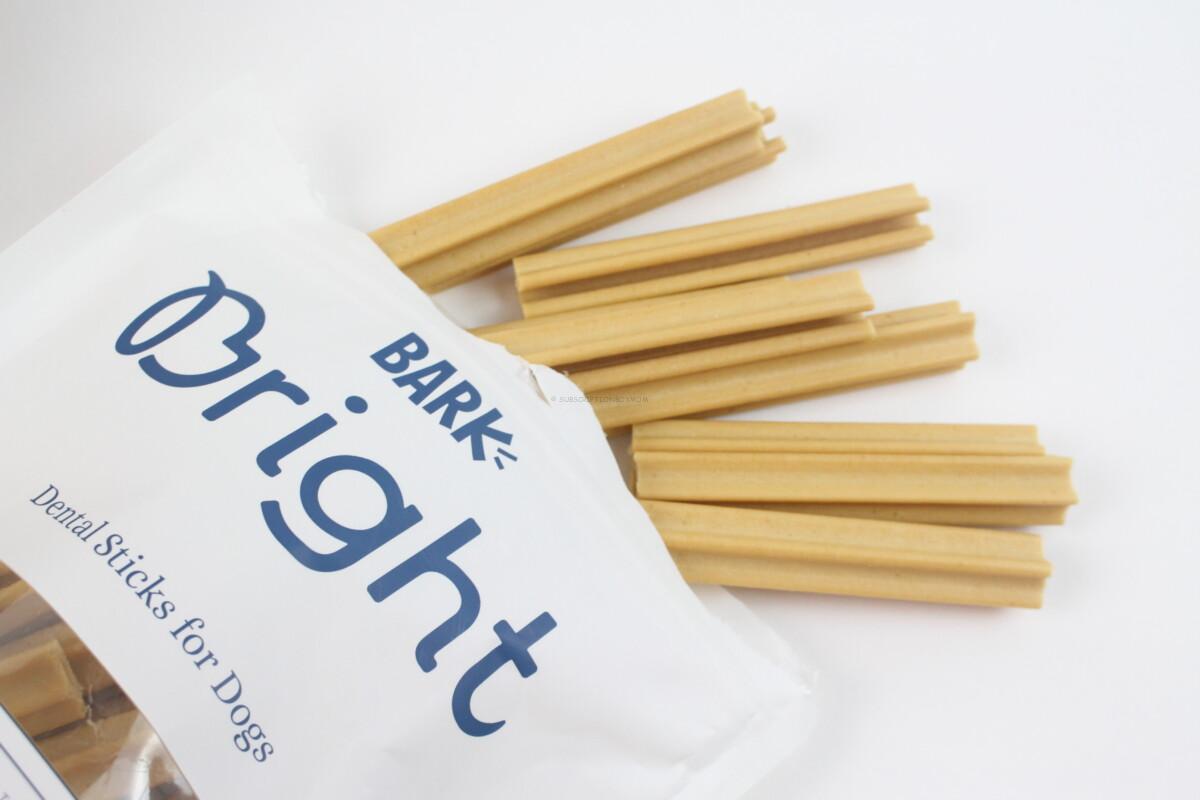 Each bag of dental sticks comes with 30 chews, enough for a month. The sticks have a unique star shape to help remove plaque and massage gums. There are no artificial colors or flavors; they are also grain-free, corn-free, and soy-free.
The ingredients for the chews are potato starch, gelatin, pea protein, chicken, vegetable glycerin, lectin, natural smoke flavor, preserved with citric acid, and mixed tocopherols. The nutritional breakdown is the following: Crude Protein (min): 17.0%, Crude Fat (min): 3.0%, Crude Fiber (max): 1.0%, Moisture (max): 24.0%.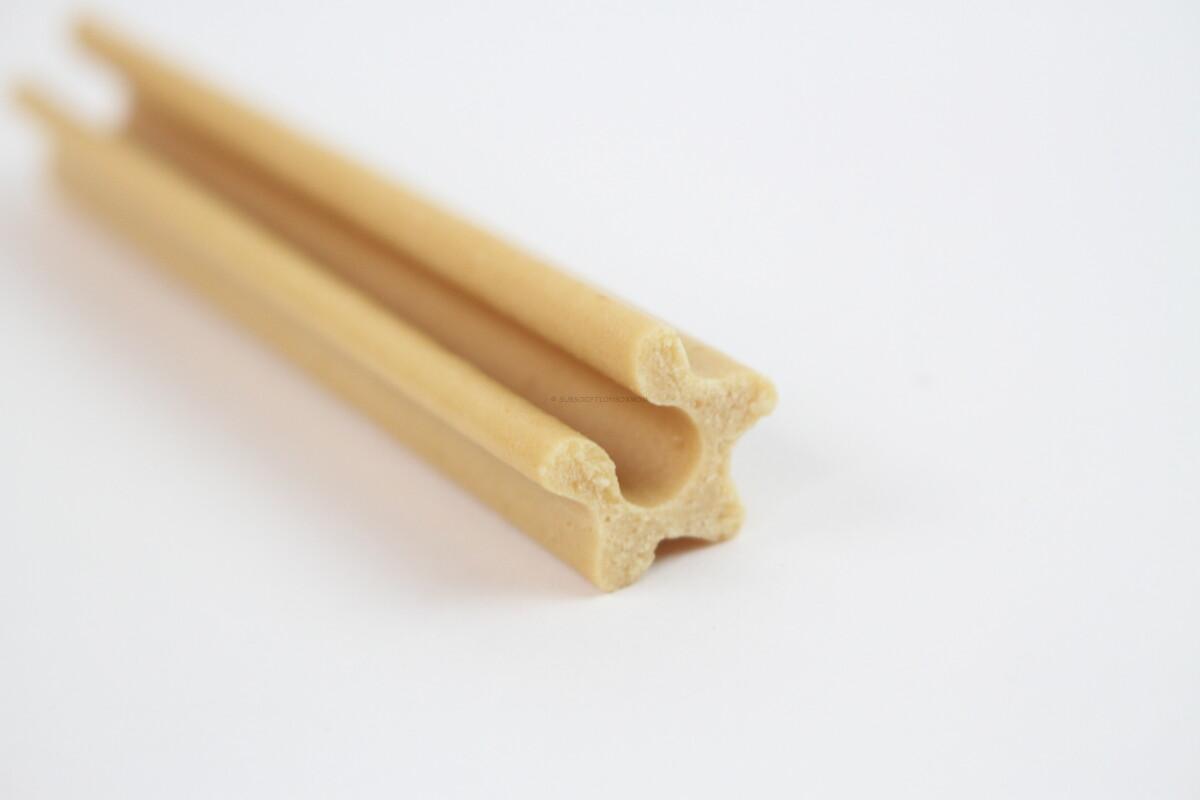 Each chew is designed with a special star shape removes plaque and massages gums. The grove in the center of the chew is designed to hold the toothpaste.
Small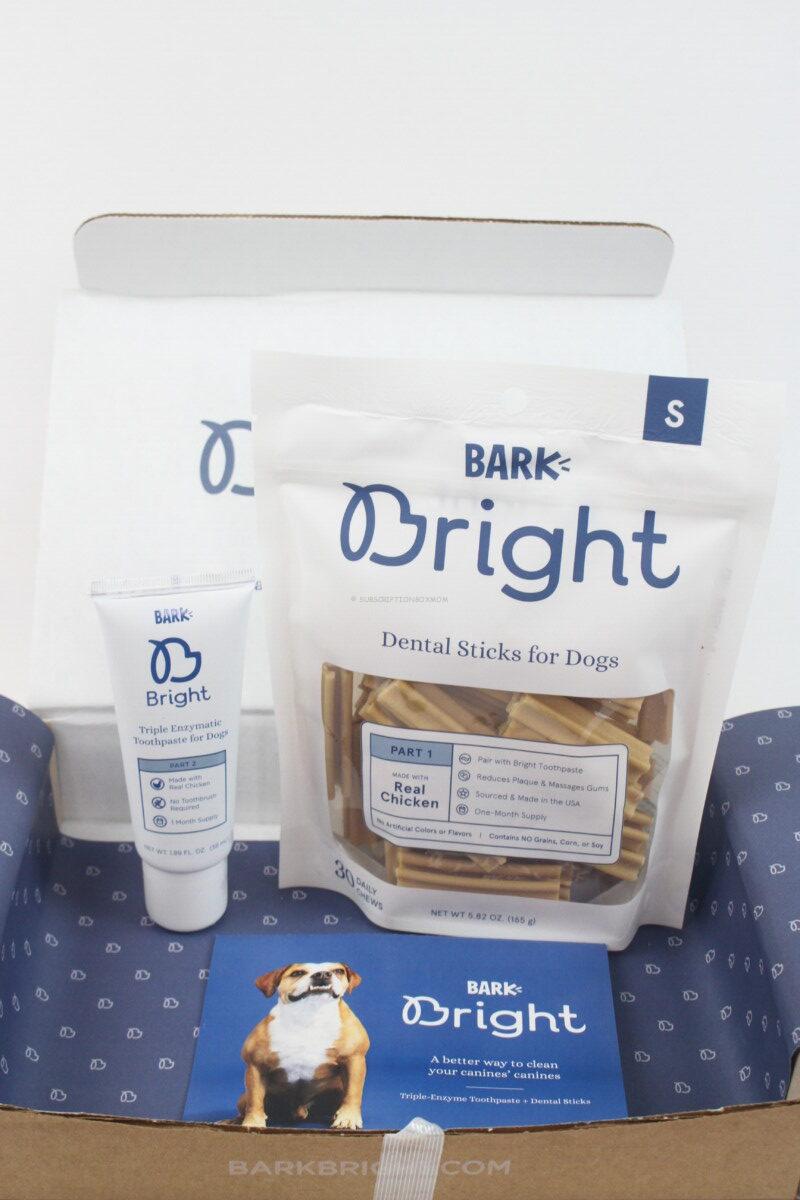 The small box contains the same size toothpaste and a bag of shorter, 30-count chews.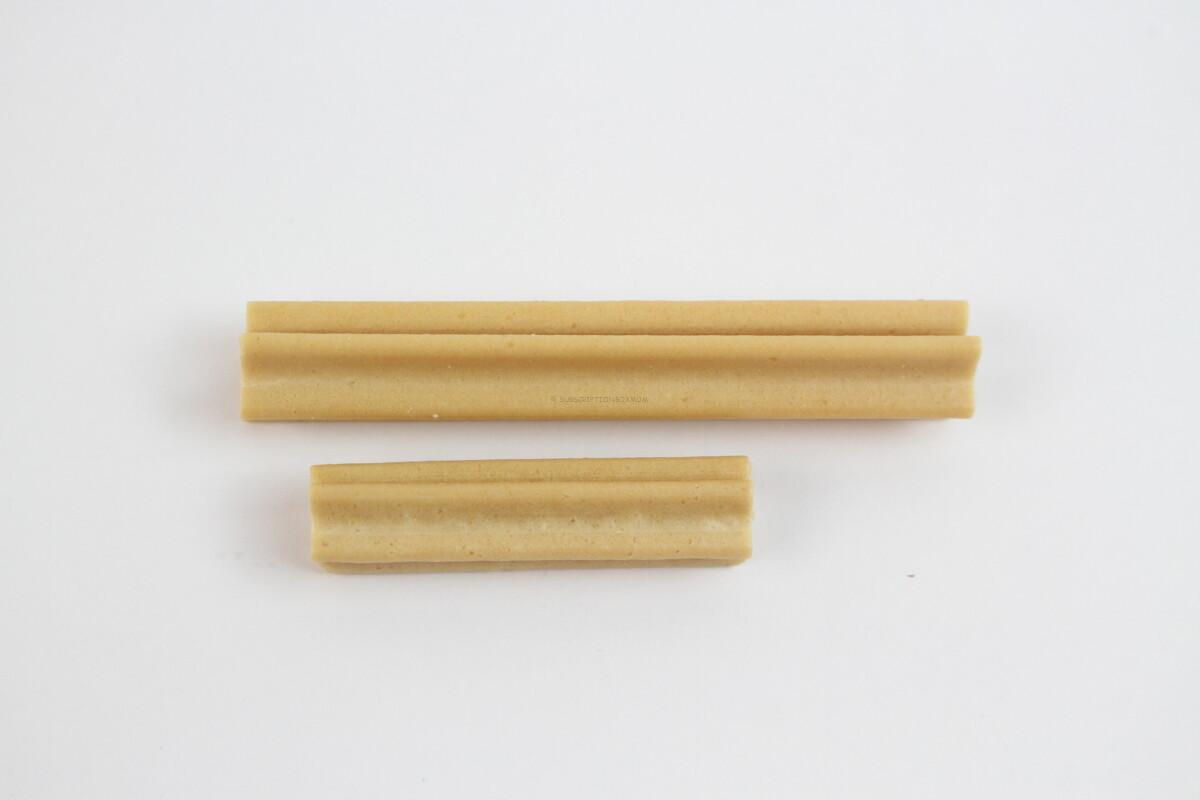 This is a comparison of the small vs. medium chews. You select the box that corresponds to your dog's weight. There are large chews for bigger dogs too.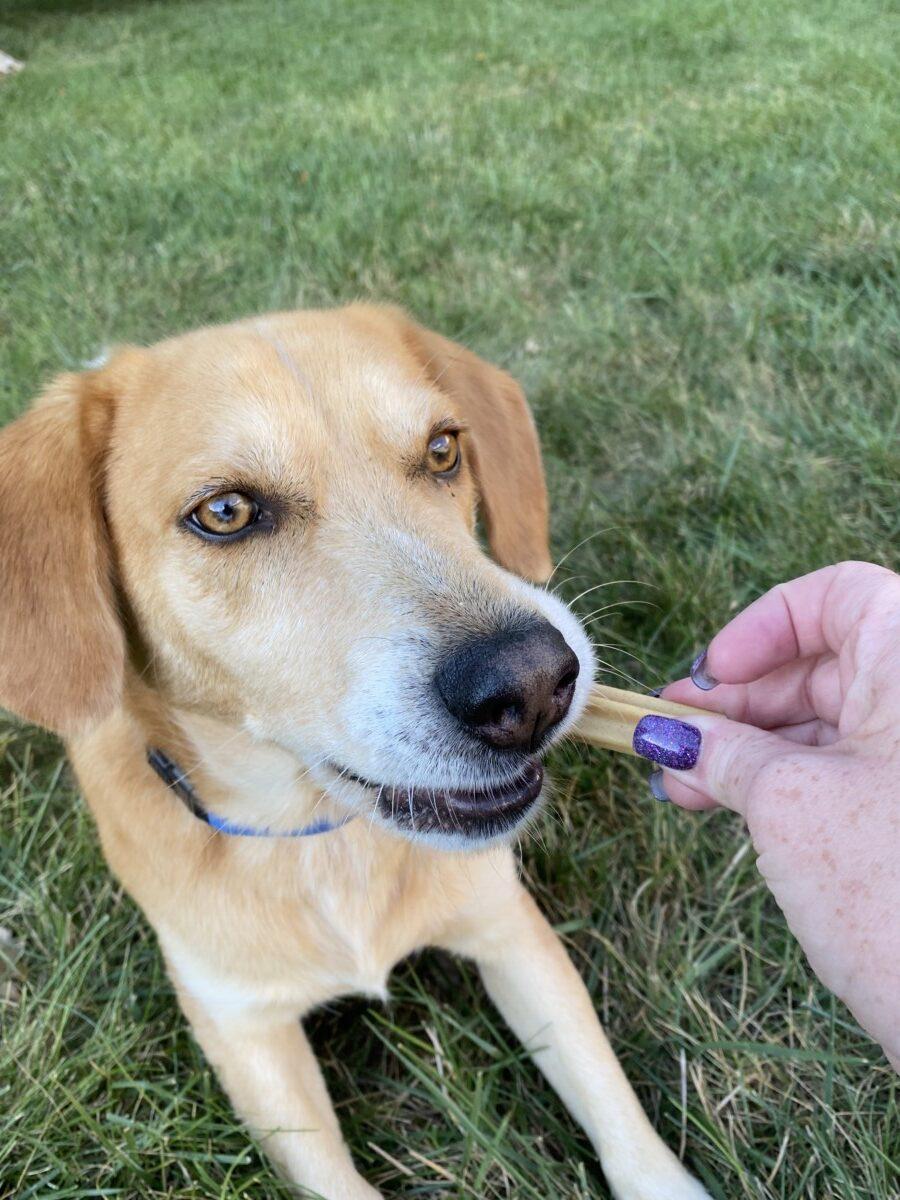 Cotan loves the treats and I am happy that each chew helps to remove plaque and build up on his teeth.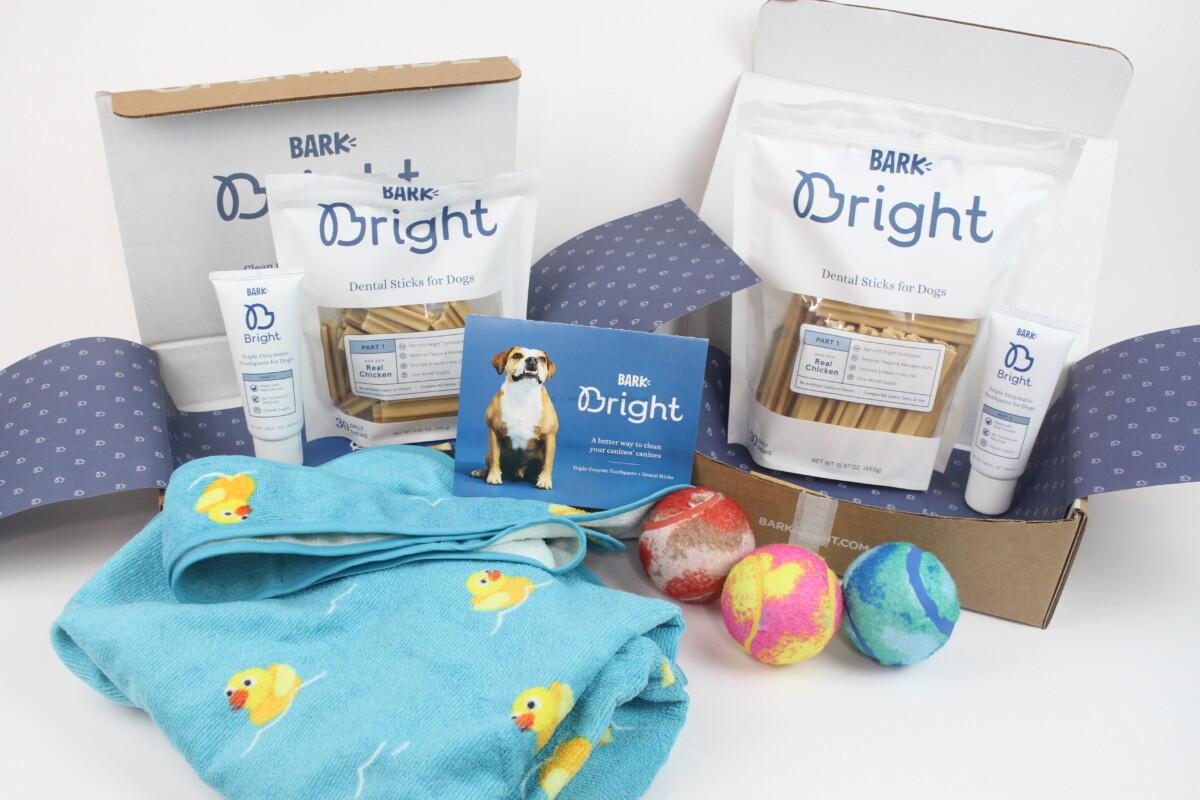 Choose the right Bark Bright box for your dog, and get two free gifts.
Free Bathrobe and Bath Bomb Balls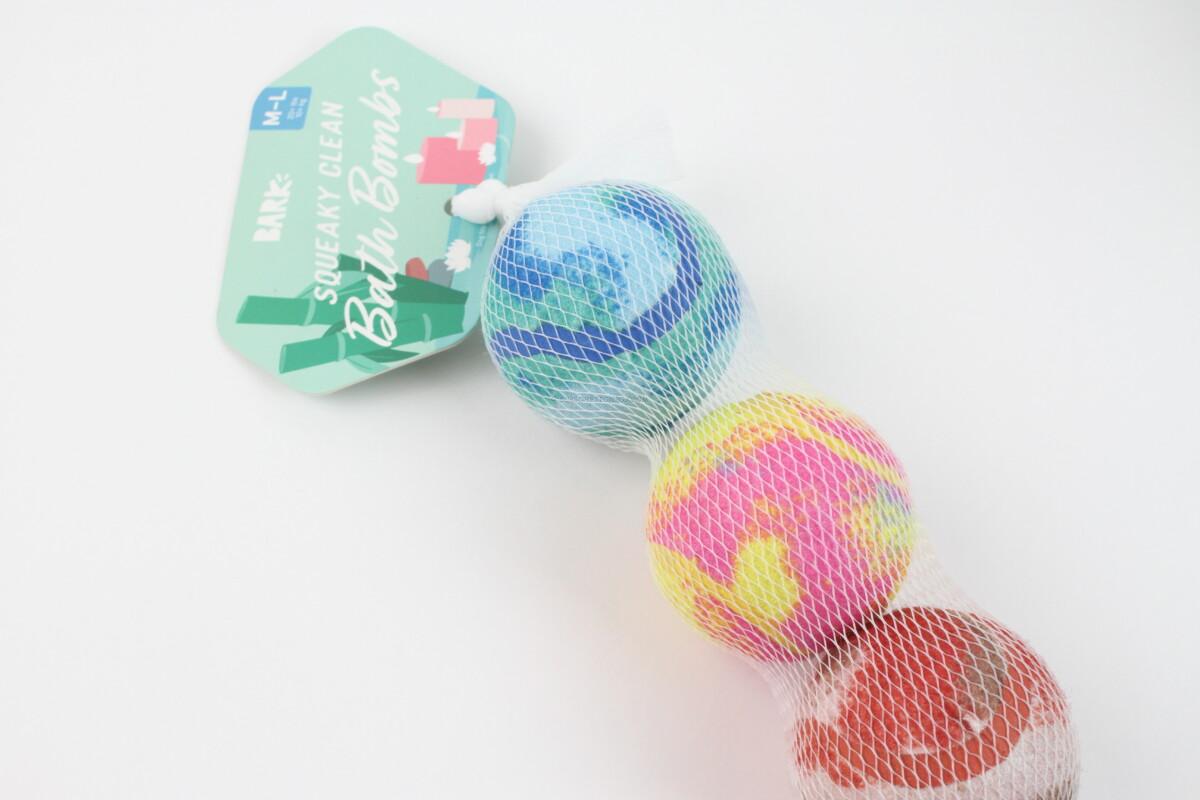 The first gift is a set of three tennis balls that look like bath bombs. Cotan had a blast playing fetch with the balls.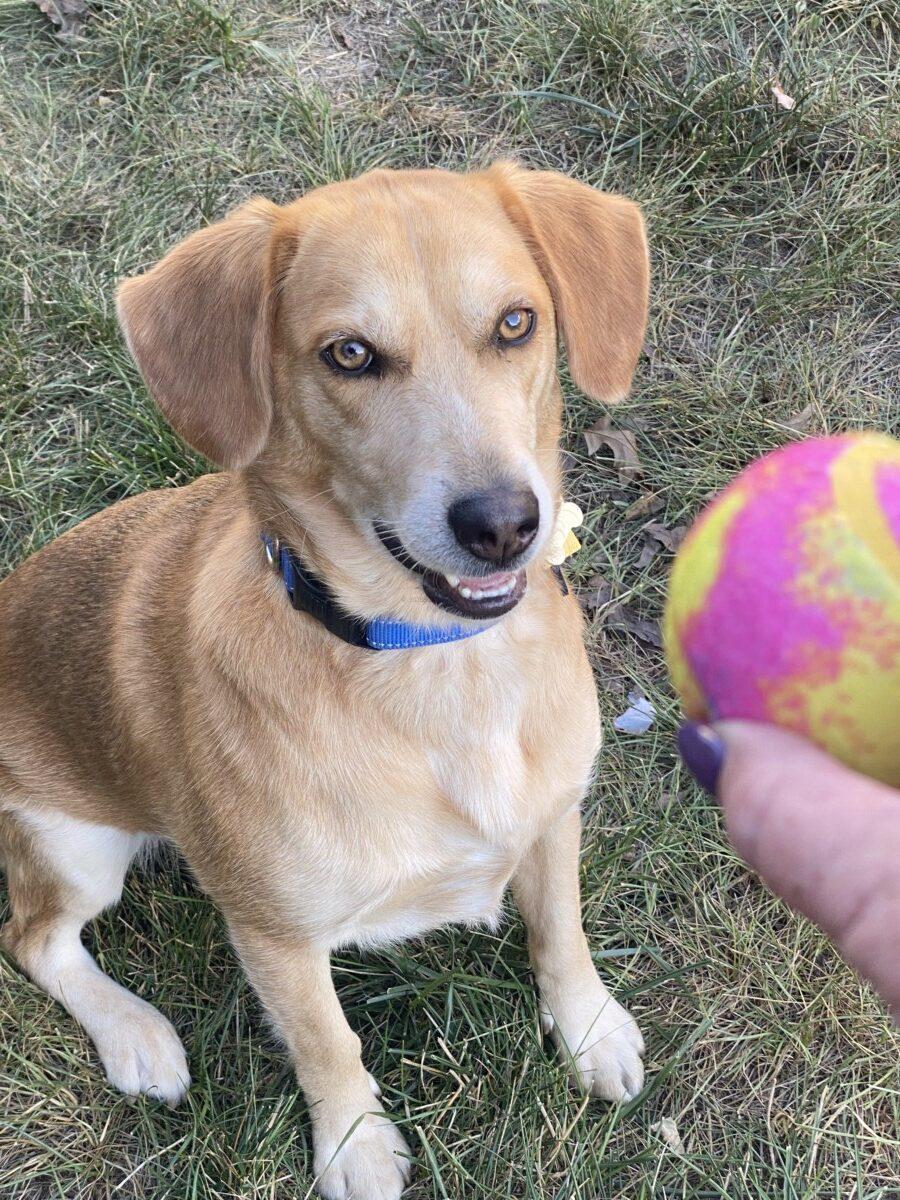 Cotan loves a good game of fetch. After playing outside, Cotan was ready for a bath.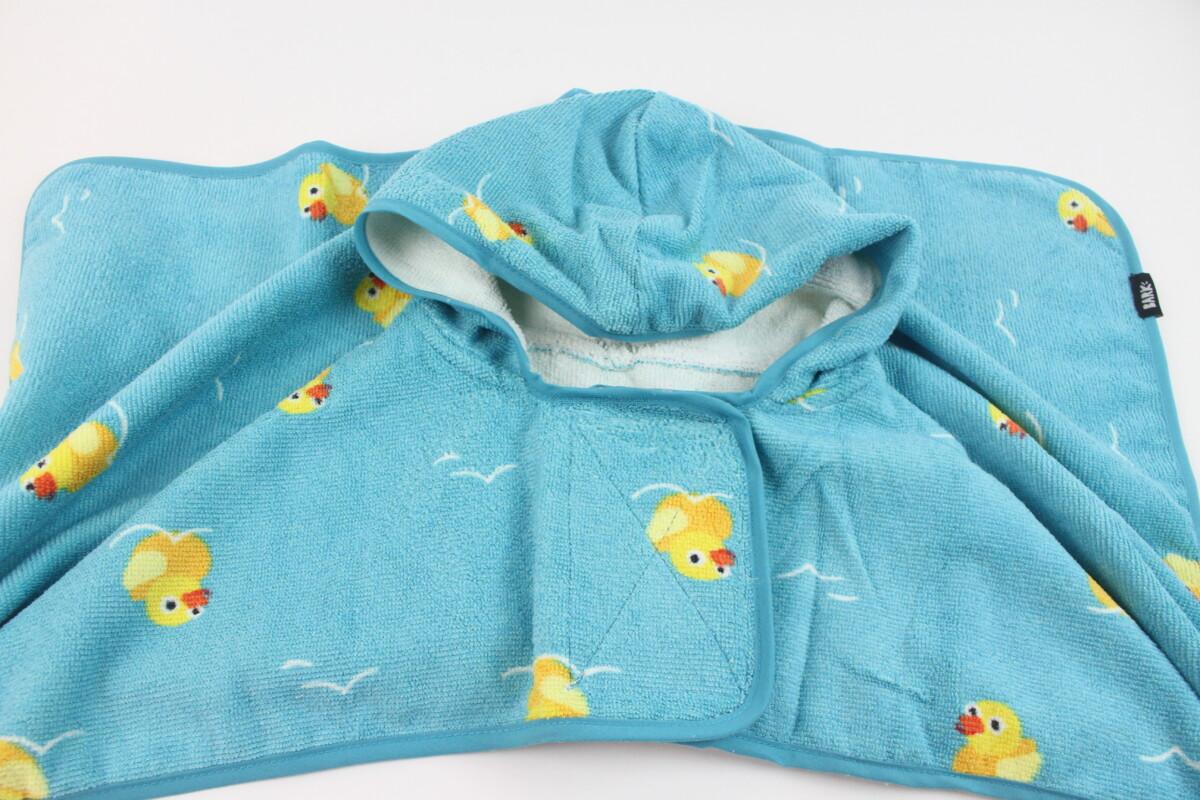 The bathrobe was a size medium, the size of my dog. The terry cloth fabric is covered with cute, yellow rubber ducks. It velcros around the front and has a little hood. There is also a belt to tie around the waist.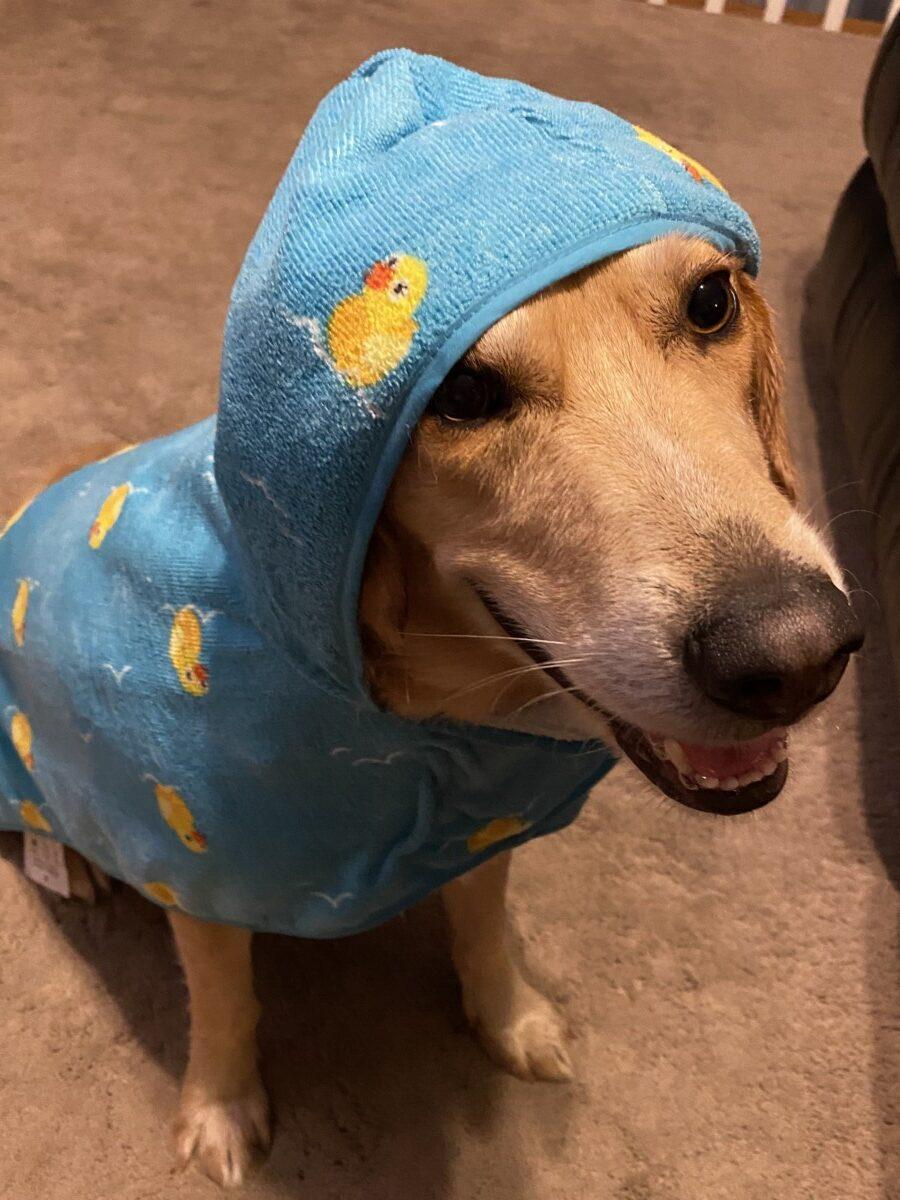 Cotan, all clean from his bath. The robe is adorable.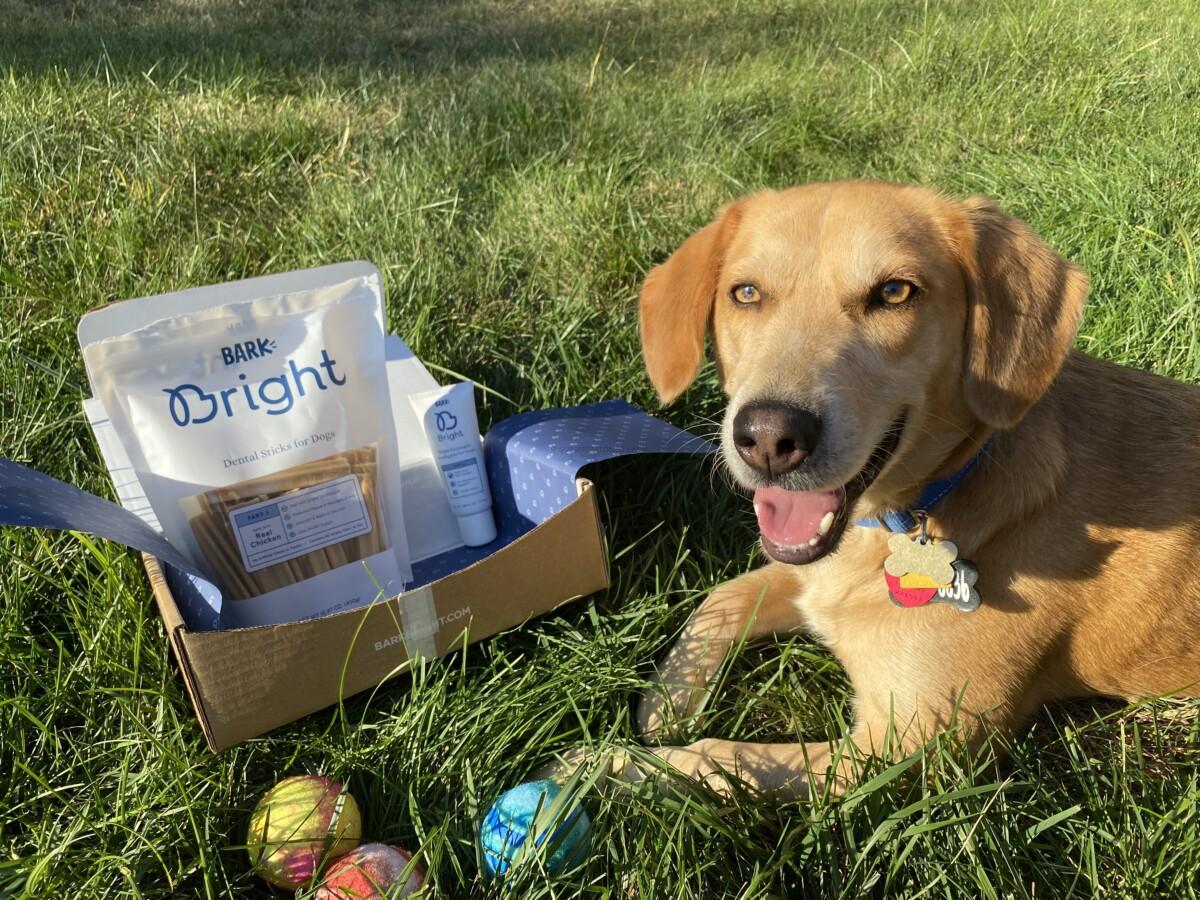 Final Thought: Bark Bright is a dog-friendly and healthy way for your dog to get healthier teeth and breath. Professional teeth cleaning is costly, so I love the Bark Bright is affordable. A size month subscription is only $25/month. Subscribe now and get a bathrobe and a set of three bath bomb balls. FREE Bathrobe Bundle (duckie bathrobe for your pup + bathbomb tennis balls; $25 value) when you sign up for a 6 month plan! 
Do you like FREE SUBSCRIPTION BOXES? Click HERE to see my free subscription box list.
The post Bark Bright Dog Dental Subscription Box August 2022 Review + Free Robe & Toys appeared first on Subscription Box Mom.