Best Carnival cruise ships: Here's which ship you should sail, based on your travel style
Choosing a Carnival cruise ship is no simple task, especially if you're new to cruising. As one of the largest cruise brands in the world, Carnival Cruise Line has more than two dozen vessels in its fleet, offering everything from megaship adventures to smaller-ship experiences. Many variables — price, embarkation dates, travel companions, ship size and amenities, and destination — can shape the way you make your choice.
So, what is the best Carnival cruise ship? Here are my picks for the top options in several categories.
For more cruise guides, news and tips, sign up for TPG's cruise newsletter.
Mardi Gras: Best Carnival cruise ship for families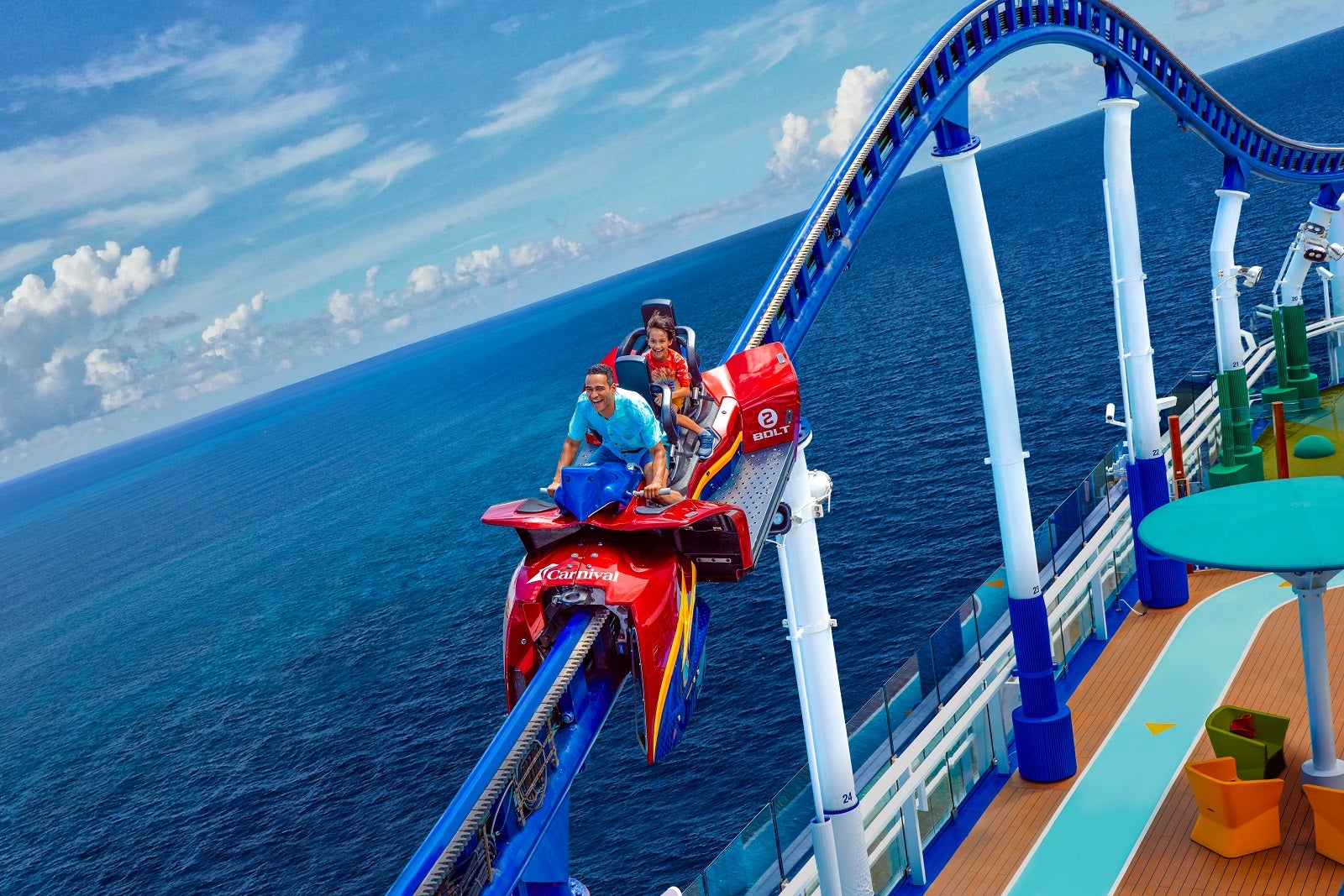 The best Carnival cruise ship for kids is undoubtedly Mardi Gras. Not only is it one of Carnival's newest vessels, but it's also one of the largest, and it has tons of activities to keep families with children busy.
At the expansive kids club, daily programming includes scavenger hunts, arts and crafts, and video games. The club draws in young cruisers and gives them space to make friends and play with peers. Beyond the dedicated kids' facilities, the ship has a massive arcade and many top-deck diversions. One of these is the Ultimate Playground — a space encompassing a ropes course, waterslides and Bolt, the first-ever roller coaster at sea. (Note that the arcade and Bolt cost extra.)
Related: The 5 best cruise lines for families 
Mardi Gras is full of fantastic family-friendly dining, including the line's Dr. Seuss-themed Green Eggs and Ham Breakfast (for a small fee). The ship also includes pizza, soft-serve ice cream, Shaq's fried chicken and Guy Fieri burgers in its fares. Even the pickiest of eaters will be satisfied. Kids can order off special menus in the complimentary main dining rooms and join in their waiters' rollicking dance performances just when they start to get antsy sitting still.
The ship also does a nice job accommodating families of all sizes and budgets. Many of Mardi Gras' standard cabins sleep at least four people, and the ship also offers connecting cabins.
Its Family Harbor staterooms provide access to a special family lounge area with TVs, sitting areas and internet stations. Breakfast is offered there each morning, and snacks and drinks — including free soda — are provided throughout the day. So, you never have to go far when the kids need a snack. Cabins in the Family Harbor category feature a nautical theme, plenty of storage and space to sleep at least four people.
Carnival Horizon: Best ship for luxury lovers
Let's be clear: Carnival is not a luxury cruise line, nor does it offer huge suites on most ships. The suites it has are smaller than most other brands' high-end accommodations, and they do not include amenities like butler service.
With that in mind, one ship that offers slightly more exclusive options is Carnival Horizon — the second vessel in Carnival's three-ship Vista class. It offers a top-deck, adults-only Serenity sun deck area; an extensive menu of spa treatments, salon services and fitness classes at the onboard Cloud 9 Spa; and a handful of upmarket cabin offerings.
If you're into wellness, relaxation and self-care, check out the spa and fitness center's manicures, pedicures, facials, massages, teeth whitening treatments, acupuncture, anti-wrinkle procedures, state-of-the-art cycling classes, thermal suite, hot tubs, saunas and steam rooms for a fee. For digs that include pampering, try a Cloud 9 Spa cabin to receive extras like complimentary thermal suite access and two free yoga or Pilates classes.
Related: The 8 best cruise lines for elegance and exclusivity
If exclusive stateroom enclaves are what you seek, you'll want to book one of the ship's Havana Cabana cabins. They come in several varieties, from 185-square-foot insides to Havana Suites, which offer 260 square feet of interior space (with a dividing wall to separate sleeping and living areas), plus a 100-square-foot patio area with loungers and a hammock. All Havana Cabana cruisers get access to an exclusive lanai and pool deck. With a suite booking, you'll also receive priority embarkation and disembarkation.
If a traditional suite is more your style, consider a Grand Suite, which includes priority embarkation, disembarkation and dining times, as well as access to the Havana pool area. Note, however, that Grand Suites run only 345 square feet with 85-square-foot balconies — disappointing when you consider some of Royal Caribbean's largest rooms are nearly five times that size.
The only ships on which you'll find larger accommodations are the line's newest: Mardi Gras, Carnival Celebration and Carnival Jubilee, all of which house Presidential Suites. Those accommodations offer 1,120 square feet of space with 600-square-foot balconies and separate living and sleeping areas. However, the ships — part of the line's Excel Class — are so large and attract so many families that I've ruled them out as the most luxurious.
Carnival Conquest: Best ship for budget travelers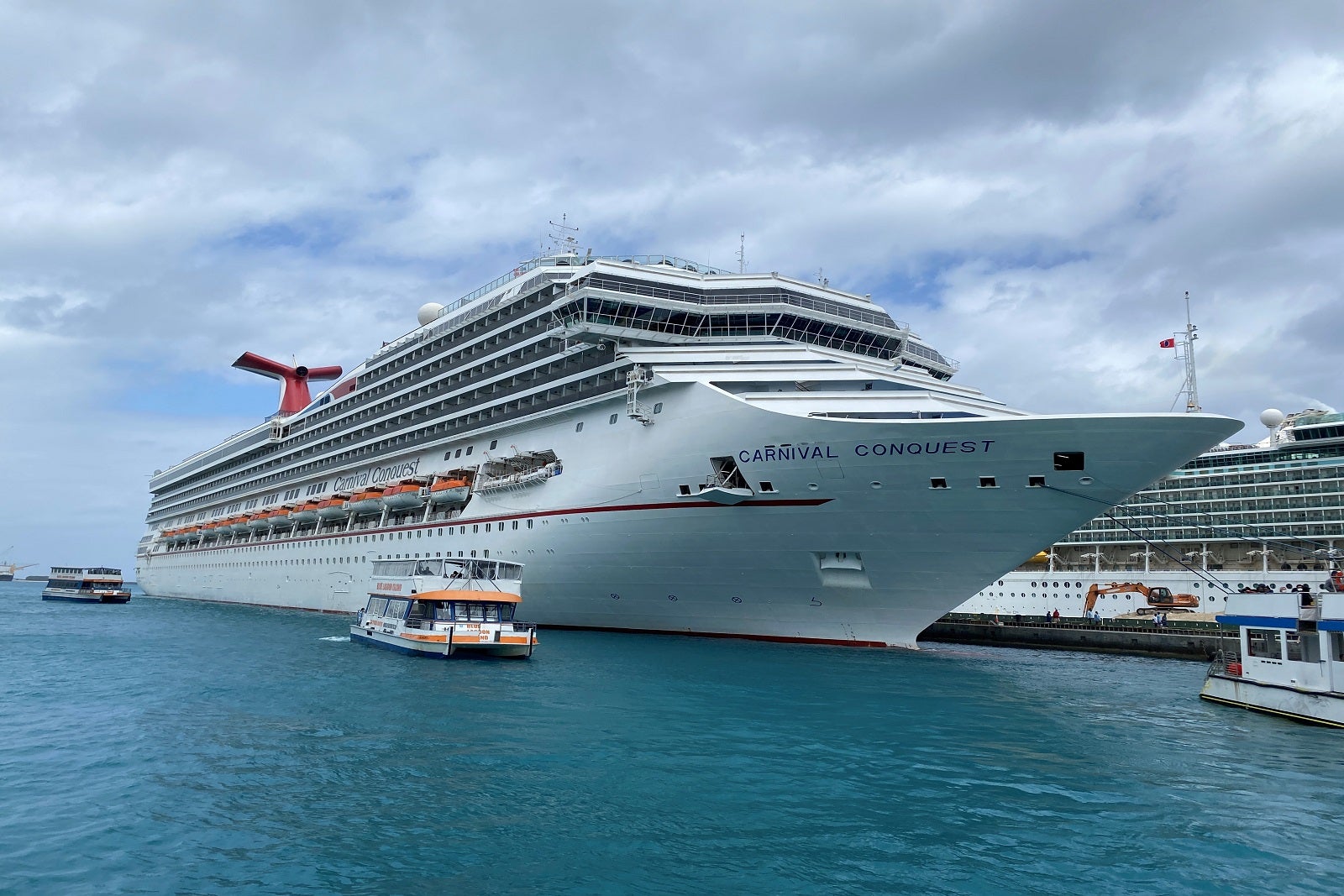 If you're on a budget and simply looking for one of the cheapest Carnival cruise ships, a solid bet is Carnival Conquest. It offers Bahamas and Caribbean voyages of three to five nights. Think of it this way: The shorter the cruise, the less expensive it will be.
Plus, it sails from Miami, one of the world's largest cruise hubs. More ships leaving from a specific port means more competition, which can drive prices lower.
Related: The 8 classes of Carnival ships, explained
Carnival Conquest is one of the line's oldest ships, but it's also a ton of fun. Because short sailings tend to attract a more lively crowd, passengers can expect lots of dancing, socializing and late nights at Henri's Dance Club. During the day, passengers enjoy spending time around the pool and grabbing free burgers from Guy's Burger Joint.
It's also one of the few vessels left in the fleet that still features jaw-dropping interiors designed by renowned architect Joe Farcus, who made Carnival synonymous with quirky patterns, bright colors and neon lights.
At the time of publication, prices averaged $71 per person, per night, excluding holidays; some sailings start as low as $60 per person, per night.
Carnival Sunrise: Best Carnival cruise ship for singles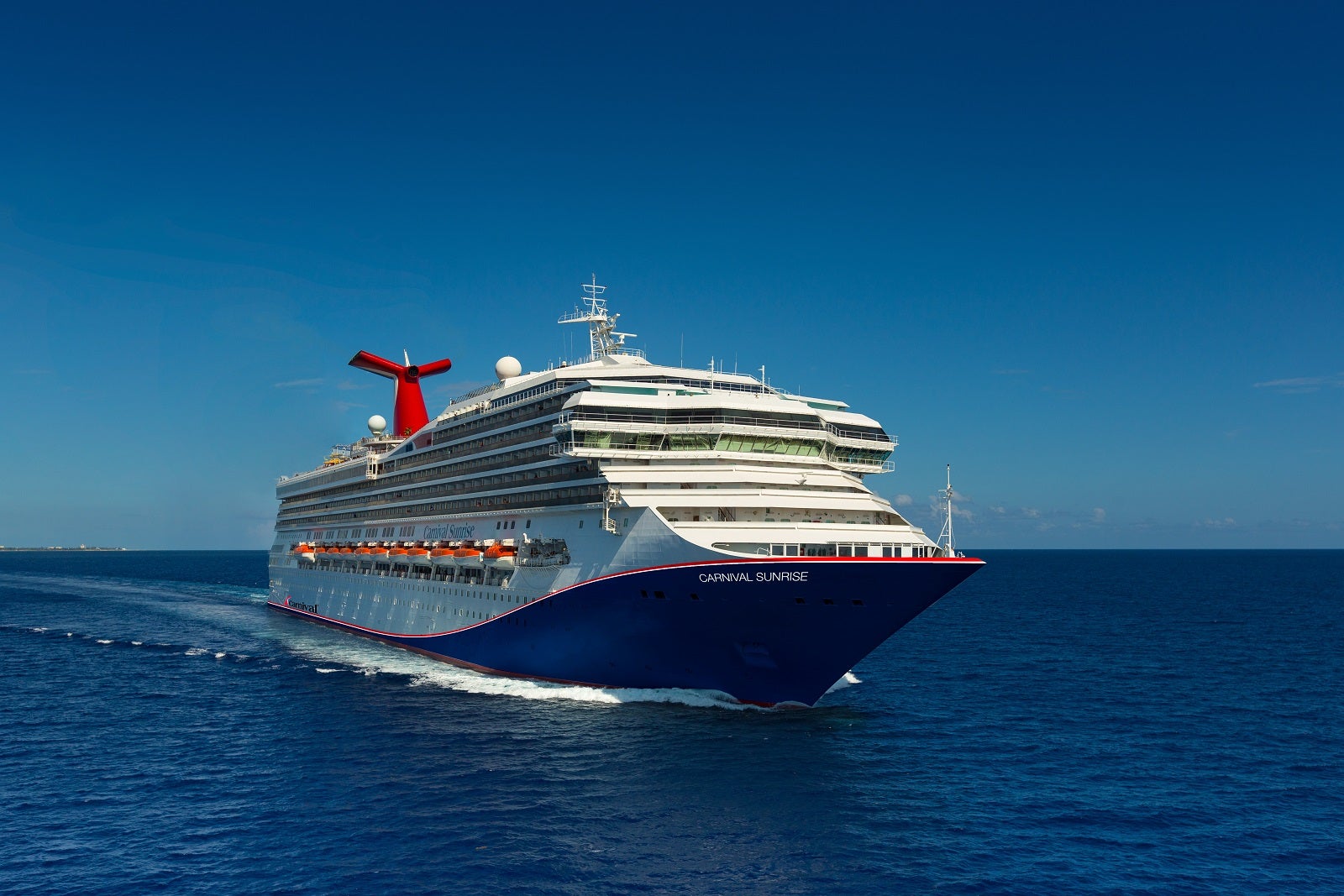 Unfortunately, Carnival has been slow to adopt solo cabins, meaning that no ships in its fleet offer accommodations for one.
Because all staterooms are designed for double occupancy, it's generally a rule that a person traveling alone must pay both fares. This means they would pay twice as much per person as two people sharing a room.
Related: The best cruise ships for solo travelers
In order to make the single supplement as affordable as possible, solo Carnival cruisers will want to balance finding an inexpensive vessel with choosing one that sails short itineraries. They'll also probably want one that's a bit livelier (read: not the oldest in the fleet).
A great contender for the title of best Carnival ship for singles is Carnival Sunrise. Formerly Carnival Triumph, the ship was completely gutted, overhauled and renamed in 2019. Although it originally debuted in 1999, it feels fresh and nearly new. It offers the line's signature Serenity adults-only sun deck, RedFrog Pub, Alchemy Bar and a slew of lounges, nightclubs and daily activities.
Combine that with short, affordable voyages from Miami, and you can sail to the Bahamas or Caribbean for four or five nights from as little as $94 per night if you're solo. Short sailings also tend to draw a more fun-loving, social crowd. So, if your goal is to mingle and potentially meet other solo cruisers, you stand a good chance on Carnival Sunrise.
Carnival Pride: Best ship for retirees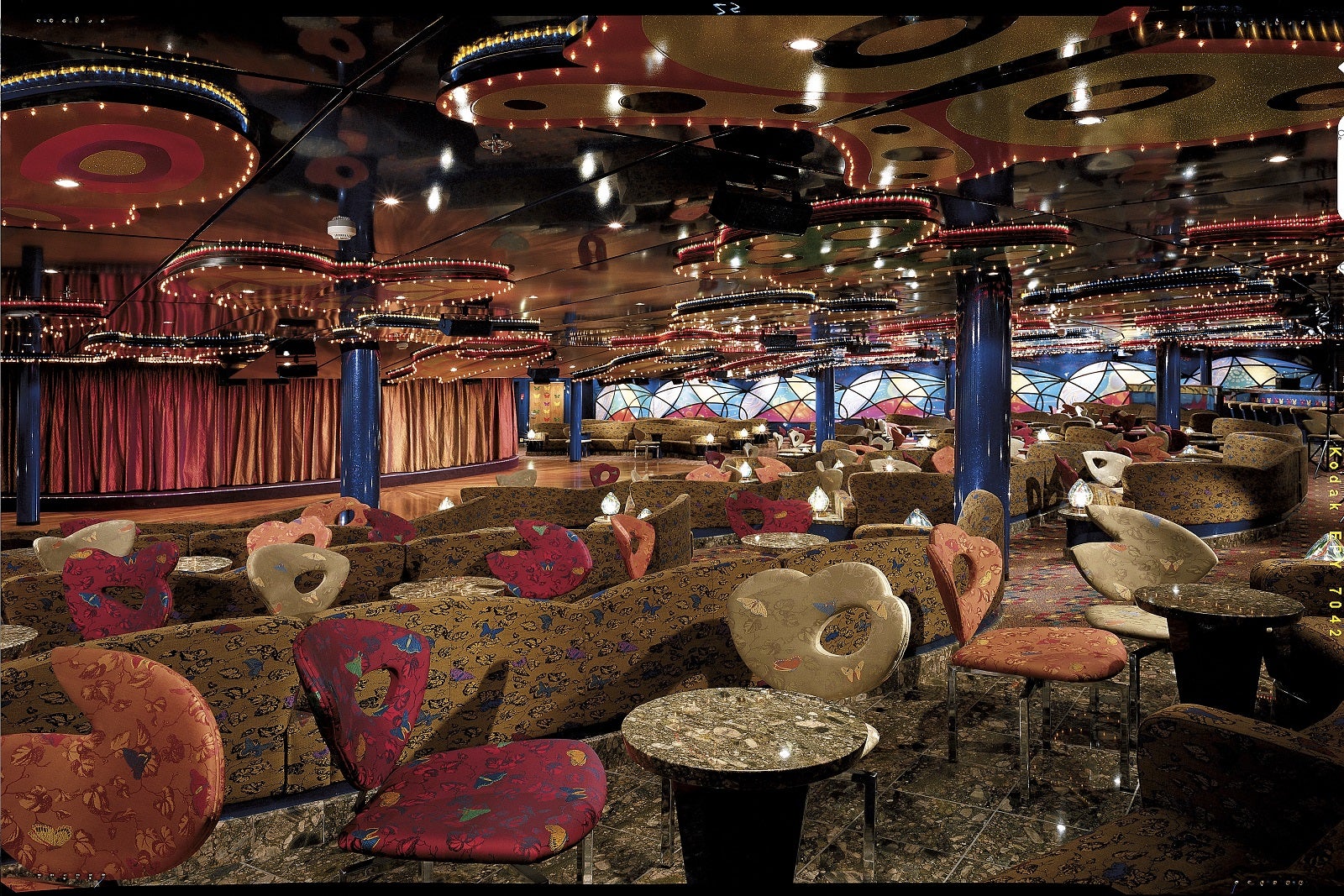 Retired travelers have all the time in the world to take longer cruises, which generally allow them to visit more far-flung locales. Those trips can come with a substantial price tag, which is why, as a budget option, Carnival is such a great choice.
In particular, Carnival Pride's voyages consist of nine- and 12-night itineraries to the Baltic, British Isles and Iceland on a regular cadence. Longer voyages mean more time to explore but also fewer children and less of a frat party vibe. (Take note if you're thinking of bringing your grandkids.)
Related: The 7 best cruises for seniors who love to travel
Carnival Pride is one of the oldest ships sailing for Carnival. That actually works in its favor if you're a retiree who enjoys smaller ships and vintage design — in this case, more artwork and decor by Farcus.
In addition to a comedy club and an onboard spa, the ship also offers an adults-only sun deck, several bars and lounges, and plenty of dining options and daily activities to stave off boredom on longer voyages.
Bottom line
So, which Carnival cruise ship is the best? It all depends on your specific preferences. Whether you're searching for an inexpensive vacation, a family-friendly vessel or a ship that will take you on a longer voyage to Europe, there's a Carnival cruise to fit your taste and budget.
Planning a cruise? Start with these stories: