We tracked in dirt, spilled food and wine, and managed pet stains to find out if Ruggable rugs and other brands are truly machine-washable and stain-resistant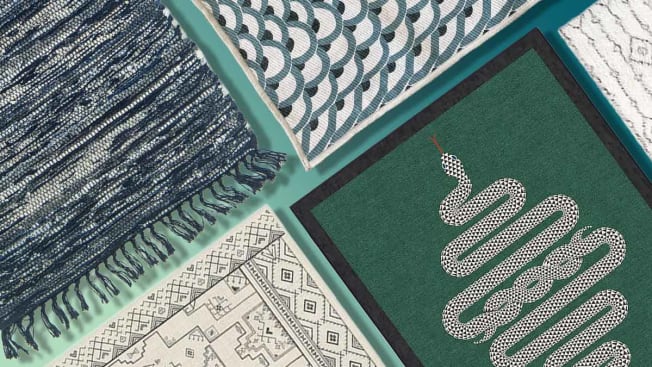 By Anna Kocharian
A stubborn stain on your massive living room rug no longer necessitates the help of professional cleaners—never mind rejiggering your furniture to cover it up. That's the promise of washable rugs, a concept not quite novel but enticing all the same.
When it comes to rugs that can physically be placed inside of a washer, it's already being done to an extent with cotton bath mats and certain rugs, says Lisa Wagner, a member of the Association of Rug Care Specialists (ARCS) and founder of RugChick.com. With newer larger rugs being marketed as "washable," we find that their construction features a thin synthetic topside attached to a bottom pad, says Wagner. "The top can be removed and wadded up to fit into a washing machine."
Curiosity led my colleagues and me to evaluate a variety of washable rugs to explore their benefits and experience the nuances in caring for them. After all, not all washing machines are created equal and neither are these rugs. 
We sought out the Instagram-famous brand Ruggable—with its stain-resistant rugs that come in a vast array of colors and patterns—and compared them with a budget-friendly alternative from Ikea, a recycled cotton one from Revival, as well as a couple of others. Here's how it all went down.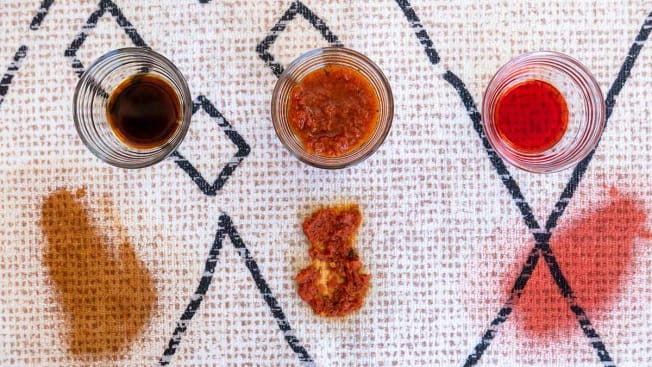 Evaluator Perry Santanachote's purposeful spills included (left to right) coffee, marinara sauce, and beet juice.
Photo: Perry Santanachote/Consumer Reports
How We Evaluated Washable Rugs
A team of four evaluators, including me, spent months living with two washable rugs, each—one Ruggable and one from another brand—to assess their appearance, durability, and care. We broke down the process into two phases:
Phase 1: Life as It Happens
We lived with each rug for several months and documented our experiences. We focused on factors like how easy they were to vacuum or spot-treat for stains, and how frequently they warranted washing. 
Phase 2: Controlled Spills and Stains
We intentionally stained our rugs with fluids like coffee, wine, beets, or red sauce, and evaluated them based on how easy they were to wash and dry. 
We then ranked our picks according to the following criteria: 
First impressions: How does the rug look and feel from a quality and aesthetic standpoint?
Ease of care: We sought out rugs that would be relatively painless to maintain and ones that could withstand multiple washes without compromising the integrity of the piece. We also wanted to ensure that they would be easy to vacuum and spot-treat for stains.
Size: Our evaluators chose rugs in a variety of sizes so that we would be able to, ahem, cover more ground. Some opted for 2x3 rugs for the entryway or kitchen, while others went with larger 8x10 versions for the living room or a child's play area. We were curious to see how much of a difference size makes in terms of care. 
Ginger Cowles, a Consumer Reports managing editor and evaluator, found this Lorena Canals rug to be thick, plush, and far heavier than the Ruggable one (more on that later). Made from 100 percent wool, she noted that the design was elevated with more details, multiple colors, and even raised lines that gave the piece texture and more depth. "It is, in a word, lovely."
For the planned spill, Ginger used hot, black coffee and planted a folded kitchen towel underneath the rug to prevent the liquid from seeping onto the hardwood floors. With a paper-thin undermat (which did not do a good job of holding the rug in place), a little coffee did soak through and most of the coffee stain remained, even after blotting and cleaning with soapy water. That said, after the rug had gone through a machine cycle, the coffee stain was nonexistent. Though given its larger size, it did not dry completely in the dryer even after a 2-hour cycle.
In washing the rug, Ginger realized that it emitted an extremely strong, foul-smelling chemical odor when washing. "I first noticed the odor while it was in the washer and initially thought my washer was broken or had caught fire, but it had not," she says. The odor continued when the rug went into the dryer and worsened when hung to air-dry completely. A bit of Febreze and an overnight air-dry session later, the smell was nearly gone. 
The rug also shed quite a lot, which Lorena Canals states should be expected and that it will gradually decrease over time and as the rug gets vacuumed. Ginger's robotic vacuum pulled up the rug and caused it to fold over on itself daily. According to the brand, it should be done on low to moderate suction. 
Ginger found the shedding to be annoying because both large clumps and lots of individual strands of wool fibers would be readily visible on darker clothing. Pro tip: Keep lint brushes handy with this rug.
What did you like about this rug: "It's really beautiful and goes well with my décor. It looks and feels like an expensive, luxe wool rug. I also like that it can be dried in a dryer." 
What did you not like about this rug: "It is scratchy, which is expected of a 100% wool rug, but it feels excessive. Sitting on it in regular loungewear or workout clothes feels like sitting on something that doesn't necessarily hurt but that also does not feel great." 
Would you buy this rug? "Yes! It looks like an expensive, plush, designer rug. But I would try to get a different undermat that will secure it better and hopefully prevent very wet spills from reaching my floors. I also would use it in a different area, perhaps a living room or study, where I would not be sitting on the floor often. This one is not optimal for a play area, which usually involves a lot of time spent on the floor."
Managing editor Mary Beth Quirk evaluated this Ikea rug, which was a fraction of the cost of all the rugs in our evaluations. Crafted from 100 percent cotton, the flat-woven piece is budget-friendly at its best. The downside? The creamy-beige color. "I wonder why anyone would purchase a cream rug, like, ever. It's supposed to get stepped on. It also feels very thin, especially compared to the Ruggable rug," says Mary Beth. (Ikea offers the same version of the rug in a light blue option.)
An accidental spill of a near-full container of vanilla extract provided the opportunity to see just how feasible it was to clean the textile. "I tried to blot up the stain, and then pretreated it with Persil ProClean for a few hours before washing it in cold water. I let it air-dry, and the stains have faded to a light purple but are definitely still visible," Mary Beth says. 
Vacuuming was relatively simple, given the small size of the area rug, though Mary Beth says she needed to avoid the tassels, which got sucked into the vacuum.
What did you like about this rug: "It didn't shrink too much and wasn't wrinkly when air-dried, which was a plus."
What did you not like about this rug: "It's way too light in color, and easily attracted dirt and stains. The normal workaday dirt washed out fine, but the color was an unfortunate pick when meeting a dark stain like vanilla extract."
Would you buy this rug? "It could be a good budget pick if you don't need cushioning, and if you buy it in a darker color for high-traffic areas."
I was skeptical of this rug when I first saw it in person because it didn't look as smooth as pictured online. The cotton rug is made from 100 percent recycled denim, which included frayed threading throughout. However, given the handmade nature of the rug, subtle variations in pattern and weave are to be expected and I grew to like it over time. 
Given its dark color, it was difficult to see stains intentional or otherwise, and even in the controlled portion of my evaluation—wherein I dumped half-cups of coffee, ketchup, and wine onto the rug—it was harder to discern. I was also surprised that the liquids barely seeped through to my hardwood floors. A 30-minute gentle cycle in my washing machine with one Tide pod later, the stains were virtually nonexistent. Per the brand's instructions, I line-dried the rug, which took well over 24 hours. 
Using a Dyson stick vacuum, cleaning was hardly an issue, and on the low setting I was able to successfully vacuum the tassels without worrying about them getting caught in the rotator.
What did you like about this rug: I like the look and feel of the rug—especially when compared with the Ruggable one. It fell in line with what I expected: a rug with an organic feel, softer texture, and depth. 
What did you not like about this rug: I didn't like the construction of the rug from up close because of how disjointed it looked. I also noticed spots where the textile frays from use over time. 
Would you buy this rug? Yes! It was easy to wash, it easily conceals stains, and it's aesthetically pleasing to boot. 
Reporter and evaluator Perry Santanachote's NuLoom rug arrived folded in a box and the creases never came out, even after weeks of leaving it out flat. Aesthetically speaking, the rug's design was not the worst, but it still fell short of expectations. "It looks so fake and poorly printed, but the texture feels less 'slick' than the Ruggable," says Perry.
Absent a rug pad, NuLoom claims that a non-slip layer is built into the back, which Perry found to be a rubbery texture meant to prevent slippage. While it functioned as necessary, it was unlike the Ruggable version, which was nearly unmovable with its rug pad in place. Minus the pad, the NuLoom rug was thin and sans cushioning, making it less comfortable for floor time—be that sitting or playing on the surface. 
When it came to the purposeful spills portion of the evaluations, Perry used beet juice, coffee, and marinara sauce. The marinara's cleanup by hand with soapy water and a paper towel was most successful; the other spills spread out a lot and stained the rug more. The soapy water lathered up a lot and spread out the stains even more. Moisture went through to the other side and onto the wood floor. 
After waiting for 24 hours, Perry machine-washed the rug on a cold water delicate cycle and used Tide detergent pods. NuLoom recommends line-drying or drying without heat on an air-only dryer cycle. As neither options are available to Perry, who lives in a condo with a communal laundry room, she instead put it in a dryer on low heat for 1 hour. The rug came out damp, so it required additional air-drying overnight. 
While the stains came out, the rug somehow picked up new markings in the wash. "There are black smear marks that look like they're coming from the black ink," says Perry. "When I touch the rug, it leaves a film on my hands. I just don't recall if that was there pre-wash. The rug is a little rumpled and wrinkled now that it's dried."
Perry used a Roomba to vacuum the rug, which got on and off the piece with ease, but (similar to the Ruggable) it wasn't able to suction off a lot of her dog's hair.
What did you not like about this rug: "The NuLoom is much more rigid (and heavier) than the Ruggable, putting up a fight as I stuffed it into the washing machine. This factor also forced me to seek a larger capacity washer. Since it's a coin-op I have no clue what that capacity is, but it's just noticeably larger than the others. Its bulk also made carrying it to the laundry room obviously much less discreet than the Ruggable. If I was going to get in trouble with building management for washing a rug, this was the one that was going to throw me under the bus." 
Would you buy this rug? "No. The designs are ugly, and the rug's rubber backing makes it difficult to handle and wash. I was never able to get it smooth. Instructions say it's okay to iron, but I don't have an iron—and even if I did, this thing is the size of a living room. Spills seep through to the floor, too."
Ruggable
Given the brand's popularity, we were all keen on getting our hands on a Ruggable rug to see what the hype was all about. 
Ruggable rugs are made from a two-piece system that consists of a rug pad (the bottom portion that sits directly on the floor) and a rug cover (the outer layer featuring the design). The rug cover attaches to the pad via "Cling Effect" edges (similar to Velcro) and is the part that can go into the washer. 
"The thin washable rugs have a texture that is more like a felted face," says Wagner. "The designs are printed onto the plastic synthetic fibers. There are some great designs and colors, but this is not a rug that feels like it has a pile to it." 
To make up for that, Ruggable offers a Standard rug pad and a Cushioned one, the latter of which aims to mimic the feel of a high-pile rug. 
Our diverse living experiences would play an important role here as well—kids, pets, and the lack of either would have an impact on our respective expectations. Here's how we fared with our individual rugs:
Ruggable's extensive collection of patterned rugs makes it easier to find an option that can fit a style and space. Mary Beth was a fan of the color and design of her rug, which easily laid flat on the cushioned pad. "My cat also immediately liked it, stretched out, and scratched it. So far she hasn't ruined it. It's soft, and I like standing on it," she says.
Given its small size, it was easy to move the rug around, and aside from the controlled spills, the rug was generally in a good shape throughout the evaluation process. A touch of the vanilla extract staining easily came off with a little cold water, a towel, and gentle blotting. And even after a run in the washing machine, there was no visible staining. Plus, it was very easy to vacuum.
What did you like about this rug: "I loved the design, color, and feel of the rug. It looked snazzy in my kitchen, and it was comfy to stand on while cooking or emptying the dishwasher. It always receives compliments, and it brightens up my small space, making it cozy and enjoyable to be in."
What did you not like about this rug: "Just the fact that I had something else in my apartment to clean. Sometimes debris would collect on it, or at least I'd notice more often that I was standing on crud, so I'd either sweep it with a broom or find myself shoving it off the rug onto the regular floor with my feet. Also, one corner of it has curled up slightly since washing it, even though I air-dried it."
Is it worth buying? "Yes."
Perry's Ruggable was a hit straight out of the box. Although it had no creases, oddly enough, it arrived with a stain on it. The chenille rug was almost slippery and soft but not exactly cozy. Though comfortable underfoot, it felt synthetic and the color wasn't white, as its name and online photos would suggest—in the daylight it looked slightly gray, while other lighting made it appear to be a greenish gray. 
Having opted for the cushioned rug pad, Perry found it to be difficult to unpack and roll out; it even caused a few scratches on her forearms and hands. The cushion was much needed though because the actual rug itself is very thin, and because it's cut a little smaller than the rug, there is a noticeable dip along the edges. The Ruggable will not work without a rug pad because the underside is also fabric.
Perry's dog had an accident on the rug, and though the smell was present, the spot wasn't. "The rug was a little too efficient in hiding and absorbing the mess. But then the odor stank up my entire apartment, so I had to wash it in the washing machine," says Perry.
As with the NuLoom rug, Perry spilled beet juice, coffee, and marinara sauce—and even though most of the stains came out, there were some residual spots. After the first wash—with Tide laundry pods on a cold, delicate cycle—it no longer smelled, and it looked exactly the same. However, Perry had to run it twice because the machine wasn't able to properly wring out the rug and it was still sopping wet when the cycle was over. Two hours in the dryer was still not enough time to dry the rug, so it required additional air-drying overnight.
Using a robotic vacuum cleaner proved to be easy for cleaning, although it was unable to pick up dog hair, prompting Perry to liken the rug to Velcro.
What did you like about this rug? "The design is beautiful, and the rug is well made. There are no creases, no out-of-the-box smells, and no shedding. The convenience can't be beaten, and I don't have to worry about pets or kids or wine-drinking husbands hanging out on it."
What did you not like about this rug: "I spend a lot of time on the floor and would just like it to be a little cozier. It feels very synthetic, which it is, but I'm also used to having plush, wool rugs in my home."
Is Ruggable worth buying? "It's an investment, and several visitors have asked me this question. In my opinion, if you have kids, pets, and/or entertain often, it's worth it. The designs are gorgeous and way better than less expensive rugs, but the quality is there, too. The ease with which these things can be cleaned without shrinkage or coddling is so nice. And in the long run, it's cheaper than getting your traditional rug cleaned over its lifespan. I think I would invest in one for the living room, hallways, kitchen, etc., but need a plushier, cozier wool rug for the bedroom."
Ginger's Ruggable was also a hit—it matched her home décor and fit well in her daughter's play area. "It was a definite upgrade from ABC & 123 foam tiles we had there. When my daughter first saw the new rug in place, she immediately ran over and lay down on the rug and kind of sighed, as if to say, 'This is so nice, Mommy!' It's super-cozy and soft. We love playing on it!"
Accidental stains came by way of a mixed berry smoothie that splattered all over, but Ginger was able to wipe it away quickly with a damp towel. Other spills included washable paint and whiteboard marker mishaps, all of which were easily cleaned without necessitating a machine wash. Ginger used Tide Ultra Oxi to wash the rug and let it air-dry overnight by draping it over a triangle-shaped clothing rack. After washing, a planned coffee stain (which entailed a full cup of joe) was undetectable—and better yet, the pad prevented any of it from seeping onto the floors. The rug truly is washable and looked like new. 
Ginger's robotic vacuum, which runs daily, was a momentary but unwarranted concern. There were no issues with shedding and the Roomba was able to easily navigate its way, without the rug shifting or folding over. The sticky pad underneath did a great job of gripping the rug as well.
What did you like about this rug: "It's really beautiful and goes well with my décor. It doesn't feel or look cheap or flimsy, like I expected it to look, as someone who has not tried a washable rug until now."
What did you not like about this rug: "There's nothing I dislike about this rug. It actually does what it says it will do, looks lovely, feels soft and cozy, and is a breeze to clean. The only drawback (it's not a dislike) is that it has to be air-dried, which takes about 36 hours to dry fully."
Is Ruggable worth buying? "Yes, 100%."
Given all the noise surrounding Ruggables, my expectations were high for this one. I was underwhelmed by the composition of the piece, but there's no doubt that the bubbly colors and patterns are a treat to the eyes. I appreciated the subtle grooves on the rug, which gave it a more authentic feel, but the synthetic makeup was personally hard to overlook.
On a particularly rainy day in New York City, the rug, which was placed by my front door, was covered in dirt and mud. A day later, the dried-up pieces of dirt were easily vacuumed off and the rug looked as good as new. It reminded me of water-resistant fabric, where the slightest hint of liquid would immediately bead up. 
Similar to Perry's experience, a friend's dog had a little accident on the rug, and after giving it a quick, 30-minute wash, I was unable to detect any lingering odors or stains. My controlled spills portion of the evaluations mostly followed suit, but if examined closely, there remained a slight trace of the red coloring from the spilled ketchup.
Vacuuming was as easy as it was with my Revival rug, and air-drying the piece took a significantly shorter period of time—though it's worth noting that it came out of my washer still soaking wet and had to be wrung a number of times. 
What did you like about this rug: After two washes it still looked like new, and the stains were essentially nonexistent. 
What did you not like about this rug: I had a hard time getting over the synthetic element and the way the pattern was printed on vs. woven in. 
Is Ruggable worth buying? I personally wouldn't invest in one, especially if I'm looking for a smaller version. There are plenty of options made from natural materials, with equally fun patterns and a lower cost.
Is a Washable Rug Right for You?
The benefit of a washable rug is that you don't necessarily have to splurge on professional cleaners. But it begs the question: How often are you planning on actually washing the rug? 
Often, minor stains can be easily spot-treated with soapy water and gentle blotting. You're not necessarily going to throw an entire rug into the washer (especially if it's a larger 8x10 one) every time there's a spill. But if it's in a children's play area or a room where pets roam free, having the liberty to do so can be a game-changer. 
Similarly, in high-traffic areas like the kitchen or entryway, where messes come with the territory, it can be helpful to have a small landing pad that can easily go into the wash and come out looking new—or close to it.
What Kind of Rugs Can Be Machine-Washed?
Not all machine-washable rugs are blatantly marketed as machine-washable rugs—the Ikea version we evaluated is a prime example. Technically, a rug made from a natural fiber, such as cotton, can go through a wash cycle, but it may experience slight shrinkage in the process, so it's worth reading through the manufacturer's care instructions before attempting to machine wash.
Even on a gentle wash setting, items made of inferior fabrics or produced in inferior ways can experience some level of harm, says Wagner, adding that high heat can cause a rug's outer binding to shrink. "As these edges wear and flex, they will eventually tear," Wagner says. That explains why some find that the edges of their rugs start curling after washing. In order to extend the life of such rugs, Wagner suggests line-drying them to lessen the amount of flexing along the outer cord and bending of the plastic composition.
This product evaluation is part of Consumer Reports' Outside the Labs reviews program, which is separate from our laboratory testing and ratings. Our Outside the Labs reviews are performed at home and in other native settings by individuals, including our journalists, with specialized subject matter experience or familiarity and are designed to offer another important perspective for consumers as they shop. While the products or services mentioned in this article might not currently be in CR's ratings, they could eventually be tested in our laboratories and rated according to an objective, scientific protocol.
Like all CR evaluations of products and services, our Outside the Labs reviews are independent and free from advertising. If you'd like to learn more about the criteria for our lab testing, please go to CR's Research & Testing page.
Consumer Reports is an independent, nonprofit organization that works side by side with consumers to create a fairer, safer, and healthier world. CR does not endorse products or services, and does not accept advertising. Copyright © 2023, Consumer Reports, Inc.