Brooklyn Artist Selena Liu Is All About Gifting Childlike Magic for the Holidays
"I like to pick out objects that can almost change up a person's home or their day-to-day energy."
There's no denying that Selena Liu is a visionary—a scroll through her Instagram page quite obviously displays her talents as a prop stylist, set designer, and home goods maker—but the Brooklyn-based interdisciplinary artist would likely disagree with that notion. "No, I'm a master of none!" she says. "I think there's no pride and very little ego in what I do. I honestly just try out different materials and designs because there's no preciousness to any of it." 
As it turns out, Liu's Serving Friends collection for Areaware was born out of sheer curiosity and experimentation: During a lunch break, Liu felt compelled to carve something from a block of wood that was laying around (at the time she was head designer and art director of a retail popup studio and wood shop in Gowanus). "I've always been really obsessed with making things for myself," Liu says, who studied industrial design at Pratt Institute. "I love to dabble and I don't really believe in just doing one thing." It's no surprise then that Liu is also a ceramicist in addition to being a woodworker, although her potter life is kept mainly private: "My ceramics are really bizarre, sculptural, artistic, and not for commercial viewing," Liu says with a laugh. "It's really important to create a little sanctuary for yourself that no one knows about."
When it comes to Liu's home life in Clinton Hill, the scene is admittedly chaotic because it's also where she works on set designs for various clients like Muji, Prada, and Crocs. But in the parts of the apartment where she actually dwells, Liu keeps the environment fun, colorful, and downright goofy. "I think I'm like a five-year-old stuck in an adult's body," she says of her playful environment. "Like my dining table is the shape of a flower and I made a dim sum Lazy Susan for it. I have ants as salt and pepper shakers. I have fake fruit and vegetables piling off of it. It really looks like a kid just vomited everywhere in this apartment," Liu says with a laugh. "I like to keep things silly and light-hearted and that's what I want my home to be like."
Liu's approach to holiday shopping for loved ones is simple: She aims to give gifts that are consistent with her personal style. The stuff she wraps for others has to be meaningful, thoughtfully made, and personal in some way. "Everyone has so many things already. Sometimes a gift is almost a burden. I like to give gifts that can spark joy in someone's life. I like to pick out objects that can almost change up a person's home or their day-to-day energy," Liu says of how she selects gems for others. "How special is this? What kind of emotions can this spark in the other person? I always wanna give someone something that they would never buy for themselves. Something as crazy as possible. Something so special they can't throw it away." 
So what makes the cut on Liu's list of gift recommendations? Expect custom-made portrait candles, a spoon with fake-out cereal on it, swirly coasters, and Liu's own salad tossers in the shape of flowers. These are gifts, Liu says, that can be presented to almost any kind of recipient, whether a family member, work colleague, or longtime friend. 
And when it comes to Liu, the artist who can make virtually anything and everything on her own, what are the gifts she loves to receive? "Handmade things mean a lot to me. One-offs mean a lot to me. The stupidest gift you could ever think of that would make me laugh mean a lot to me," Liu says. "My friend recently gave me a rock with a frog glued to it. It's sitting on my desk right now and it makes me laugh a lot. This is a good gift."
"These have been one of my favorite cups for a while because each is made one-of-a-kind and they always put a smile on my face! I love being able to pick out a unique cup for someone so that they can feel super special."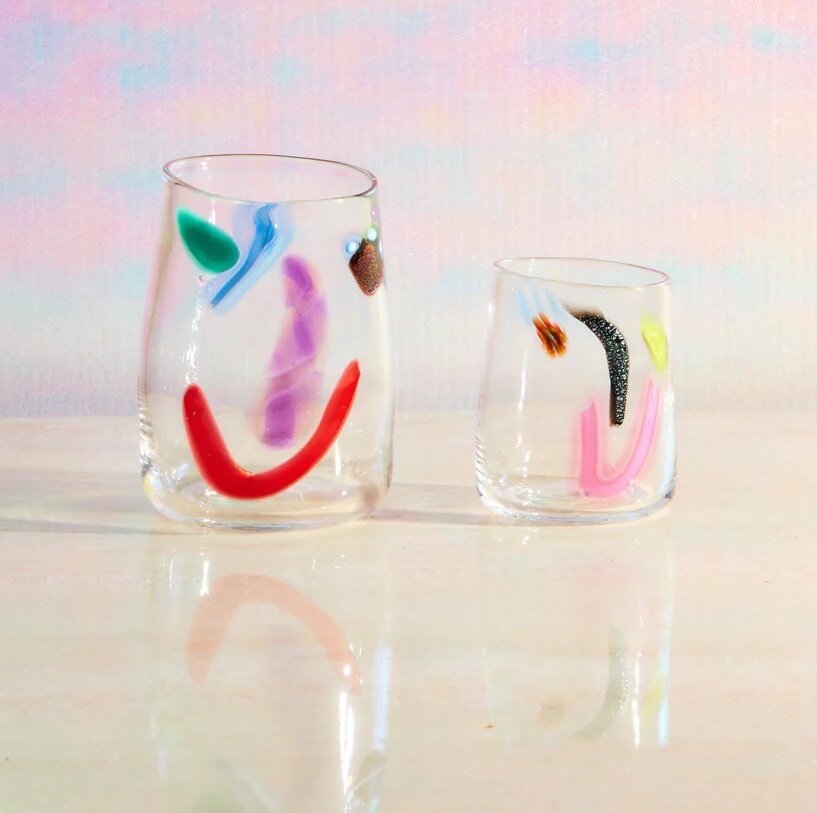 "Shh! Don't tell...I'm getting this for my partner this year. Janie is one of the most talented candle-makers around, and her pieces of art can make anyone laugh."
"My go-to game to play with friends is a good ol' memory game, and what other than this super cute house-shaped set? (If you can't tell already, I have a thing for inanimate objects with faces.) I'd get this for loved ones of all ages!"
"This is the newest set in my collection, which I've been loving in the colder months because of its warm yummy color. I've been using it in my own home for large salads...and to be honest, I just love staring at it in my kitchen because it makes it look so silly."
"Written by two great designers, this is one of my favorite curations to flip through because it highlights ordinary yet spectacular everyday objects. This book is a great way for people to appreciate the things we already have."
"I love a random piece; I can't imagine anyone who wouldn't want a fake spoon of cereal."
"My personal gift to myself this season! After a long day, all I want to do is slip into this sweet striped set of sheets. The deep red and light blue color combo is everything."
"Alison's work has always ridden the balance of playful yet elegant. Her vases come out in waves, so all the more precious to have."
"If you want a great home gift for someone, I would recommend these gorgeous coasters. They're so beautiful on their own that I would leave them lying out anywhere!"
"A not-so-conventional light that stays in any position you want. I like that it's playful yet quiet in its form, a good surprise if anyone's paying attention."
We love the products we feature and hope you do, too. If you buy something through a link on the site, we may earn an affiliate commission.