Children's Christmas Gift Guide – Gifts Ideas for Kids, Big & Small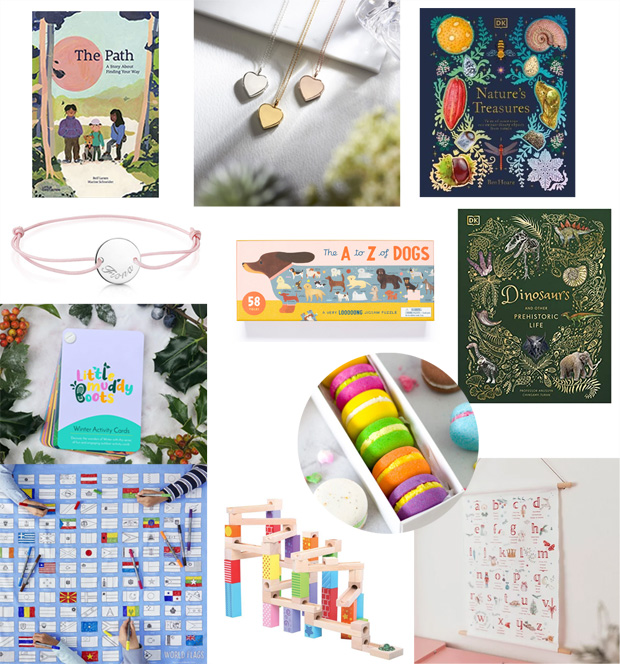 Children's Christmas Gift Guide – Gifts Ideas for Kids, Big & Small
When I'm looking for gifts for children of all ages, I try to look for meaningful gifts that will last or gifts that will provide a memorable experience. Or books! You can never have too many books and luckily my children agree and love receiving books as presents.
This guide has a range of gifts, some suitable for younger children (aged 3 above-ish), others for a tween or young teen and some for in between. I hope you find some gift ideas that you like in this children's Christmas gift guide!
The Path – A Story about Finding Your Way
The Path, written by Reif Larsen and illustrated by Marine Schneider and published by Gestalten, is a children's book about how a path is never the same path twice. In this book, three curious kids walk down their usual neighborhood path but their experience is far from ordinary and all three children experience and interact with the path in different ways.
The story encourages children reading the book to be aware of their surroundings, to take a closer look at the things and lives around them and to show empathy towards all living things – it's a wonderful book!
LOVELOX London Heart Personalised Silver Locket
A personalised locket necklace makes a truly special gift and is a great present for a daughter or granddaughter, one that she can keep as she's growing up and beyond and treasure forever. With a special message, date or place engraved to the outside and two meaningful photos inside the locket, it is sure to be a brilliant gift.
LOVELOX London has a wonderful range of silver lockets to choose from, including the Heart Personalised Silver Locket that you can see here. It's a solid 925 sterling silver heart locket with an adjustable chain length. The design is simple and classic so will go well with any outfit. It comes in a lovely gift box ready to be gifted to a loved one.
Engravers Guild Of London Engraved & Personalised Bracelet
Another great jewellery option for teenage girls, would be a personalised bracelet. Engravers Guild of London have lots of beautiful designs to choose from for all tastes and styles, including this Pink Personalised Friendship Bracelet that has a solid sterling silver disc that can be engraved with a name, short message, date or initial. This also comes in a pretty gift box.
Stunning Nature and Science Books from DK Books
Books make great gifts – especially if they're as beautiful as these two books from DK Books. Nature's Treasures by Ben Hoare and Dinosaurs and Other Prehistoric Life by Professor Anusuya Chinsamy-Turan are both luxurious, large hardback encyclopedias with gilded edges.
Nature's Treasures: Tales Of More Than 100 Extraordinary Objects From Nature is a fascinating book about intriguing items from the natural world, arranged into four chapters: Animals; Plants, fungi, and algae; Minerals and rocks, and Made by nature.
There's so much to explore and learn in this book! Perfect for curious children who love learning more about our intriguing natural world. The book is packed with stunning photos and illustrations too, to help explain the science.
In Dinosaurs and Other Prehistoric Life, we travel back in time to explore dinosaurs and lots of other interesting prehistoric life. We learn more about our favourite dinosaurs like Tyrannosaurus Rex but also read about sabre-toothed cats, woolly mammoths and lots of other prehistoric animals and plants.
The book has lots of gorgeous illustrations and photographs alongside all the fascinating information about the different organisms. A great book for any curious kids but especially ones interested in fossils, dinosaurs, and natural history!
The A to Z of Dogs Jigsaw Puzzle
For someone who's a fan of dogs and/or jigsaws, The A to Z of Dogs jigsaw puzzle from Laurence King Publishing would make a great gift. We have this puzzle and it's very loved!
It's a very looooong jigsaw puzzle in the shape of a sausage dog! It's over a metre long and features 26 different dog breeds, illustrated by Seungyoun Kim. The pieces are big so easy for children to use but the puzzle is fun for grown-ups to join in building too. Great for practicing puzzling skills but also for learning and recognising dog breeds.
The Cosmic Book of Space, Aliens and Beyond
Also published by Laurence King Publishing, The Cosmic Book of Space, Aliens and Beyond by Jason Ford is a fun book for children aged 7-9 years. It's an activity book that teaches you how to draw, colour, create things from out of this world! The book is bright and fun and includes lots of step-by-step guides, including ones for how to draw a spacecraft, how to professionally sketch a cool alien and lots more! There are even two very cool alien masks to cut out and use for playing or dressing up. My nearly 8-year-old loves this book!
Little Muddy Boots Winter Activity Cards
This is such a sweet idea! The Little Muddy Boots Winter Activity Cards are packed full of seasonal activities and winter facts. They're a great way to help parents (grandparents and carers) feel equipped with fun activity ideas for young children to enjoy during this season. Also great for older children to flick through when they're feeling bored and need help coming up with something to do. They're sure to find something in this pack!
The beautiful cards inspire outdoor play and creativity, whilst building knowledge and understanding about nature and our planet in a fun and engaging way. What a wonderful gift that keeps giving! Buy yours here.
Colour & Learn World Flags Tablecloth from eatsleepdoodle
Let me introduce you to eatsleepdoodle that make fun, educational, creative and sustainable textile gifts. Everything comes with a set of 10 wash-out pens for you to use again and again. There are lots of different fun items to choose from that would make great Christmas presents or stocking fillers.
We have the Colour & Learn World Flags Tablecloth which is perfect for my family. I've always loved learning about the flags of the world and it's something I have passed on to at least a few of my children.
The set includes a large 100% cotton tablecloth with flags from around the world for the kids to colour in using the pens that are included. You can use eatsleepdoodle's online learning resources alongside this activity too. What a fun educational activity and a lovely gift to give this Christmas! My girls love it!
When you're done, you can hang it up using the loops or use as a tablecloth, of course. If you want to colour it in again, simply wash the tablecloth in your washing machine on a warm wash, hang up to dry, then start again.
Soul & Soap Macaron Bath Fizzers
Soul & Soap Macaron Bath Fizzers are small bath bombs that look like colourful macarons – almost good enough to eat. One of them would make a great stocking filler or get a few to wrap up as a Chirstmas present for kids big and small who love a bath treat! They're available in lots of scrumptious scents. They are cruelty free, vegan and free from SLS and parabens and come in 100% recyclable shrink wrap. The Green Apple one is my favourite!
Wooden Toys from BrightMinds
When it comes to choosing toys for my children, I'm always drawn to wooden toys, knowing that they're better for the environment, more durable and usually great for inspiring open ended play. Both of the toys that you can see above are from BrightMinds which is a company that specialises in educational children's toys.
My youngest daughter is marble run obsessed and I know she'll love this Bigjigs Wooden Marble Run which features a wide variety of wooden pieces (53 all together) so that kids can craft their own unique designs. A beautiful toy that will provide endless fun!
The Magnetic Fishing Game with Base is a toy that I think all three of my children aged nearly 3, 5 and nearly 8 will enjoy and that they will be able to play together. The set includes colourful wooden fish that you can hook up using the magnetic fishing rods. Great for practicing dexterity and co-ordination skills and concentration. Both these toys are made from high quality, responsibly sourced materials.
Christmas Alphabet Illustrated Children's Print from The Laser Studio
The Laser Studio make lots of special Christmas gifts, including Letters from Santa. Their beautiful Christmas Alphabet Illustrated Children's Print caught my eye as a sweet gift for little ones. The letters and illustrations for this children's wall art have all been loving painted in delicate watercolours and dip pen in deep red inks. These are very limited edition and come complete with a hanger. A wonderful keepsake that you can display for years to come. The Laser Studio products are also available on Not On The High Street.
Thank you for reading my Children's Christmas Gift Guide! Hope you have found some ideas that will help you with you Christmas shopping!
This article contains some gifted items. Everything has been chosen by me to be included in this gift guide and all thoughts and opinions are my own.
The post Children's Christmas Gift Guide – Gifts Ideas for Kids, Big & Small appeared first on A Mum Reviews.