CoComelon's Exciting Holiday Toy Lineup 2022
This post is sponsored by CoComelon Toys from Jazwares. All opinions expressed are my own.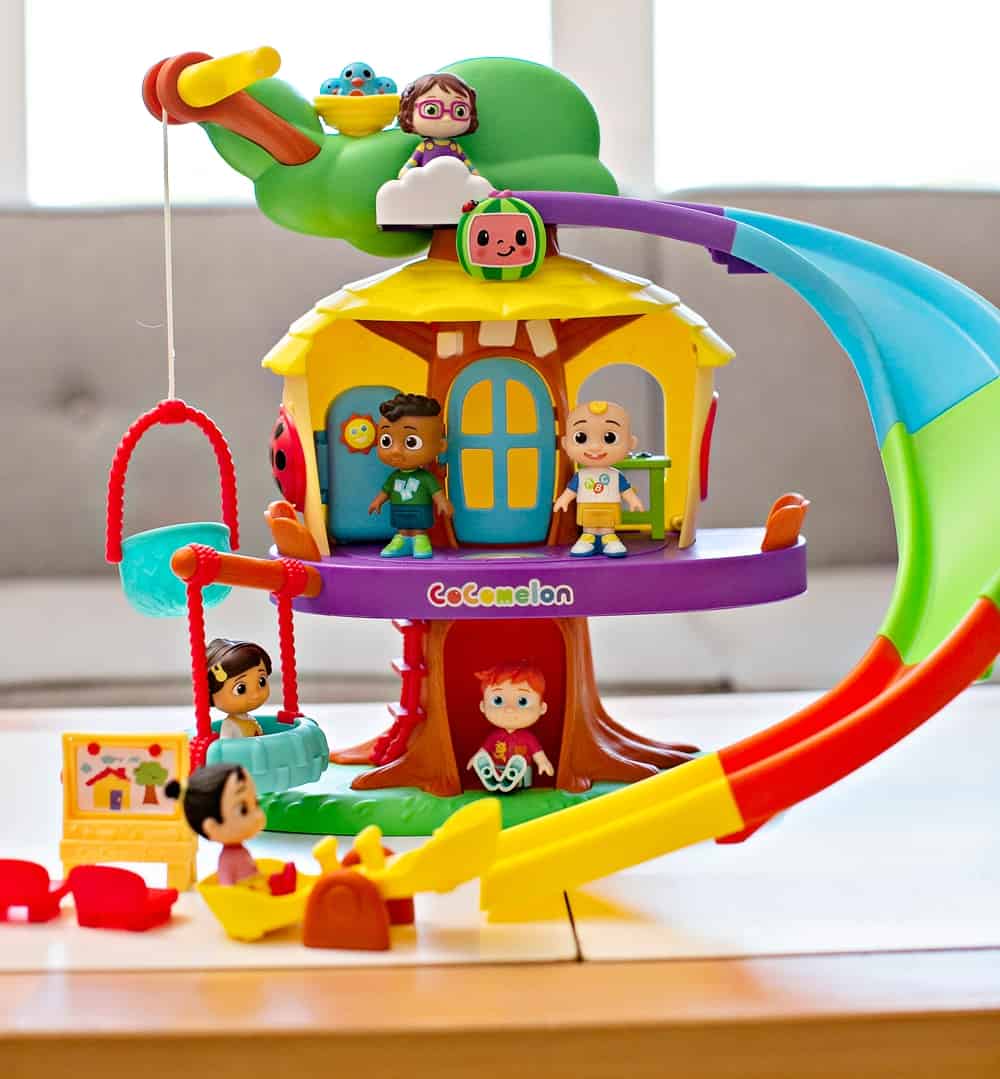 Fall is a time for family activities like apple picking and going to the pumpkin patch. It's also a great time to check out exciting new toys for holiday gifting to keep your kids entertained and learning through the winter season. 
One of our favorite preschool brands that offer an unbeatable lineup of fall products this year is CoComelon. CoComelon celebrates big moments for little kids and their families. It has been a long-time favorite of ours since my son was two years old.
With universally relatable scenarios and positive role modeling, CoComelon presents a positive and safe place that supports strong relationships between caregivers, parents, and friends. 
Watching the relatable characters navigate their everyday lives on the hugely popular CoComelon YouTube channel (with 132MM+ subscribers!) helps children understand their roles within their families and among peers.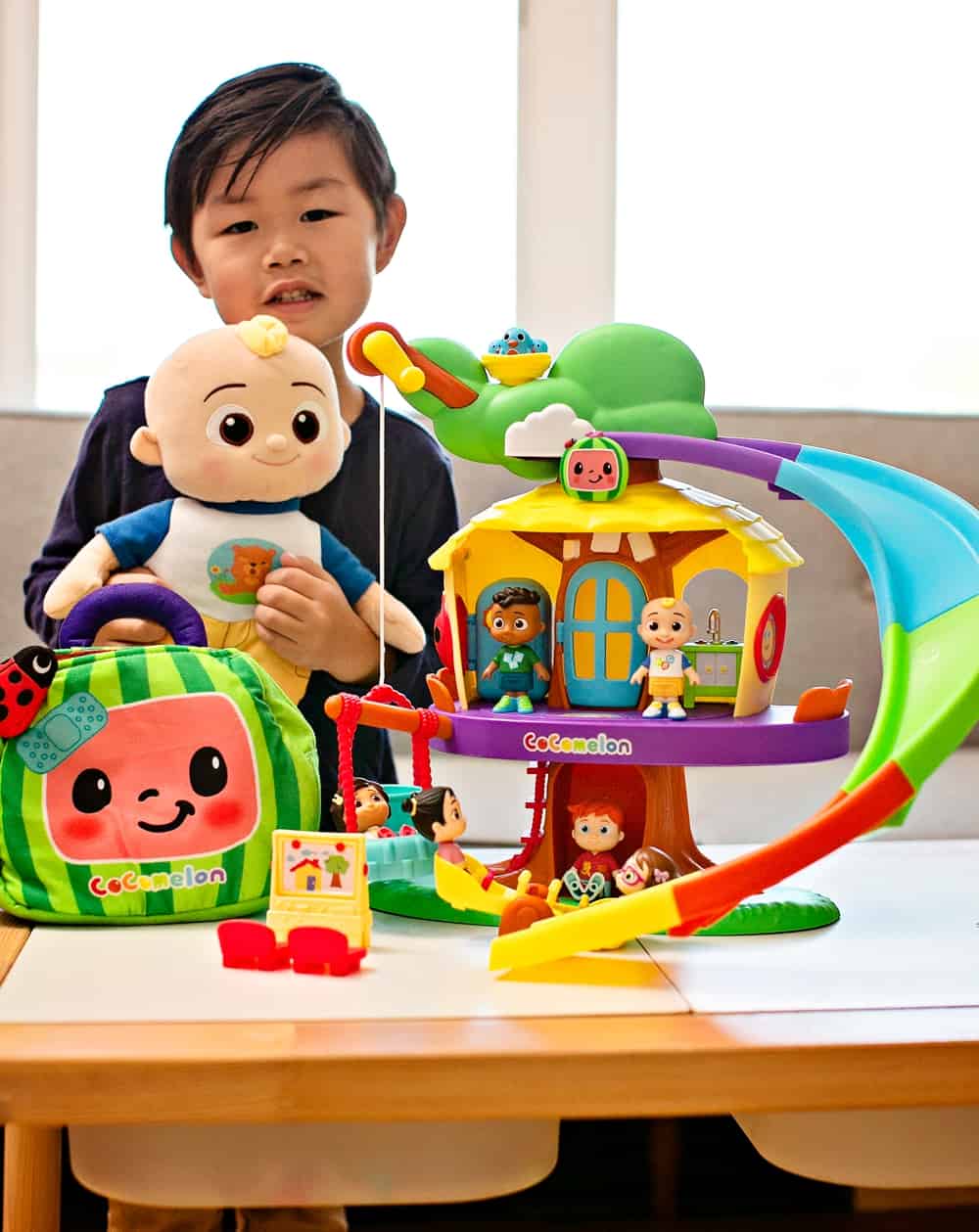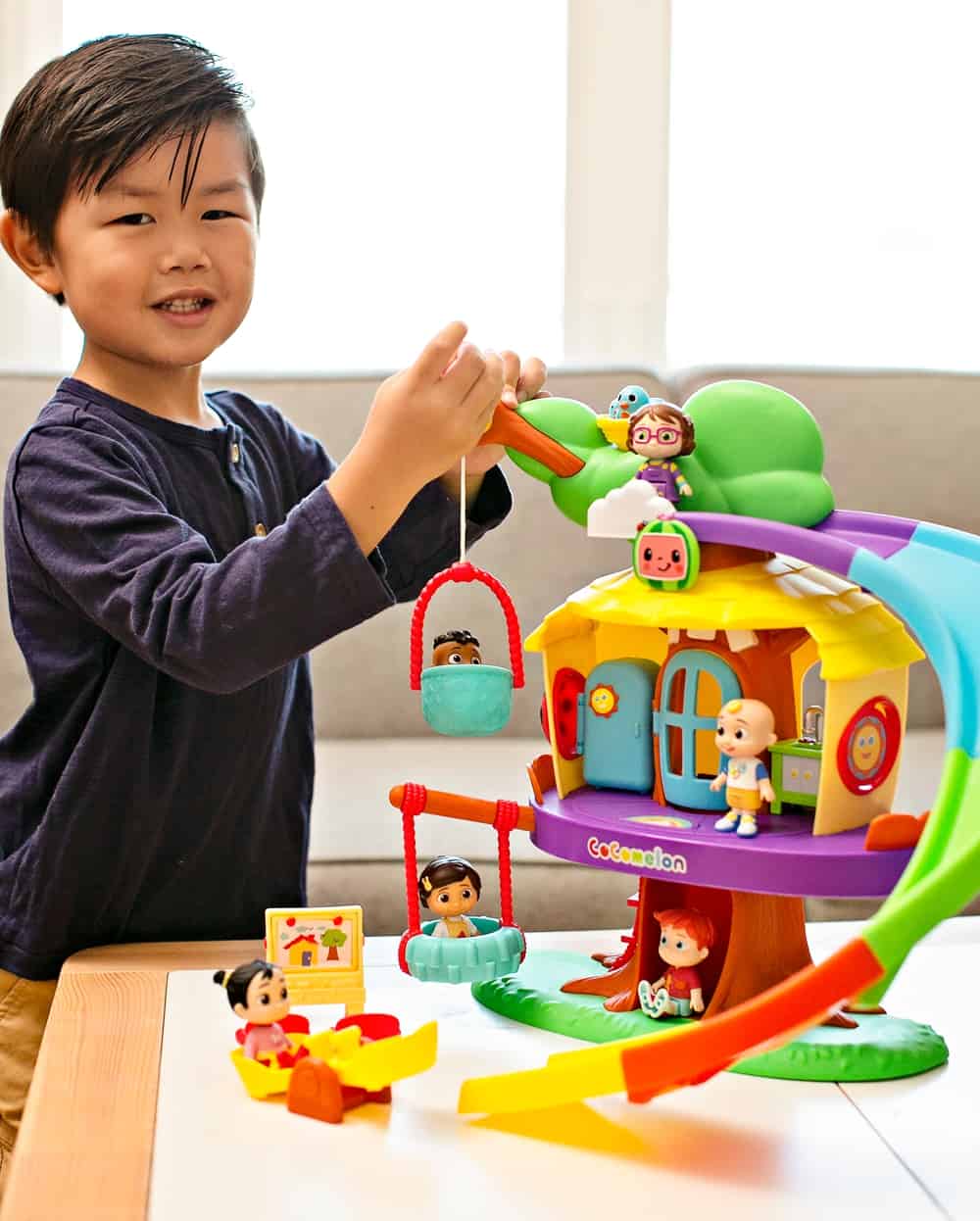 My son has been able to recite almost all the songs since he was a toddler. The sing-song tunes are comforting to him and calm him down when we need quiet time. Personally, as a mom, I approve of this screen time because it follows key milestones in his life stage. The CoComelon Potty Training song was instrumental in helping him get interested in using the potty around 3 years old; something he was quite resistant to! Seeing JJ going to the potty and doing the potty dance did wonders for getting my son over the potty training hump! 
We're excited to preview a couple of CoComelon's most popular products this holiday for your children to enjoy! Read more below on why we think these are the perfect toys to gift this season.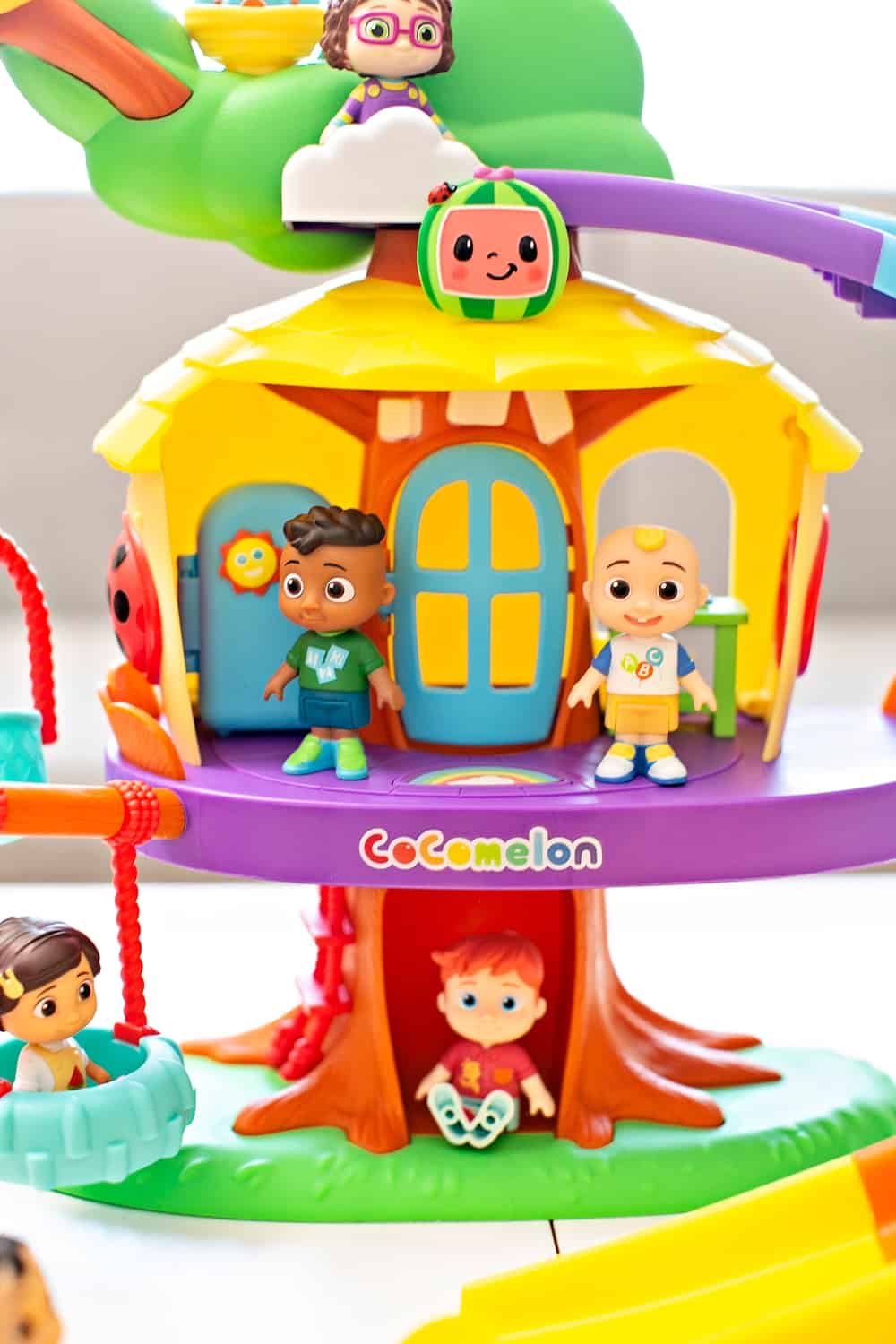 Introducing CoComelon's Fall Lineup
1: Boo Boo JJ
My 4-year-old son Dash got to check out the new Boo Boo JJ doll. We love listening to the "Boo Boo Song" which provides a comforting and soothing tune to listen to when he gets hurt. 
Dash quickly adopted this adorable plush toy as his new best friend. Boo Boo JJ is not only soft and cuddly, but he also teaches kids about empathy. 
Boo Boo JJ illuminates to show where he is hurt when he is hurt. Then, your little one can put a bandage on him to make him feel better. 
When you press JJ's belly, a clip of "The Boo Boo Song" plays, making the experience even more entertaining and humorous.
The best part is that this plush toy shows that it's never too early to instill in your child the value of compassion and empathy. My son loved playing doctor using the stethoscope, fixing JJ's boo-boos, giving him pretend shots, taking his temperature, and using the cute CoComelon doctor bag. Since he is in preschool and at the age where a lot of his peers are playing on the playground and being active as little kids should be, some of them inevitably get hurt. He has also gotten some boo boos from running or playing too hard! This toy is a reminder that boo boos happen in life and that's okay as long as we can heal and fix them!  
Additionally, the Boo Boo JJ Plush is an excellent gift for pretend play and practical life skills. It's appropriate for ages 2+ and great for kids who are going to the doctor for the first time and can be wary of the experience.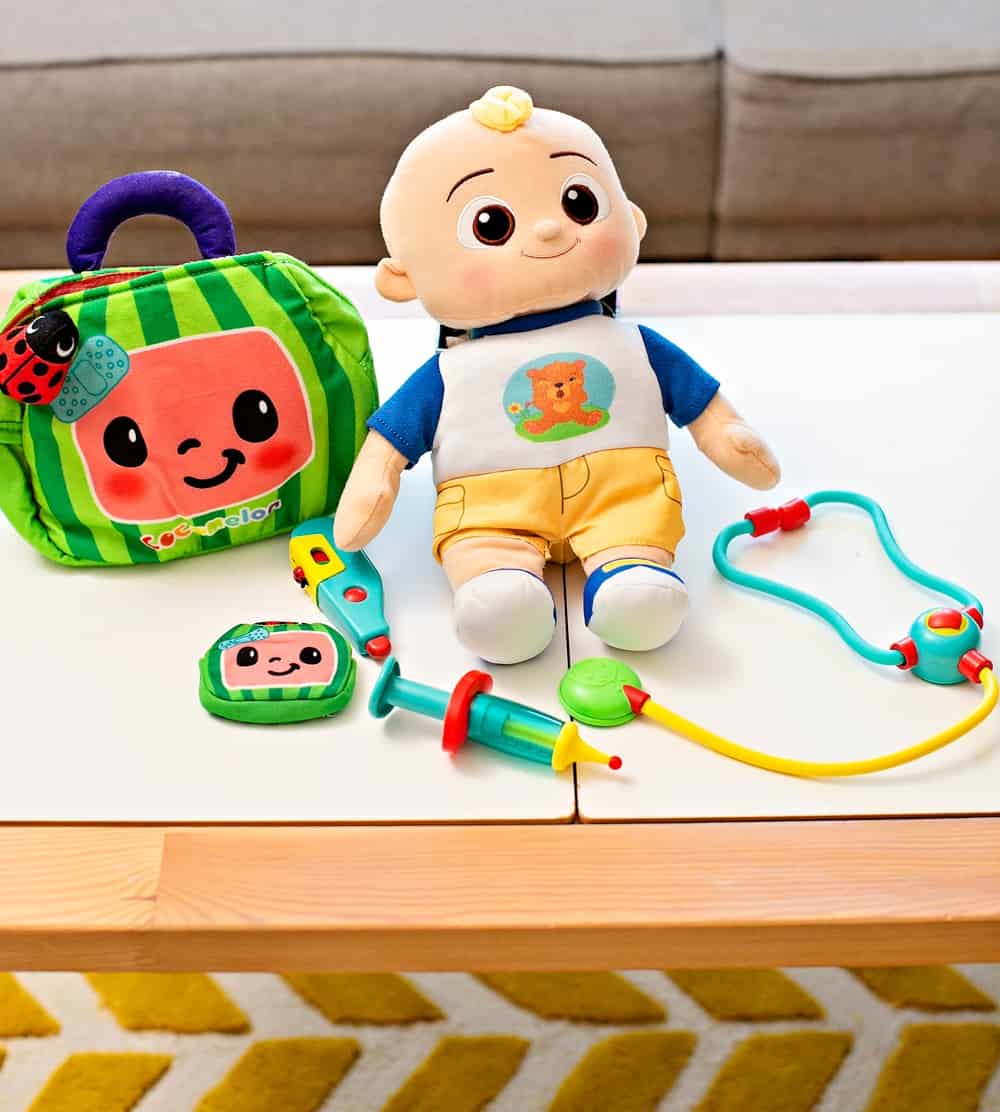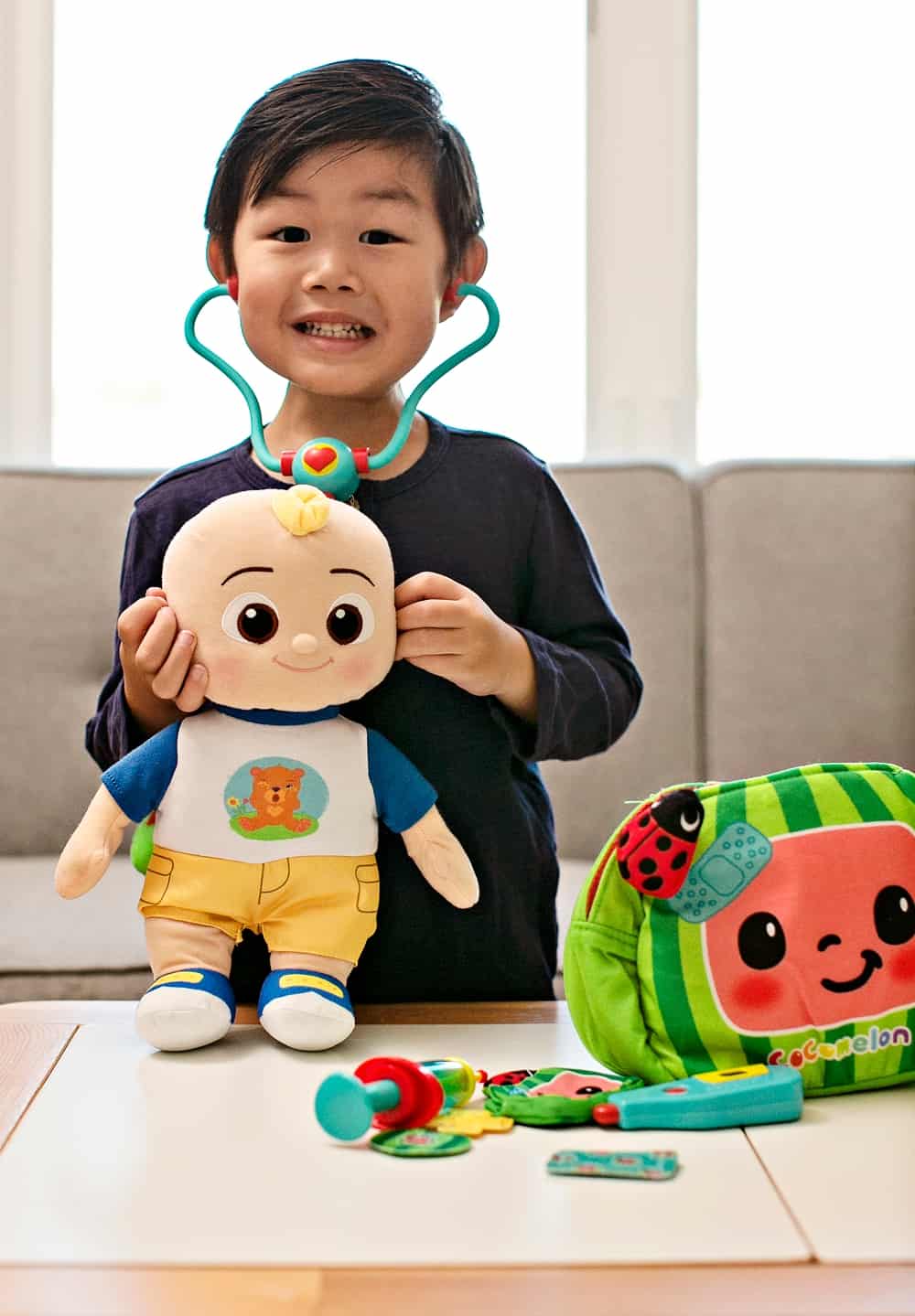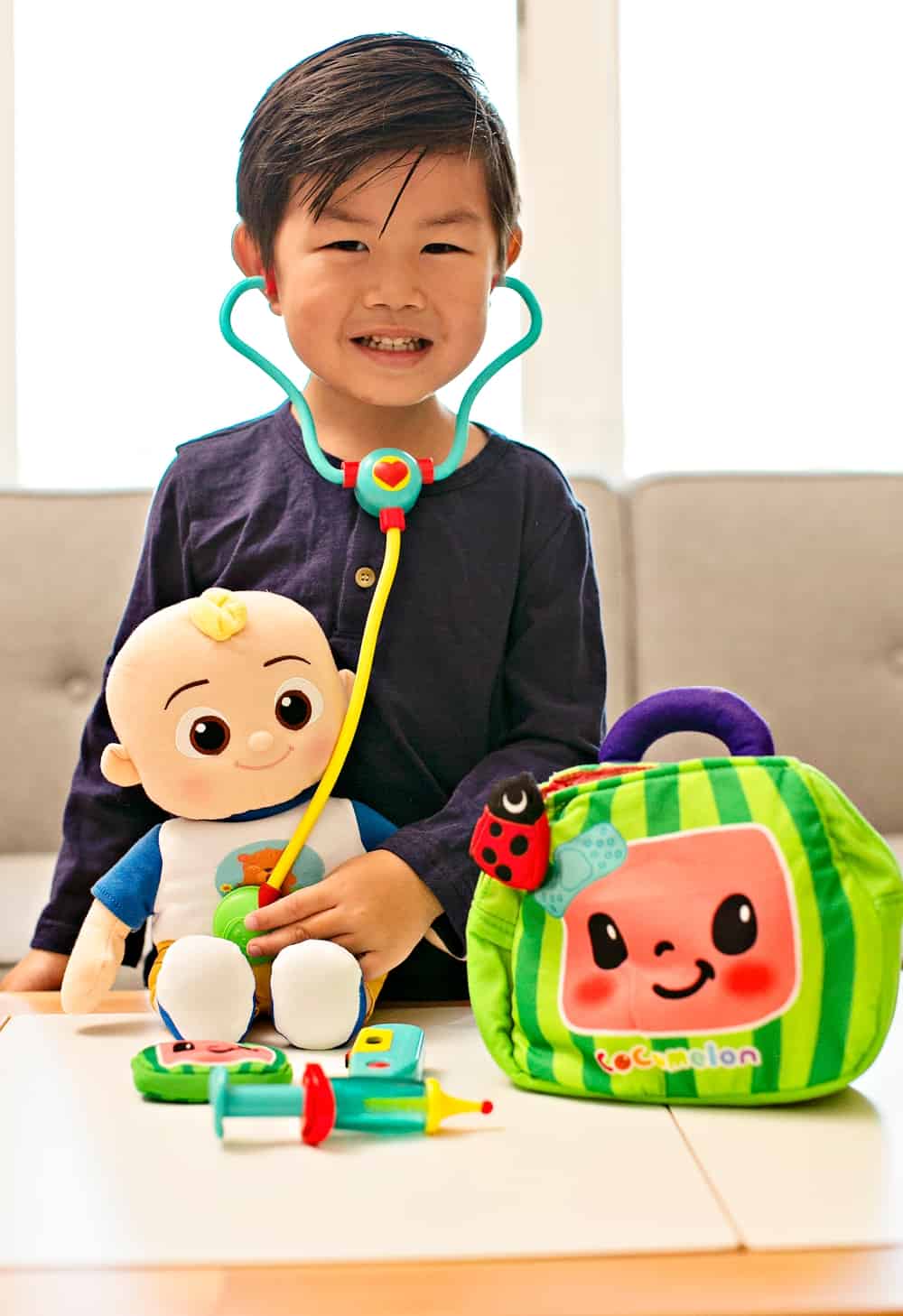 2: Clubhouse Playset 
Dash was super excited to try out the new Cocomelon Clubhouse Playset since he's in preschool. The set resembles his preschool where there is a playground outside. The similarities are comforting to him since he loves playing on the playground with his friends! 
The Amazon-exclusive Clubhouse Playset includes JJ and his 5 best friends Cody, Nina, Cece, Bella and Nico! There are unlimited adventures and fun with a basket to ride, two-story slide, and fun accessories like the seesaw.
JJ's giggle and his use of phrases like "Let's Play!" and "This is so fun!" are just a few of the sounds and phrases to enjoy. 
"Looby Loo" and "If You're Happy and You Know It Song" are two fan-favorite songs and we were excited to hear them play! Dash knows all the words due to watching the tunes endless times on CoComelon's channel and immediately sang and danced along to the music. 
Watching him get excited over the songs makes me happy and I also love that it gets him mobile and burning that little kid energy! The Clubhouse Playset is fantastic for imaginative and creative play.
One of Dash's favorite parts was winding up the basket which was great for practicing fine motor skills!  He's loved activities that practice hand-eye coordination since he was a toddler as we do many activities together to practive them. He also has a fascination with cause and effect and how things work so to see the mechanics of winding the basket and seeing how the pulley works were engaging to him! 
Ages 2+ and up are suggested for the Clubhouse Playset. This toy is great for the child who loves the park and playground as well as learning how to interact in a social setting such as preschool.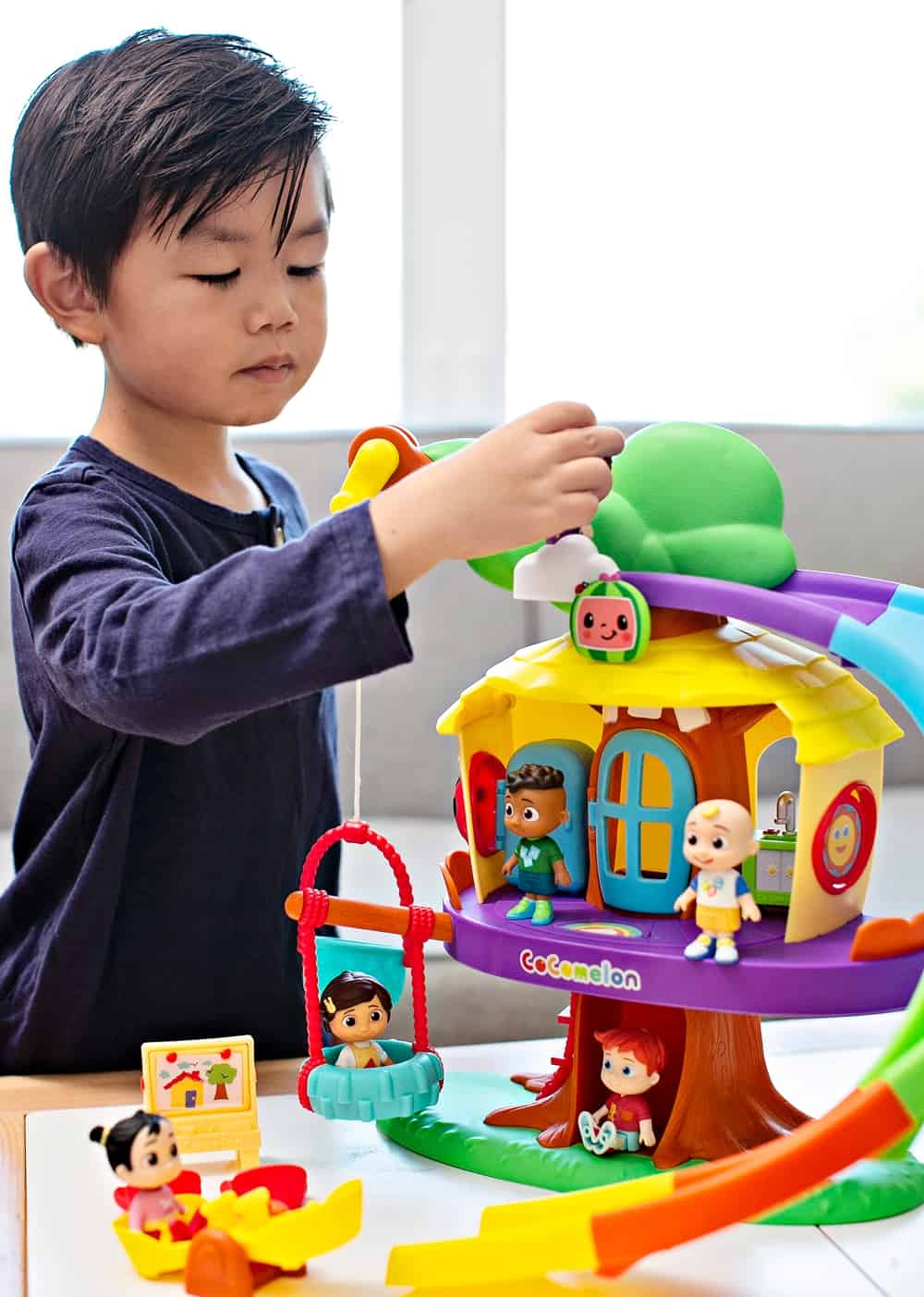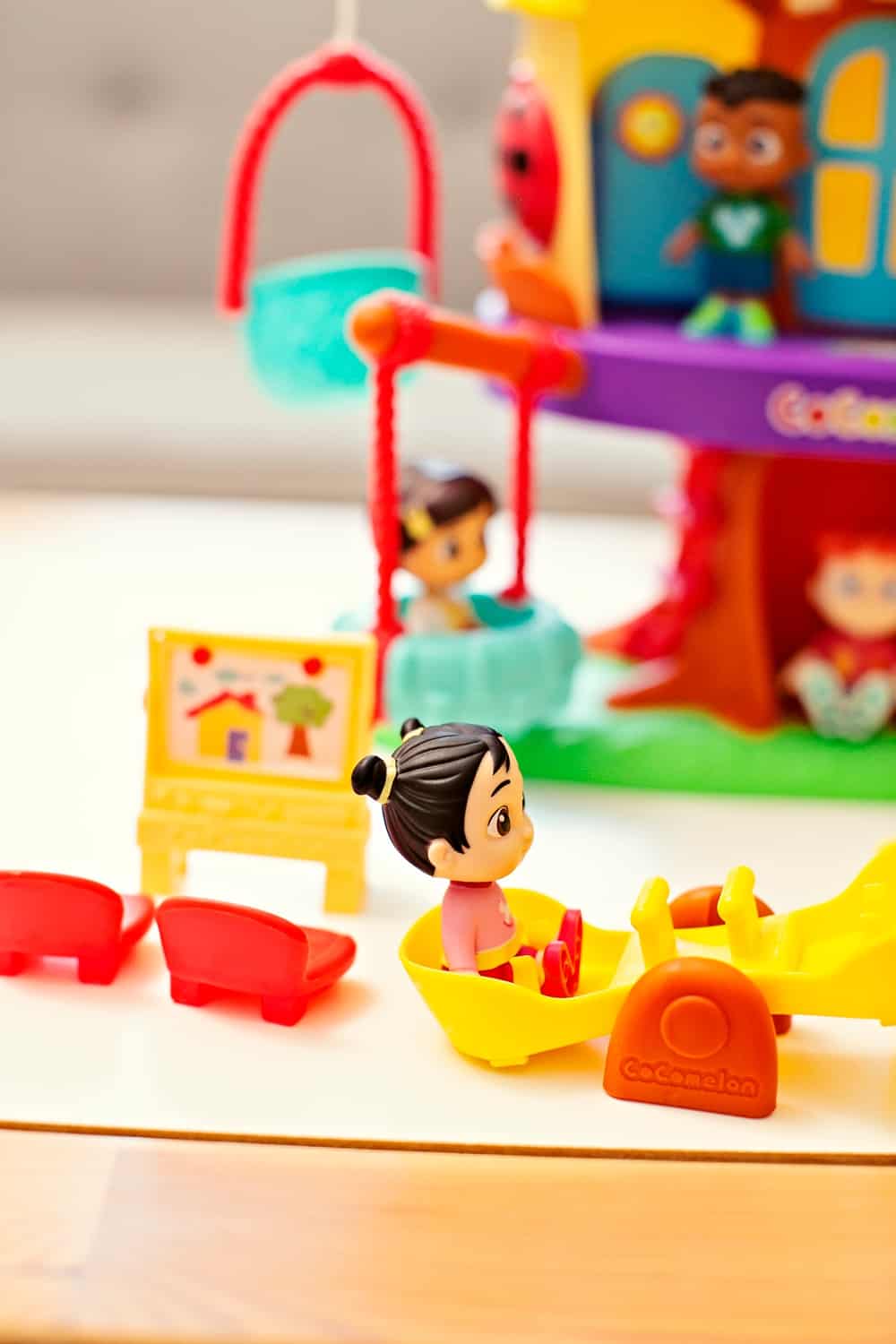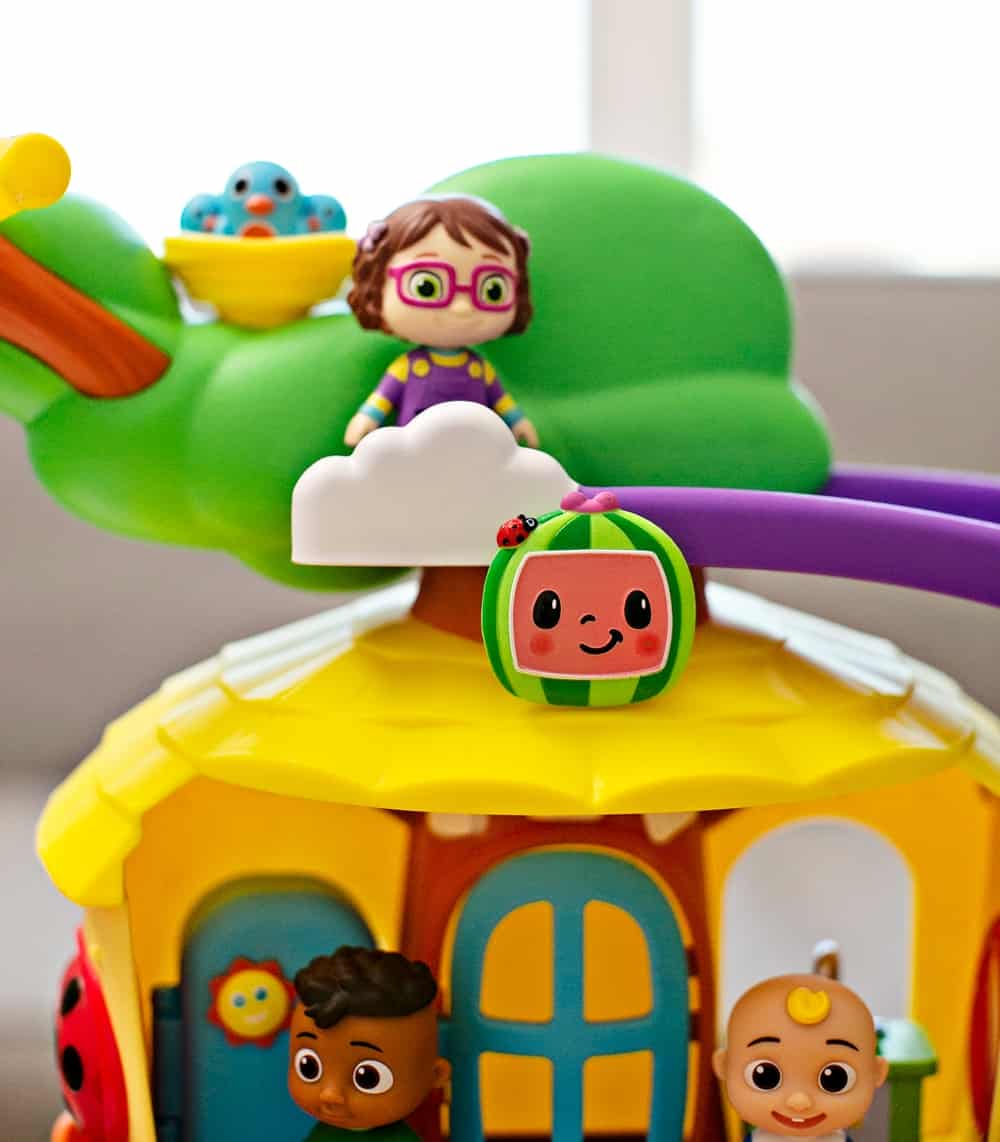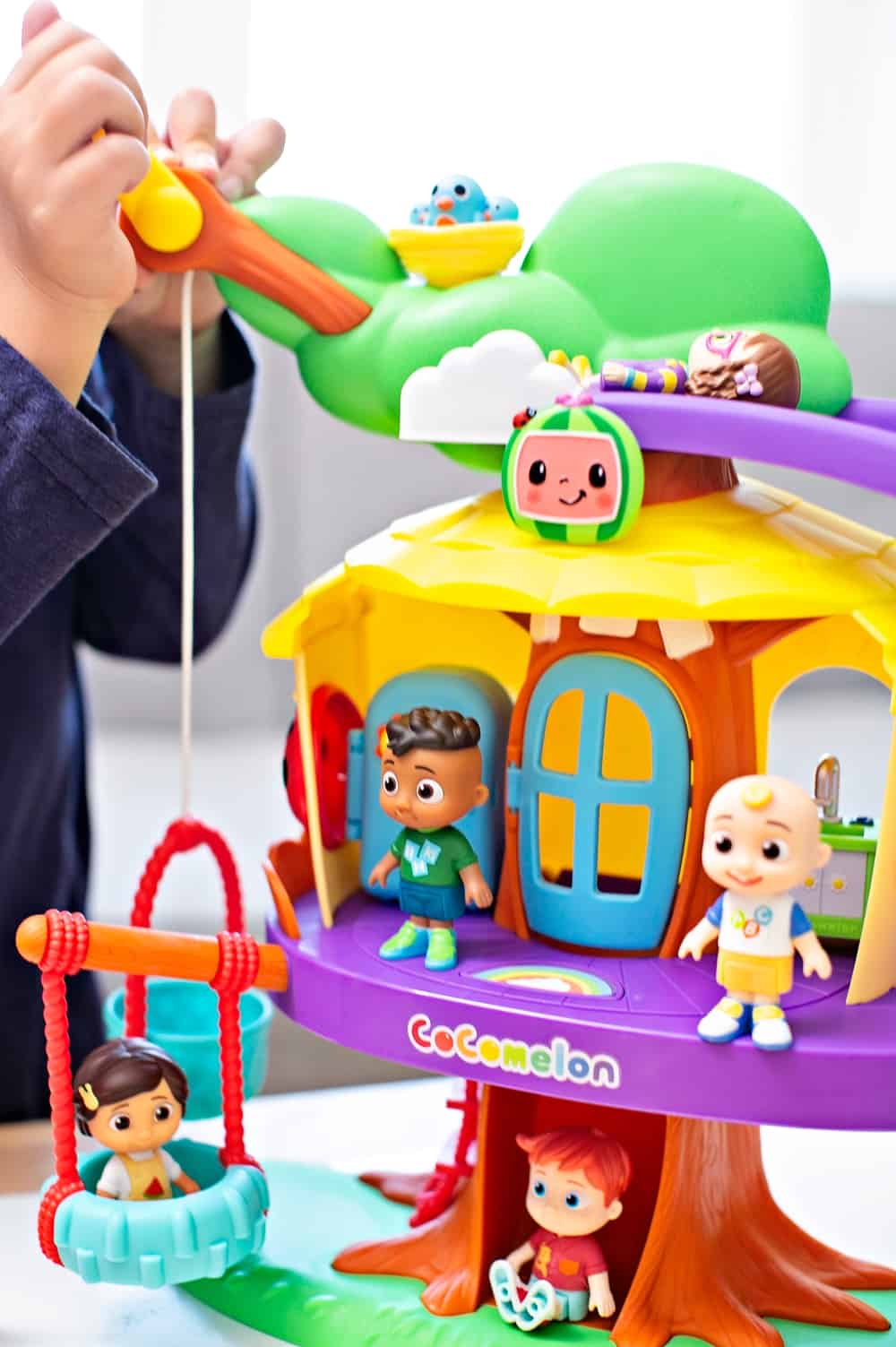 3: CoComelon Chase 
Your baby can follow the toy in CoComelon Chase mode and hone their crawling and mobility skills thanks to Chase's three play modes: Chase, Hide 'N Seek, and Sit 'N Play. 
When playing hide and seek, the toy will turn around while hiding and count before moving around the room, trying to avoid being found or to find its playmate.
By simply touching the antennas to activate them in the Sit 'N Play mode, your child can enjoy more tactile features as well as songs, phrases, and sounds. 
As the songs play, the cheeks glow to the beat of the melody! With this adorable toy, kids will love following along. It's perfect for children as young as 12 months.
4: Petting Farm Playset 
Four animal figures are included in this Petting Farm playset: a cow, a sheep, a pig, and a hen. Each figure makes the sound associated with that animal when placed on the corresponding shape. 
Additionally, kids can turn the windmill, slide the ladybug up and down, spin the rooster, and open the stable doors so the animals can pass. 
Farmer JJ brings his tractor to make sure the petting farm runs smoothly. A mother hen can be placed on top of the eggs to keep them warm, so don't forget the hen barn with the eggs inside. 
This playset is the ideal way for kids to learn about farm animals in a fun and interactive way because children learn best through hands-on play. Suitable for children 12 months and older.
5: Transforming Fire Truck 
The CoComelon Transforming Fire Truck is prepared to respond in an emergency! Puddles the Dalmatian, Nina, and Firefighter JJ are on hand to assist. 
With engine lights and sounds, a swiveling extension ladder, and a hose, this feature-rich vehicle is ideal for responding to any emergency. 
Everyone can communicate using the built-in Rescue Walkie-Talkie station, and you can even sing along to two well-known CoComelon songs. 
The CoComelon Transforming Fire Truck offers so much that kids 3 and older will love it. Kids will adore running to the rescue while acting like superheroes!
Fun Activities to Get Started With CoComelon's Fall Lineup
Watch the characters navigate their lives in CoComelon videos
If you've been one of the few that hasn't had the opportunity to check out CoComelon's YouTube channel, you and your kids are in for a surprise. 
The series features adorable characters that kids will love following along with as they go about their day-to-day lives. This is the perfect time for your little ones to play with their new toys!
From going to school and learning new things to spending time with family and friends, there's something for everyone in the CoComelon world. 
And, of course, all of the videos feature catchy songs that kids will love singing along to. So, be sure to check out the CoComelon YouTube channel for some good quality family entertainment.
Chase the CoComelon toy around in Hide 'N Seek mode
Hide 'N Seek mode is a great way to get your kids moving. Simply place the CoComelon toy on the ground and watch as it scurries away, hiding behind furniture and around corners. 
Kids will love trying to catch the speedy little guy, and they'll get a good workout in the process. It's a great way to burn off some energy and have a blast at the same time.
You can even use it as an opportunity to teach your kids some valuable hiding and seeking skills. 
Make up your own stories with the CoComelon characters
There's no wrong way to play with the CoComelon characters, so let your kid's imaginations run wild. Have them act out their favorite scenes from the YouTube videos or make up stories. 
Either way, they're sure to have a blast. And who knows, you might even learn something from their creative minds!
The characters are recommended for ages 2 and up, so just about every child can have fun with these exciting toys.
However your kids play with them, the CoComelon characters will bring hours of fun.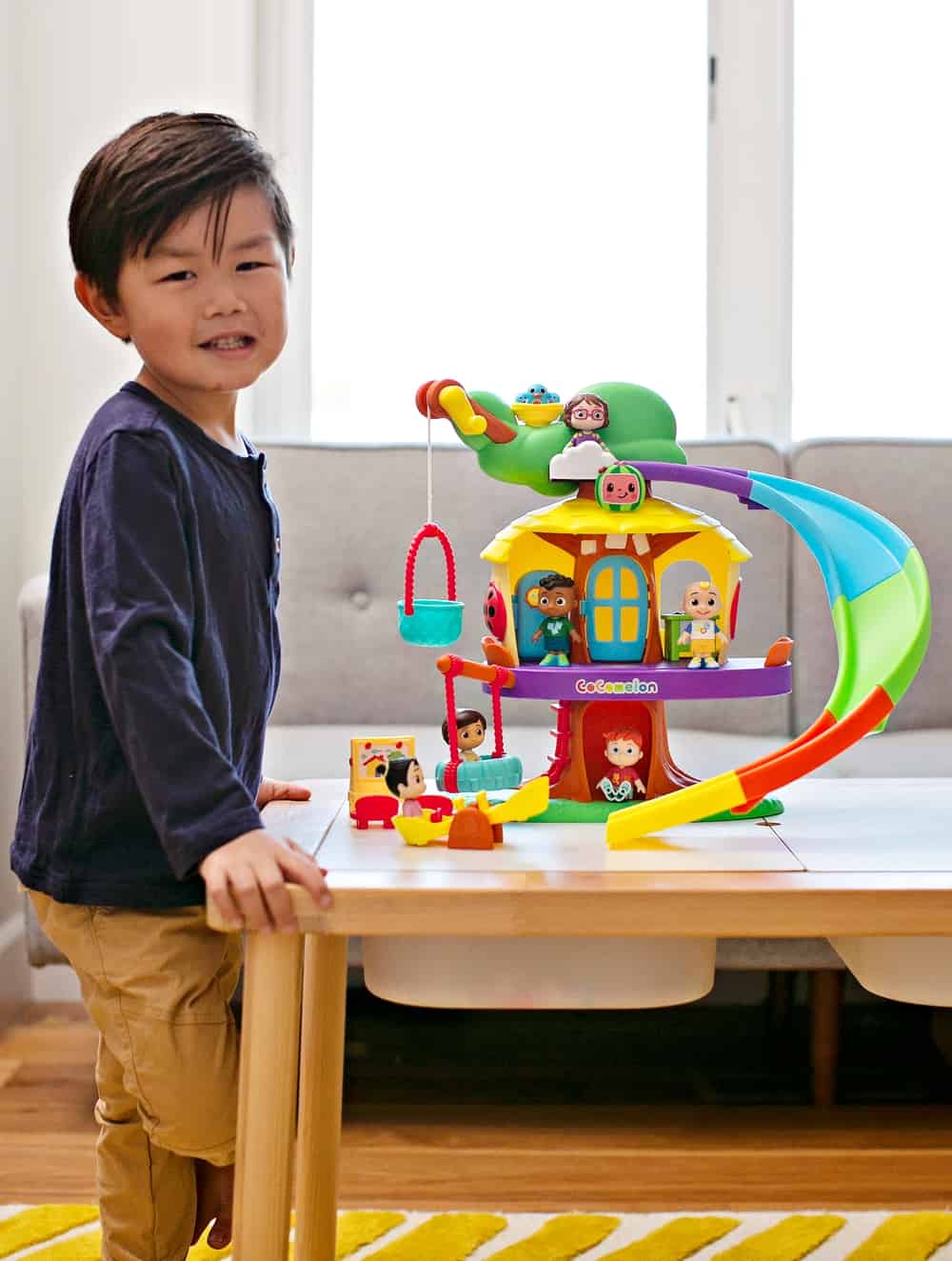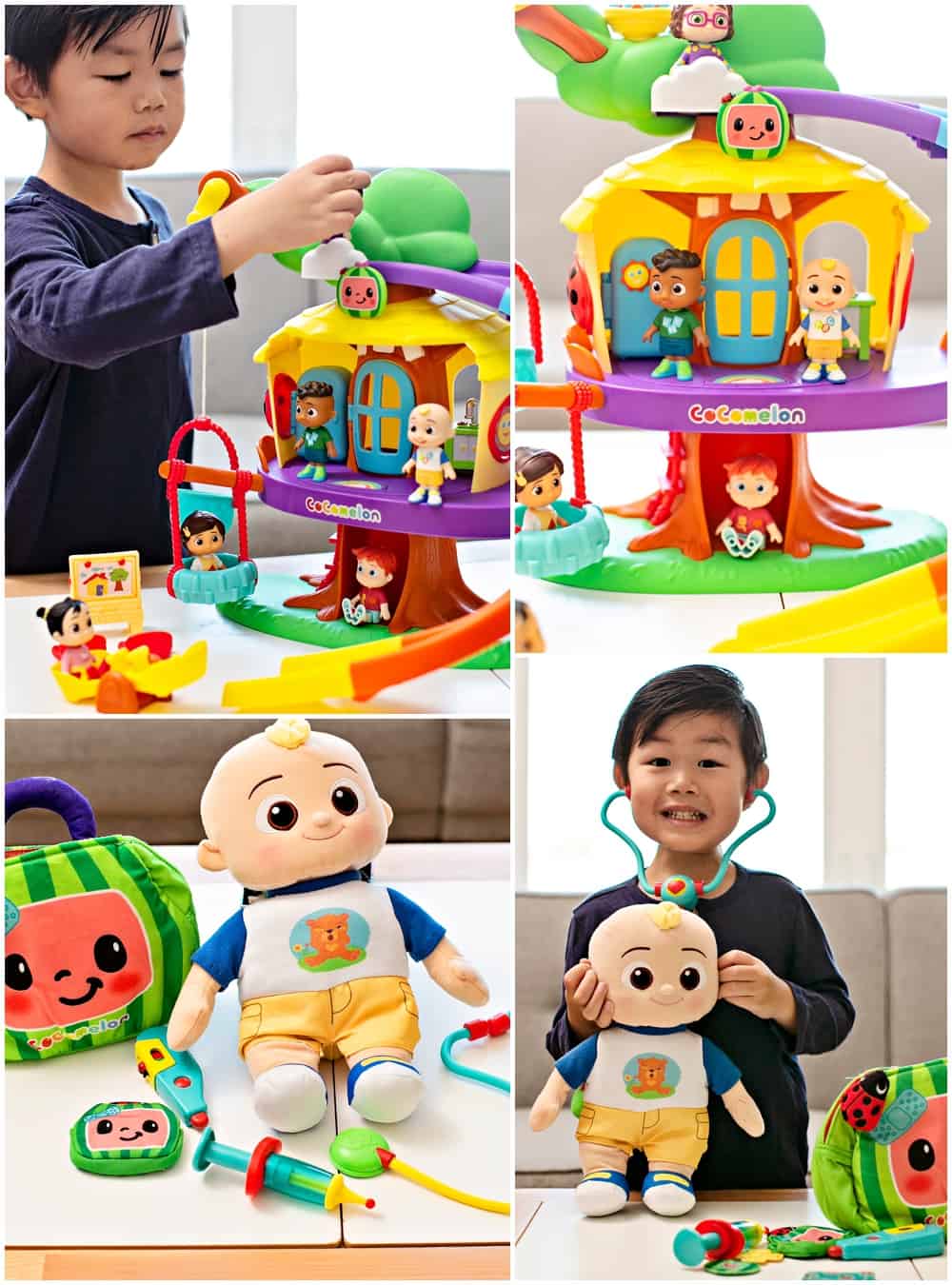 Takeaway
As any parent knows, finding brands the whole family can enjoy can be challenging. But with CoComelon, you don't have to worry about that. 
CoComelon offers a wide variety of high-quality products that are perfect for kids of all ages. From toys and games to clothes and accessories, CoComelon has something for everyone. 
Not to mention, their YouTube channel, which has amassed well over 132 million subscribers, is a great way to keep kids entertained for hours on end. The fall line-up is an interactive way to bring the beloved CoComelon characters alive to engage the whole family this season!
Find the entire CoComelon line at Amazon and Target.
Follow on Social: 
The post CoComelon's Exciting Holiday Toy Lineup 2022 appeared first on hello, Wonderful.