Delicious Air Fryer Recipes to Add to Your Meal Planning
Let's talk easy air fryer recipes. The Air Fryer is taking the world by storm, just like the Instant Pot has transformed meal time! If you haven't heard of an Air Fryer it is a perfect way to get that crispy fried food texture, without all the grease. You use minimal to no oil depending on your recipe, and then select your setting and turn it on. It circulates air throughout that cooks the food nice and evenly and helps give it that crispy texture.
From making egg rolls, fries, desserts, and more, you will be amazed at what this useful and multi-purpose Air Fryer can do! I have gathered some scrumptious Air Fryer Recipes to wow you, and help add some variation to your meal planning!
What Can You Cook In An Air Fryer?
The air fryer is a healthier alternative to frying your favorite foods. You cut out all the extra oil you would submerge your food in, and have a healthier meal for you and your family. Here are a few things you can cook in your Air Fryer.
Frozen Foods
Meat
Baked Goods
Side Dishes
Vegetables
Roast Nuts
Fish
And So Much More
Air Fryer Recipes to Try Out First
1. Air Fryer Chocolate Cake…Yep!
Did you think making chocolate cake in an air fryer was even possible? Calling all chocolate lovers! Here is a moist chocolate cake recipe that can be made super quick in your Air Fryer. Add your favorite frosting, and scoop up some ice cream and devour! That's right! You can have a delicious, moist, and chocolatey cake without an oven! The recipe is similar to the ones that you make in the oven, but the cooking temperature is going to be lower than in the oven.
All you need for this decadent dessert is eggs, sour cream, butter, sugar, cocoa and baking powder, baking soda, and vanilla. This is a great recipe for when you don't want to heat up the whole kitchen with the oven, or when you're cooking a big meal and have no more space in the oven!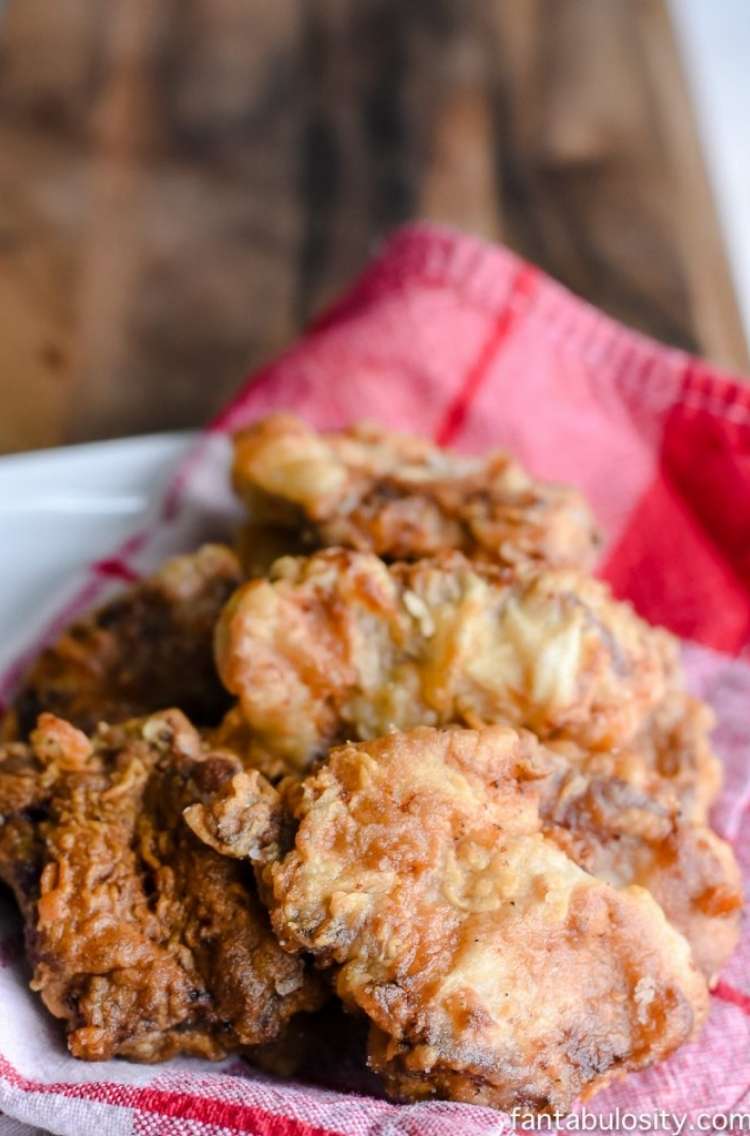 2. Air Fried Venison
If you enjoy venison, maybe try this venison recipe using your beloved Air Fryer. It has a nice batter on it, that is great for dipping in gravy, cocktail sauce, or eating alone. Don't forget to cut against the grain so the meat will be tender, and soak in saltwater overnight before air frying.  If the cuts of venison meat still seem tough, you can also gently tap the knife on them as you are cutting them to tenderize some more. You can either dry the venison before dipping it in your flour mixture, or you can even dip it in milk and then the flour mixture.
3. Chicken Air Fried Rice
Any rice lovers out there? Here is a chicken fried rice that is just as good as what you would get at a Chinese restaurant! I find kids don't complain as much about eating the veggies inside this rice because it is so flavorful. Simply mix your cold cooked rice with some oil, frozen peas and carrots, soy sauce, cooked chicken and some onion. Air fry that for 20 minutes and enjoy! This awesome recipe is gluten-free, economical, and delicious. You can make some chicken for this, use leftover chicken, or even some deli chicken for an even easier version!
4. Alternative to French Fries: Parsnip fries
Parsnip fries look almost like a potato-based French fry, it is astounding. Your kids might not even notice the difference and a great way to incorporate new vegetables into their diet. You can also make fried veggie sticks with sweet potatoes or zucchini. Cut your preferred vegetable into French fry strips then toss with oil, almond flour, and salt.
5. Roasted Corn In the Air Fryer
Change up your weeknight side with this roasted corn recipe! This adds so much flavor to the corn, it changes everything, similar to grilling it on the propane or charcoal grill. Simply season your corn with some oil and salt and pepper and throw them in your air fryer! You can also sprinkle with some seasonings to give the roasted corn a kick, such as paprika, melted butter, or even taco seasoning! This recipe can also be made with frozen corn, just make sure to defrost it first.
6. Make DIY Tater tots
Ready for some air fryer fun? Making your own tater tots is pretty easy, and the Air Fryer gives them that perfect crunch on the outside with a soft and potato-based center. Serve with your favorite dipping sauce.
Boil your potatoes about halfway done, then run them under cold water to cool them down. Shred the potatoes into a cheesecloth and squeeze out the excess moisture. This is a very important step to getting crispy potatoes! Mix the shredded potatoes with some flour, salt pepper, and garlic and shape in your hand. Throw them in the air fryer for about 18 minutes, shaking the basket every 6 minutes to ensure even cooking and cripyness!
7. Donut Hack! Easily Make doughnuts in your air fryer!
Donuts are one of my favorite treats to have on occasion! Moderation is key! Here are some really fun Easter donuts that are full of pretty pastel colors, and finger-licking good. You are not going to believe how easy these air fryer doughnuts are to make! All you need is one tin of biscuits, frosting, and sprinkles! Take those biscuits out of the can, create a 1-inch hole in the middle and throw them in the air fryer for 5 minutes. Let them cool and then decorate!
8. Let's Talk about Spicy Air Fryer Foods: Keto Friendly Buffalo Chicken Meatballs
Craving some food with a little kick? Here are some buffalo chicken meatballs that have that crisp texture when you bite into them, covered in a sauce that makes them taste out of this world good. This is a keto-friendly air fryer recipe, and comes together quickly for a great snack or mealtime treat! Simply mix together ground chicken, garlic, a packet of ranch seasoning, and almond flour and shape into meatballs. Make sure to soak the chicken in water in the fridge before starting so that it will be moist. Cook the meatballs in the air fryer for about 5 minutes and enjoy!
Delicious Air Fryer Recipes
9. Copy-cat Chick-fil-a nuggets made in your air fryer
Can you keep a secret?  You can make these copy-cat Chick-fil-a nuggests in your air fryer!  I haven't met a single soul that doesn't just devour the chicken nuggets at Chick-Fil-A. Here is a copycat version that you can make in the comfort of your home for that same flavor your heart skips a beat for.
Ingredients

1 cup dill pickle juice
1 lb. boneless skinless chicken breasts, cut into pieces about 1 inch in size
3 tbsp. powdered sugar
1 egg
1 cup milk
2 tsp salt
1½ cups flour
1½ tsp pepper
½ tsp paprika
Olive oil spritz

-Jamela Pain, by-pink.com
10. DIY Air Fryer Empanadas Recipe
These air fryer empanadas are simple and only 3 Weight Watchers Freestyle points! The dough is made from only 2 ingredients: flour and greek yogurt, plus a little bit of garlic powder. Stuff the cut-out dough with meat, corn, salsa, and some salt, then close them and brush with egg wash. Easy, healthy, and delicious! These taste great with all kinds of fillings! Ground beef, shredded chicken, cheese, or even a vegetable combo.
11. Make Hot Dogs in your Air Fryer
Hot dogs on the grill are my favorite way to eat those beef franks, but give this air fryer hot dog recipe a go. It gives you a similar texture, and really cooks the franks wonderfully.
12. Crispy not-fried fried chicken
We all need that one fried chicken recipe in our back pocket to amaze your family. Here you get that crispy batter crust without pan-frying it or deep-frying it. Coat the chicken in Chicken Fry Seasoning (and water if you are using a wet batter). Spray with non-stick cooking spray and then air fry. Very easy and satisfying.
13. DIY Corn Tortilla Chips in your air fryer
Make your own corn tortilla chips in minutes with your Air Fryer. Serve with a bowl of guacamole, salsa, or use for serving up nachos! Cut your corn tortillas into triangles and spray with non-stick cooking spray. Air fry shaking a few times until crisp! You will want to make sure to serve the tortilla chips fresh as they can quickly get soggy.
14. Fancy Air Fryer Recipes: Tuna Cakes
These tuna cakes will be a delight if you are a fan of seafood. Minimal ingredients needed and the seasonings really come together nicely to create a flavorful tuna cake that is perfect for dipping.
15. Air Fryer Family Friendly Seafood Recipe: Fish Sticks
Another seafood option is fish sticks, which the kids will approve of. Panko breadcrumb crust with lots of seasonings to make this fish anything but bland.
If you loved these air fryer recipes, check out these other amazing recipes!
The post Delicious Air Fryer Recipes to Add to Your Meal Planning appeared first on DIY House Hacks - One Crazy House.