Gluten-free Halloween Cupcakes
These gluten-free Halloween cupcakes are perfectly chocolaty with a simple cream cheese frosting that twists into adorable ghost decorations. They're so good no one will know they're gluten-free.
I'm all about Halloween this year. If I could, I'd post nothing but Halloween recipes and drinks.
It's all I've been in the mood to make for many months. Halloween because it's so fun and drinks because they don't require an enormous amount of time to perfect.
I can easily spend over 50 hours perfecting a dessert recipe, with the cost of ingredients going over $100 or even $200. It's bonkers.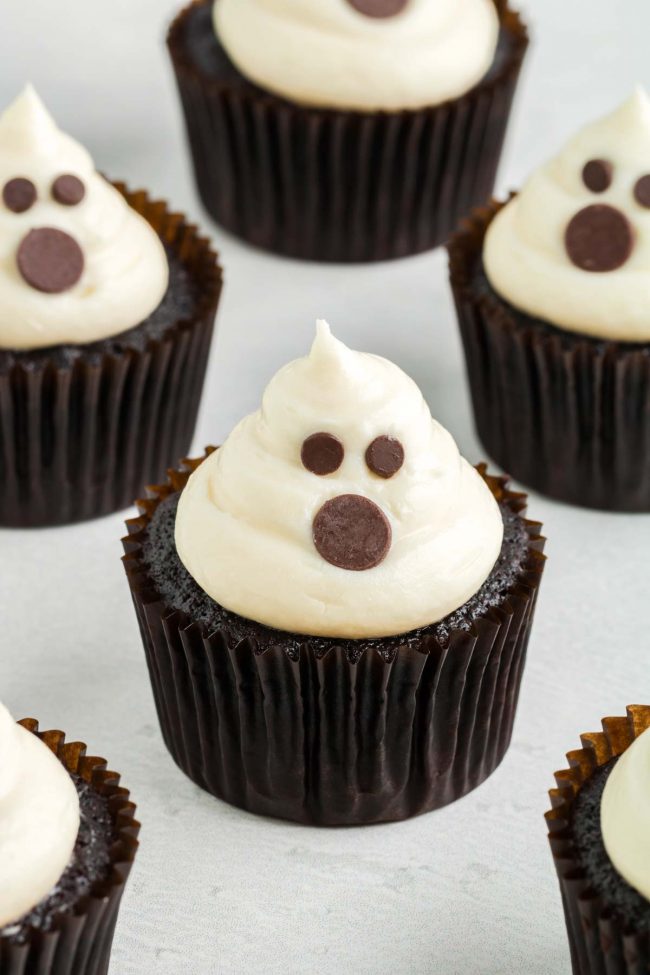 I have so little time these days, so that's why every other recipe is a drink. In case you were wondering. :)
So now on to some Halloween fun – free of food coloring, candy, etc.! Minus the chocolate chips. Those I consider okay. 😄
I also posted these Gluten-free Mummy Hand Pies with a strawberry jam filling. They make great treats that the kids can help make!
These gluten-free Halloween cupcakes are based on my Chocolate Football Cupcakes that are perfect for Super Bowl Sunday or any game night.
But instead of a chocolate fudge frosting, I went with my Healthier Cream Cheese Frosting that has minimal amounts of sugar but tastes great and makes the most adorable ghost figures on top of the cupcakes! I used mini chocolate chips to make shadowy faces.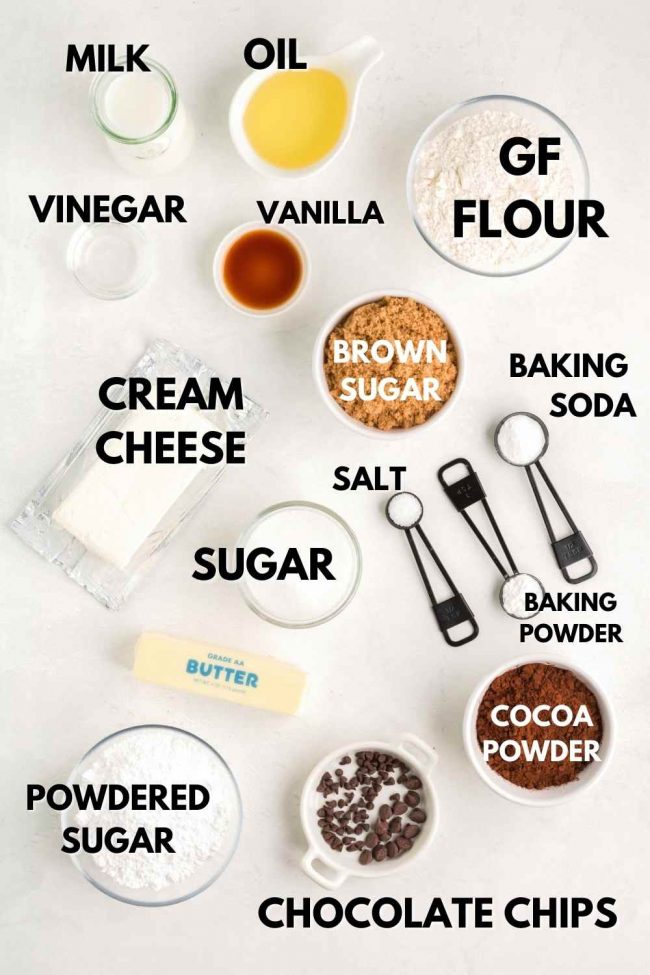 Great to make-ahead
These cupcakes freeze great, so you can make them ahead of the big event! I freeze them unfrosted and frost them once I'm ready to serve.
First, thaw them and let them come to room temperature, then frost away. It's best not to freeze cream cheese frosting, so that I would recommend making fresh.
To be honest, I also freeze frosted cupcakes to enjoy later, and they taste fine. Not quite as great as fresh, though. So don't hesitate to freeze them if you have some left over!
Did you forget the eggs in the recipe?
No, the cupcake base is actually vegan (as long as you use plant-based milk), as I had intended to make these ghost cupcakes vegan. But I couldn't find a way to make vegan cream cheese frosting as tasty as regular cream cheese frosting.
If you want a recipe that uses eggs or that doesn't call for vinegar (which you can't taste at all), you can use my Gluten-free Chocolate Cupcakes recipe. There's also an egg-free option for that recipe, should you need it.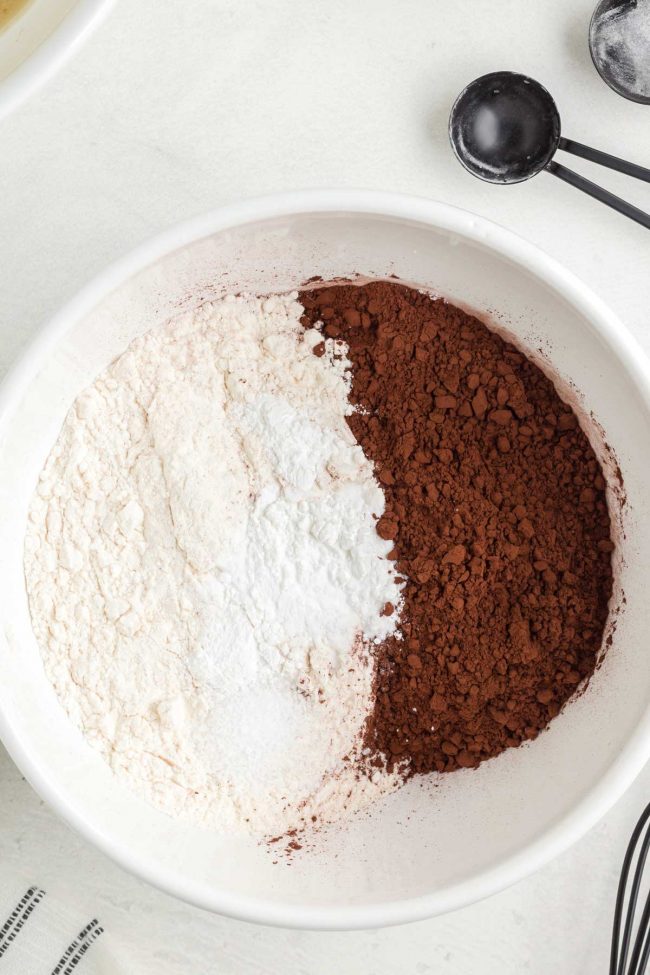 Can I make the ghosts vegan?
I don't believe subbing in vegan cream cheese for regular cream cheese works very well for cream cheese frosting.
But it's easy to make vegan buttercream using vegan butter.
I tried these ghosts with vegan buttercream, and they looked nice (although they were more yellow than the ghosts you see here), but I didn't love the taste. I'm not a buttercream person, though.
So I'm not a good judge. I dislike all buttercream. It just tastes like sugar to me.
But if you like it, vegan buttercream is all you need to turn these ghost cupcakes into vegan cupcakes!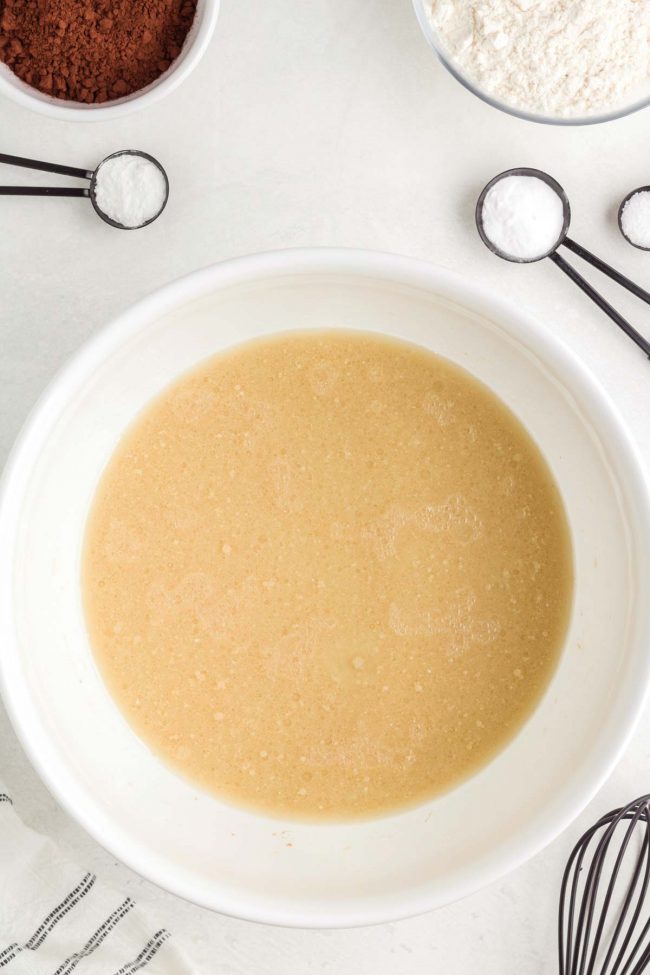 Are these cupcakes very sweet?
I know the ghosts look a bit big, but they really aren't. They use no more than 2 tablespoons of frosting per cupcake.
The frosting recipe yields 2 cups (32 tablespoons), so that's enough for 2 tablespoons of frosting per cupcake.
Don't pipe the ghost starting on the very edge of the cupcake, right by the liner. Then you'd need a lot more frosting.
And if you want the ghosts even smaller, then simply start piping them closer to the center of the cupcake.
But to answer the question – nope. I think they're a normal sweetness, and WAY less sweet than if I had used buttercream.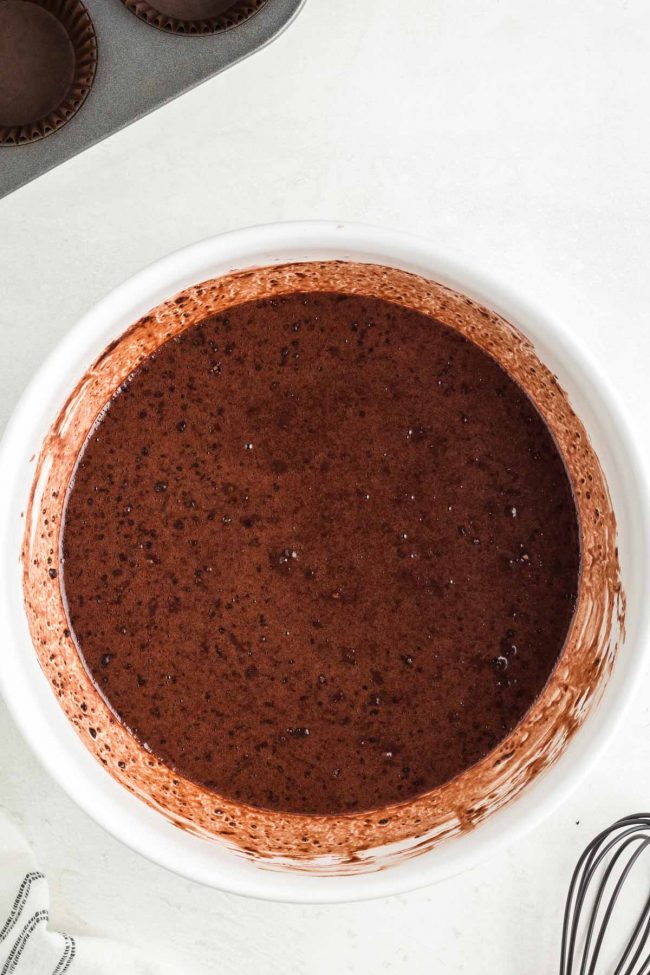 Questions about these gluten-free cupcakes
Oil
If using olive oil – will the cupcakes taste of olive oil? You can taste it in the batter and when the cupcakes are still hot out of the oven, but once cooled, you can't taste it. If you're concerned about it, use light olive oil. And definitely don't use a super expensive fancy bottle. I always use the organic brand of extra-virgin olive oil from Aldi or Lidl.


Can I use another oil other than olive oil? You can use vegetable oil, canola oil or grapeseed oil. Anything neutral in taste. I haven't tried coconut oil, but you might get a slight coconut taste if you use unrefined. But if you use refined coconut oil, you won't taste the coconut.


Can I use butter? It won't turn out as moist if you do. Butter is 80-82% fat, whereas oil is 100% fat and makes these cupcakes super moist.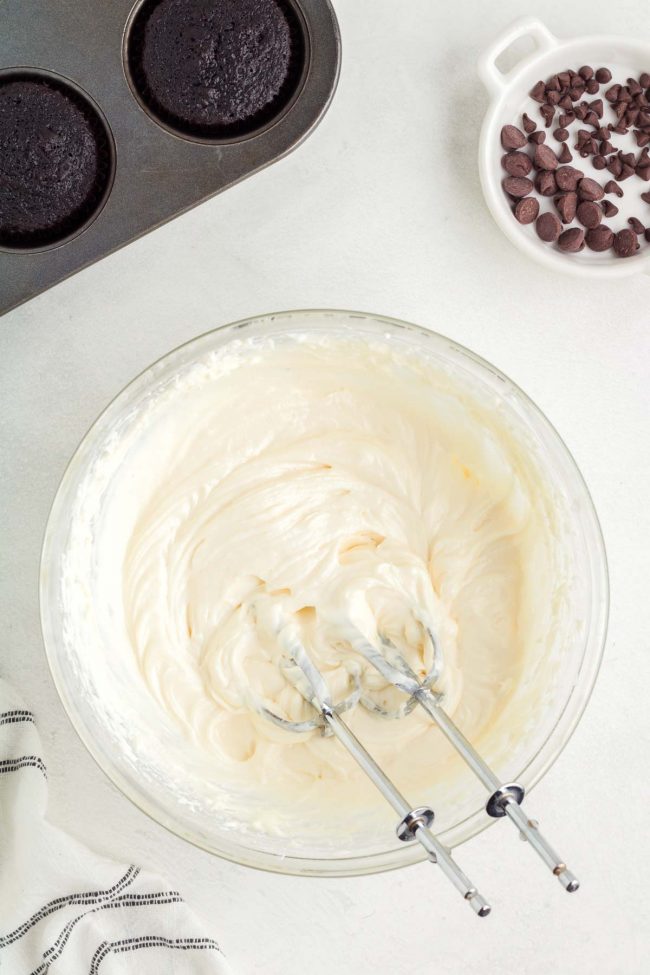 Flour
Can I use a different gluten-free flour mix? I used Bob's Red Mill Gluten-free 1-to-1 Baking Flour as it is my go-to brand for most of my baking needs. If you have a different brand that works as a substitute for all-purpose flour, then you can probably use it here.

However, I can't say the texture would be as perfect with a different flour mix. I'm 99% sure that King Arthur Gluten-free Measure for Measure Flour would work and be fantastic in these cupcakes.


Do these cupcakes taste gluten-free? Nope! They taste taste like they're made with all-purpose flour. At least with the flour mix I used.


Can I use almond / coconut / other types of flour? No, sorry. There isn't a direct sub for gluten-free flour mixes.


Can I use all-purpose or whole wheat flour? Yes, if you don't need the cupcakes to be gluten-free.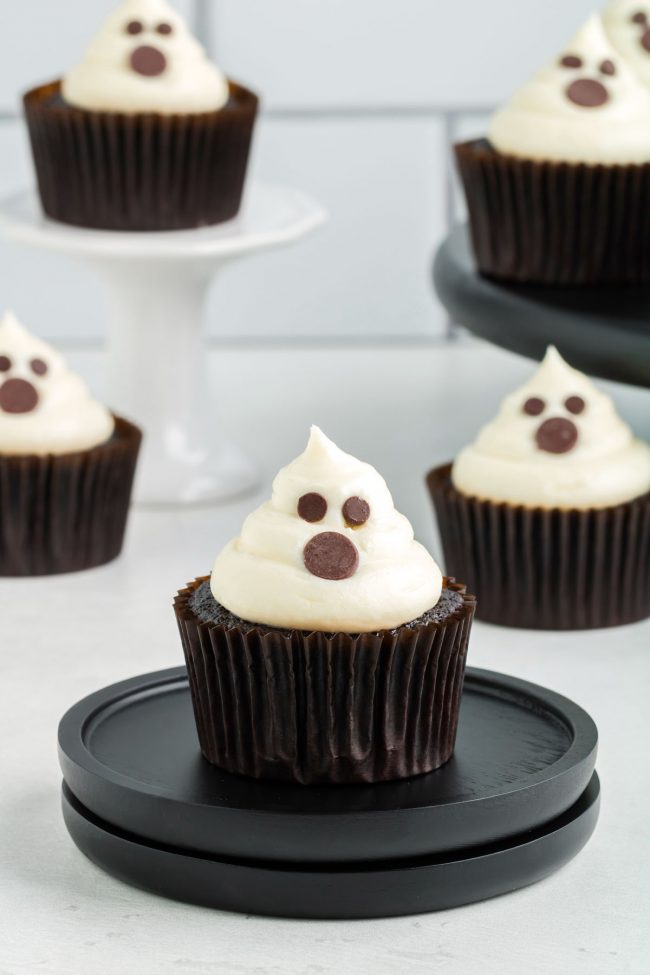 Sweeteners
Can I reduce the sugar? I wouldn't reduce the sugar unless you wanted dry cupcakes. Reducing sugar means reducing moistness. You could likely reduce it by a bit, like a few tablespoons, but I wouldn't do more than that.


Can I use something other than the listed sweeteners? I've made these cupcakes with only the listed sweeteners in the recipe and nothing else. So those are the ones I know work 100%. That being said, any granulated sweetener that you'd usually use in place of granulated sugar would probably work.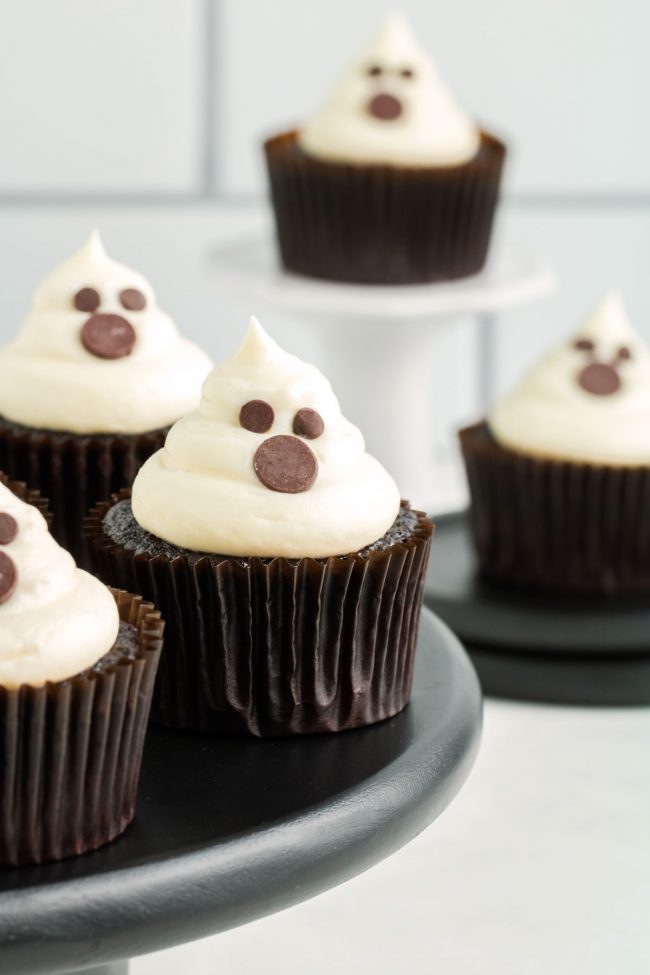 Other gluten-free Halloween treats
That's it, I hope you enjoy these Gluten-free Halloween Cupcakes! They're ghostly good! ;) If you make them, give us a shoutout and let us know what you think!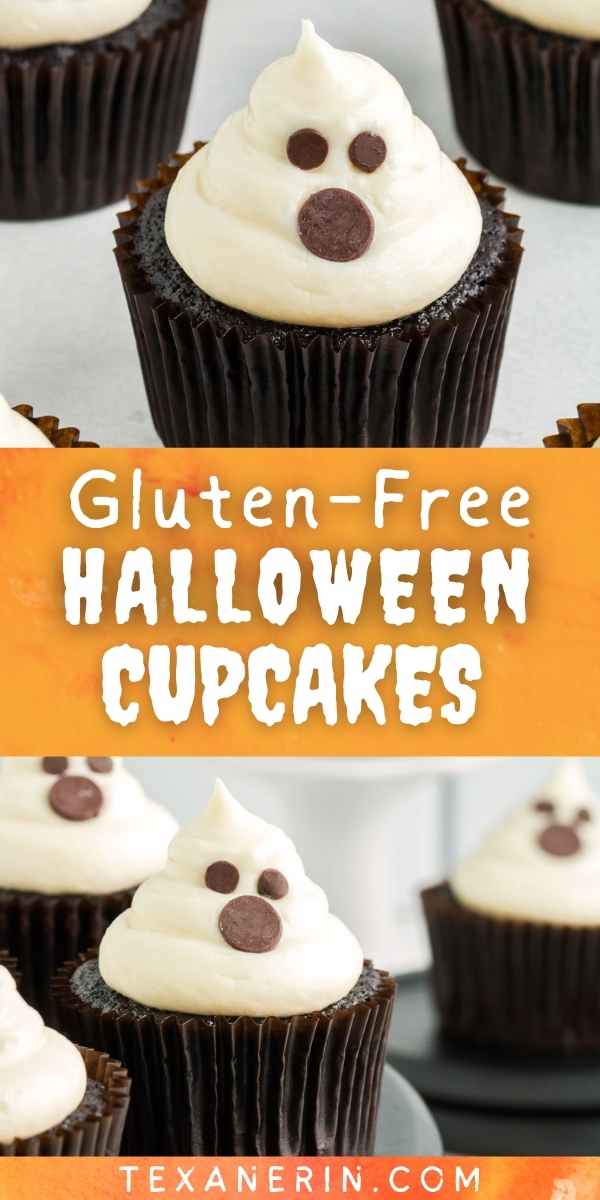 ❀
Gluten-free Halloween Cupcakes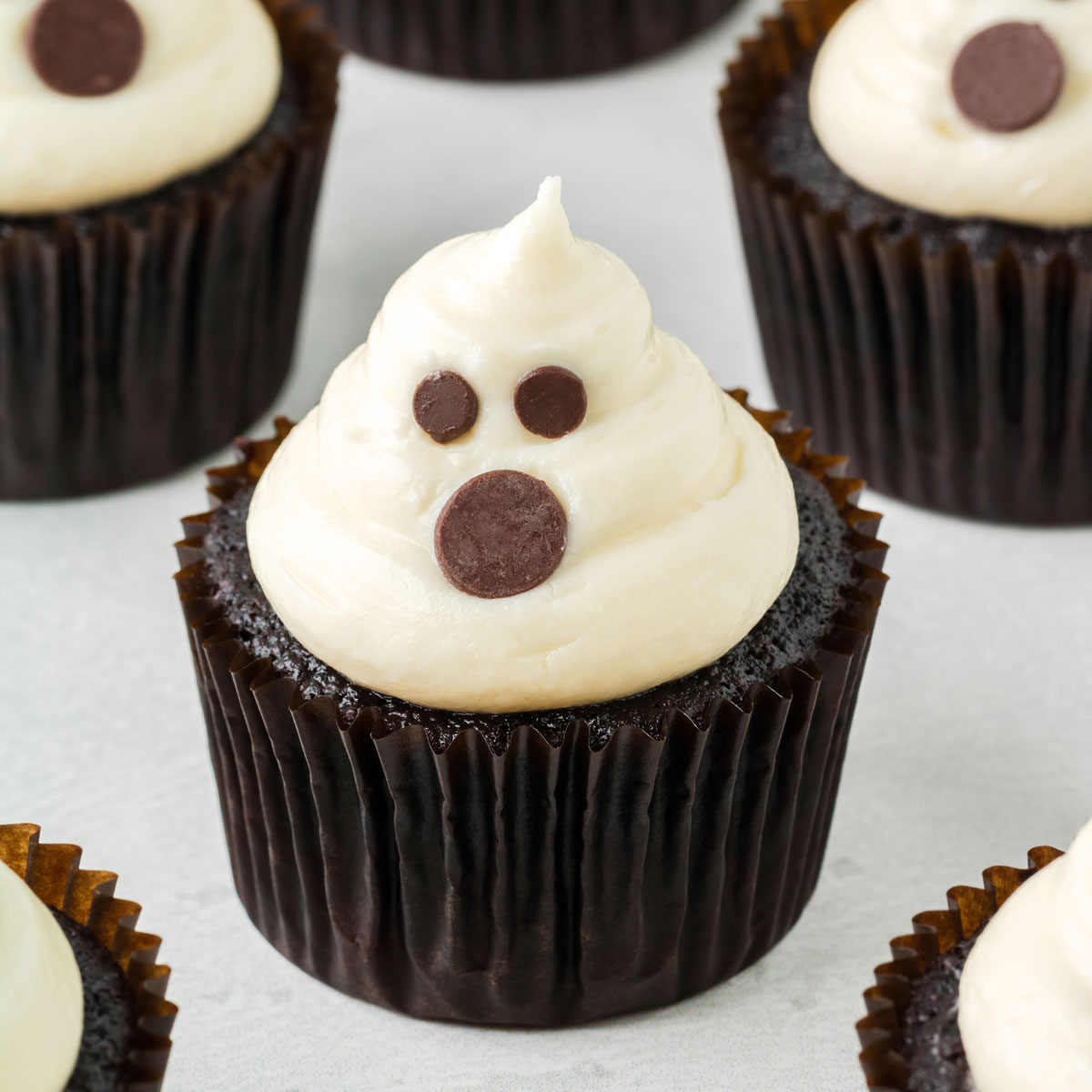 Prep Time:
Cook Time:
Ready in:
Yield:

16 cupcakes
Ingredients
For the cupcakes:

1 1/2 cups (355 milliliters) milk
1 1/2 teaspoons white vinegar or apple cider vinegar
1/2 cup (120 ml) olive, canola or vegetable oil
2/3 cup (133 grams) brown sugar or coconut sugar
1/2 cup (100 grams) granulated sugar or coconut sugar
2 teaspoons vanilla extract
1 1/2 cups (207 grams) Bob's Red Mill 1-to-1 Gluten-free Baking Flour
1/2 cup (58 grams) Dutch-process cocoa powder
1 1/4 teaspoons baking soda
3/4 teaspoon baking powder
1/2 teaspoon salt

For the frosting:

12 ounces (340 grams) cream cheese, room temperature
6 tablespoons (84 grams) unsalted butter, room temperature
1 cup (120 grams) powdered sugar1
pinch of salt
1/2 teaspoon vanilla extract

For decorating:

16 regular-sized chocolate chips for the mouths
32 mini chocolate chips for the eyes
Directions
Cupcakes:

Preheat the oven to 350 °F (175 °C) and line two muffin pans with a total of 16 cupcake liners.
In a large mixing bowl, stir together the milk and vinegar. Let sit for 5 minutes. Then stir in the oil, brown sugar, granulated sugar, and vanilla extract.
In a medium mixing bowl, stir together the flour, cocoa powder, baking soda, baking powder and salt. Add this to the wet mixture and stir just until combined.
Fill the liners slightly more than halfway full and bake for 16-18 minutes or until a toothpick inserted in the middle comes out clean or with some moist crumbs (not raw batter). They will be very, very soft but will firm up as they cool.
Let cool for 5 minutes, then turn out onto a wire rack to cool completely.

Frosting:

In a medium mixing bowl, beat the cream cheese and butter together with an electric hand mixer at medium speed until well combined. It's okay if it looks a little crumbly.
Gradually beat in the powdered sugar until totally combined and then beat in the salt and vanilla. If it's firm enough to pipe, frost your cupcakes.
If you want it firmer, refrigerate for about an hour, stirring the frosting after every 15 minutes. Don't let it chill too long before frosting your cupcakes because it gets quite firm, like a cream cheese tart filling. If that happens, let it sit at room temperature for a bit before filling the piping bag.

Decorating:

Fit a piping bag with a large, round plain tip.
Fill the bag with frosting.
Pipe a tall mound on the cupcake, like an upside-down cone to create the ghost shape.
Add 2 mini chips for the eyes and 1 regular chip for the mouth.
The frosted cupcakes can safely sit out for 4-6 hours.
Place leftover frosted cupcakes in a container and refrigerate for up to 3 days. Unfrosted cupcakes can be kept at room temp for 2 days, refrigerated for up to 5, or frozen for up to 3 months. If you happen to have frosted cupcakes left over, you can also freeze them.
Notes
You can add more powdered sugar, if desired.
Recipe by Texanerin Baking | www.texanerin.com