A lot of you asked me what I've done over the last year or what I've done in general to teach my kids. As many of you know Molly has started reading 3 letter words, site words and spelling as well! I'm really proud of her and how far she's come and I'm definitely hopeful to get Riley on a learning path that works for him too!
The reason I love this blog so much today is that I feel like it really demonstrates how each and every child learn so differently and hopefully by showing you how we pivoted with Riley, I can help you choose what's best for your child.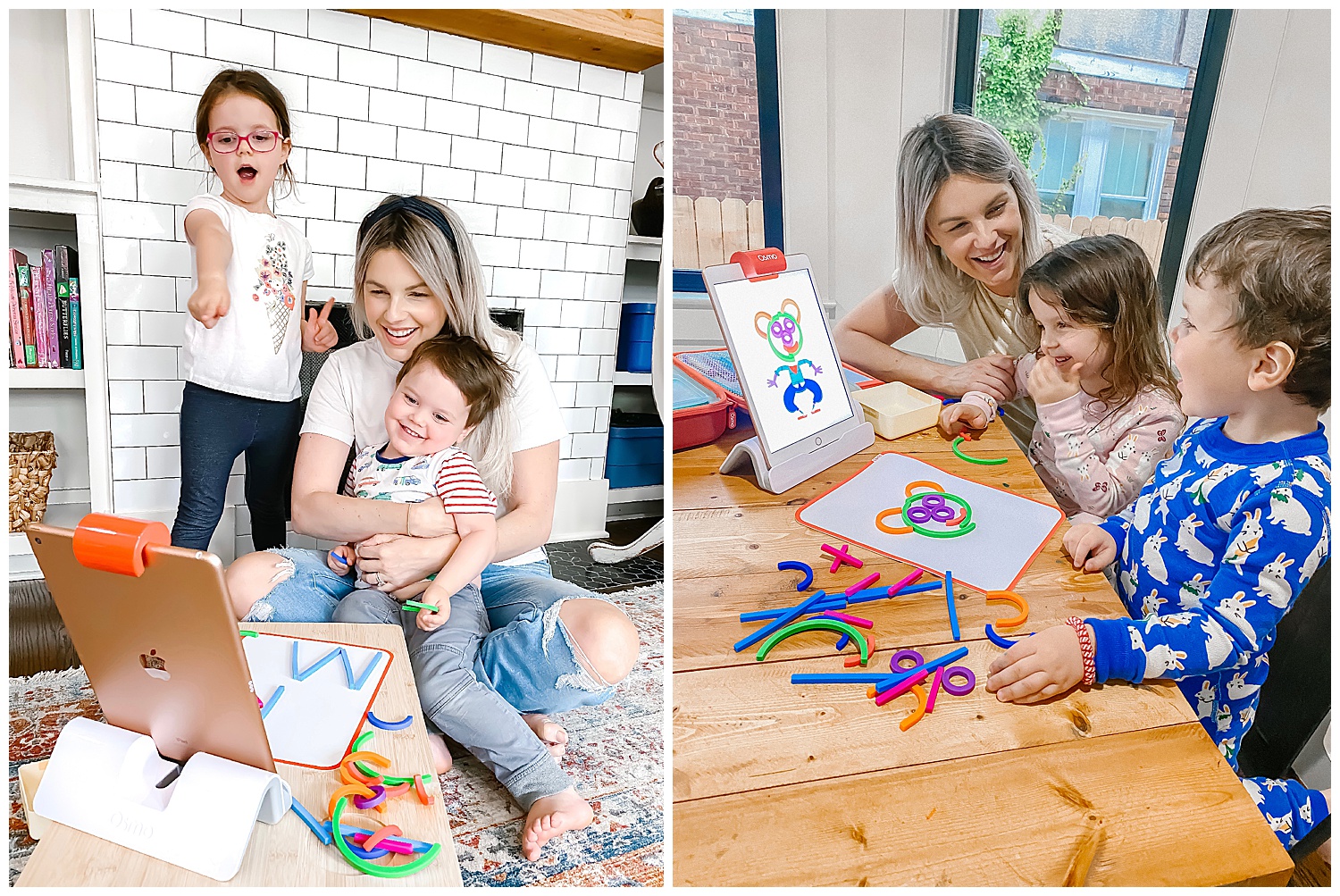 Children Have Different Learning Needs
I wanna start by saying that Osmo sponsored this post (and they gave me the code ALI20 for all of you to get 20% off all their products – just FYI). They sent us all the product and I truly didn't know what to expect when they sent it. From what I've seen online, it looked so cool and I thought for sure that it was going to be perfect for Molly! And that thought held true. Molly loves it and it's helping continue her learning in such an incredible way. But what I wasn't expecting is how much Riley loves and NEEDS Osmo. Osmo helps kids grow to be more confident, thoughtful, and creative!
Let me backtrack for a second. Riley turns 3 this month and when Molly was his age she not only knew all her letters, but she could probably write the majority of them. Molly has always been ahead of the game and I have so many things and people to thank for that. But Riley is just developing a little bit slower and that's totally okay. I know my kids are going to achieve different milestones in their life at different times. Riley will learn at his own pace.
I tried a few different things with Riley. I've tried no screen time at all. Just sitting with him showing him different letters pointing them out on paper or magnets, but he pretty quickly gets distracted and just wants to build with blocks. Then I've tried apps. That works a little bit better because what child doesn't love an iPad, but even though he could connect with things on the screen I noticed sometimes it was a little hard to hold his attention – especially at his age. Sometimes I give him the iPad with an educational app and then I come back five minutes later and he somehow found his way over to Youtube. Ha!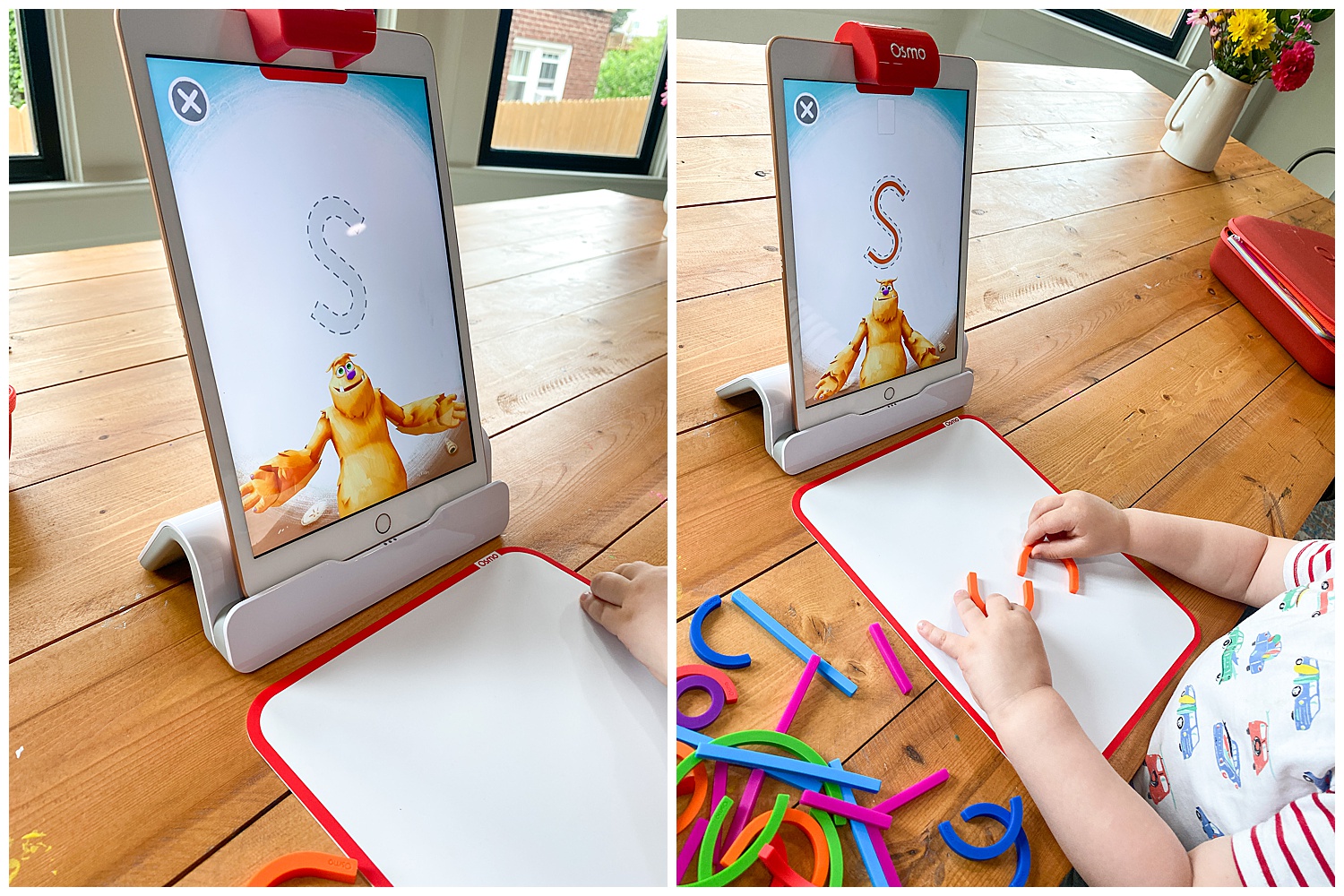 Healthy Screen Time!
What I absolutely love about Osmo is that it's a whole-child approach to education and combines his need for using his hands to build and create, but then also his love of using his iPad into a more healthy screen time experience that is actually really helping him learn. Honestly, the first time I saw him use it I was blown away. I never really thought about how he needed something tangible to hold in his hands to understand what a letter was or how different shapes make a letter.
He absolutely blew me away the first time he used the app when he easily created the letter "R" using the different shapes provided with the Little Genius Starter kit. I honestly didn't think he could do it and then he did! Shortly after he made a "T" and then the "S". I truly couldn't believe it because Riley has shown little to no interest with learning how to write or identify letters. But these fun little shapes are so intriguing to him that he can build letters using them and then see them on screen.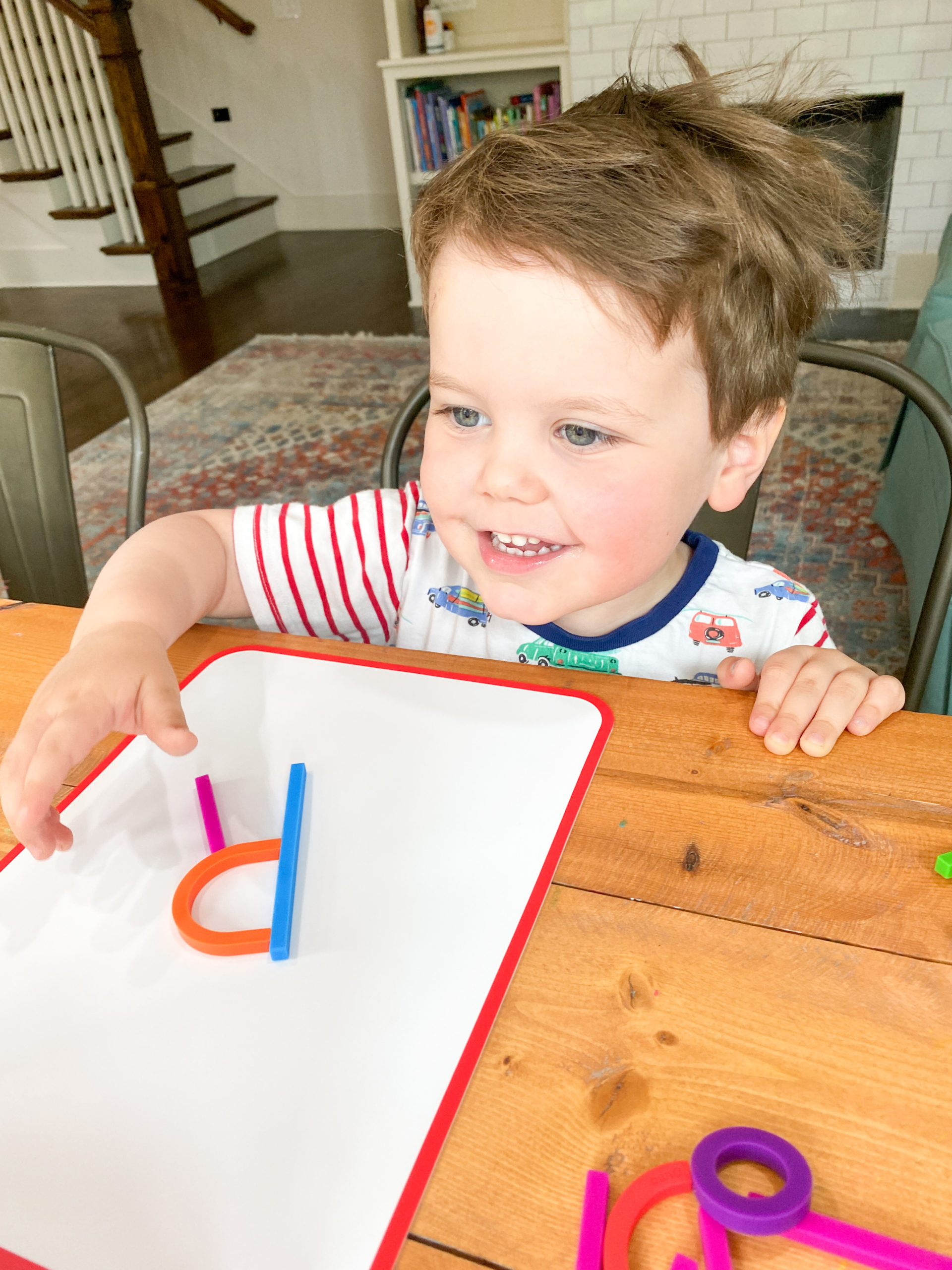 What is Osmo?
It's almost impossible to explain because it's so many things and is so wonderful. Essentially it's an educational learning platform that allows children to create letters, number, art, shapes (pretty much anything!) using tangible pieces. Then those things are transported "magically" to their tablet. It truly creates the most unique and creative hands on learning experience that you have to see to believe.
And the learning is child lead! Which basically means that the app increases in difficulty as the game progresses and as your child learns.

Little Genius Starter Kit
Molly and Riley started with a Little Genius Starter Kit (The Starter Kits range for ages 3 through 10).The kit comes with everything you need to get started, plus a bunch of great educational apps that work with the tangible pieces included. It's not only super helpful to help them with letters, but it also has an app called Squiggle Magic that Molly is obsessed with because it lets her make incredible 3-D art that is then transferred from her page to the screen! It's hard to explain in text so head to my Instagram later today to see the video of them using it. Essentially whatever shape the pieces makes on the play mat, the app then scans it and brings it right into the app on screen. Molly and Riley both think it's like magic!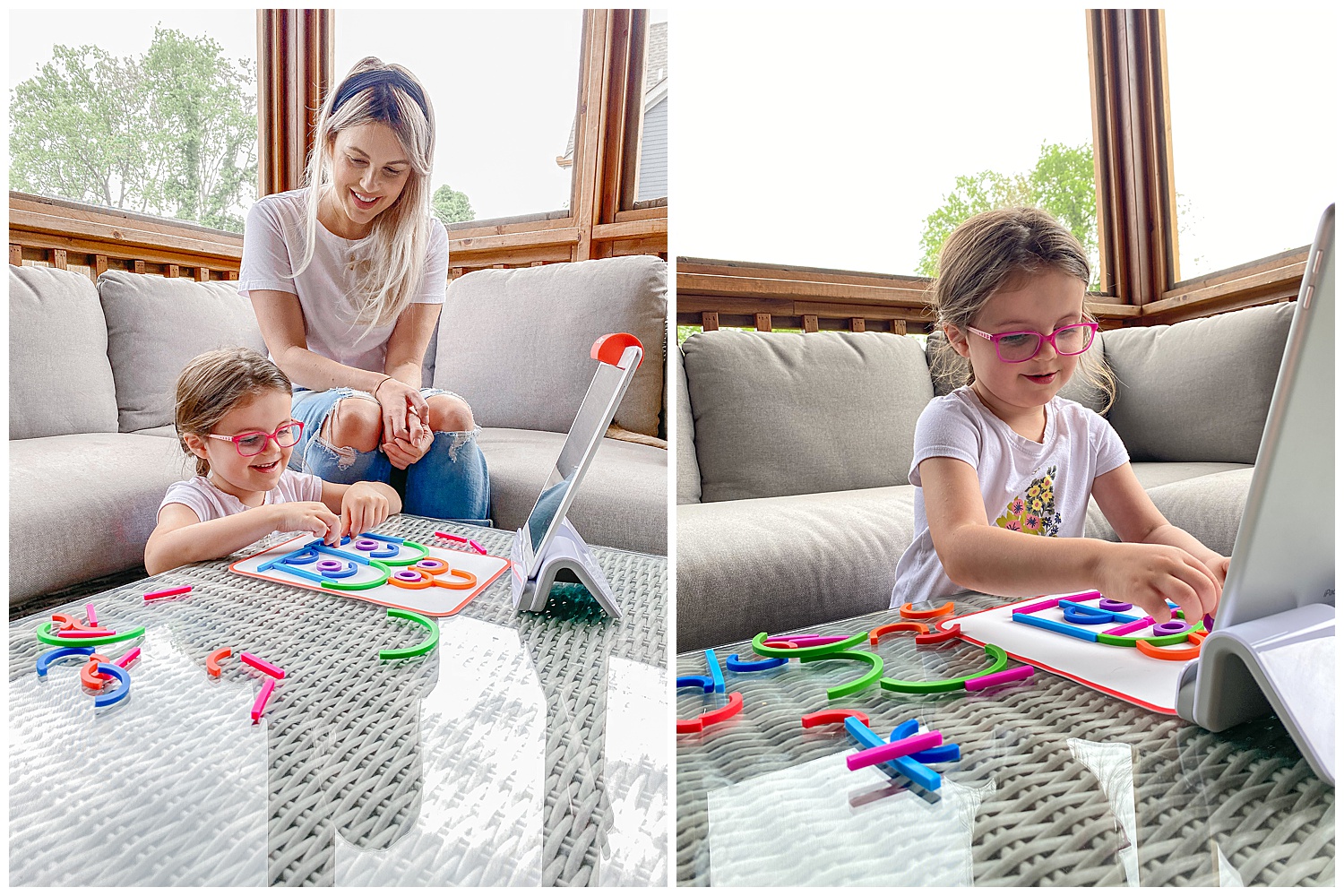 And Riley really loves the Costume Party App where you can put different costumes on a character on the play mat and those costumes will pop on that character on screen. Like I said this isn't just about education but also creative play so they can use their little imaginations to create whatever they like!
Monster Add On
If drawing and art is something your child loves I highly highly highly recommend adding the monster add-on for your child. It comes with three amazing apps.
Monster
Monster is wonderful because your child can essentially just draw whatever they'd like and their little imaginations can create and it will be transferred to the screen where it comes to life!
Masterpiece
The masterpiece app is honestly one that I love and I find myself doing. This one's better for older kids, but Molly still loves doing it even though it's a little tough for her right now. Essentially an image is shown on screen that you're able to trace on your mat to create pretty incredible drawings! Like I said it's a lot of fun and I even find myself doing it.
And beyond art, it also shows letters and numbers on the screen that Molly can then copy on her mat or even trace (since she can see her hand on the screen – see pic below). I especially love this part of this app because Molly frequently draws her numbers and letters backwards. As you can see in the picture below her 7 is backwards. And she almost always does her 5, 6, 9 backwards. So I'm so proud to see that she's starting to understand what direction they go from using this app! I really think of the mirror imaging in the masterpiece app allows her brain to do it the way she thinks and then double check it against the screen to then quickly see it's not the right way. Where as if she was just tracing dotted lines on a paper she'd be tracing instead of really learning to do it herself.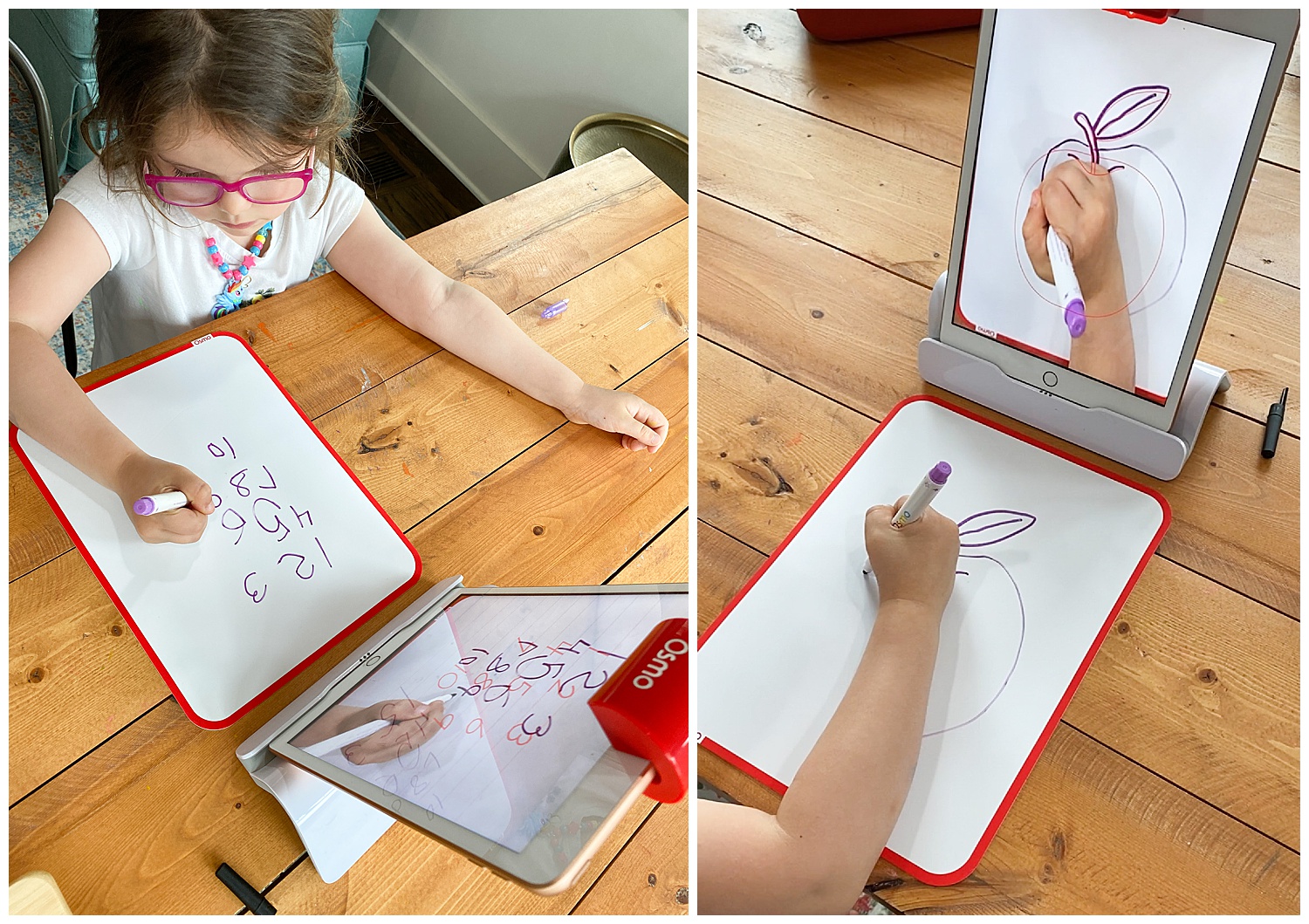 Newton
Newton is the third app you get with this add-on and this is the perfect app for a little future engineers! Again it's hard to explain via text, the magic of these apps is really seeing your children use them in person. But essentially you solve physics puzzles by drawing lines or placing objects in front of the screen.
Parent App
Another feature I really love is that there's a parent app where you can login and see what your child has accomplished for the day. Plus, see how much time they spent using it. I really really really love this feature because it allows me to walk away and let them do their thing with Osmo and then have a full picture later of what they actually did. I don't actually have to sit with them to make sure they're doing it. I'll know later! That means no swiping away and going to YouTube. Ha! But honestly they never even try to do that because they love it so much!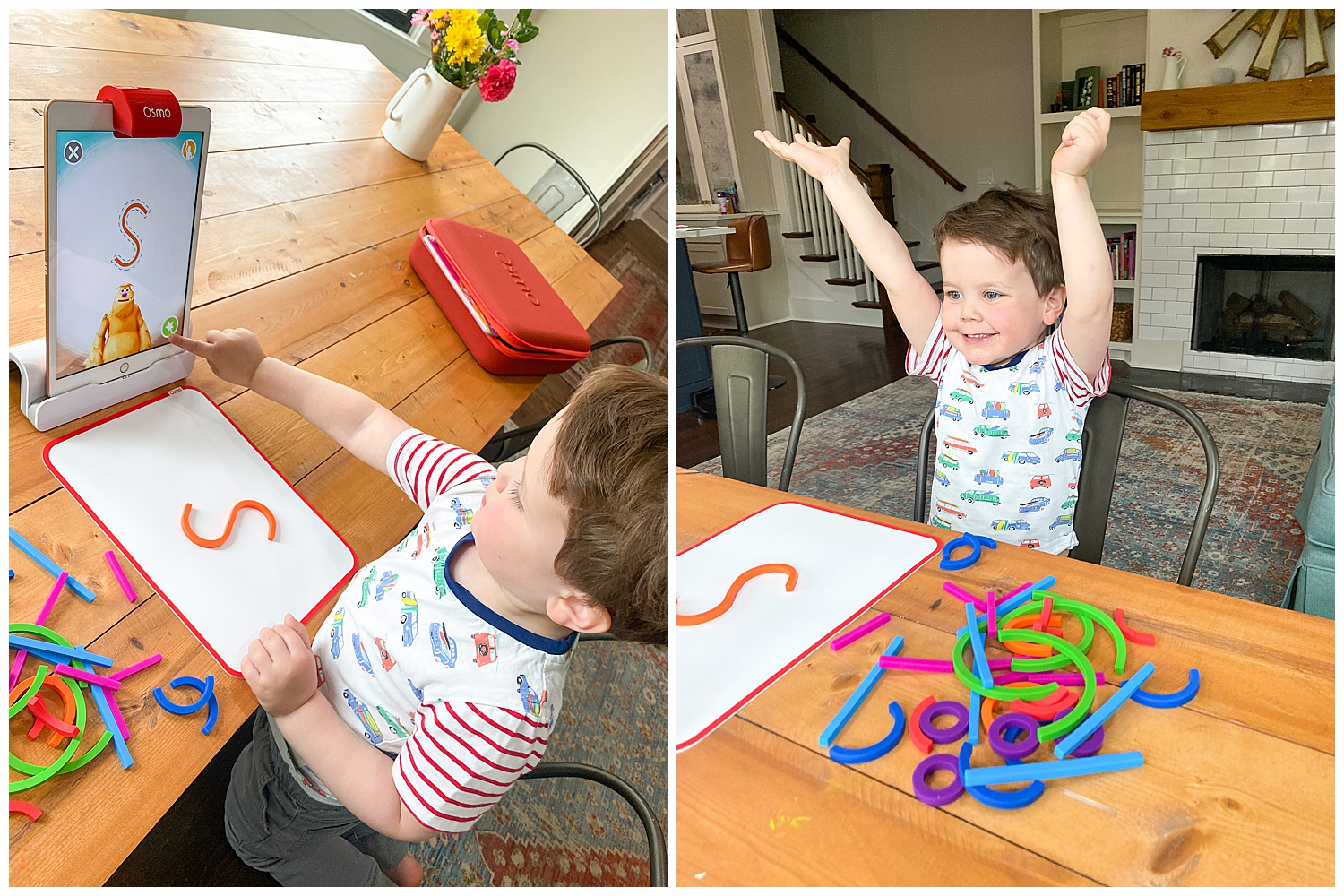 We Love It!
There are so many more incredible add-ons and apps that I could talk about, but I'll leave those for another time since I think this is more than enough to get you started! If you still need some convincing, I think it's pretty cool to know that Osmo is used in over 32,000 schools worldwide. So it's not only parent approved, but it's teacher approved! Oh, and I also highly recommend getting the Grab and Go Storage Case because it is essential for keeping things organized. Molly and Riley both have one.
If you get one, don't forget to use the code they gave me ALI20 for 20% off! It's a really great discount and I really believe that this will be some of the best money you've ever spent, especially because it's investing in your child's learning and future! Let me know if you guys have any questions in the comments below and I'll do my best to answer all of them!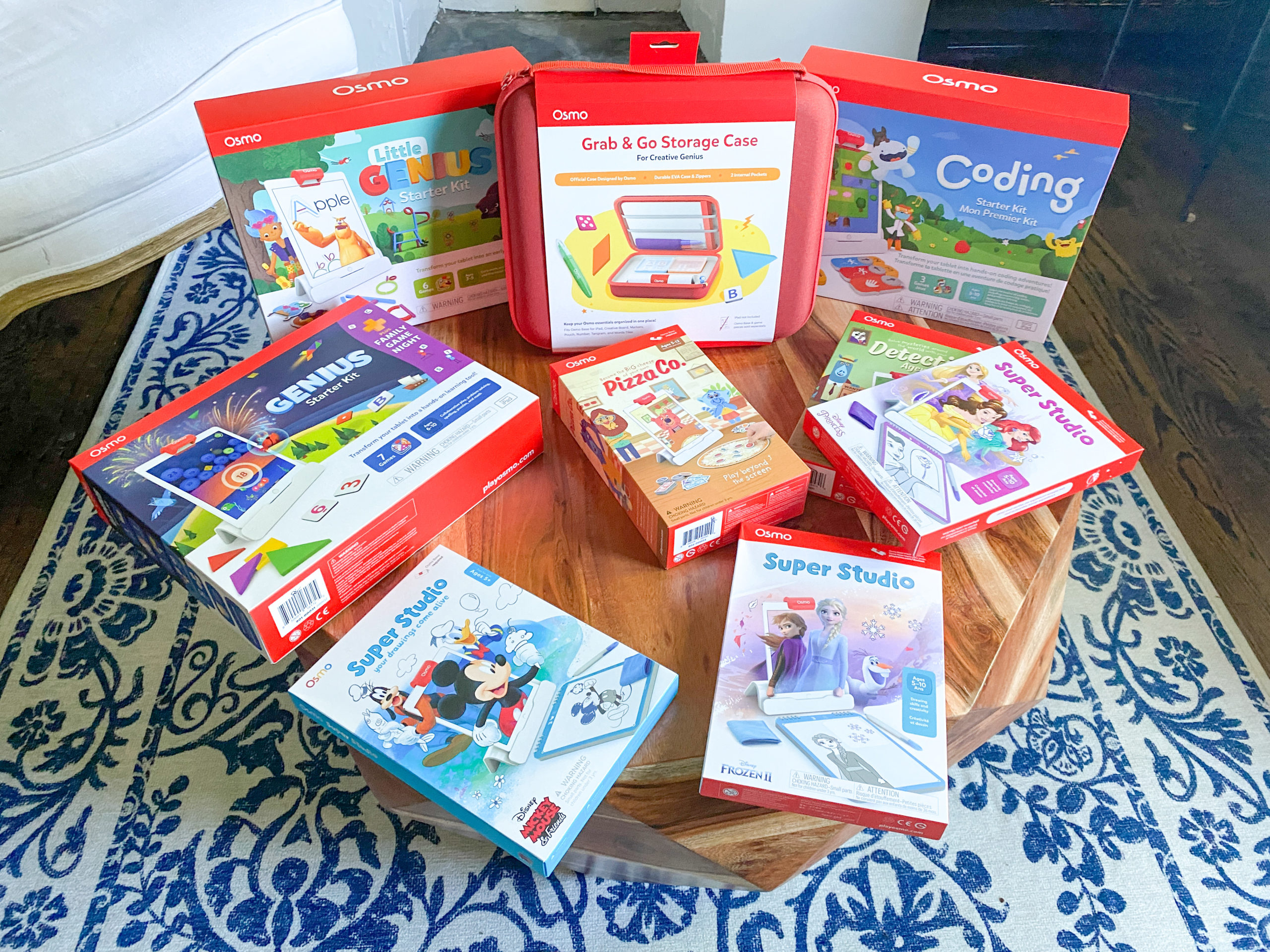 The post Healthy Screen Time! appeared first on Ali Manno (Fedotowsky).