How to Make LEGO Letters with Your Toddler (+ Learn Colors!)
Click here to read How to Make LEGO Letters with Your Toddler (+ Learn Colors!) on Hands On As We Grow®
---
This LEGO letters activity is so simple and fun!
And you are definitely going to want to have your camera ready for some super cute photo opps when your finished!
In our house, the path across the living room is a somewhat treacherous event: what size LEGO©️ brick will embed itself in my foot today?
Also, on occasion, I have had to stand over my almost six-year old with a string cheese just to make sure he actually eats something while building his UFO LEGO kit for the 398th time.
Clearly, we like LEGO blocks around here!
Even my two-year old likes to get in on the building, so I decided to create a LEGO activity just for him.
This simple, low-prep activity got him practicing his colors and letters.
And it uses just LEGO bricks, paper, and crayons.
Couldn't be much easier!
Don't miss all of these simple activities for kids who are learning their letters!
LEGO Letters & Colors Activity for Preschoolers
To make your own letters activity, you will need:
Get more block play inspiration right here!
Preparing LEGO Brick Letters Activity for Toddlers
After gathering your supplies, write your letters of choice in block letters.
Make the letters the same colors as your LEGO bricks.
Be sure to have them take up a good portion of the paper.
If block letters aren't coming easily, that's fine! Just write them normally, but still nice and big.
I wanted my son to practice identifying the letters in his name, so I wrote out J-A-C-K.
Time to Build LEGO Block Letters
Next, I invited him to start filling in each block letter with the matching color LEGO bricks.
He got right to it!
Placing the small LEGO bricks into the letter outlines is a great fine motor activity for preschoolers.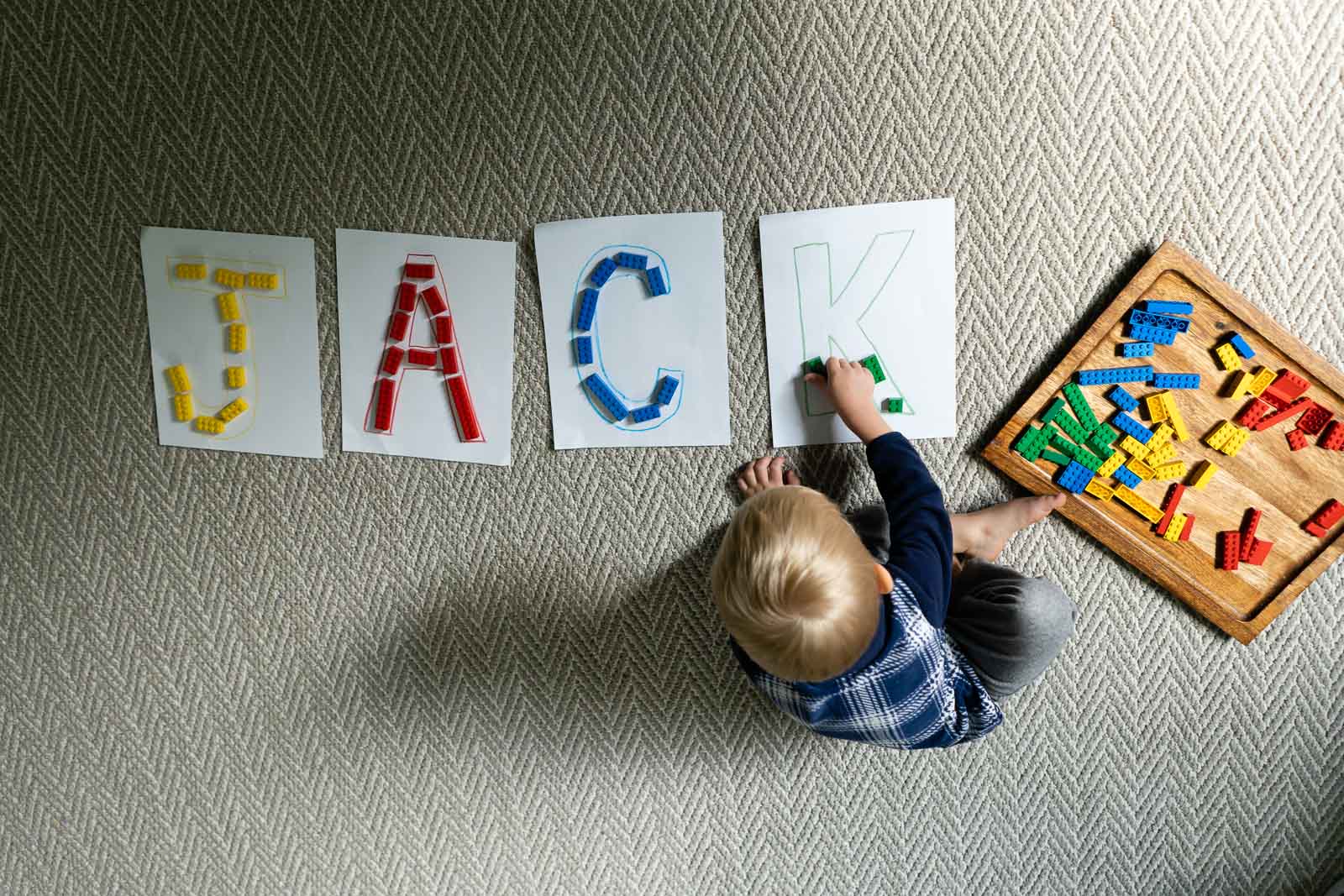 Throughout the activity, I regularly repeated the letter names and said things like "You're putting yellow on your J!" or "Can you find another red block to put on your A?"
This kind of language can help reinforce the learning that is happening.
Challenge your kids to build with LEGO while blindfolded!
Other Ways to Use LEGO Blocks to Practice Letters and Colors
Set out colored construction paper and have kids sort out the LEGO onto the matching color. Make it a gross motor activity by putting the bin of LEGO in the middle of the room and spreading the papers around the room.

No construction paper? Color large dots onto plain white paper and do the activity that way.

For older kids, invite them to build a letter out of LEGO blocks.
Make creations using only one color of LEGO bricks. See which color can make the tallest tower!
Get out some Play-Doh and have kids stamp out the shape of letters using LEGO bricks.
Make colorful balls out of Play-Doh and have kids smoosh matching LEGO bricks into the balls.
Make some color dot cards, grab a ledge and large pot and play a color block soup game!
If you have never checked out the TV show LEGO Masters, I highly recommend it. We love watching it as a family!
This squishy color-sorting sensory bag is another great way to practice colors!
What have you created with building blocks lately?