One Surefire Way to Minimize Stress This Holiday
Sponsored post.
This year, Harry & David will take some of the stress out of my holiday season. You might ask how they are going to do that. Well, first I have a confession to make: I'm a bit of a procrastinator. I have been all of my life. When I was younger, I finished schoolwork the night before. Even now, when I have work assignments, they tend to get magically finished at the 11th hour. In the past, shopping for gifts has always been a tricky time for me because they rarely arrive on time, which is both rude and shows a lack of thoughtfulness on my part. The debut of 2-day delivery was a game-changer for me; I could put off gift-buying until the last minute and still get a present to its destination on time.
Unfortunately, we've all heard about shipping delays this year, and my 2-day deliveries have turned into closer to a week (if I'm lucky). Thus, I'm back to square one. But I don't want to be. I want to get on top of gift-giving this year and become one of the people that have my act together. That's where Harry & David come in because they have a wide selection of gifts that I can order ahead of time. I can choose the delivery date when I place my order and know that it will arrive right on time without worrying. See, less stress! 
An Aha Moment
My parents came for a visit recently, and I noticed that my dad was using a cooler that seemed familiar. I asked where I recognized it from, and my mom laughed and told me I had given it to him as a gift! It sounds silly that I'd forgotten that I bought it for him, but life is so busy it's hard to keep up with every gift I've given over the years. The cooler was a perfect size – just big enough for a handful of beverages and a snack. And best of all: it looked like a miniature golf bag! As soon as she told me its origins, it all came back to me. The thoughtful gift I'd given my golf-loving dad that he still uses today and is still in great shape.
I remember ordering the gift for him. After he retired, he started golfing more frequently. He was on a golf team and enjoyed going to the driving range. I was determined to find him a gift that would work well with his newfound hobby and freedom and found myself on the Harry & David website. They have something for everyone, and my dad was no exception. The gift not only included the reusable cooler but it was delivered packed with snacks that he could enjoy right away. Sitting there looking at that cooler, I had an epiphany: I was going to hop online, find perfect gifts for everyone, and schedule them for a closer-to-holiday delivery. It was the perfect plan.
Putting the Plan Into Action.
First things first, I needed to come up with a list of recipients. Parents, in-laws, brother… oh, and even perhaps a special holiday treat for my children. When I got to the site, I was almost overwhelmed by the options, but honestly, once I thought about hobbies and their likes, it was  easy to find something for everyone. Here are my selections:
Parents
In addition to golfing, my parents love movie nights at their home, whether it be the latest release or an old classic. When I saw the Deluxe Gourmet Gift Basket, I immediately thought of them because it would be nice to have something other than the usual popcorn. They'll have so much fun trying out the meats, cheeses, nuts, and dipping sauces while they watch a movie, and I hope they'll think of me while they are snacking, even if we're not together to watch the show.
My Children
We love to get special treats around my house, and the holidays are no exception. While perusing the list, I decided to take two different routes with this plan. First, I know from experience that we LOVE the pears from Harry & David. I always put something healthy in my kids' lunchboxes because they need nutritious foods to get them through the day. Therefore, I occasionally use the pears for their lunches or slice them up for a snack. Because healthy eating, especially around the treat-filled holidays, is essential. So, that was first on the agenda. (Side note – if you have neighbors or business associates that you want to send a 'thinking of you' treat, pears are the way to go. 100%.)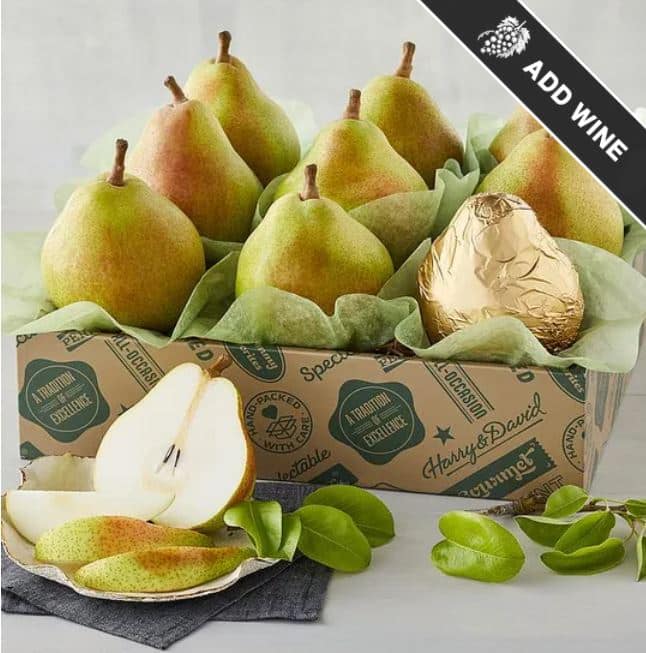 Next, I thought about what fun it would be to have some sweets on hand for the holidays. Because the holidays can be a bit indulgent, I didn't want to go overboard, so I selected the Mini Chocolate Tower. It includes chocolate Moose Munch® Premium Popcorn, milk chocolate mini mints, and some milk chocolate-covered cherries. It was fun, flavorful, and not too overwhelming – perfect.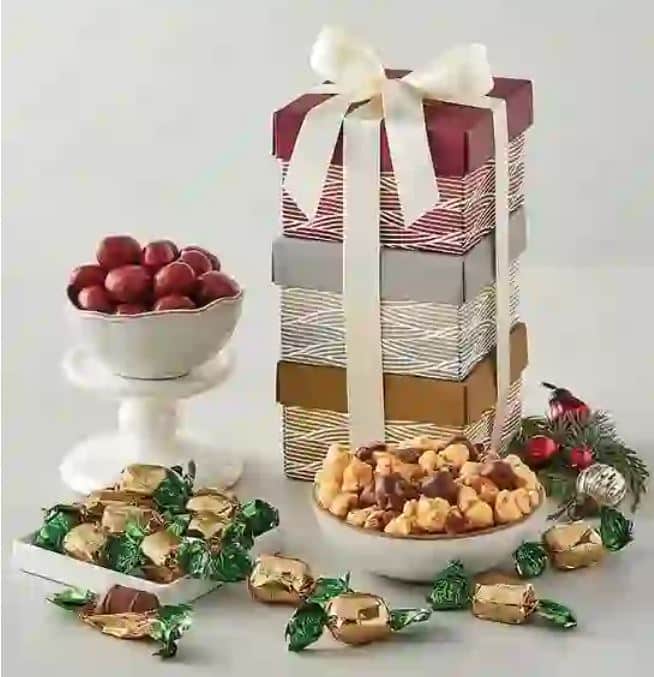 Brother
My brother and his wife are avid football fans and often watch their team play on Sunday. With the Hometeam Snack Box, I can send them a fun snack-filled treat to indulge in their guilty pleasures on a game-filled afternoon. They love pretzels and nuts, and the queso and black bean salsa will fill out their menu perfectly. And my brother is going to go bonkers for the whimsical football-shaped sausage!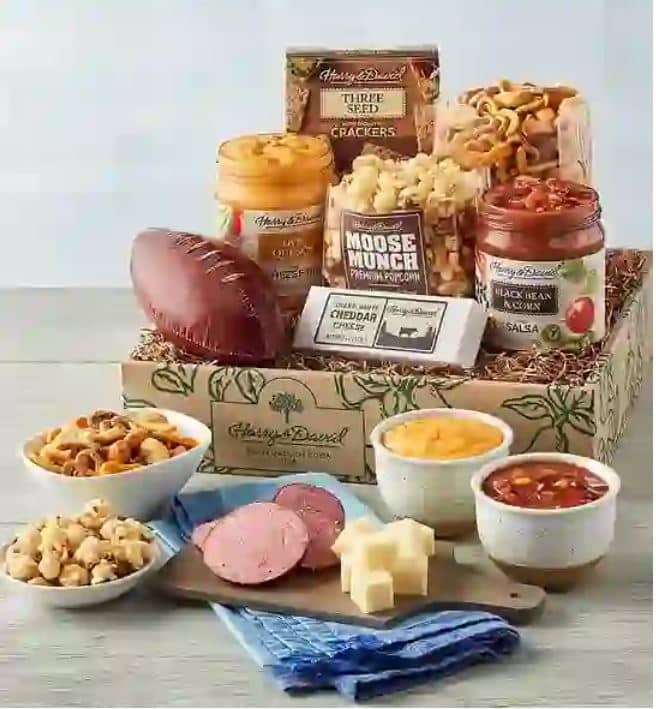 Mother-in-Law
I enjoy my mother-in-law, and I feel like I've got a handle on some of the things she would want. She likes to play bridge with a group of her friends, and after the break that they had to take because of Covid, I think she appreciates that time even more. They take turns hosting bridge games at their homes, and I thought it would be fun to come up with something that would be useful when she has her friends over to play. Because of that, I wanted to find something she could use to entertain, and when I saw the Deluxe Party Snack Box, it was a no-brainer for me. She'll love the spinach artichoke dip and pepper and onion relish, as well as the wide variety of crackers, Moose Munch® Premium Popcorn, and other snack foods. She'll have enough to host two bridge clubs and still have something to snack on when the crowd leaves.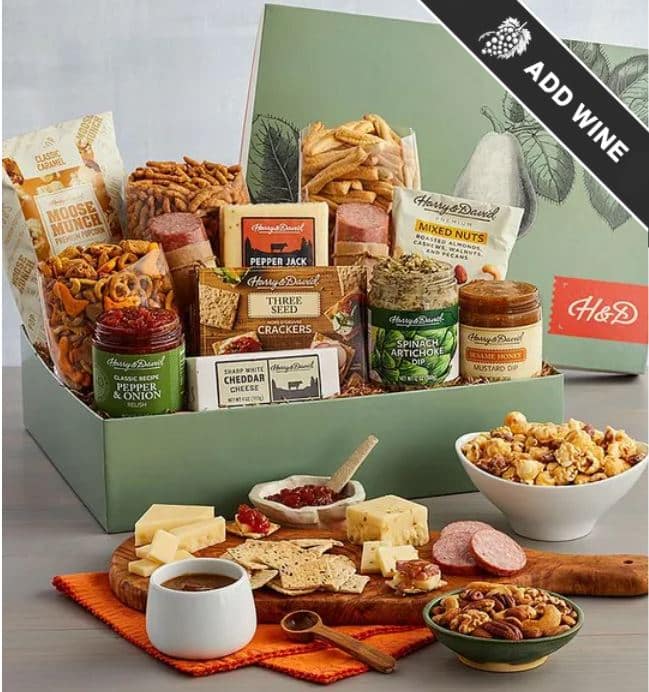 Going into the holidays, I feel like I've prepared well to avoid as much stress as possible. I've preordered my holiday baskets, and they're set for delivery. I know my family will love them, and I'm so excited to serve the pears as a healthy Christmas dinner appetizer and watch my children snack on some fun and festive treats over the holiday break. Best of all? I don't have to watch the clock or worry about delivery or quality. Ordering from Harry & David – especially early – will make me enjoy the holidays even more. Because instead of worrying about gift-giving, I can truly enjoy the gift of family. And I know they'll think of me when they eat their delectable goods, and we can kind of be together, even when we're apart.
The post One Surefire Way to Minimize Stress This Holiday appeared first on Prime Women | An Online Magazine.