Pom Pom Flag Craft for Kids
How to make this easy flag craft for kids!  Using simple craft items like pom poms and craft sticks, kids can make this patriotic flag craft in no time at all!
It's been a little crazy around the country these days . . . Coronavirus, kids out of school, earthquakes, the BLM movement, and so much more.  I admit, I was feeling a little blue during all this 2020 craziness.  So we decided we needed to boost our spirits and craft a little more.  What better way is there to boost your spirits than by rejuvenating your patriotic pride in your country?!  I love America, and it is founded on beautiful, good principles and we need to remember that.  So today, I'm sharing a little kids craft we made.  This flag craft for kids is adorable!  And EASY.  Kids will love making their own Pom Pom Flag craft for the 4th of July, Memorial Day, or just for fun.  And the best part is, you can use this idea to create any flag from any country.  So get out your kids craft sticks and your patriotic pride and let's get crafting!
*This post may contain affiliate links to help support the cost of my blog. I often link to Amazon and other craft stores to show you more clearly what type of item I am using.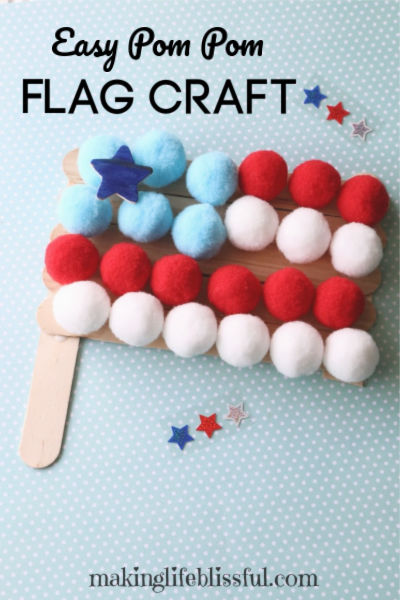 We love the 4th of July around here!  And we love summer, so we tend to crafty for both of these things.  If you are looking for more patriotic crafts or patriotic recipes, check out these other ideas:
4th of July Parade Wand Kids Craft
DIY 5 Minute 4th of July T-Shirts
FREE Printable 4th of July I Spy Game 

Printable 4th of July Jokes for Kids
Why teach kids about their country's flag?
Teaching kids to love their own country is very important for many reasons.  Kids need to learn to have pride in their people and the place of their roots.  Teaching them to love their flag gives them a sense of community and helps them want to make their country a better place.  In the U.S.A. we revere our flag with reverence.  It's a reminder of freedom and that all people should be free to make good choices.  It reminds us that we are a part of something greater than ourselves and that all people matter.  This flag craft for kids will be a good way for them to become familiar with the colors of their flag and the symbols too.  This craft is representing the American flag and is a great way to help kids love their flag and America.  Make this craft for the 4th of July and keep kids busy while they wait for fireworks!
How to make an EASY FLAG CRAFT FOR KIDS:

For this kids craft you will need:
7 large craft sticks (I used tongue depressor size)
20-24 craft pom poms in your flag colors (I used 1 inch size)
embellishments like wooden stars, mini pom poms, etc to make it look like your flag

Begin by gluing your craft sticks together into a flag shape.  Cover one of the sticks halfway with craft glue.  This stick is the pole.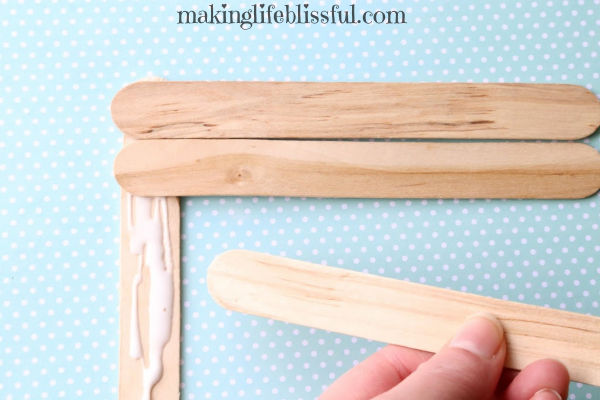 2. Glue 5 other  sticks onto the pole.  The pole is vertical and the other sticks are horizontal.  Save one stick and set aside.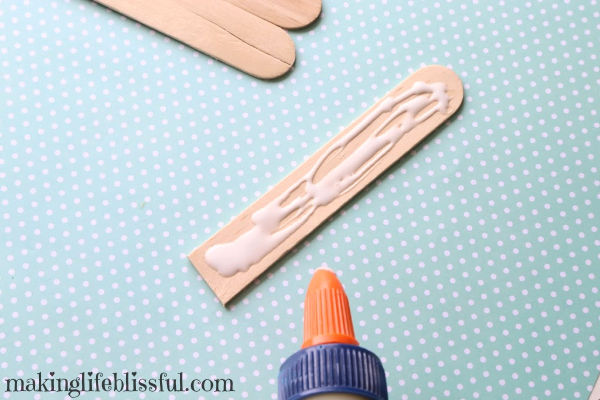 3.  With the last stick that you set aside, break it in half.  Cover it with glue on one side and stick in onto the BACK side of the flag where the sticks all come together.  This piece helps support the flag on the back side.  It should be vertical and on the opposite end of the pole.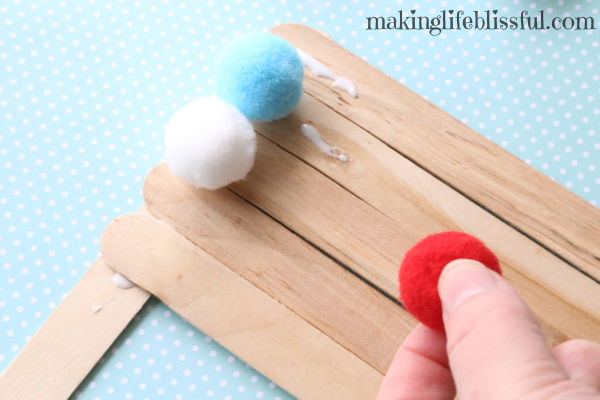 4. Glue on the colored pom poms to look like your flag.  If you are doing an American flag, glue the blue ones in the corner (I used 6 blue ones) and then alternate rows of red and white to make the stripes.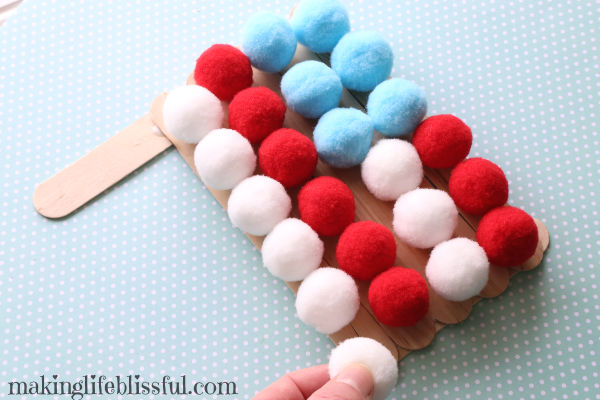 5.  Fill your flag with pom poms.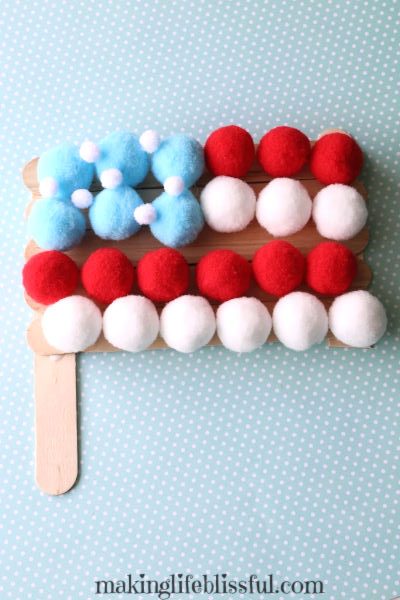 6. Add embellishments.  You could try using mini pom poms for stars as shown above.  Glue them on accordingly.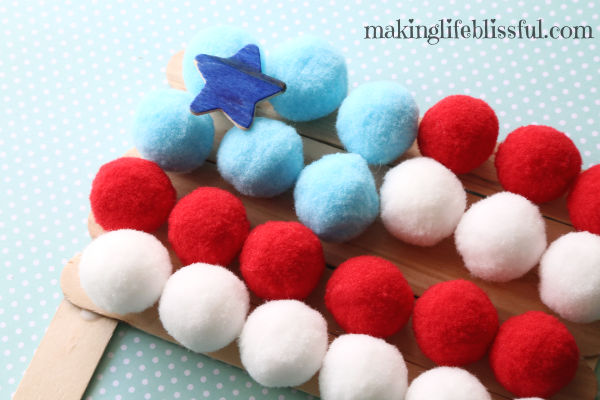 7.  You can also use wooden craft stars too.  We colored ours with markers and then glued one one.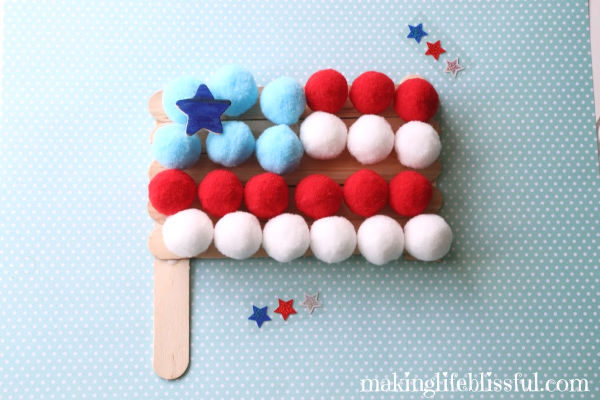 8.  Let the glue dry thoroughly and you're done!  Let the patriotism begin!
 You may also like: