Pumpkin Face Shapes Match Up Activity for Halloween Fun
Click here to read Pumpkin Face Shapes Match Up Activity for Halloween Fun on Hands On As We Grow®
---
With Halloween right around the corner, my kids are thinking a lot about pumpkins and are excited to carve their pumpkin faces (jack o' lanterns)! Since its not quite time to carve yet, we made our very own pumpkin faces matching game with shapes.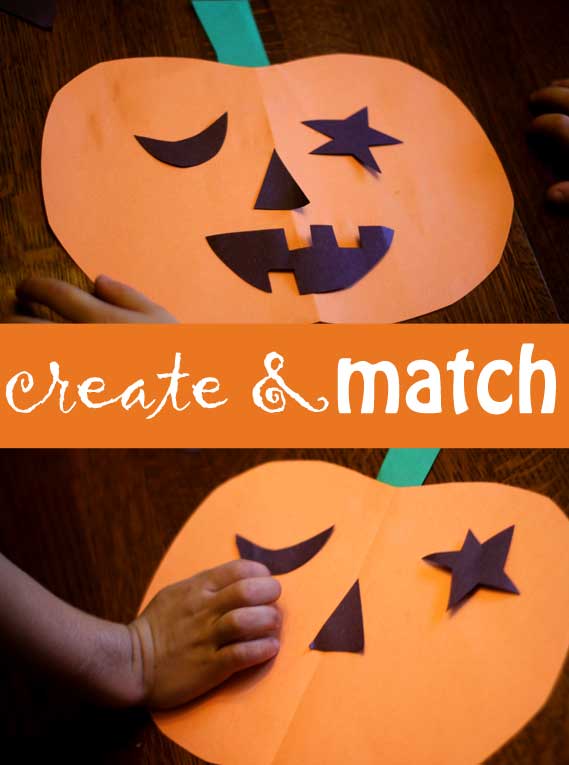 Another fun idea for making spooky pumpkins before it's carving time is this simple and adorable mummy pumpkin family activity!
What You Will Need to Make Your Own Pumpkin Match Game
2 sheets of orange construction paper
1 sheet of black construction paper
Scraps of green construction paper
Scissors
Glue (optional)
How to Prepare
Cut 2 pumpkin shapes out of the orange construction paper.
Tip: Cut them at the same time to get two pumpkins exactly the same. And fold them in half to get a symmetrical pumpkin.
Cut out random shapes from the blank construction paper to be used for Halloween theme jack o' lantern faces.
Cut two of each shape.
Think simple shapes such as triangles, circles, squares, rectangles, maybe a few stars and crescents.
Also cut matching pumpkin mouth shapes.
Tip: Fold the black paper in half to cut two shapes at a time that match.
Separate into two equal piles (I didn't do this and it would have made it so much easier.)
Cut a stem for each pumpkin out of the green paper scraps and tape on the back of each pumpkin.
Create & Match Pumpkin Faces with Shapes
With one child you can create a face and lay it out for your child to match.
With two, or more, though it becomes a little bit more fun!
I had two kids matching their pumpkin face shapes.
I started my kindergartner by creating a pumpkin face with the shapes I cut.
He would then create it again himself on the other pumpkin.
Then he was super excited to create his very own pumpkin face for my preschooler to match with the shapes.
He wanted it to be very scary.
Make sure to label shapes as you're talking about the pumpkin faces.
Talking about what we see in the pumpkin face that we're matching.
Look, the eyes are triangles! or There is a circle for a nose.
My kindergartner did this himself as he helped his brother match up the shapes.
After the kids have enough matching, they can glue on their pumpkin face shapes to keep!
Go ahead and hang up your pumpkin faces up for a fun Halloween theme decoration at home!
If your kids enjoyed this pumpkin face matching activity then they will love this mix-it-up popsicle stick pumpkin face activity too!
What are some of your favorite Halloween theme hands-on learning activities?
Share your ideas with us in the comments. We love to hear from our readers!