RV Camping with Kids: Tips for Success from Full-Time RV Moms
If you've ever been curious about RV camping with your kids and family, this post is for you! We are sharing the top tips for how to have a successful family RV camping experience, from three full-time RV moms. In this post, Leslie Alvis, an Ohio mom of 4, put together a huge post filled with tips from her RV experiences and those of our experts. They're sharing their tips for how to choose the right RV for your family, tips for picking a great RV campsite, what to stock in your RV, tips for meal planning, everything you need to know about tanks, RV must-have essential items, and so much more! 
*This post contains affiliate links.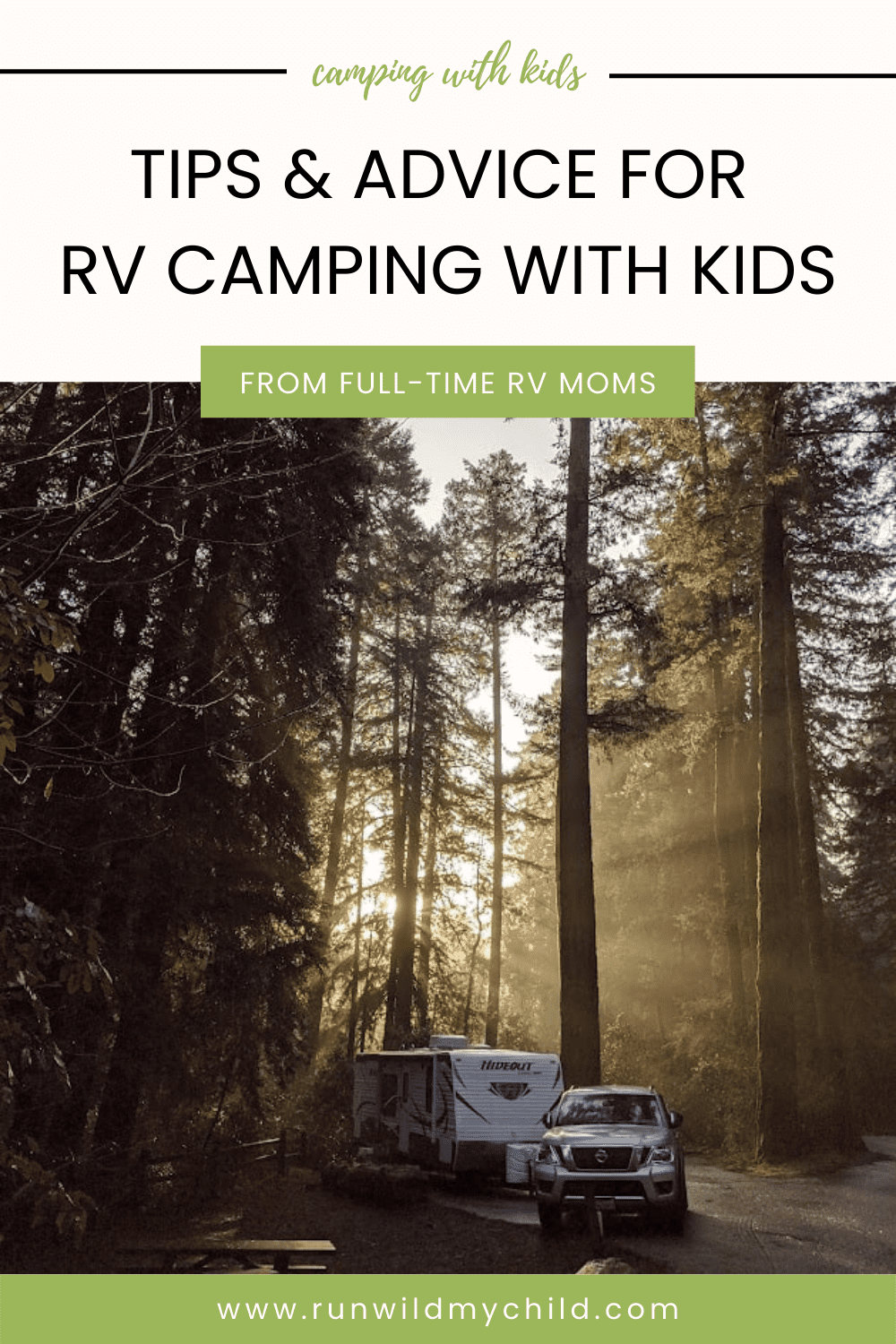 The appeal of RV camping
So, you want to travel and experience the great outdoors, but you're not quite ready to sleep on the hard ground and wash your dishes in the creek? Then RV camping might just be the way to go for you! From compact pop-ups to luxurious fifth-wheel trailers, not to mention full-sized RV's, this kind of camping provides options for every family and budget.
From state and national parks to dedicated RV campgrounds, when RV camping, you can stay at locations around the world for a fraction of the price of a hotel or vacation rental. RV camping also gives you a lot of flexibility to camp during seasons when the weather is not ideal for camping in a tent. RV camping also allows you to carry some of the comforts of home with you while embracing the adventure of traveling and experiencing the great outdoors. 
Considering an RV for your family?
When our family began considering camping as a more affordable way for us to travel, we weren't entirely sure if tent camping was for us. But sleeping (basically) outdoors, staying in gorgeous natural locations, and waking up to fresh air and the birds singing all around? Absolutely! That's when we began to research the concept of RV camping.
We found a cheap little pop-up camper off Craigslist and took off on an eight-day camping trip several states away, cold turkey. There was definitely a bit of a learning curve involved, but over the years we've learned a lot about how to make RV camping a success. Today the six of us are living full-time in a 27-ft RV trailer while we build our home, so we've got a good bit of RV camping experience to draw from.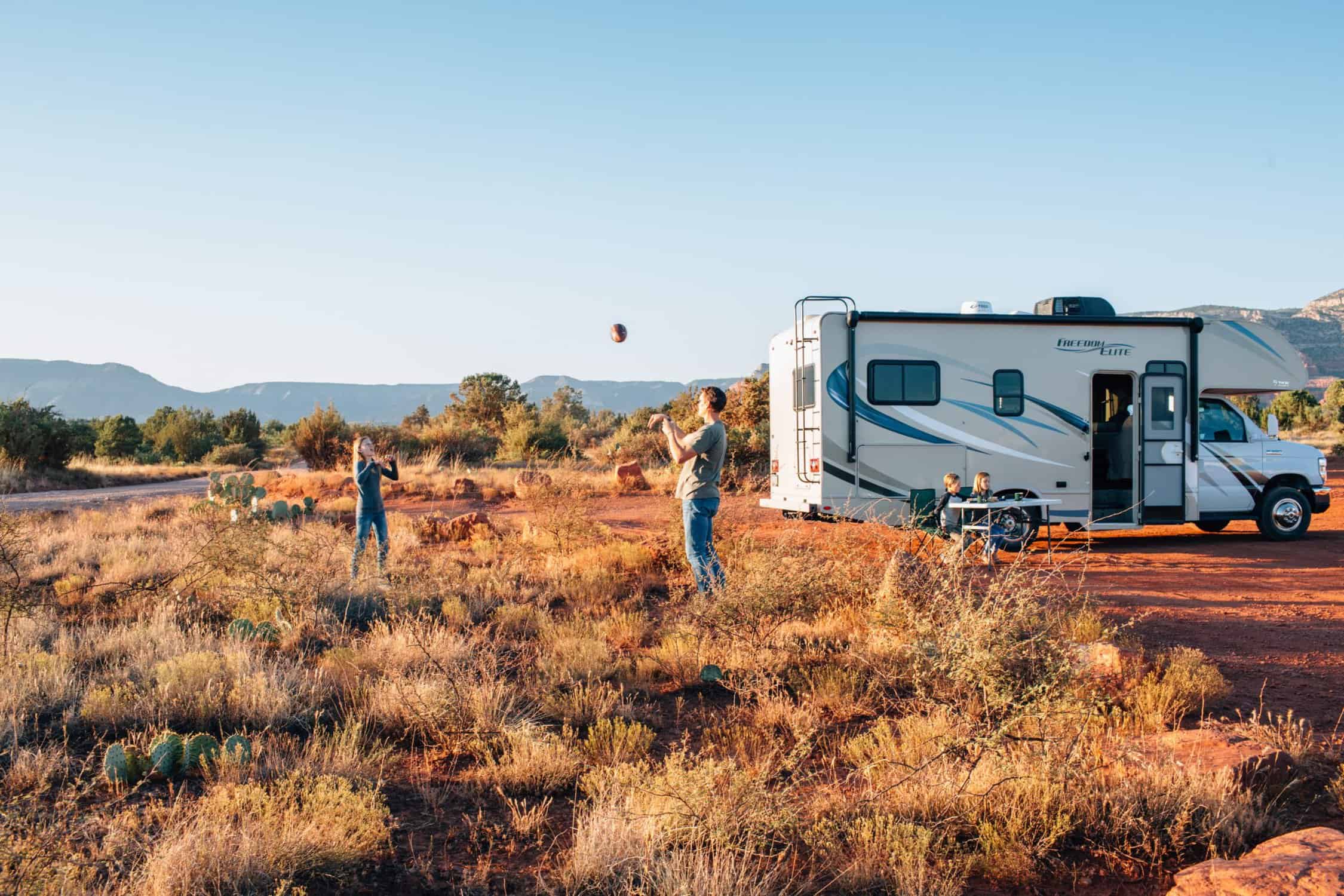 Tips for RV camping with kids
RV camping may sound intimidating, but it doesn't have to be! It's easier than you think, and with this post, we'll make sure it's your best family camping trip ever. The tips and advice in this post have been tried and tested by our team of expert RV moms. We've each spent significant time RV camping with our kids and have learned a lot in the process. So, whether this is your first trip out in an RV with your family or you want to make sure your next trip is a big success, here are the things you'll want to consider when RV camping with kids. 
Tip #1: How to choose the right RV for your family
If you're thinking of getting started RV camping, you've probably already learned the options for RVs are endless. How do you ever choose what rig is right for you? Frankly, I think a lot of it will boil down to two questions: (1) your preferred style of camping, and (2) budget.
RV camping style and budget considerations
The first thing you'll want to consider when choosing the type of RV to purchase (or rent) is your camping style. Ask yourself what kind of RV camping is most appealing to you and your family. Do you want to be close to nature and have more of a traditional tent camping experience? Or do you want all the luxuries and conveniences of home wherever you travel? 
The second main factor in selecting an RV, for many of us, is budget. How much do you want to spend on your camper? The vast array of RV campers on the market today is astonishing. Ranging from questionable older models to shiny luxury homes on wheels, there is an RV camper option in every price range. Pop-ups are pretty affordable (based on what we saved for vacation accommodations, ours paid for itself in two years), while some full-sized RVs can cost more than a house. 
Pop-up campers
If you prefer to be as close to nature as possible, but still have a solid bed to sleep on, a sink to wash dishes in, and some storage, then a pop-up camper might be a good option. A pop-up camper is basically a trailer that folds out into a tent. Pop-up camping comes with a lot of perks. Most pop-ups have 2-3 roomy beds, which easily sleeps 4-6 people. They have an interior kitchen table with seating, cabinets for storing dishes and food, a battery-operated power system, and water tanks/hookups with at least a sink inside.
One downside to pop-up camping is that set-up and tear-down are a bit labor-intensive. Also, you're still at the mercy of the weather. If it's hot, you're sweltering. If it rains, you may discover leaks. And if it's cold, you will be chilly! However, pop-up campers are a great way to still enjoy the beauty of the outdoors and experience nature, while still having some major conveniences and accommodations. 
Dealing with weather when pop-up camping in a storm (a night to remember)
I'll never forget one blustery, stormy night we spent in our pop-up camper in the mountains of Tennessee. Between listening to the wind trying to blow us away and trying to adjust a space heater to keep our kids from freezing, we didn't get a whole lot of sleep. At some point, though, we drifted off and woke at dawn to find out we were all in one piece still. My husband triumphantly shouted, "We made it!" and thrust an arm into the air in victory.
However, my husband has remarkably long arms, and his fist connected quickly with the canvas over our bed, which had been gathering condensation all night as we tried to heat that little camper. A shower of water droplets rained down on us and I shrieked in dismay, waking the kids at the other end. They, of course, thought the condensation rain was hilarious and started showering each other in their bed. But we did make it, and the story is now a fond part of our family camping memories.
Full-sized RV campers
On the other hand, if you want an RV camping experience that is more like your own custom AirBnB on wheels, with a solid roof overhead, a bathroom, a full kitchen, and bedrooms with doors that close, you may want to look into a full-sized RV trailer. Full-size RV campers come in a variety of sizes and styles, with 1-2 bedrooms as well as convertible sleeping areas. The size, style, and newness of your RV will depend a lot on your budget.
Setting up a full-sized RV is a breeze—some campers even have self-leveling jacks to make it even easier. Just plug in your electric cord and your water hose, and you've got all the comforts of home, anywhere you choose to park. Other than the hefty price tag, the only downside of a full RV is the need for a towing vehicle and hauling skills. But, if you have a heavy-duty vehicle and some backing-up skills, you'll be just fine!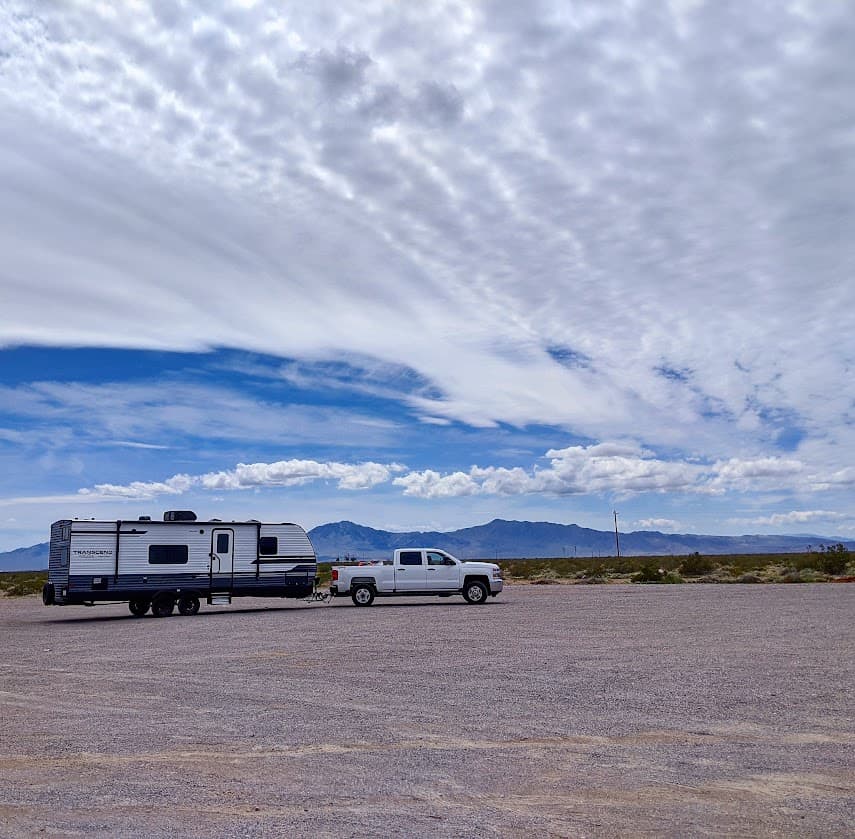 Pro tips for choosing the right RV for your family
The Run Wild My Child team is filled with quite a few moms with significant RV camping experience. Tips and advice included below come from me, Leslie Alvis, Katie Fox (@hiking.motherhood), and Kathleen White (@faithboundfamilyadventures). Our team of experts weighed in with their tips on how to choose the right RV for your family. All of our experts are current or former full-time RV moms, with multiple kids that have traveled extensively in their RVs. Here's what they had to say…
Rent an RV before you buy one
Pro tip from Kathleen: Honestly, if you're an RV camping newbie, you won't know exactly what you'll want or need in an RV until you start RVing. When choosing an RV, there are so many factors to consider like family size, travel style, budget, RV type, etc. There's no one right answer for your family, and if you're just getting started, you may not know what you want, need, or will use.
I highly recommend trying a few different varieties and options of RVs before you commit to buying one. You can rent an RV from a local RV dealership/rental place or through a website like Outdoorsy. Outdoorsy lets you rent RVs directly from the owner (like VRBO for RVs!). You can search by RV type, price, location, size, and date available. They also provide 24-hour roadside service. Some will even deliver the RV directly to you! If you already own an RV, you can even list it on Outdoorsy for rent and earn extra income! 
Take an RV trip before purchasing to get a feel for your style and the amenities that you like and/or need. Maybe try a few different types of RVs. Once you figure out some of those things, you can determine the best option from there.  Start where you are with what you have, and you'll figure it out as you go.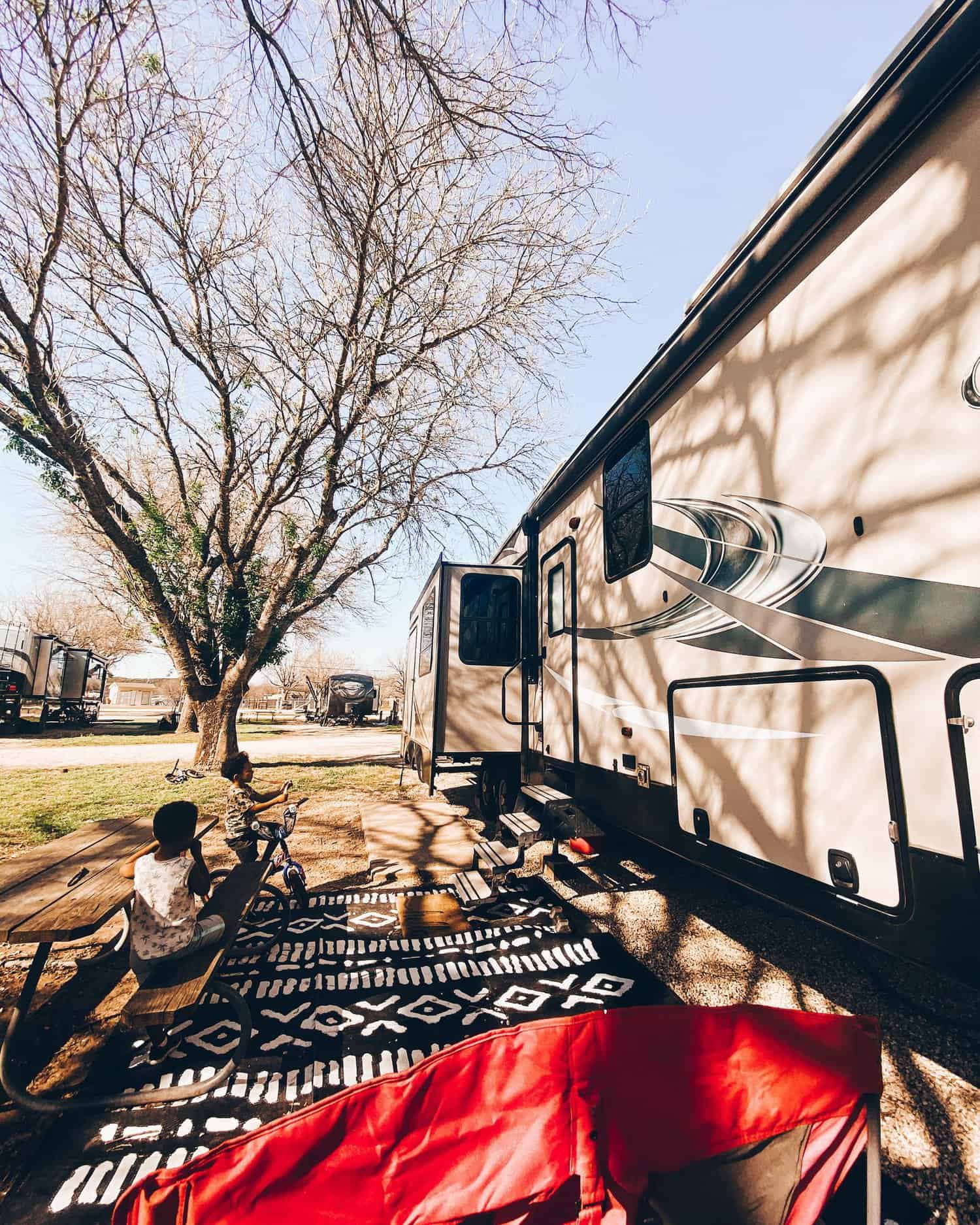 Set your budget and choose your non-negotiable features
Pro tip from Leslie: When it comes to choosing the right RV for your family, the decisions and options can be really overwhelming. I suggest starting by deciding on your budget and non-negotiables, then stick to them. For instance, our budget and non-negotiables were: (1) we weren't willing to spend more than X amount of money on an RV, and (2) for full-time living, we had to have bunk beds for all our kids, not just convertible sleeping areas, (3) we needed a full kitchen. Once we knew exactly what we needed, we started looking and were able to find something used in our area that met all those requirements.
If you take your time in RV shopping, you will find something that meets your needs in your price range. Many used RVs are in great shape and much more affordable, so don't be afraid to shop used. RV dealers have entire catalogs of used and new campers for sale in every region. If you're willing to do your homework and know how to check over a camper for problems (or know someone who does), consider shopping private sellers through sources like Marketplace and Craigslist.
Pick an RV you have the ability to tow
Pro tip from Katie: This may sound like an obvious tip, but when you are out looking at travel trailer RVs at a dealership (or when the perfect RV pops up in Facebook marketplace), it is so easy to forget that you are actually limited to what your tow vehicle can safely tow. Not abiding by tow vehicle weight restrictions is a huge factor in RV-related accidents. Make sure to research what your vehicle can safely tow and search for RVs that meet this requirement. 
Some things to keep in mind regarding RV weight and towing
The dry weight of an RV (the weight of an RV as it is sold off the lot brand new), does not include the weight of water or waste in your tanks. It also does not include all of your camping gear, clothing, food, etc. And the amount your tow vehicle can safely tow also depends on how much weight is in the tow vehicle as well. In general terms, you must include all added weight to your tow vehicle (people, pets, car seats, bikes, etc.) and the weight of the RV and the gear inside it.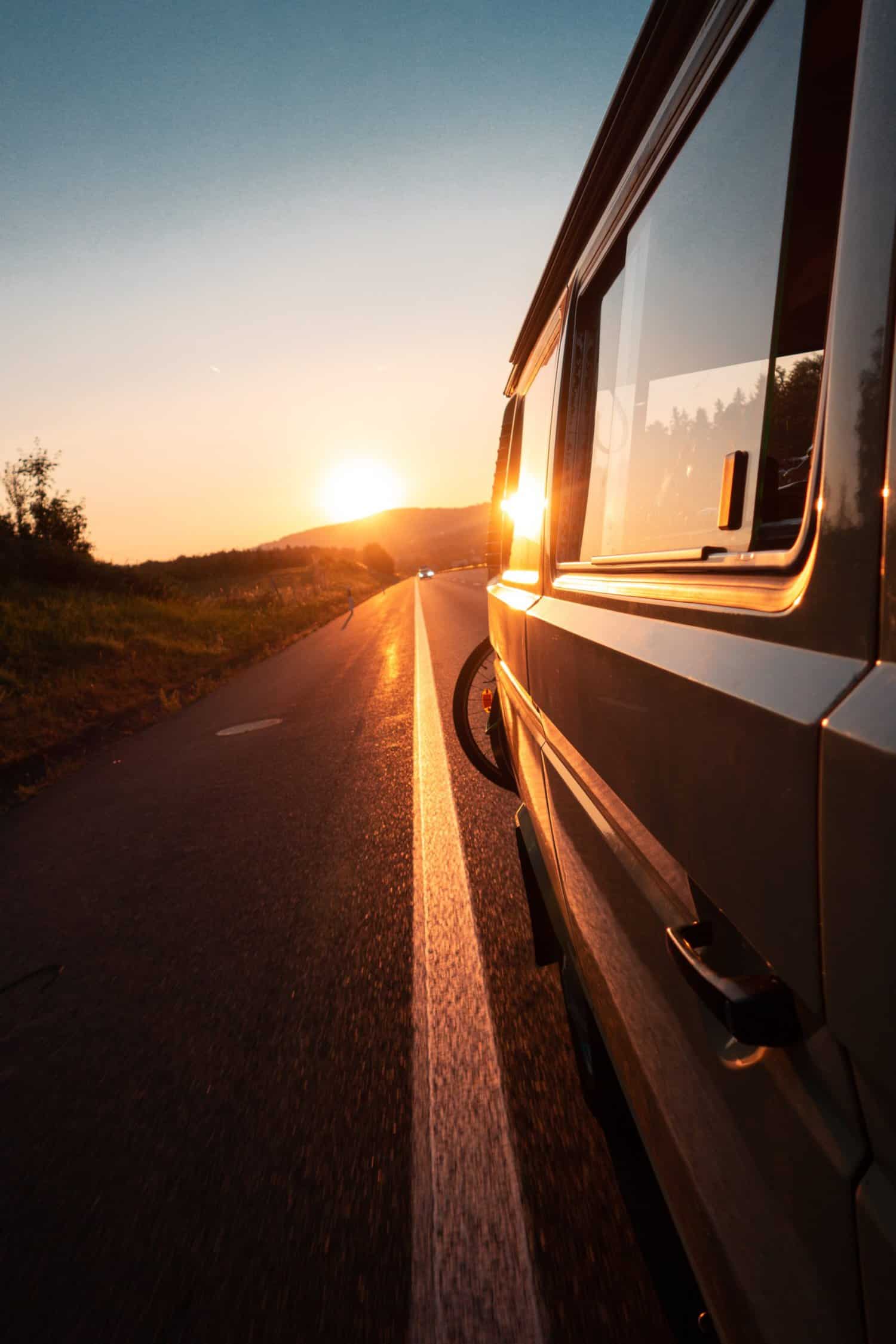 Tip #2: Make RV camping reservations
Many campgrounds stay pretty busy during peak camping season (May through September). In order to be sure you have a place to stay when you reach your destination, you'll want make reservations in advance! Making campground reservations for your RV is quick and easy to do online through the campground's website. And one of the best ways to be guaranteed a good site is to make your reservations as early as possible.
Booking the best RV campsite locations
When we first started RV camping, we learned quickly that the best sites—the ones closest to the lake or river, the bathhouse, and the ones with the most space—get reserved earliest. Any RV park or campground we've ever stayed at has the best spots filled the whole time we're there! There may be sites available for spur-of-the-moment camping trips, but they are often the least desirable ones. They may have less shade, be tighter to get into, or have less room between neighboring campsites. Sometimes this can lead to a slightly uncomfortable camping experience, and sometimes it's just fine! We try not to let the campsite keep us from having a good time. Because even a less-desirable campsite is better than not camping at all! 
Size matters
The larger your RV rig is, the fewer options you will have when choosing an RV campsite. Our little pop-up can sneak into some non-electric camping sites, but a full-sized RV trailer is a lot more limited in its site options. When you go to the campgrounds' website, you will enter your rig's size. Then, they will show you the available campsites that meet your RV's specifications. Some campgrounds have all the full-sized RVs lined up in rows; others spread them out more naturally among the trees.
Hookups and more
The campsite you choose should depend on what you're looking for and need during your trip. An easy parking experience and full hookups are usually available, but you might not have as much shade or privacy. The good news is that a larger RV has its own creature comforts, such as a bathroom and air conditioning, so you aren't quite as dependent on nature for comfort (or need easy access to campground bathrooms). If you want a more nature-oriented environment, you might have to look through a number of campground maps to get a feel for what is available, then make your reservations early.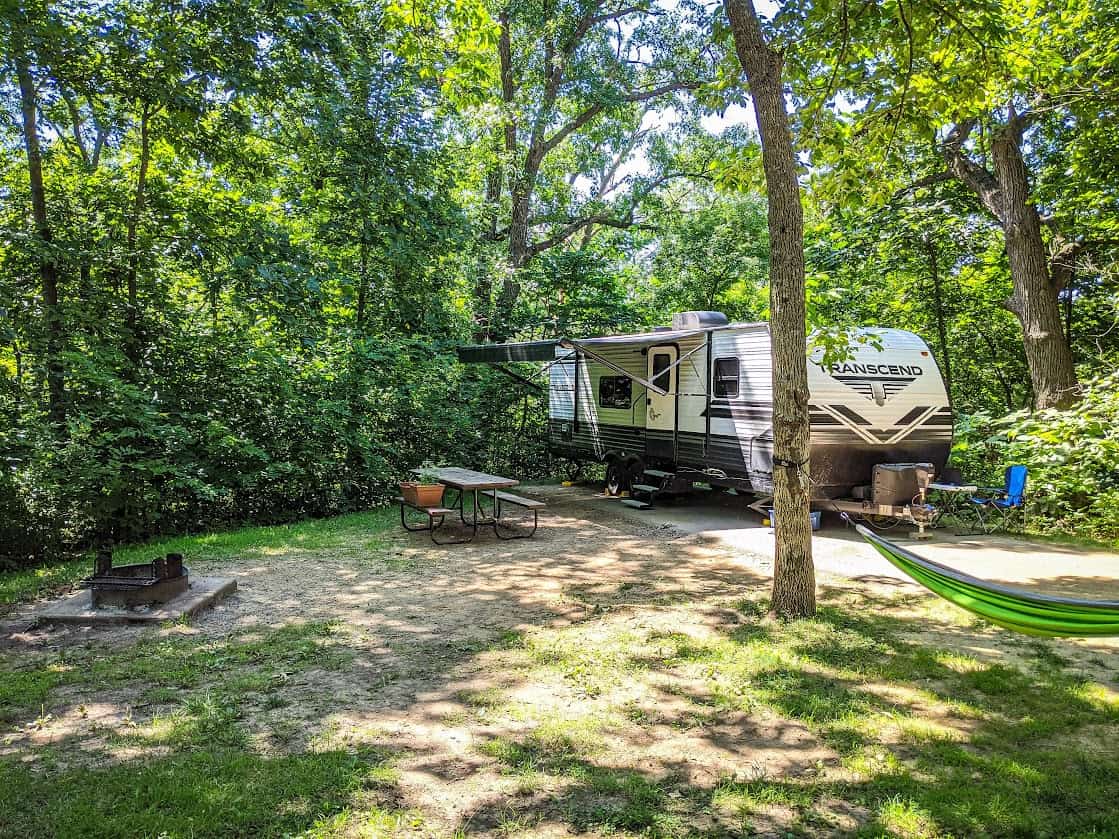 Pro tips for making RV campsite reservations
Use Google Earth to scout your site
Pro tip from Leslie: When making RV campsite reservations, use the campground map alongside a Google Earth satellite image of your campground. The campground map gives you the location of each site and shows you its proximity to the other campsites and amenities. Some campgrounds will even show you a photo of your potential campsite from the road, but not all of them.
Google Earth satellite shows you what the actual natural surroundings look like. Are there trees on your campsite? How close is it to the road? Will you be able to walk down to that lake, or is it thick woods with a sharp drop-off down to the water? Depending on what season the satellite image was taken in, you may be able to get a pretty good idea of what your campsite really looks like.
Tales from a terrible campsite
One summer, during the busy family camping season, we made a desperate attempt to get away last minute. Every state park campground in our state was booked full, but we finally reserved one spot in the non-electric portion of a campground. It wasn't far off the lake and seemed like it would work.
What we didn't realize was that there was not a speck of shade on that entire campsite. It was 95 degrees each day that weekend, and our little pop-up camper was like an oven. The trees that ran between our campsite and the lake were dense woods full of poison ivy, the beach at the lake was suffering from a crazy algae bloom, and the weekend was very nearly a total disaster. We only salvaged that camping experience by packing our crew up and driving to one of the Great Lakes for the last day. Lesson learned: use Google Earth to make sure your campsite is actually a comfortable place to stay! Just because there's a parking space on it doesn't mean it's where you want to spend the weekend.
Read campground reviews
Pro tip from Katie: If you have the time, browse campground reviews on sites like Campendium or even Google to see what others have said. Often people will complain about noise, sloped sites, crowded sites, etc. Or, they may share some positive things about the campground that you didn't know. These reviews may reference certain campsites or be more general, but either way, they help you gather information about the campground to help you make an informed decision on when, where, and whether or not to book. 
Pro tip from Kathleen: RVing now is so different than when we first started a few years ago. The pandemic has pushed more people outside and camping (traditional and RV camping) are much more popular, so campgrounds are full. We used to book things on the fly and be okay. Now however, depending on where you're going, you may need to book far in advance (and by far, I mean months). State parks are one of our favorites and often have more openings. Apps like Campnab can alert you when booked campgrounds have openings too!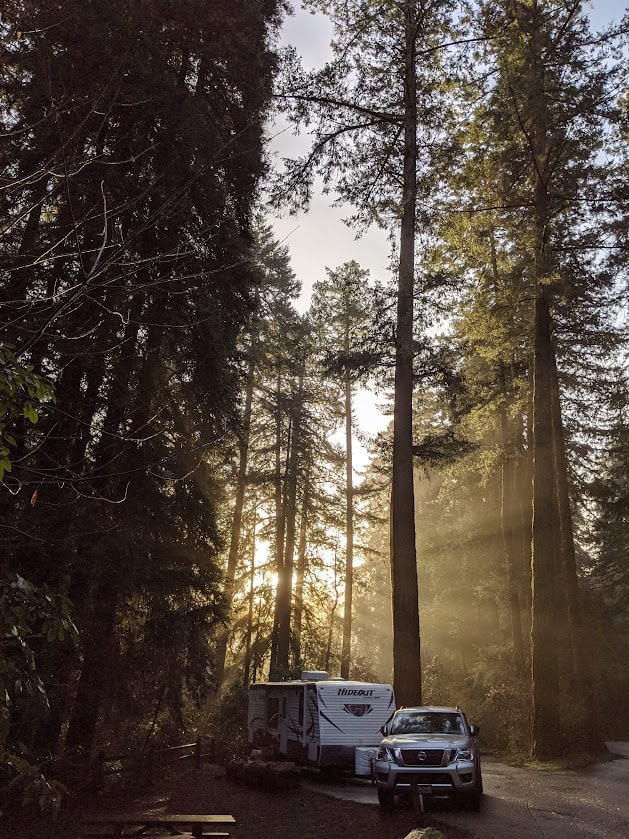 Tip #3: Stocking your RV
Now that you have your RV and booked a campsite, here comes the fun part! You get to stock up your RV with every comfortable, fun, and convenient household item you like! There are so many benefits to vacationing in your home on wheels. If you're planning to use your RV frequently, I highly suggest having some items that you keep in the camper, so it's easier to just toss some clothes in a bag and go! 
Every parent knows that packing for a trip with kids can be stressful. Especially when you're camping and bringing all your food and gear, it can feel like your packing list is never-ending. However, having your RV already stocked with towels, extra blankets, sleeping bags, and some basic kitchen items makes it so much easier!
Make stocking your RV affordable
It might sound like you need a lot, but you don't have to run out and buy everything brand new. Getting your RV ready to go camping doesn't have to break the bank! I stocked our camper with our older towels, some recently replaced pots and pans, and some extra food storage containers. We added a few old blankets from the back of the linen closet, along with the sleeping bags (which I store in the camper). I keep small containers of dish soap, hand soap, and items like ziplock and trash bags in a drawer. 
I thrifted some like-new plates for our camper so we could go through fewer single-use paper goods. I also up-cycled some glass jars for large drinking glasses and food storage. These simple and eco-friendly choices for our camper only cost a few dollars. Knowing that all those basic items are already packed and ready to go always make camping trips easier.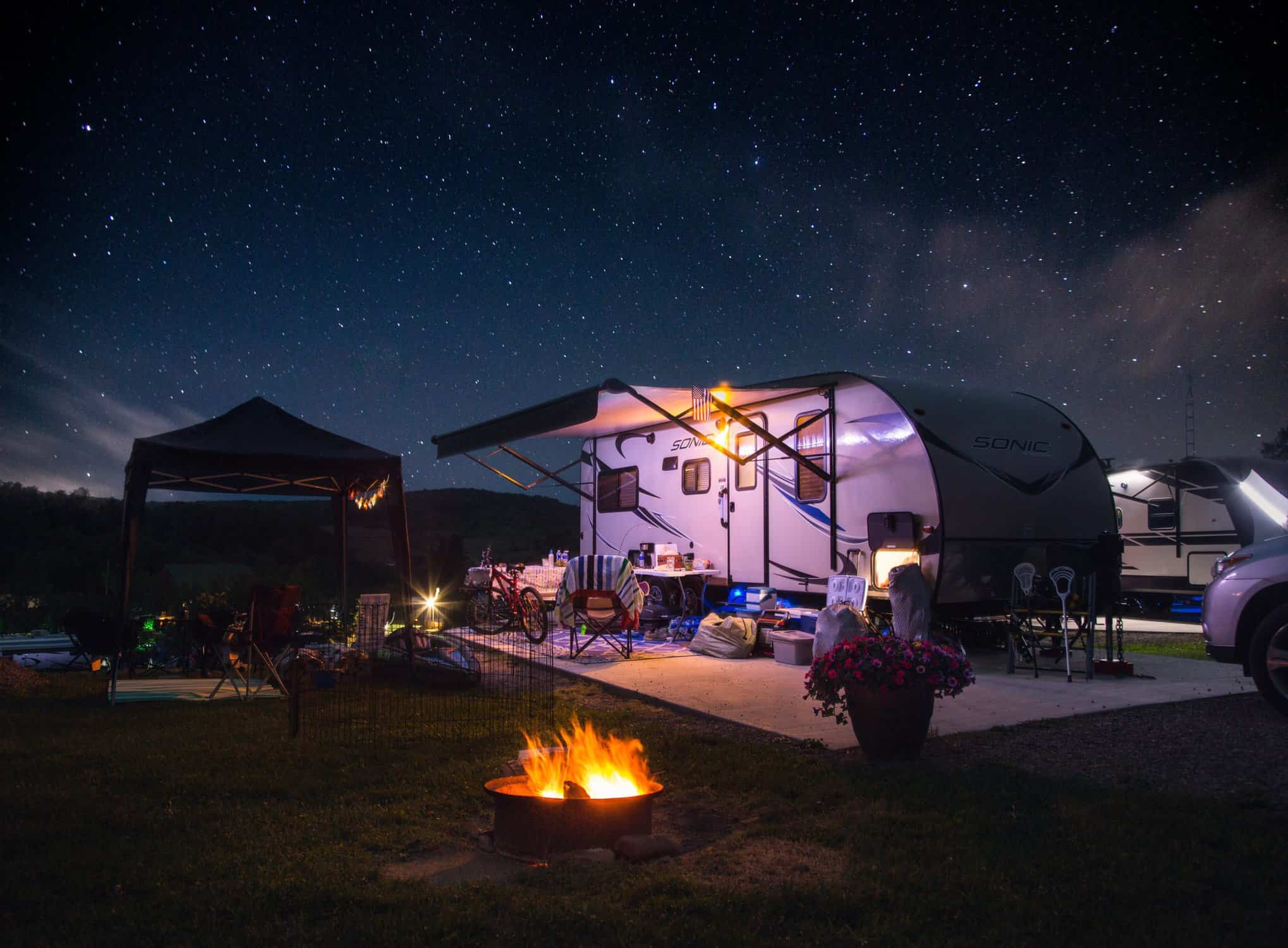 Pro tips for stocking your RV
Use different colored towels
Pro tip from Leslie: Use a different color bath towel for each member of your family. Unlike at home, where every member of the family probably has their own towel rod or hook in the bathroom, camper life is a bit more crowded. Towels end up anywhere and everywhere, or all mixed up on a clothesline. Having a different color for everyone makes towel ID a breeze. Stash a clothesline and clothes pins in one of your outdoor compartments to use for quick, easy towel drying on a daily basis. As a bonus, towels that are air- and sun-dried smell fresher longer, so you can go longer between washings!
Don't be afraid to use real dishes
Pro tip from Katie: A lot of the time, people bring disposable dishes (like paper plates and plastic utensils) camping, and this continues in RV camping as well. It can be much easier to use disposable dishes, but it is far more cost-effective and eco-friendly to purchase plastic or sturdy dish sets or use something you already own. Yes, you will have to wash the dishes regularly. Yes, it may seem lame to do this while on vacation. But, having RV or camping-only dishes saves you a ton of money and makes prepping for a trip so simple. The dishes are already in place and ready to go. Target has BPA-free plastic plates, bowls, and cups that are perfect for camping gear and a great addition to your RV checklist.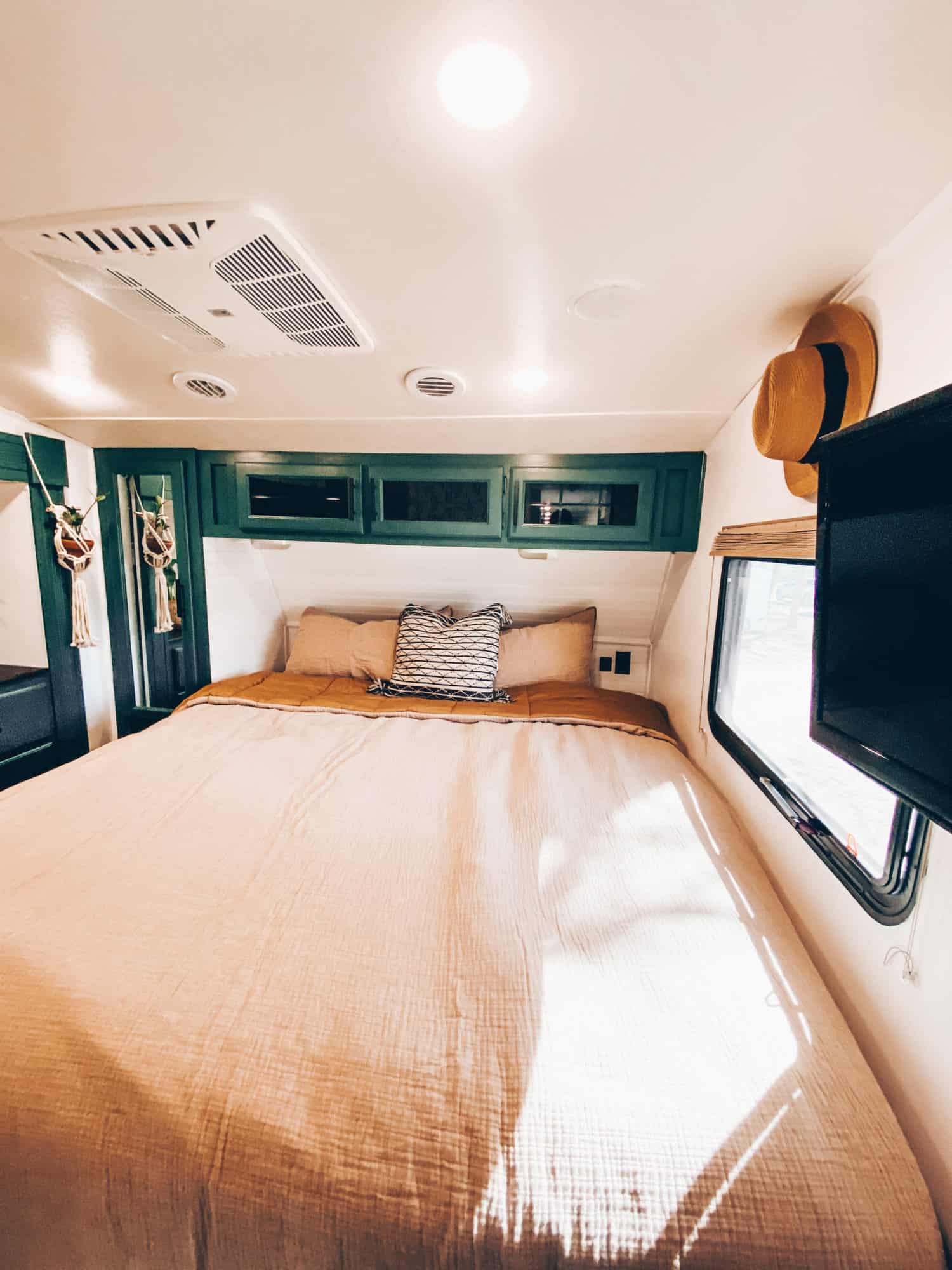 Tip #4: Understanding the tanks in your RV
Perhaps the biggest learning curve to RV camping is dealing with the tanks. Freshwater, gray water, black water—these tanks become the foundation for your daily water usage. Gray tank= sink water and shower water. Black tank= all other waste. Knowing how much each tank holds and how to empty and/or fill them is a vital part of RVing.
I certainly never wanted to know so much about waste water! But, once you understand your tanks and get used to taking care of them, it becomes second nature. If you're camping with full hookups, you don't have to worry too much about how much fresh water you use. This is great for long trips. But, it is important to realize that what goes into your waste tanks must be emptied! So, if you don't want to empty your tanks until you're done with your stay, you may have to be conservative with your water usage. This really depends on how many people are in your family. Our family of 6 can go through a fair amount of water on a daily basis, even if we're being careful.
Different parks have different hookup methods
Some RV parks provide wastewater hookups at each campsite, which makes all of this easy! You hook up your hoses, and you're good to go. All the state parks that we've camped at just offer dump stations, where you can empty your tanks as you leave. Or, if you want, you can hook everything up and drive over to dump your tanks mid-stay. But, that's a bit of a hassle – once you're parked, it's nice to be able to stay put. Some people carry portable waste tanks that they empty their tanks into and haul over to the dump station. Other campers use water very conservatively and use the park bathrooms as much as possible to avoid having to empty their tanks during their stay.
A side note about those tank sensors
As a side note, tank sensors are notorious for going bad in an RV. Much like driving a vehicle without a working fuel gauge, it's entirely possible to live without them. But, you'd better have some idea of the amount of water you're using and the state of your water storage system. Currently, none of the sensors in our RV work, which means we need to keep track of our water usage, so we don't run out of water mid-shower or discover the bathtub full of gray water. (But who are we kidding? The bathtub gets used as an overflow tank fairly often. It's just better if it doesn't happen while all the dirty laundry is piled in it!)
Once you've been RV camping for a while, you get a rough idea of how much water your family uses and how long it takes to empty/fill the tanks. Or…just replace the sensors!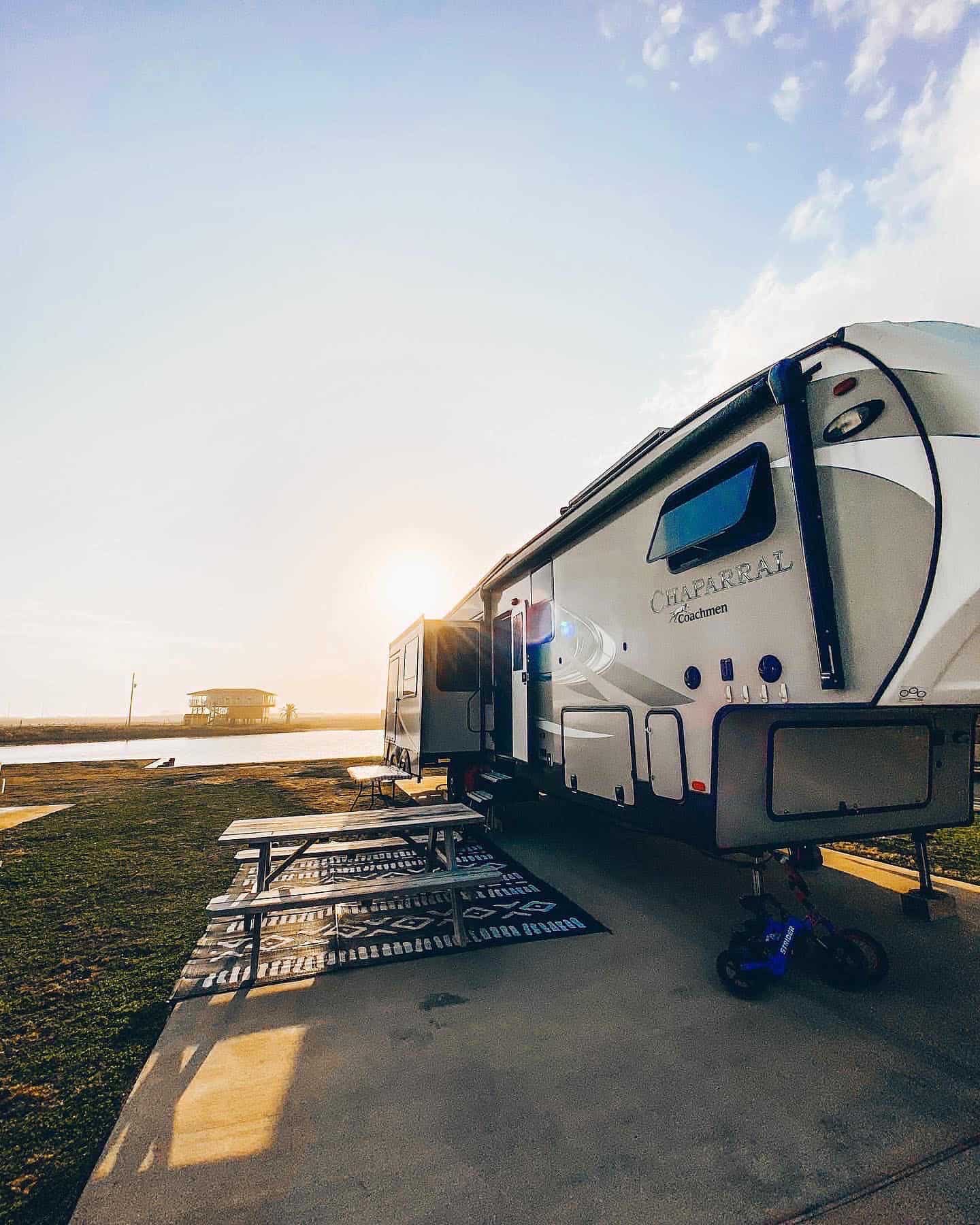 Pro tips about RV tanks
Know your black tank info
The black tank absolutely must have liquid in it to function. I know, you really don't want to think about it. (I didn't, either!) But what goes in, must flow back out. For the toilet waste to decompose and drain properly, you must start with 5 gallons of water in the black tank. We learned this lesson the very, very hard way. So just trust me and add the water.
Even if you're boondocking and trying to conserve water, the black tank is not where you want to skimp on water usage. Pour in the five gallons of water. Then add these easy treatment pods to eliminate odors, or else dissolve 1 cup of borax into a gallon of hot water and add 1 cup Dawn dish soap. Either treatment helps with odor control.
Also, make sure to use RV toilet paper or a readily-dissolving toilet paper. These tricks will keep everything working the way it's supposed to, so you can go have fun and not have to worry about unclogging a very nasty mess!
Conserve water while washing dishes
Camping in an RV often lends folks to use sinks and showers/bathtubs like they do at home. And if you have full hookups (power, water, and sewer), you can absolutely use water the same way you do at home. But, if you do not have a sewer hookup or if you are using water from your freshwater tanks, you need to use a lot less water than you do at home. 
One tip to help with dishes is to have a dish tub that fits in your sink and fill it 1/4 of the way with warm soapy water. Use this water to wet and wash your dishes and then rinse them with a low trickle of water right above the tub. The clean soapy water goes into your dish tub and fills it slowly, giving you more and more water to wash with after each dish. It also gives you a visual of how much water you are using, which helps you get better at using less. You can either dump this in your sink where it will go to the grey tank, into your black tank (if you need to add more water into it), or you can take it to the campground wastewater disposal site.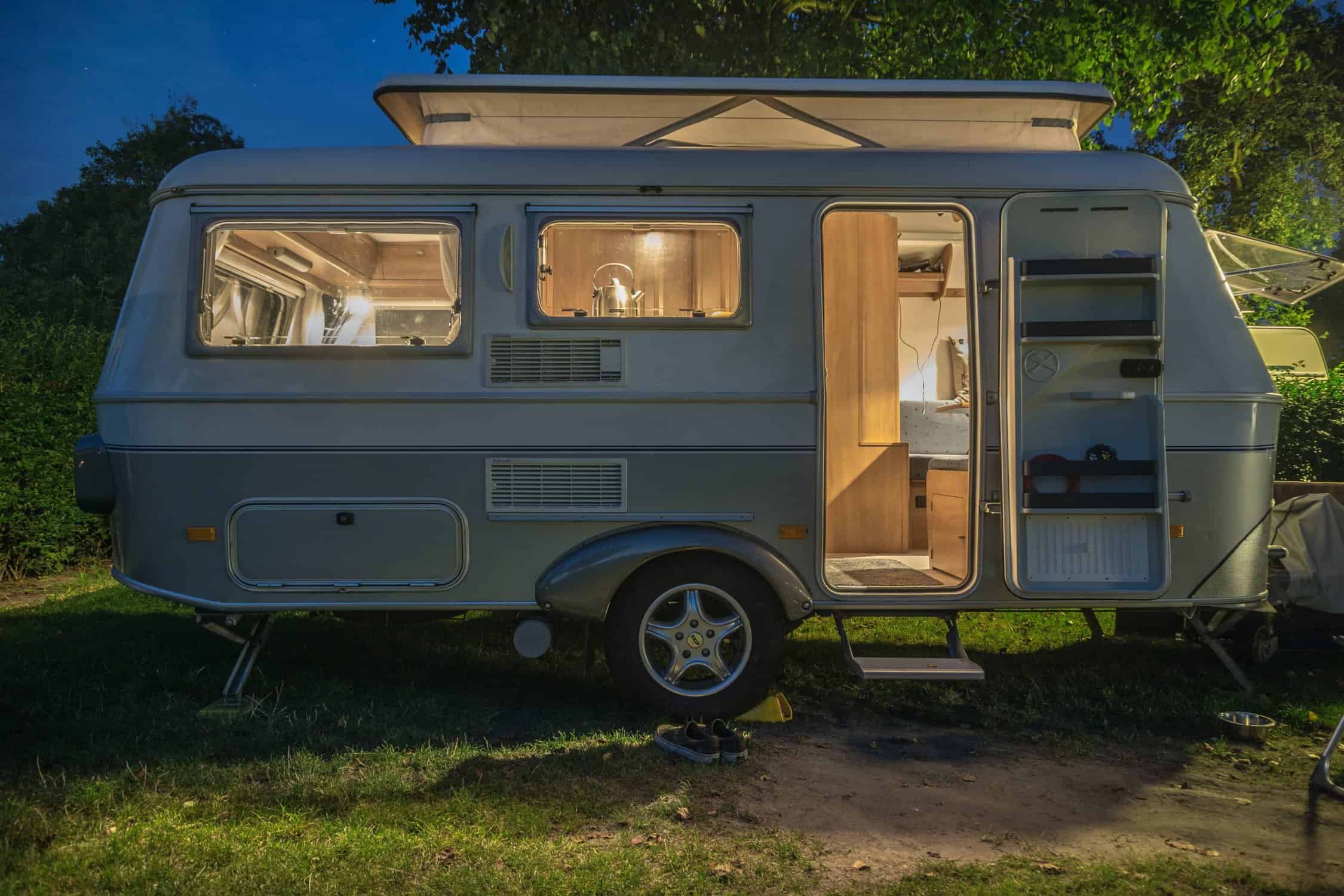 Tip #5: Meal planning for RV camping
One of the economic benefits of traveling by RV is that you can easily meal plan ahead of time and then prepare meals for your family, right there in your camper. Even our tiny pop-up has a sink, a little fridge, and an indoor/outdoor two-burner propane stovetop. Full-sized RV's have very functional kitchenettes that include ovens and microwaves. The convenience of an RV kitchen on a road trip gives you a lot more flexibility (and affordability) with meals than eating out or cooking strictly over a campfire. And it's not weather-dependent, either! A lot of RV's have an outside propane burner for outside cooking, but you can also cook in the camper whenever the weather is bad.
But, planning and packing for all your meals when camping can feel a little overwhelming. Thankfully, it doesn't have to be! My number 1 camping meal planning tip is to keep it simple. Stock your fridge and cupboard with basic condiments and seasonings that you will use for multiple meals. Both prep and storage space in a camper are limited. Think of some of your family's favorite easy meals that call for few ingredients.
Don't be afraid to use some convenience foods, even if you normally cook from scratch. This is supposed to be a fun time for you, too! You don't want to spend the whole time camping cooking. When we go camping, we like to include "fun" foods that we don't normally eat at home. The way I figure it, we're still saving a ton of money and eating healthier than if we were eating out. The kids are thrilled, and it helps keeps meals fun and easy.
Pro tips for cooking when RV camping
Use cast iron
Bring a cast-iron skillet or dutch oven that you can use in the oven, on the stove, or over a campfire. Cast iron is incredibly versatile! It's worth the extra weight because it's just so useful in all kinds of camping cooking. I can use my cast iron for baking biscuits in the oven, cooking eggs over the campfire for breakfast, making macaroni and cheese on the stovetop, and baking a pizza for supper. Fun and easy food for a whole day, all in one dutch oven.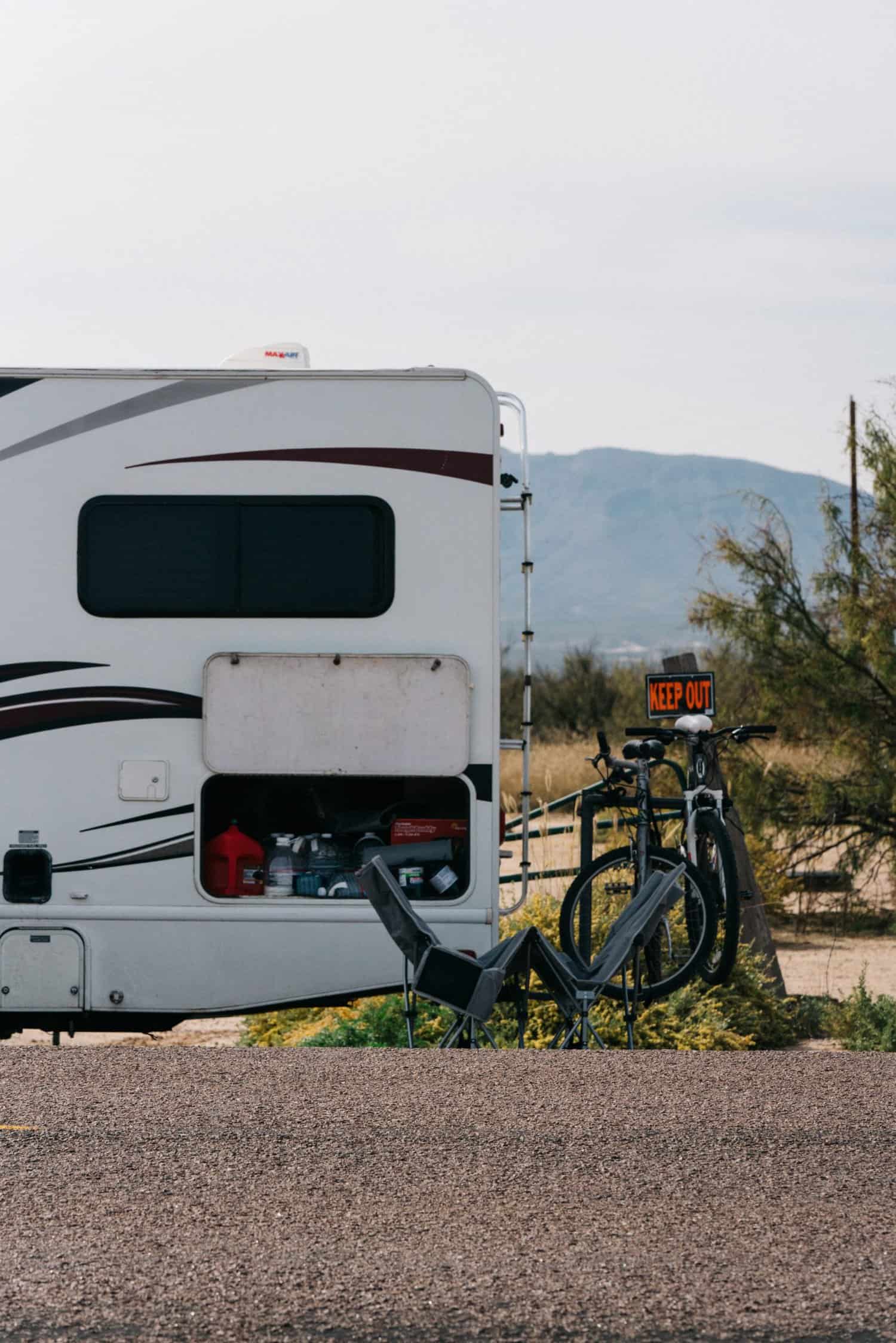 Tip #6: RV packing list, storage, and organization
Once your RV is packed with your basic kitchen and household essentials, it makes packing everything else so much easier! You just have to consider clothes, personal items (soap, shampoo, medications, etc.), gear for activities, and food items. One great thing about RV camping is that it's so easy to pack everything up inside! Similar to car camping, you're not limited by space. You've got room to stow everything you want or need — just make sure it's securely packed for traveling.
I like to pack food items up in small plastic totes. I fill one with breakfast and snack foods, one with non-perishable ingredients, and one with kitchen supplies I'm bringing from my home kitchen. These fit right into the cupboard, and they're out of the way while we travel.
Make a list of the outdoor activities you're planning and the gear you need for them. Warm weather activities will be different (and need different gear) than outdoor winter activities. The outdoor storage compartments on an RV are a great place to store outdoor gear. Hiking gear, baby carriers/strollers, colder weather clothing, life vests, swimsuits, and extra gear can all be stashed away in the outside storage areas. They're out of the way of your immediate living quarters but handy to reach when you need them.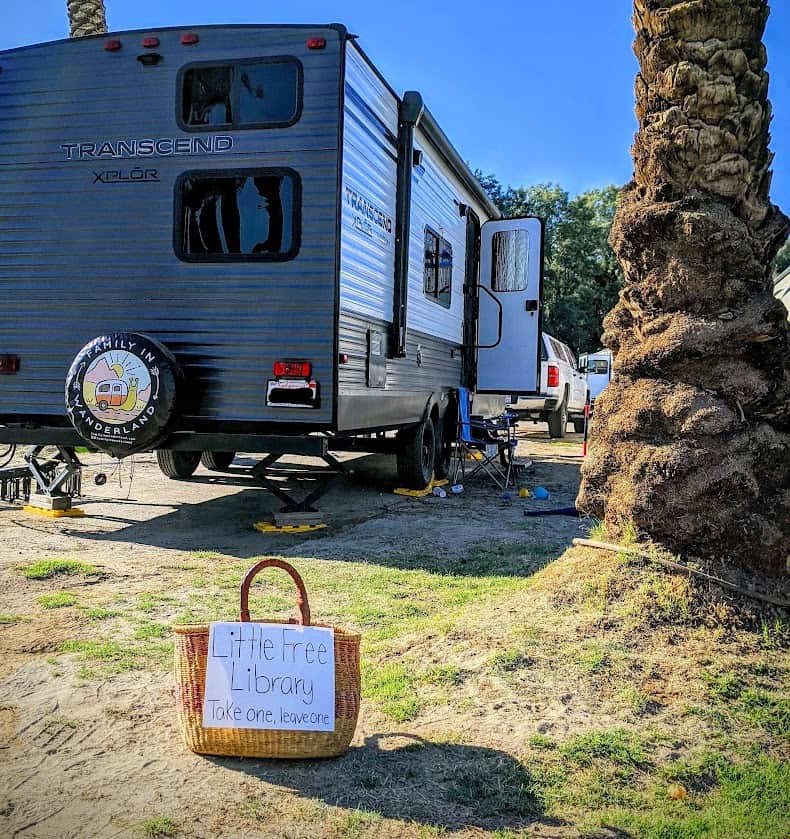 Photo by Katie Fox @hiking.motherhood
Pro tips for packing your RV 
Use stacking plastic drawers
For packing clothes, use stackable plastic drawers that work with your small space. These fit right into most bedroom cabinets/closets and make packing and keeping clothes organized so easy. No suitcases or duffel bags piled on the floor or beds! Give each person 1-2 drawers (based on how much space you have), and voila! Clothes are packed. Even in a pop-up camper, which doesn't have as much cabinet space, plastic drawers or packing cubes are a great solution to the chaos of having multiple people's clothes/bags lying around.
Entertainment for the kids on rainy days
Another RV packing list you should definitely make is for rainy day games and easy activities to do close to the RV. Let's face it: everyone who camps knows that sometimes the weather will NOT cooperate! And sometimes, you just need something to keep the kids occupied at the nearby picnic table while you're busy. By planning ahead, you can have an entire collection of fun activities for everyone to do in or near the RV while the rain pours down outside. I like to pack a tote just for this with things the whole family can play together. I include some favorite board games, coloring books, crayons, play dough, cards, and some special toys or crafts from the dollar store. The very novelty of having a bin full of games that don't come out unless it rains adds a certain allure to some very ordinary and familiar items.
Family camping checklist
Every family's packing list will be different based on when and where you're camping, the ages of your kids, the weather, the amenities, your comfort level, your camping experience/skill, and tons of other factors. I highly recommend you start with our family camping gear checklist as inspiration, but make your own master copy of your camping packing list and update it with your family camping essentials every time you go camping. Keep track of all the items you have packed and stored in the RV already, then add your clothing items and other camping gear.
Your camping packing checklist will change quite a bit over the years as you think of things that would make camping better, as your kids grow, as the seasons change, and as you get more comfortable camping. Making your own list will trigger your brain to remember things that may be important to your family. When packing, make sure to check each item off your list as you pack and then double-check your camping checklists (just in case you got distracted when packing) so you don't forget any important items.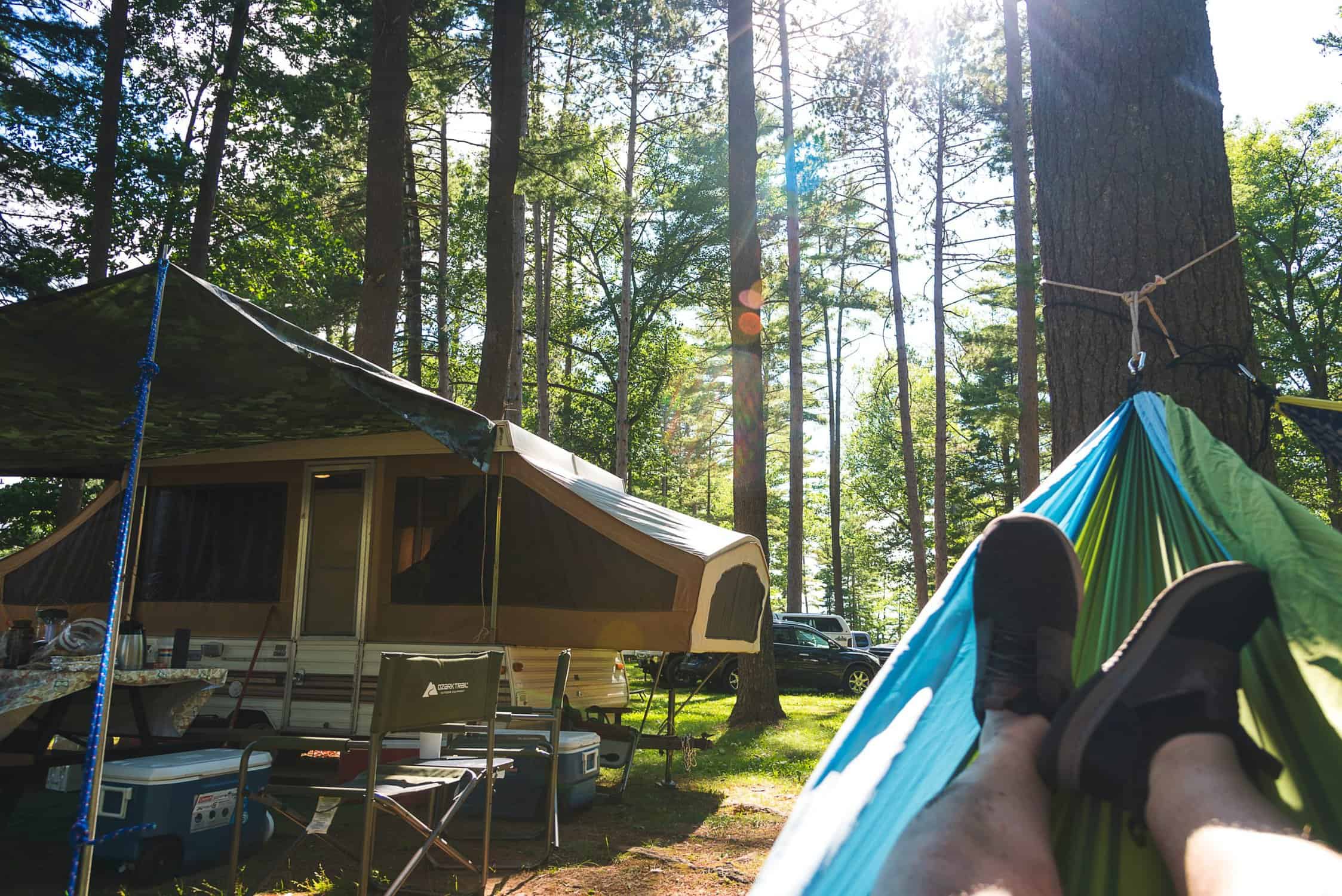 Tip #7: RV must-have items
RV camping is so flexible that there aren't too many things you absolutely have to have, but we've found a few items that are invaluable for making your RV camping experience fun and easy.  Here are a few of our RV must-have product recommendations to add to your RV essentials checklist: 
Command hooks: You can use these anywhere and everywhere. From hanging clothes and bags to kitchen utensils, to towels and shower items, we've stuck them all over the camper and use them constantly! The best part is that they cause no damage to the wall and can be removed entirely when you're finished!
Stick vacuum: No one really wants to clean while you're on vacation. But camping with kids = messes, no matter how you do it. Whether you're at the lake or in the woods, you're sure to find your floor covered with sand, dirt, leaves, and (of course) crumbs. Our cordless stick vacuum is an absolute lifesaver. It's small enough to fit into a side compartment and useful enough to make it worth the space it takes up! With one easy tool, I can sweep the linoleum floors, the rugs, and the carpet, and get the edges of the room with the wand. The floor goes from gritty and disgusting to clean in just a few minutes.
Stainless steel cups: Lightweight, unbreakable, and stackable, these cups solved our drinking cup problem and are a great addition to any camp kitchen. I wanted something reusable and plastic-free that would hold up to indoor-outdoor camping life and also stack to save cupboard space. These cups have been perfect! Even better, you can write names on them with a permanent marker so the kids can use the same cup all day long, reducing dishwashing and water usage.
First aid kit: The more time you spend outside with your kids, the more likely we all are to encounter some sticky situations. Cuts, scrapes, burns, and bruises can happen. Even when we're being careful. A first aid kit is an essential item for your RV, as well as anytime you're out adventuring with kids. 
Duct tape: You won't believe how many uses you'll find for duct tape. From patching holes to hanging items, repairing rips and sealing seams, duct tape is a super versatile tool that every RV owner should have on hand.  
Magnetic knife strip: This is a great way to keep your sharp knives off the counter, out of the way of small fingers, and still easily accessible! Ours has been invaluable for handy knife storage. The only thing is that you might want to tuck the knives into a drawer on travel days.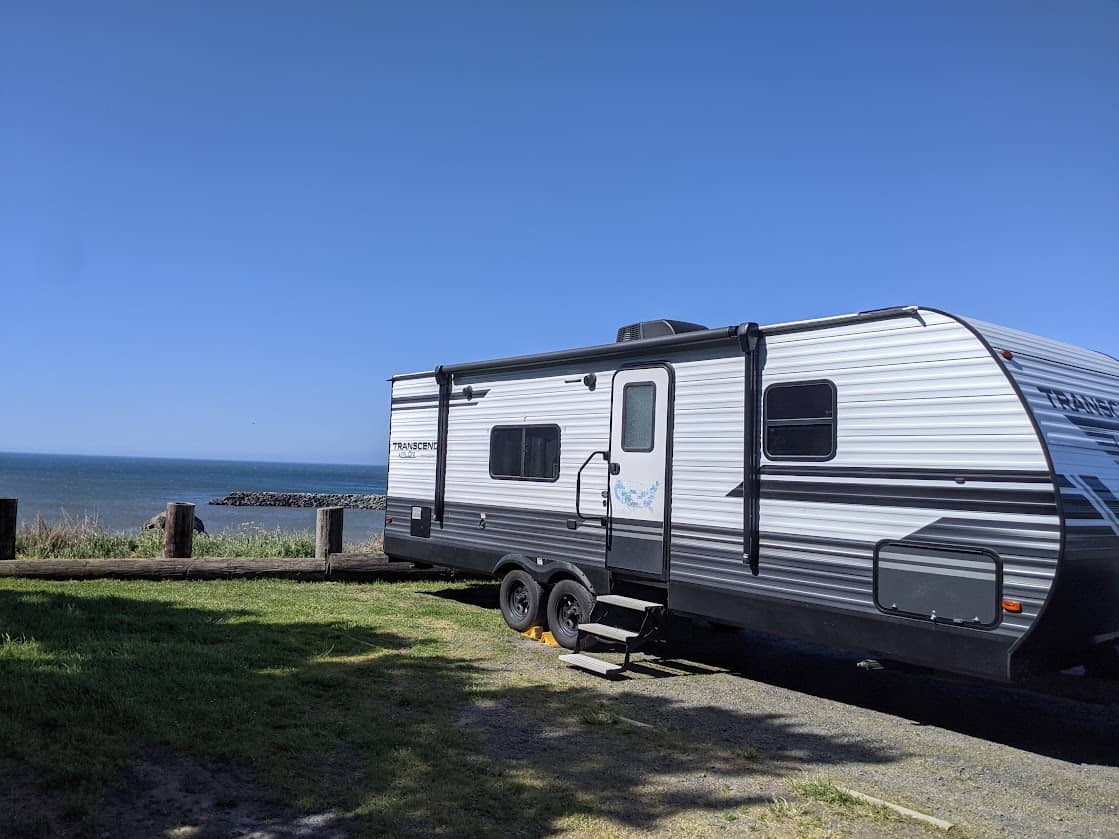 Photo by Katie Fox @hiking.motherhood
RV camping with kids
RV camping and RV travel with kids can sound overwhelming when you're first getting started, but it's worth it. I hope this post has made the process a bit more manageable so you know what you're getting into. Whether you're hitting the road full-time in your RV or just heading out for a long weekend in your pop-up, I know you'll have a great time making lifelong memories with your children. The learning curve isn't nearly as steep as you might think – just remember that the most important thing in RV life is to have fun!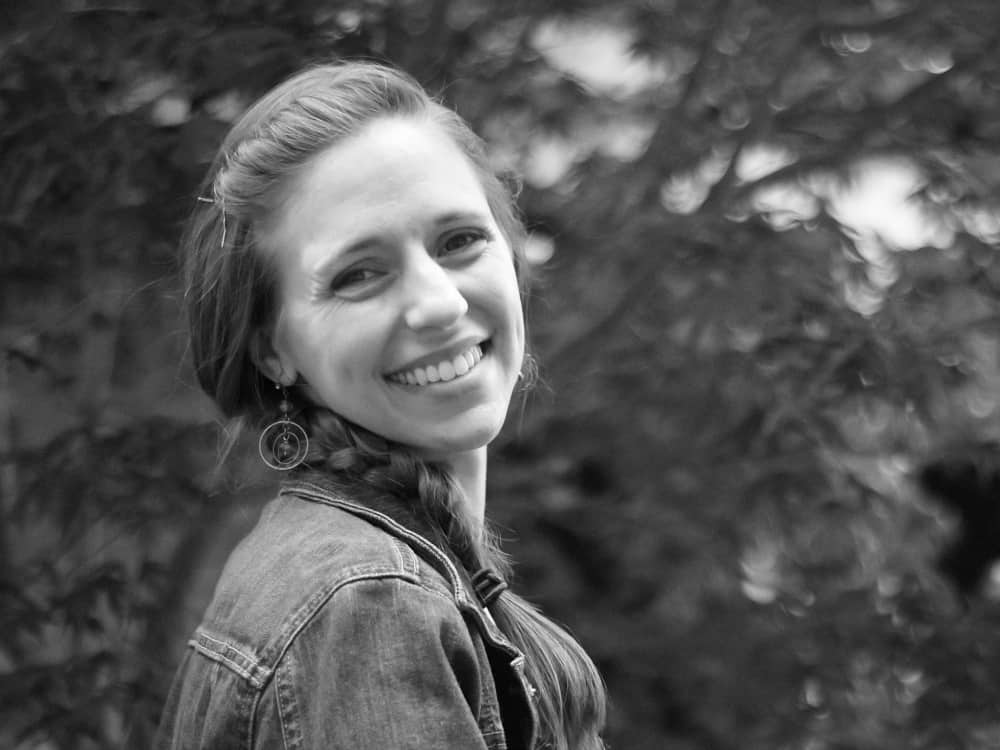 About the author
Leslie is an Ohio farm girl and chaser of light, children, and sometimes chickens. She's a lover of Jesus, wife to her high school sweetheart, and a homeschooling mom of four wild rascals who love the great outdoors as much as she does. As a family, they love hiking, camping, fishing, and just about any outdoor activity. She and her husband are just beginning the process of building a homestead from the ground up, doing most of the work themselves. Leslie has a lifelong obsession with writing and capturing everyday life from behind the lens. Follow along with their homesteading, homeschooling, and everyday adventures on her Instagram account.
You can find more from Leslie in the following locations:
Instagram: @c_l_allofus
Leslie's RWMC posts: Leslie Alvis
The post RV Camping with Kids: Tips for Success from Full-Time RV Moms appeared first on RUN WILD MY CHILD.