The 15 Best Jim Carrey Movies, Ranked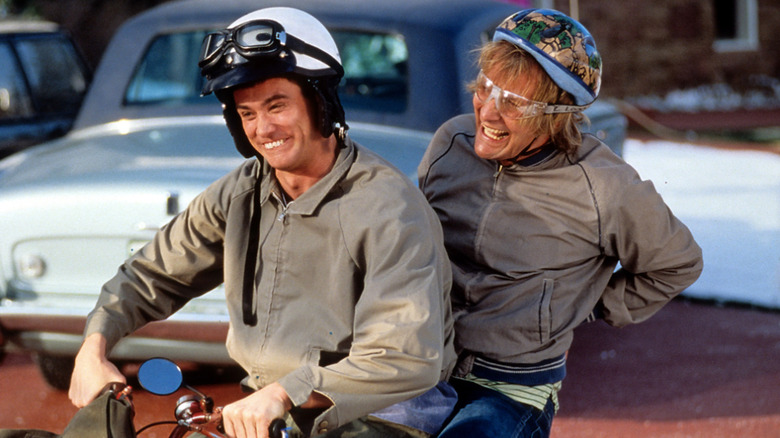 For kids who grew up in the '90s, there was no bigger star in the world than Jim Carrey. Bursting onto our radar as the larger-than-life pet detective Ace Ventura in 1994, Carrey launched full pelt into a string of movies that not only pushed his early career into overdrive but forever cemented his status as a bona fide comedy megastar.
Just a few years after he first landed on the big screen, Carrey was already making headlines for becoming the highest-paid movie star in the world, earning a whopping $20 million salary for his role in Ben Stiller's troubled black comedy "The Cable Guy." Over the next three decades, the Ontario-born comic has churned out a range of hilarious — and often unexpected — hits that his die-had fanbase has devoured with glee. He's covered a lot of ground too. Throughout his lengthy IMDB resume, Carrey's played everything from a blissfully ignorant simpleton in "Dumb and Dumber" and a smirking Gotham villain in "Batman Forever" to unconventional comedy hero Andy Kaufman in the award-winning "Man on the Moon."
When attempting to rank the man's work, there are plenty of features worthy of the top spot. However, if we were forced to implement some kind of order into the gurning anarchy and unexpected heart of Carrey's oeuvre, this would be it. Ready to explore our list of the 15 best Jim Carrey movies of all time? Alrighty then — let's jump in!
Earth Girls Are Easy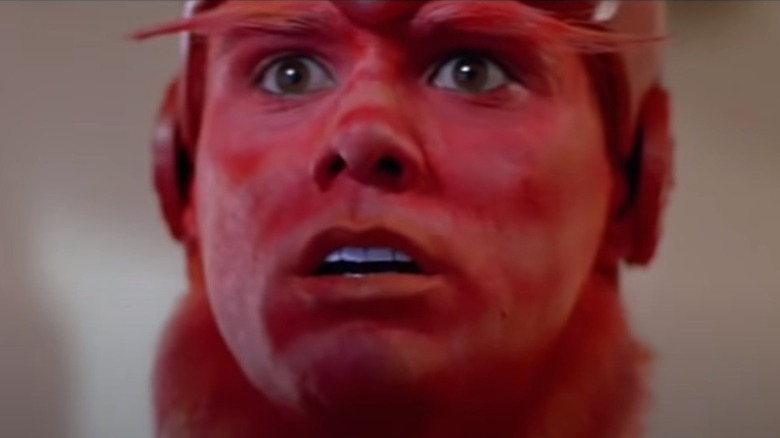 Released in 1988, Julien Temple's spaced-out sci-fi fantasy "Earth Girls Are Easy" caught Jim Carrey at an interesting moment just before his career broke through the stratosphere. Its placement as one of his rare pre-breakout movie roles (alongside a cameo in 1988's Dirty Harry outing "The Dead Pool"), together with its contributions from Jeff Goldblum and Damon Wayans, is perhaps what saved this schlocky flick from a lifetime of bargain-bin obscurity. However, while sex-obsessed and rough around the edges, it still emerges as one of the more colorfully weird entries in Carrey's early work.
Loosely inspired by the Julie Brown song of the same name, it sees Carrey star as a furry red alien named Wiploc. Together with his space pals the yellow Zeebo (Wayans) and blue Mac (Goldblum), he heads to Earth in search of some much-wanted female attention after a bit of an intergalactic drought. Crash landing in the pool of LA lady Valerie (Geena Davis), the out-of-this-world trio revel in the obscurities of Earth culture before their leader, Mac, strikes up an unlikely romance with their unlucky-in-love host.
Part musical and part raunchy comedy, "Earth Girls Are Easy" is by no means a great movie. However, its cast is surprisingly starry, and by pairing Carrey with his "In Living Color" co-star Wayans, it churns out some funny moments alongside glimpses of Carrey's true potential and the stuff that would make him a household name in just a few years' time.
Lemony Snickett's A Series Of Unfortunate Events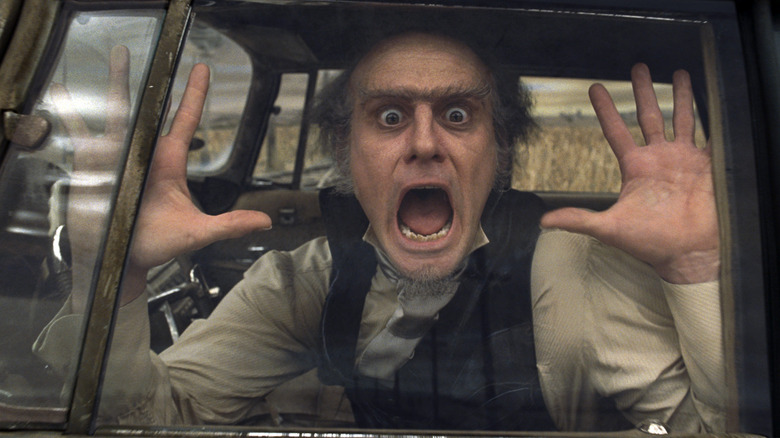 By the early noughties, Jim Carrey carved out a comfortable niche of doing one movie for fans and another for himself every few years. There was "Liar Liar" followed by "The Truman Show" and "Bruce Almighty" followed by "Eternal Sunshine of the Spotless Mind," and as the decade reached its halfway point, he seemed ready to take on another larger-than-life character. The result was 2004's "A Series of Unfortunate Events," a grand and gleefully dark fantasy that adapted the first three novels of Daniel Handler's popular kids' book series.
Carrey stars as the heavily made-up Count Olaf, a part-time actor and full-time evil guy who reluctantly adopts three recently orphaned children whom he claims are distantly related to him. Pretty soon, his true motives become clear, as we learn that the Baudelaire children hold the key to a hidden family fortune that Olaf's determined to get his mitts on. Cue cruel plots, plenty of child neglect, and as the series' title suggests, lots of unfortunate events.
In addition to an impressive ensemble cast that includes Meryl Streep, Dustin Hoffman, and Billy Connolly, "A Series of Unfortunate Events" sets itself apart with its dedication to darkness. Is Count Olaf above straight-up murdering these kids? Probably not. What's more, Carrey looks like he's having a ball combining a big performance with manic depravity.
Batman Forever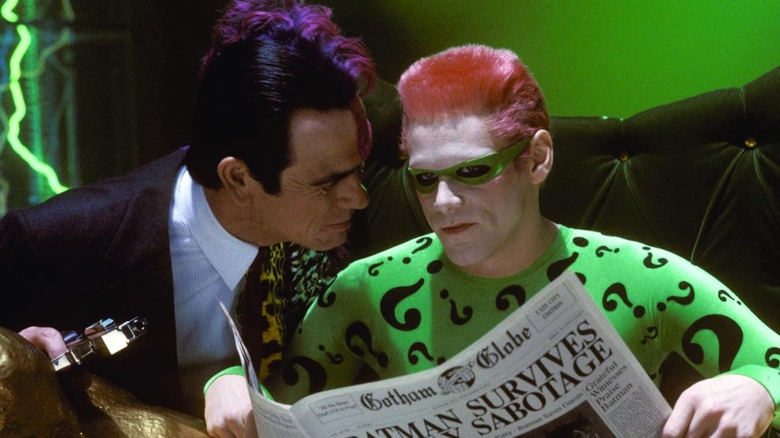 1994 was quite a year for Jim Carrey. This 12-month period saw him release "Ace Ventura: Pet Detective," "The Mask" and "Dumb and Dumber" back-to-back, instantly transforming himself from one to watch to a comedy megastar overnight. By the mid-'90s, he was at the top of his game and could have probably chosen any project he wanted. However, it was a garish Joel Schumacher-helmed "Batman" sequel that ultimately piqued his interest.
With Tim Burton bowing out, "Batman Forever" went full merchandise mode for a colorful and campy threequel that saw Val Kilmer don the cowl. Meanwhile, Carrey lapped it up as a villain, spinning his question mark-topped cane and maniacally laughing his way through the movie as Edward Nygma, the troubled loner who becomes the Riddler. Dressed in green spandex and with bright orange hair, he joins Tommy Lee Jones' equally vibrant Two-Face as they take on Batman and his recruit, Robin (Chris O'Donnell).
Carrey snatched the Riddler role after Robin Williams ultimately declined the role, but not everyone was pleased. According to Carrey, while the world was under his comedic spell, his co-star Jones very much was not. "I was the star. That was the problem," he told Norm MacDonald in 2017 before recalling a tense encounter in a restaurant. "I went over and the blood just drained from his face ... he said, 'I really hate you' ... I pulled up a chair ... and he said, 'I cannot sanction your buffoonery.'"
Man On The Moon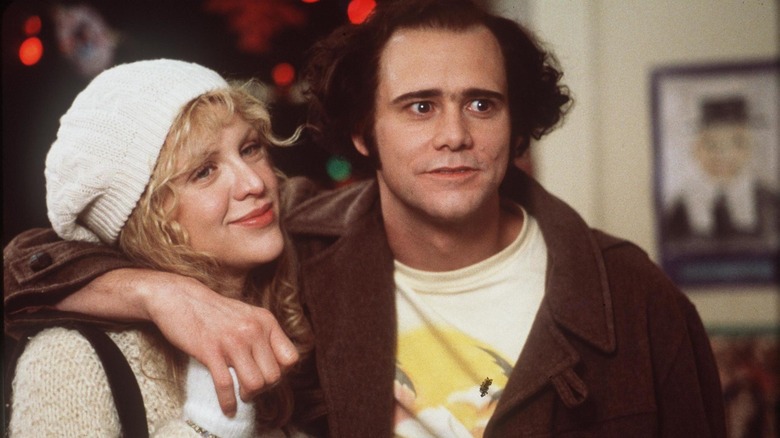 Lines blur in Jim Carrey's dramatic portrayal of the wild and iconic comic Andy Kaufman — the full extent to which will become clear later in this list. In the meantime, "Man on the Moon" marked another of the star's attempts at blending his comedy chops with something a little heavier, proving that he can make you feel things as well as make you snort your over-priced cinema soda through your nose.
With "One Flew Over the Cuckoo's Nest" director Miloš Forman at the helm, Carrey submerged himself in the bizarre mind of Kaufman, a comedian who specialized in pushing the boundaries between comedic fact and comedic fiction. Playing a dual role as both Kaufman and his sleazy Vegas lounge comic pal Tony Clifton, Forman and Carrey attempt to chronicle the rise of Kaufman's chaotic career while giving us a brief glimpse at the real person hiding beneath the showmanship.
"Man on the Moon" isn't perfect. While mixing fact and fiction even further by featuring Kaufman's real-life "Taxi" colleagues Christopher Lloyd and Danny DeVito (the latter in a new role as Andy's manager, George Shapiro) and notable figures from his career like David Letterman and wrestler Jerry Lawler, the film manages to inject itself into the past like few other biopics. However, despite earning Carrey a best performance Golden Globe in 2000, it sadly wasn't enough to bag him the recognition of the Academy.
Me, Myself & Irene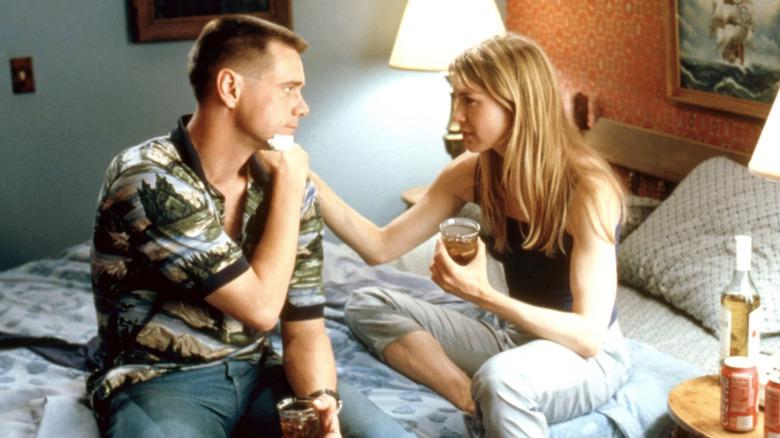 Martin Scorcese and Robert DeNiro, Tim Burton and Johnny Depp, Wes Anderson and Bill Murray. As far as notable director-actor collaborations go, mixing Jim Carrey with Peter and Bobby Farrelly is one for the ages. As the sibling duo that spliced "Airplane!" levels of irresistible stupidity with enough gross-out humor to warrant the invention of their very own sticky sub-genre of cinema, the Farrelly's are perhaps the only filmmakers to use Carrey to his full potential. 
After snapping Carrey up and using him in arguably his funniest movie to date, 1994's "Dumb and Dumber," the Farrelly's got a second bite at the apple in 2000 with "Me, Myself & Irene." He stars as Charlie, a Rhode Island State Trooper and thankless doormat, who slowly develops an unruly second personality following years of being walked all over. His second personality ("Hank") makes itself known when he's forced to chaperone Irene (Renée Zellweger) across the country to avoid her dangerous ex. Charlie struggles to keep both sides of his personality under control.
As the culture changes and movie tastes and trends evolve, it seems trickier to make good use of Carrey's whirlwind and shape-shifting comedic chops. With that in mind, "Me, Myself & Irene" stands out as being one of Carrey's last big, goofy comedies.
The Cable Guy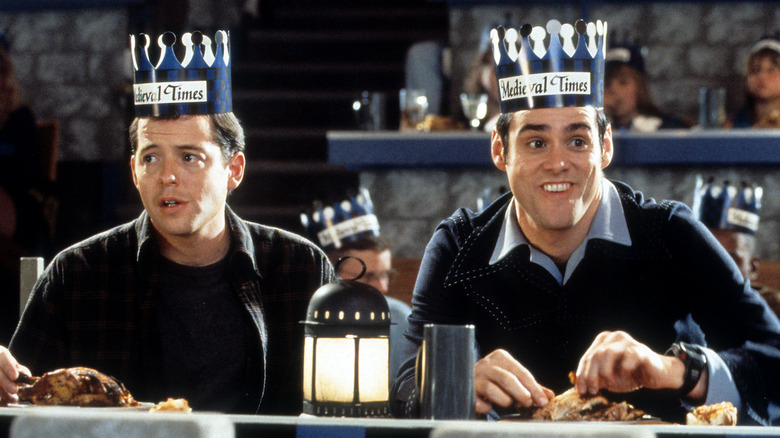 Ben Stiller's black comedy, "The Cable Guy," may forever be known as the movie that brought Jim Carrey careening back to Earth after his success-fueled rocket ride in the late '90s suddenly sputtered to a stop. Considering the weird way in which off-screen movie narratives are written, this could all too easily be considered the final word on Carrey's first proper attempt at showing us that he has more to offer than a malleable face. However, look back and you'll see there's more to "The Cable Guy" than salary talk and click-bait headlines.
That's not to say those aren't part of the equation. One of the main controversies with the movie, which stars Carrey as a lonely cable guy who befriends a client (Matthew Broderick), was that it marked Carrey's biggest payday to date. Not only that, but his fee for appearing in the movie made him the highest-paid movie star at the time, filling his wallet with a nifty $20 million. As such, all eyes were on "The Cable Guy," and when it was released, not everyone was pleased. Roger Ebert even stuck it on his list of 1996's worst movies.
Nevertheless, there's still lots to like. As oddball Ernie "Chip" Douglass, Carrey proved he could be evil just as easily as he could be funny, all while managing to inject some empathy and unexpected heart into the equation. 
Ace Ventura: When Nature Calls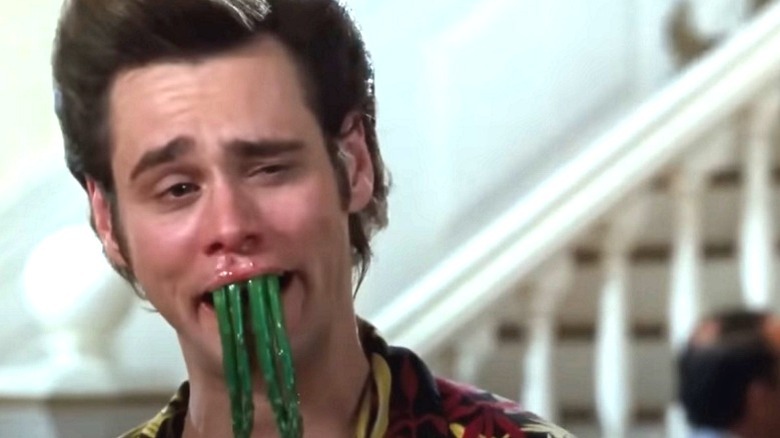 Jim Carrey's career is filled with diverse roles, but one thing it's lacking is sequels. Over the years, Carrey hasn't shied away from making his distaste for unnecessary follow-ups known and only recently embraced the idea with the success of "Sonic The Hedgehog" in which he plays Dr. Robotnik. "Most of the time when you make something that really hits with people, the sequels have a diminishing return," he told ComicBook.com. "If you do it long enough after the fact, you're kind of imitating yourself now; you're not using your original inspiration."
Thankfully, this ethos arrived after 1995's "Ace Ventura: When Nature Calls," the follow-up to Carrey's 1994 breakout that saw the pet detective travel to Africa to help a tribe find a rare white bat. More than 25 years later, Carrey's second outing as Ace could be considered one of the cornerstone movies that helped cement his status as a comedy icon. This was illustrated perfectly in Maya Erskine and Anna Konkle's brilliant '90s-set coming-of-age comedy, "Pen15," via their frequent Carrey quoting, showing just how universal the language of Ace (and Carrey in general) is to anyone who grew up with him.
Despite spawning a direct-to-TV prequel (the less we say about "Ace Ventura: Pet Detective Jr," the better), we're yet to see the return of Ace, but in an era of legacy sequels and remakes, who knows what the future holds?
Liar Liar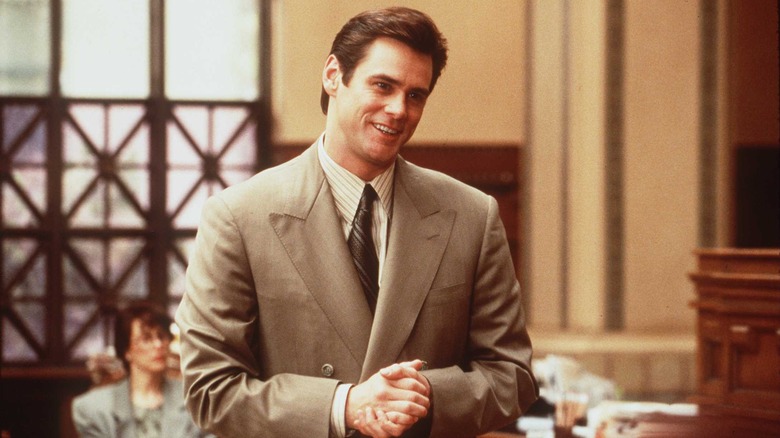 Released in 1997, "Liar Liar" reunited Jim Carrey with "Ace Ventura: Pet Detective" director Tom Shadyac. Sandwiched between his 1994's breakout and 2003's "Bruce Almighty," it forms the middle part of their collaborative trilogy. It also delivered one of Carrey's most grounded yet laugh-out-loud performances to date, as he's given free rein to run his mouth in a fantastical comedy that contains some of his most quotable lines. Considering Carrey's track record for spewing funny dialogue, that's saying a lot.
He plays Fletcher Reede, a successful lawyer who spends his days bending the truth in and out of the courtroom. When his penchant for falsehoods ends up disappointing his ex-wife, Miranda (Maura Tierney), and young son, Max (Justin Cooper), the latter's birthday wish sends Fletcher's life into disarray when it magically comes true. Fletcher is unable to lie for a full 24 hours. With his ability to fib out the window, he learns what's important in life — but not before his ruthless honesty causes a few bruised egos.
"The pen is blue!" "That's just something ugly people say," and "I've had better" are just some of the choice quotes from this comedy classic, which also gave us a hidden cameo from Carrey's "In Living Color" creation, Fire Marshall Bill. However, according to Carrey, the funny came at a cost. "It was this constant suppression of angst, completely freaking out all the time," he told the Lakeland Ledger. "I would go home with total exhaustion."
The Grinch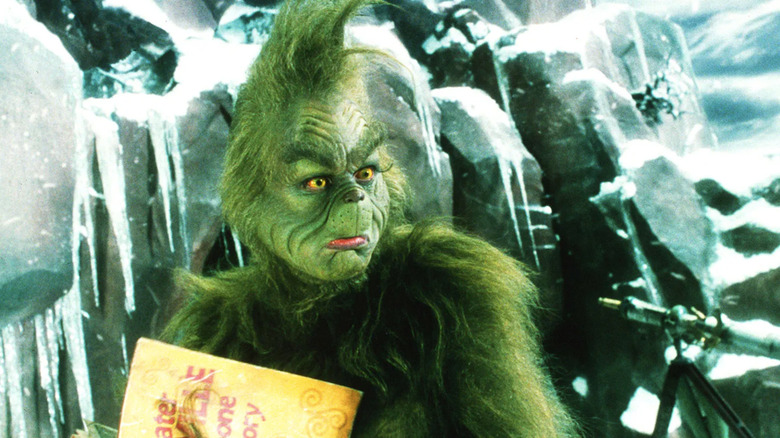 It's one thing to have a string of hit movies but it's another thing entirely to make a film that becomes a stone-cold festive classic. For Jim Carrey, this was Ron Howard's colorfully playful adaptation of Dr. Seuss' beloved Christmas tale, "How the Grinch Stole Christmas." The film relied on then state-of-the-art make-up from movie maestro Rick Baker, who used himself as a test subject to prove that his transformative techniques were enough to turn Carrey into a furry green grump.
Baker's hard work paid off, but for Carrey, this was the start of an ordeal that would drive him to his physical limits of comfort. Encased in an ever-changing suit made of green fur with fake snow constantly irritating the orange contact lenses he was forced to wear, Carrey reportedly received training from the CIA to help him endure the process and later called it a "lesson in zen."
However, at times it all proved too much. Speaking to Vulture in 2018, Kazuhiro Tsuji, the make-up wizard hired to Grinch-ify the star, recalled a tense moment when Carrey had enough and stormed off the set. After a brief break in production — long enough for Carrey to realize how crucial Tsuji's skills were to the process — Carrey returned, and together, they were able to create the Christmas classic we all enjoy so much today.
Jim & Andy: The Great Beyond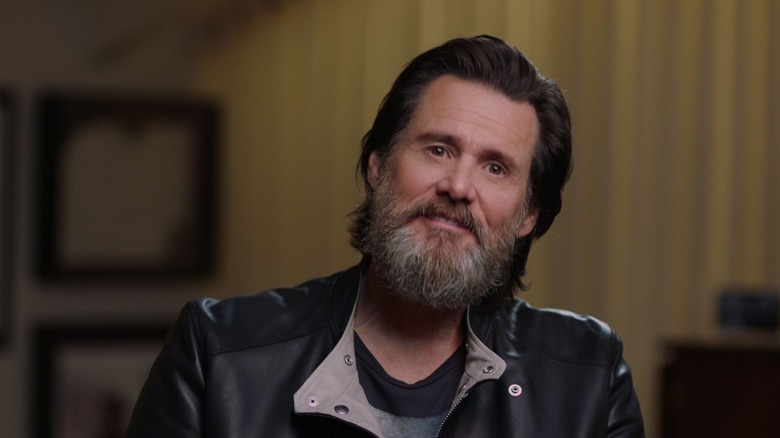 We've already mentioned "Man on the Moon," and while it's undeniably a key entry in Carrey's catalog, the compelling story behind this project wasn't revealed until nearly 20 years after it was released. Hitting Netflix in 2018, director Chris Smith's documentary, "Jim & Andy: The Great Beyond," chronicles the meta-madness that ensued during the production of "Man on the Moon," as Carrey's dedication to Method Acting his way through his portrayal of Andy Kaufman constantly threatened to derail Miloš Forman's film.
If you thought lines were blurred in the actual movie, wait until you see this documentary. Flipping between interviews with present-day Carrey and archive footage shot largely by Kaufman's former girlfriend Lynne Margulies during Forman's 1999 production, the film sees Carrey fully disappear only to reemerge, possessed by the anarchic spirit of Kaufman, who sticks around for the duration of the shoot. Tempers flair and relationships are tested, with one scene, in particular, showing Forman asking Kaufman's boozy alter-ego, Tony Clifton (a costumed Carrey), if he'll ask Kaufman (also Carrey) to call him so they can talk, perfectly embodying the frustratingly surreal situation unfurling behind the scenes.
According to Carrey, Universal Studios sat on this footage for years "so that people wouldn't think [he] was an a**hole." They may have been right to do so, but boy does it make for entertaining viewing!
The Mask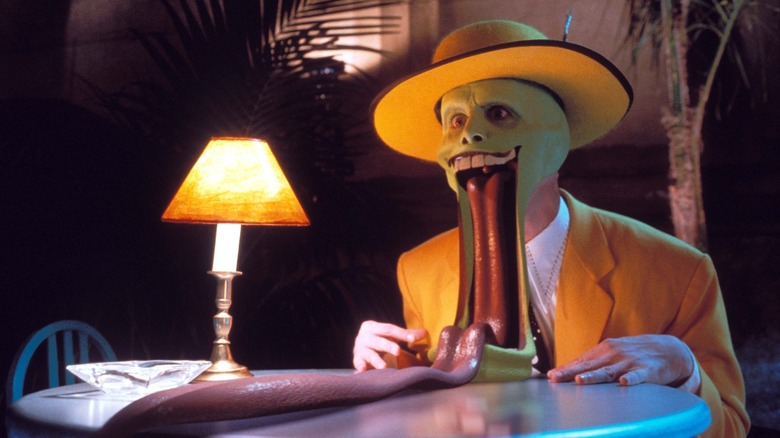 Superhero movies are a dime a dozen these days, but you won't see anything quite like "The Mask" again anytime soon. Based on the Dark Horse comics of the same name, director Chuck Russell's big-screen adaptation ditches the violent elements of Doug Mahnke and John Arcudi's story while retaining its dark humor and wide-eyed mania. Carrey stars as Stanley Ipkiss, a meek bank clerk whose life — and face — are transformed when he discovers an ancient mask with the power to transform him into the Norse god of mischief.
Cutting a sharp figure in his yellow zoot suit, hat, big green face, and grinning teeth, Ipkiss is a human cartoon that had '90s kids exclaiming "Smokin'!" and "Somebody stop me!" much to their parents' annoyance. Like much of Carrey's early work, "The Mask" is full of iconic scenes and lines that, let's be honest, many of us probably still use today.
None of its sequences are as wild, weird, and enjoyable as the "Cuban Pete" dance, which Carrey filmed while suffering from the flu. With all the grace and improbable magic of a Looney Tunes character, he dishes up something rarely seen in modern cinema: a character defying everyday logic to salsa dance their way out of a precarious situation, using nothing but their wits and some maracas. Why are you still reading this? It's worthy of a rewatch.
Ace Ventura: Pet Detective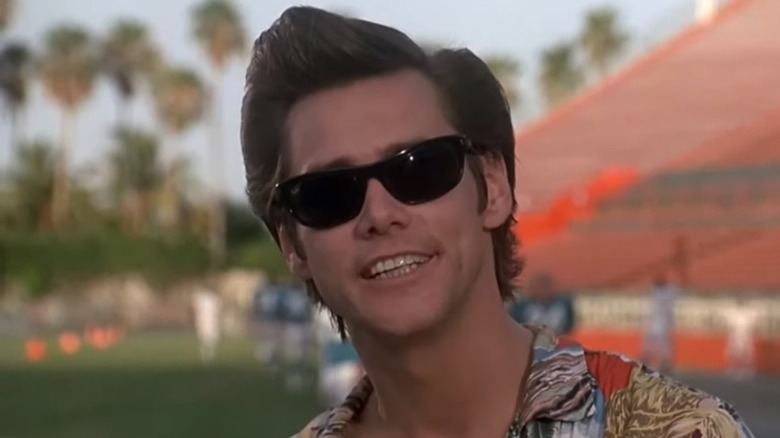 As the movie that started Jim Carrey's career in earnest, "Ace Ventura: Pet Detective" was bound to end up near the top of our list. Looking back, the film allowed Carrey to perfectly showcase all the elements that made him a star, including his knack for impressions, elasticated facial expressions, sharp line delivery, and physical comedy (Ace's stroll was inspired by the way birds walk).
Carrey stars as the film's titular pet detective, who's hired by the Miami Dolphins football team to track down their dolphin mascot, Snowflake, after it suddenly goes missing. As the film progresses, we see Carrey put all of his many funny abilities front and center, while director Tom Shadyac delivers a decent whodunit that keeps you guessing right until the film's final moments.
Bear in mind, some parts of the film have not aged well. As it turns out, the man Ace believes kidnapped Snowflake is a woman — much to the apparent disgust of everyone involved. Watching characters spewing at the film's transgender reveal is uncomfortable viewing and has even been labeled as such by authors like Alexandra Gonzenbach Perkins, who suggests the movie depicted "transgender characters as murderous villains" in her book "Representing Queer and Transgender Identity."
Eternal Sunshine Of The Spotless Mind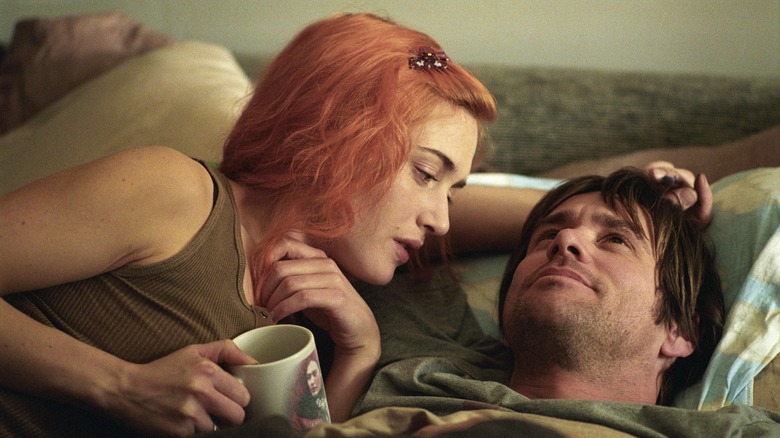 As Jim Carrey's career progressed and his success intensified, a search for something deeper and more meaningful appeared to rise to the forefront of both his personal and professional life and seemingly influencing the projects he decided to take on. Despite having already tried his hand at dramatic roles, 2004's "Eternal Sunshine of the Spotless Mind" marks a shift towards something more ethereal, risky, and arty. And who better to steer him through these experimental waters than Michel Gondry and Charlie Kaufman?
While the former is known for his handmade filmmaking style (Carrey later reteamed with Gondry for 2018's TV series "Kidding"), the latter is infamously synonymous with mind-twistingly odd storylines. Both feature heavily in this bittersweet and unconventional love story about a freshly split couple that decides to have their memories of each other permanently erased before realizing their mistake halfway through the process.
The final product is unlike anything else in Carrey's work — or anyone else's for that matter. As Joel (Carrey) and Clementine (Kate Winslet) try desperately to evade the erasing techniques of memory-wiping firm Lucuna, the spark that drew them together is unexpectedly rekindled, making for therapeutic, life-affirming, and unexpectedly poignant viewing. Combine it with Jon Brion's brilliant score and "Eternal Sunshine of the Spotless Mind" easily earns its place near the top of our list.
Dumb And Dumber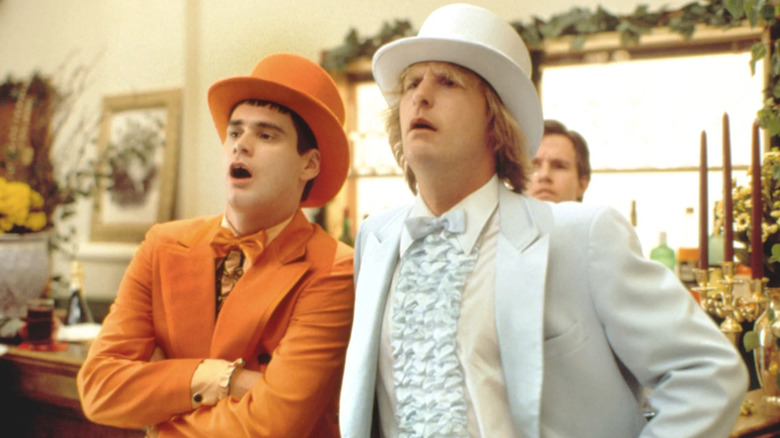 "We got no food. We got no jobs. Our pets' heads are falling off!" It's this kind of inane stupidity that fuels the brilliantly watchable "Dumb and Dumber," a ridiculous road movie that gave us the unexpectedly-irresistible combo of Jim Carrey and the typically sensible Jeff Daniels. For his third movie of 1994, Carrey amped up the stupid in a joke-a-minute script from the Farrelly brothers. He even got in on the action physically for some extra funny by removing his fake front tooth to reveal the real chipped one underneath.
When rubbish limo driver Lloyd (Carrey) sees his client leave a suitcase at the airport, he convinces his dog groomer pal, Harry (Daniels), to drive from Rhode Island to Aspen to return it. Little do either of them know, it contains ransom money, and their kind deed has set two hit men on their tail. Thankfully, both remain happily oblivious as they set about reuniting the case with its owner while getting into a series of situations that are each more moronic than the last.
While a long-awaited if slightly underwhelming sequel arrived in 2014 (maybe Carrey was right to dodge sequels), there's no beating the original, which remains one of the most consistently funny and well-written comedies of his career. Twenty-eight years on, it's still comfort-food viewing — a movie you can return to time and again.
The Truman Show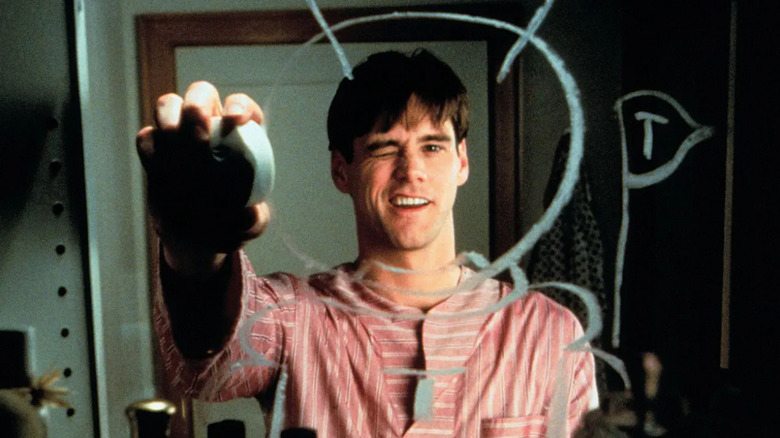 There's one Jim Carrey movie that we'll still be talking about in 20 years. How do we know? Well, mainly because it's already been 24 years since "The Truman Show" premiered, and we're still talking about it. Such is the prophetic nature of director Peter Weir's heartbreaking drama. It's arguably Carrey's best to date, particularly when it comes to harnessing all the varied elements that make him such a magnetic star.
Carrey plays Truman Burbank, a typical suburban man whose idyllic life, perfect wife, and white picket fence all seem too good to be true — mainly because they are. Unbeknownst to Truman, his life from conception to the present day is a hidden-camera TV show enjoyed by viewers around the world. For years, this has been the norm, but one day, the repetition and odd coincidences spark Truman's suspicion, sending him on a life-changing voyage of self-discovery and the truth.
Few of Carrey's films utilize both his humor and the depth of emotion ever-present in his eyes. It's something that's showcased beautifully as the truth begins to sink in, and Truman realizes that his entire life has been a lie. Your favorite TV show ending usually isn't a happy occasion, yet watching Truman bid us adieu as he leaves "The Truman Show" for the real world is joyous and emotional — just like the movie itself.
Read this next: The 14 Best Bill Murray Movies Ranked
The post The 15 Best Jim Carrey Movies, Ranked appeared first on /Film.