The Best Nerf Guns of 2020
— Recommendations are independently chosen by Reviewed's editors. Purchases you make through our links may earn us a commission.
If you'd asked me when I was pregnant with my son if I ever thought that he would end up having a closet full of Nerf guns, I would have laughed right in your face. I envisioned his childhood being full of wooden blocks, organic kale chips, and mommy-and-me meditations visualizing world peace. As with most things about parenting, nothing has gone as planned, and I do, in fact, have a son whose favorite toys are plastic weapons. Naturally this makes me—and my son—well-suited to finding the Nerf gun that's best for players of all ages and sizes. If you're looking for a toy that's going to get them off of their tablets and outside, a Nerf gun is a smart investment.
I (with the help of my adult colleagues and my kids) spent the better part of three weeks researching and testing the most popular Nerf guns to find the best one. Of all the ones we tested, the Nerf Zombie Strike Hammershot (available at Amazon for $15.19) is easiest to use—and the most fun—for kids and adults alike. The Zombie Strike Hammershot provided the best aim and easiest loading among all the Nerf guns we tested. Of course, when it comes to these fun toys, it's practically impossible to just choose one, especially when other models offer different features like rotating barrels, round darts, or three guns in one.
Here are the best Nerf Guns we tested, ranked in order:
Nerf Zombie Strike Hammershot
Nerf Surgefire
Nerf Modulus Tri-Strike
Nerf N-Strike Elite Strongarm
Nerf Rival Artemis XVII-3000
Nerf Fortnite RL
Nerf Zombie Strike FlipFury
Nerf Zombie Strike Survival Nailbiter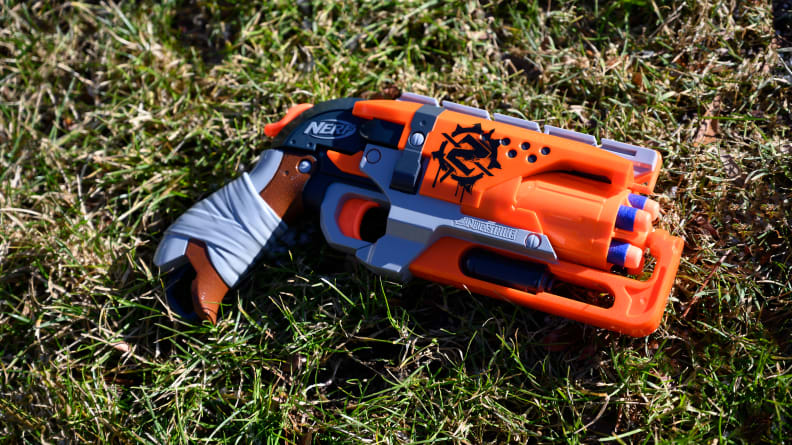 How We Tested
The Tester
Hi, I'm Anna Lane. I was a comedian and freelance writer for many years before joining the staff at Reviewed as the Parenting editor. I live in Los Angeles with my husband and our two children: a son who is seven-and-a-half, and a daughter who is six. Yes, they are 18 months apart, and no, it was not planned that way. My reviews are informed by my life as a working mom who wishes she had the ability to be in two places at once. I enjoy helping other overwhelmed, exhausted parents find the answers to such burning parenting questions as: What stroller should I buy? Which matching family pajamas are softest? Why does my child always tell me about the class bake sale the night before? I fear that I will never find the answer to that last query, but I do suggest that you stock up on my favorite organic cake mix.
The Tests
Most of the time my kids complain about the fact that I work—except when I take them to Disneyland—but when I told my son, Noah, that I'd been given the assignment of testing Nerf guns, he literally jumped for joy. I knew that I would need his expertise when it came to selecting which Nerf guns to test, not only because he owns 15 of them, but also because he keeps up with all of the latest innovations in Nerf gun technology.
It's not just kids who like to play with Nerf guns, there are lots of adults who take their Nerf battles very seriously, so I felt that it would be important—and fun—to get my grown-up colleagues to try out the guns as well. Noah and I put together a selection of both his favorite Nerf guns and the ones that were the most popular online, and had one of each type shipped to the Reviewed office in Boston, and my house in Los Angeles.
We asked our testers to provide feedback on each of the Nerf guns, rating them for aim and accuracy, how easy they were to load, durability, safety concerns, the "fun factor," and their overall experience. Our editorial staff tested the Nerf guns in Boston, and my kids tested (and rated) the same guns here in Los Angeles. Once all of our testers weighed in, our chief scientist used the data to calculate which toy weapon took the top spot.
What You Should Know About Nerf Guns
You Need Safety Glasses
Nerf darts may be made out of foam, but some Nerf guns pack a whole lot of force, so if you get hit in the eye you'll absolutely be headed to the emergency room. Don't let a fun time get ruined by a Nerf-related injury: Keep a pack of safety glasses on hand.
Keep It Simple
If you're purchasing a Nerf gun for a child, simpler is better. There are lots of Nerf guns on the market with fancy scopes or fire mechanisms, but the more bells and whistles the gun has, the heavier and more complicated it's likely to be. Opt for a basic model that's easy for little fingers to load and shoot, otherwise you'll be stuck helping prime blasters and load darts.
Buy Extra Darts
While it may initially seem that all Nerf guns use the same type of foam darts, that's not the case. Some Nerf blasters use elite darts, while others use a wider type, and others a completely different shape altogether. Using the recommended shape and size of dart results in the best accuracy, force, and shot distance. Research which darts are best suited for your particular Nerf gun, and purchase extras; it will help avoid any tantrums about there not being enough darts for an epic Nerf battle.
---
Other Nerf Guns We Tested
More Articles You Might Enjoy