The Daily Stream: A.P. Bio Is A Lesson In Letting People In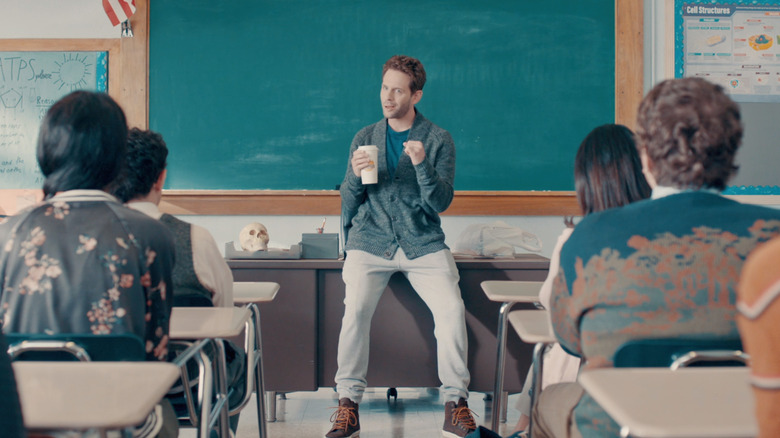 The series: "A.P. Bio"
Where you can stream it: Peacock
The pitch: Harvard philosophy professor Jack Griffin (Glenn Howerton) loses his job and is forced to move back into his mother's now-empty house in his hometown of Toledo, Ohio. Worse still, he has to take a job teaching advanced placement biology at the local high school, a job he finds belittling. Jack is a total curmudgeon who hates pretty much everything, but thanks to his classroom of kids, his fellow teachers, and the friendship of Principal Durbin (Patton Oswalt), he learns to be a little softer, kinder, and happier. 
Created by Mike O'Brien, the series had a tumultuous run that started at NBC but was canceled after two seasons. The series was revived at NBC's streaming service, Peacock, where it ran for two more truncated seasons before being canceled once more after season 4. It's a shame, too, because the first two seasons were a blast and the show had just found its footing on Peacock at the end of the third season. "A.P. Bio" is a delightfully weird little workplace comedy set in a high school, with a sense of humor that's one part "Community" and one part "Vice Principals." It's a little mean but has a surprisingly warm and squishy core, and the entire cast is operating on another level. Oh, and the characters actually feel like they're from the Midwest and not just the midwestern part of southern California, which is a plus! 
Why It's Essential Viewing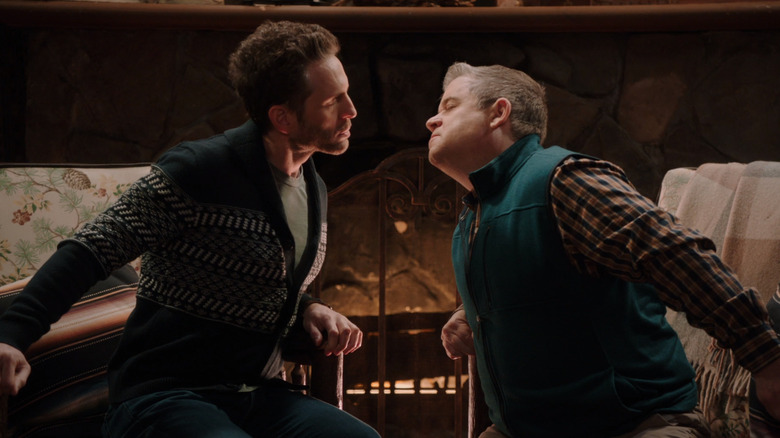 Whitlock High School is a strange place full of incredibly earnest people who make Jack's cynicism seem all the more heinous. While it's easy to dismiss Jack Griffin as another version of Dennis Reynolds, Howerton's character from "It's Always Sunny in Philadelphia," Jack is a totally different beast. He's capable of growth and change, which Dennis and the rest of the gang are absolutely incapable of. Jack is a miserable cynic with mommy issues who thinks he's smarter and better than everyone around him, but he's not a monster. The series couldn't work if Howerton's performance was just the critical side of Jack, and watching him grow softer and more introspective with time and experience is genuinely satisfying. 
"A.P. Bio" is a series about how the people around us shape us, sometimes in the most unexpected ways, and Jack manages to be shaped by everyone from the kids in his class to Principal Durbin. That doesn't mean that the show isn't also wildly funny, however, as it leans into its wilder ideas with the same abandon as something like "Community." It's clear that the series writers love throwing different characters together just to see what happens, including in some fantasy scenarios like dreams and student fanfiction that are truly delightful. (Seriously, the fanfiction episode is magical and took me back to my own high school years in a flash.) Everyone is fully game to get as weird as the story needs, and the incredible ensemble cast really brings it. 
The Whole Class Is Hilarious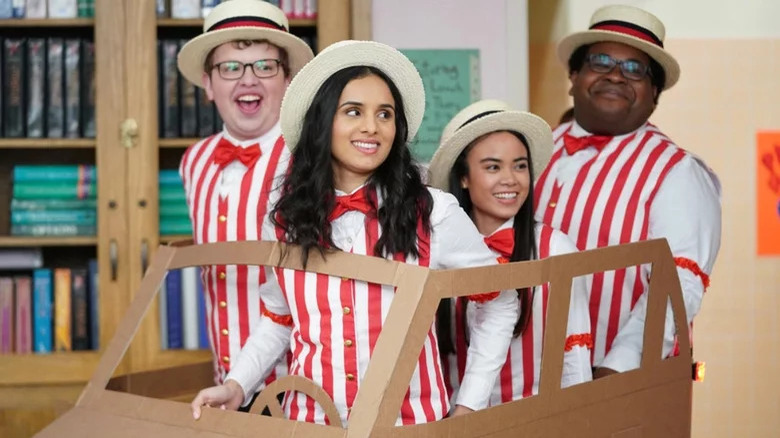 Jack starts every class by failing to throw an apple in the trash can as he enters the room, then tells the class his plan for them. Usually, the plan is some ridiculous, Machiavellian revenge scheme that ends up backfiring spectacularly, but the kids make the ride so much better. The class includes overachiever and frequent scheme-stopper Sarika (Aparna Brielle), student council president Marcus (Nick Peine), the fabulously fierce and funny Anthony (Eddie Leavy), and Jack's biggest fan, the mousy-but-violent Heather (Allisyn Snyder).
All of the actors playing the high schoolers are great, but Leavy deserves a special mention because Anthony is sort of the weird, beating heart of the classroom. Any time Anthony and Jack team up, it's guaranteed hilarity because Anthony is usually the wiser and more mature of the two. Jack also ends up having a special moment with the awkward and shy Victor (Jacob Houston) in season 2 that proves he's more than just a bitter man bent on revenge. The class ends up learning plenty of life lessons through ridiculous trial-and-error because of Jack's revenge plans, but they also manage to teach him a few things about himself and how he interacts with others. 
Some Ferociously Funny Faculty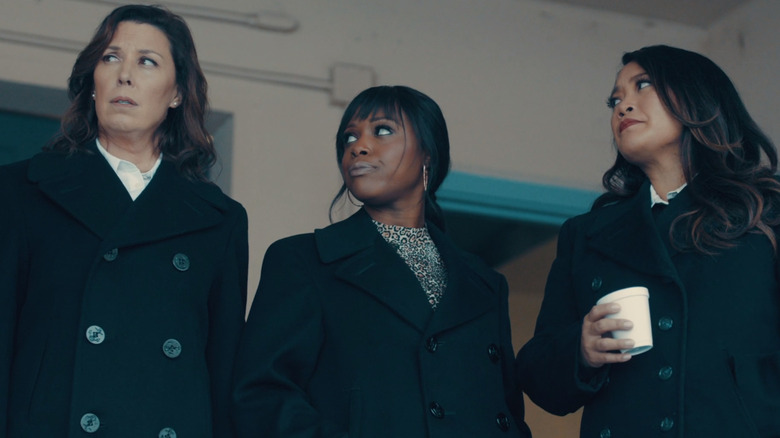 It's great that the kids help Jack learn, but he only interacts with them during part of his day. His co-workers, however, end up becoming a big part of his life as he readjusts to living in Toledo. He befriends three teachers — Mary (Mary Sohn), Stef (Lyric Lewis), and Michelle (Jeanne Villepique) — who become something like the witches three from "Macbeth" for old Jackie-boy. They love him and all eventually end up becoming close friends with him, but they also frequently call him out on his nonsense (and create some of their own). Other teachers cycle through in smaller roles, but these three are the only friends Jack has had in a long time, save for Principal Durbin.
The bond that forms between Jack and Durbin is truly sweet. They're one of the best odd couples since "The Odd Couple," and Oswalt's good-natured goofiness perfectly offsets Howerton's barbed wit. They're a blast to watch together, and they help one another grow to be better people. Jack helps Durbin gain confidence, try new things, and stick up for himself, while Durbin helps Jack not be a stuck-up Ivy League has been. The dynamic is fantastic, though no one on the series manages to steal scenes quite like Paula Pell.
Hilarity Machine Paula Pell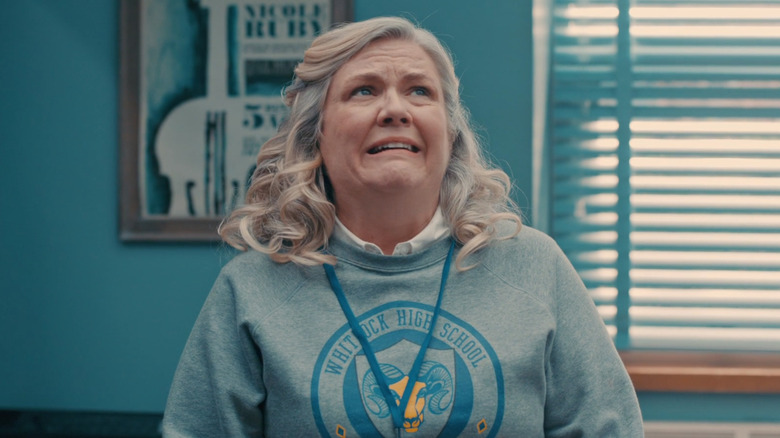 I would be remiss if I didn't mention the absolutely unhinged performance given by Paula Pell as Principal Durbin's secretary, Helen. Helen is the amalgamation of every wildly eccentric older female faculty member I remember from high school. She's obsessed with her job as if everything were a matter of life or death, and she's really intense about everything all the time. She's also a proudly open lesbian who falls into infatuation hard and fast, which ends up in some pretty sticky situations (like when she and Durbin lust after the same woman). 
Pell gives this character her all and has no problem making a complete fool of herself. It's truly something to behold, and the kind of dedicated character acting that you just don't see in network sitcoms anymore. I feel like almost everyone who grew up in middle America has known someone like Helen, and can appreciate her dedication to being really, truly embarrassing. 
A Slightly Rocky Ride That Ended Too Soon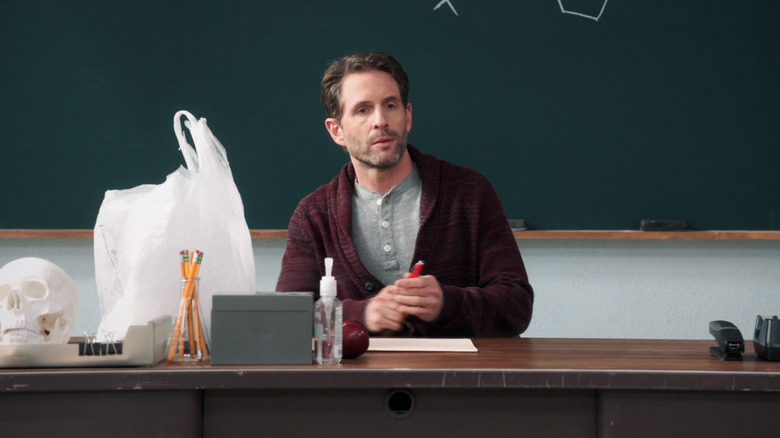 It's truly a shame that "A.P. Bio" got the axe once more at Peacock after its original cancellation at NBC. The first and second seasons are brightly lit and have more production value than the two Peacock seasons, but the latter seasons still have a lot of what makes "A.P. Bio" so great. Season 3 is a little rocky as the series found its footing with fewer episodes per season and a smaller budget, but by the end of the season and the terrific "Katie Holmes Day" episode, things start feeling appropriately like good old Whitlock High again. By the time season 4 starts taking things to bigger, weirder places, the series is over. School's out forever. 
I don't expect "A.P. Bio" to be resurrected a second time, as the stars have moved on to other projects and it's clear that the audience didn't turn out like they were supposed to, but at the very least I want to just see a little more love for this great little dark comedy with a big, goofy heart.
Read this next: The 13 Best Comedy Shows On Amazon Prime Right Now
The post The Daily Stream: A.P. Bio is a Lesson in Letting People In appeared first on /Film.