Things To Do In Independence and Stone Counties
The cities of Batesville and Mountain View anchor Independence and Stone counties, respectively. Batesville is the oldest city in Arkansas, and its history can be traced back to at least 1804. Mountain View wasn't established until nearly 70 years later but is known for its efforts to preserve the music and traditions of early settlers of the Ozarks. The history of these cities is rich and exciting, with hints of modern interests and conveniences sprinkled in. These cities are full of people who are welcoming, and their central location in northern Arkansas makes them the perfect weekend getaway for people from all over the state.
Visit a Museum
Museums are a great way to learn about the past and the people who shape a community. Both Stone and Independence counties are blessed with active historical societies and a handful of museums that are fun and interesting for the whole family.
Photo courtesy of Arkansas Department of Parks, Heritage and Tourism
Old Independence Regional Museum
In 1820, Independence County comprised the expanse of land that now makes up  Baxter, Cleburne, Fulton, Independence, Izard, Jackson, Marion, Poinsett, Sharp, Stone, White and Woodruff counties. The museum is dedicated to preserving the past of Batesville, Independence county, and the contributions of the surrounding areas and their impact on the community.
Website | Facebook
380 S. Ninth Street
Batesville, AR
870-793-2121
Open Tuesday – Saturday
Stone County Museum
The Stone County Museum is housed in the 1928 schoolhouse once home to Special School District #30. Stone Country celebrates its 150th anniversary this year. The museum and Stone County Historical Society, which preserves the local history, was recently one of six Arkansas Heritage grant award recipients. The volunteer-run museum is open from Thursday – Saturday.
Facebook
206 School Ave.,
Mountain View, AR
(870) 213-7207
Ozark Folk Center
Part of the Arkansas State Parks system, the Ozark Folk Center is a celebration of the Ozarks' people, crafts, music and culture. The craft village features more than 20 working artisans and musicians who provide live demonstrations and hands-on experiences for visitors.
Website
1032 Park Avenue
Mountain View, AR
Mark Martin Museum
The Mark Martin Museum is fun and free. Learn about NASCAR and local legend and Hall of Famer Mark Martin. See his cars and suits and various memorabilia from his career, which spanned three decades and included 96 wins.
1601 Batesville Blvd.
Batesville, AR
870-793-4461.
Attend A Festival
Mountain View is known for the annual Beanfest and Outhouse Races, while Batesville hosts the annual Scottish Festival on the campus of Lyon College. But the fun doesn't stop there. From early spring through late fall, something is happening almost every weekend. Throughout the early winter, Batesville transforms into the Christmas Capital of Arkansas.
Photo courtesy of Arkansas Department of Parks, Heritage and Tourism
Scottish Festival at Lyon College
Previously held each spring, the annual Arkansas Scottish Festival is now held each October at Lyon College. The festival pays homage to the Scottish heritage of the college's founders and draws drummers, bagpipers, Celtic dancers and visitors from all over the country. The 2023 festival will be held Oct. 27-29.
Mountain View Bluegrass Festival
The Bluegrass Festival in Mountain View is a bi-annual event that highlights folk and bluegrass music and highlights local talent and musicians from all over. The spring festival will be held March 9-12, with events being held at the Ozark Folk Center and throughout town.
Photo courtesy of Arkansas Department of Parks, Heritage and Tourism
Beanfest and Outhouse Races
This annual fall festival is a fun mix of food, music and entertainment. Large pots of beans line the streets for an authentic Ozark-style community meal of beans and cornbread. Small groups of musicians line the square and Pickin' Park for impromptu jam sessions anyone can join. The highlight is the Outhouse Races. Teams decorate outhouses and compete for the Golden Toilet Seat.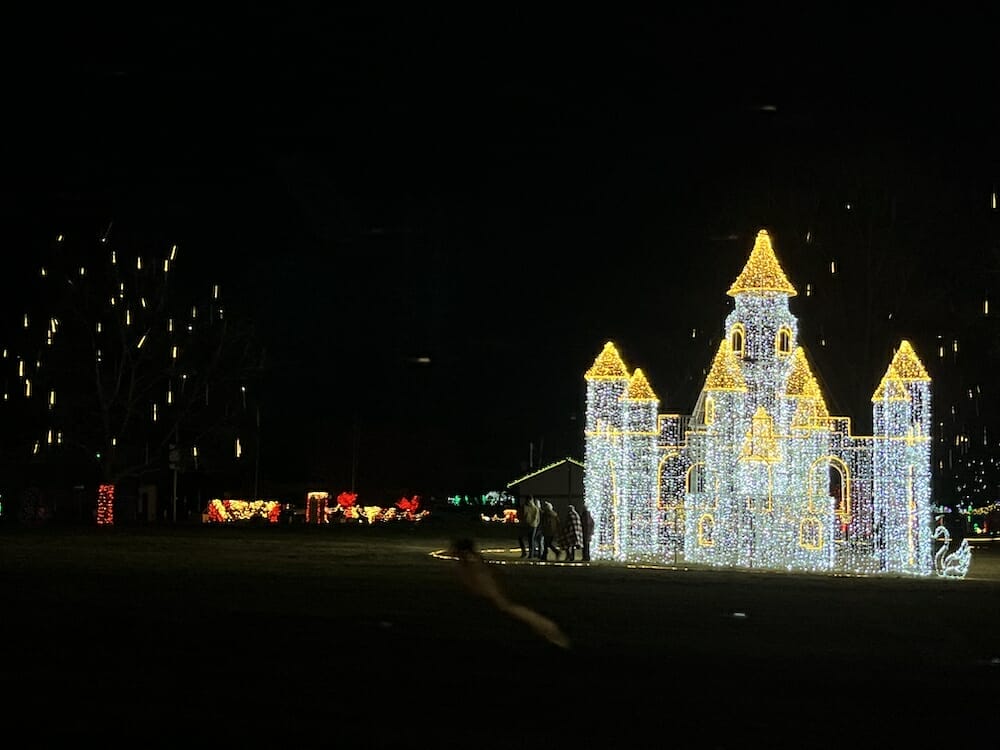 White River Wonderland Christmas
When the musicians head home for the winter and Mountain View settles down for a few months, the excitement returns to Batesville, the Christmas Capital of Arkansas. White River Wonderland Christmas transforms the banks of the White River into a spectacular drive-thru and walk-thru display complete with millions of Christmas lights. Visitors can also enjoy carriage rides, ice skating, a parade, and a Ferris wheel from mid-November through early January.
Get Off The Beaten Path
These two counties have just two significant towns with many off-the-beaten-path roads and scenery in between. Located outside Batesville and Mountain View, these spots may be off your radar but are worth the short drive.
Batesville Motor Speedway
If you love the roar of an engine and the excitement of speeding cars, you will love watching the races at the Batesville Motor Speedway's oval dirt track. The track has hosted several high-profile races and is where several well know racecar drivers, including Mark Martin, got their start. The races are fun, family-friendly and affordable.
Website | Facebook
5090 Heber Springs Road
Locust Grove, AR
(870) 613-1337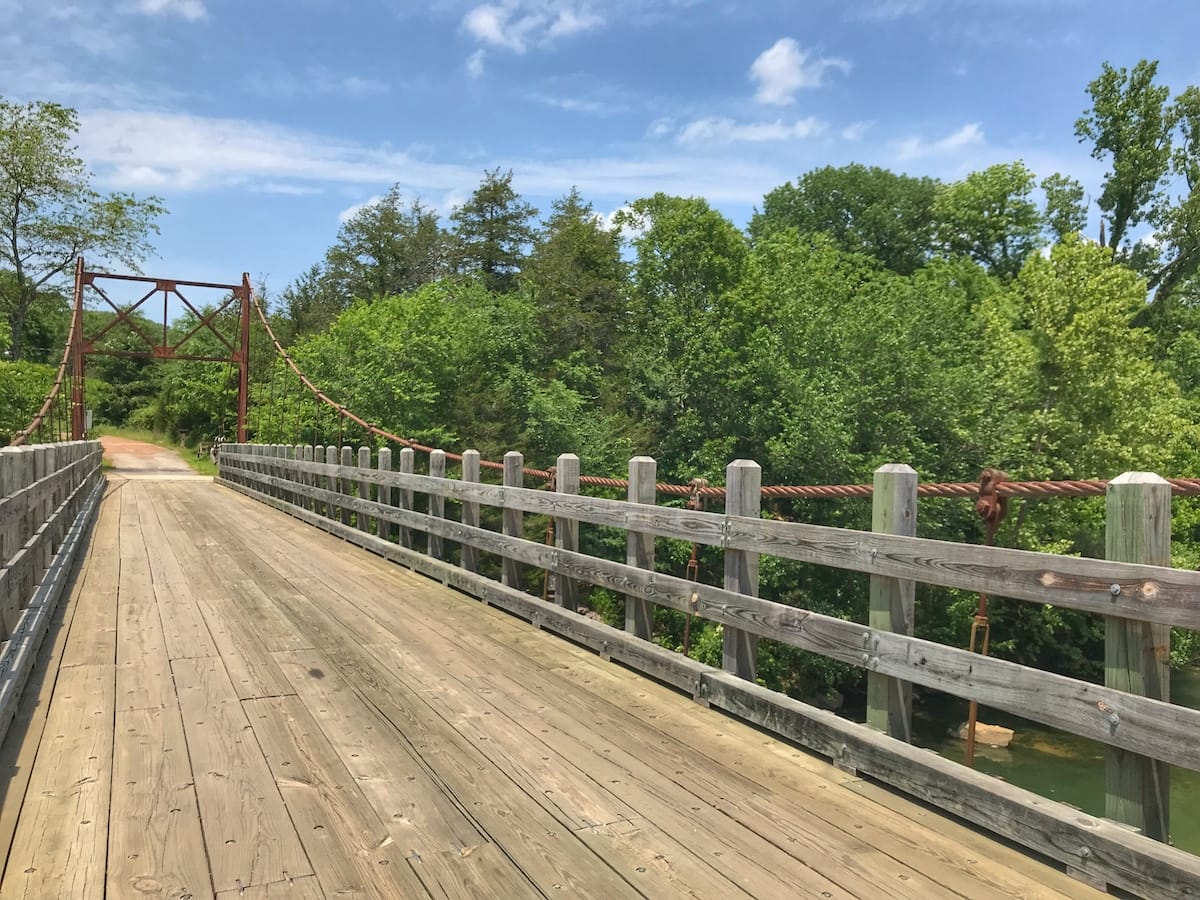 Swinging Bridge
If you've never walked or driven across a swinging bridge, they are an engineering marvel. Not many remain, but the swinging bridge in Allison has a history that dates back to the early 1900s. Over its history, the bridge has seen many changes and even near-total destruction due to flooding. The bridge cable system was rebuilt in 1984, and the wood was replaced in 2015. Only two wire-cable suspension bridges that allow car traffic remain in the state.
448 Swinging Bridge Rd
Mountain View, AR
OK Trading Post
If you've got a hankering to go for a horse ride, the OK Trading Post is the place to go. This unique experience lets you experience the Ozarks from the back of a horse on trail roads through scenic mountain trails—a ride ranging from about an hour to overnight camping excursions. Trail riding is perfect for outdoor-loving families looking for a bit of adventure.
Website
11595 Hwy 14
Mountain View, AR
(870) 585-2217
Fun For the Whole Family
Driving and seeing the sites can be a lot of fun. When you have littles and need something a little more hands-on, these activities will keep the whole family entertained.
Batesville Community Center and Aquatics
With a workout center, gym and indoor pools, the Batesville Community Center is loads of fun, but the real draw for people is the outdoor water park. With a lazy river, several multistory water slides, a splash pad and a diving area, visitors get a real water park experience without traveling far and for just a few dollars. Admission to the outdoor water park is just $5 per person per day.
Website
1420 20th St.
Batesville, AR

Melba Theater
Originally built as a mercantile and rebuilt in the 1940s, the Melba was one of Arkansas' first cinemascope theaters. Although it closed several times over the years, the Melba now functions as a movie theater and concert venue, it is an important fixture in Batesville's historic district.
Website | Facebook
115 West Main Street
​Batesville, AR
870-569-8002
Next Level Playground
With inflatables, ball pits, video games and more, Next Level Playground is fun for kids of all ages. Even when the weather is bad, you can play and play and play.
Website | Facebook
3425 Harrison St.
Batesville, AR
(870) 834-8777
Stone Drive-In
While most cities once had a drive-in theater, they are starting to disappear at an alarming rate. The Stone Drive-In in Mountain View first opened in 1965 and is still going strong. Pull up in your car and enjoy watching a movie on the big outdoor screen for a unique movie-watching experience that your kids will remember forever. Shows run rain or shine every weekend from March through October.
Website | Facebook
808 Theatre Ln.
Mountain View, AR
(870) 269-3227
Get Outdoors
These counties serve as the gateway to the Ozarks and offer a variety of beautiful landscapes. From the White River to mountain streams and water that gushes from a cave as well as hiking, biking and climbing, this region of the state is an outdoor lover's playground.
Polk Bayou
The creek, which begins in Sharp County and flows through Independence county to the White River, was a popular gathering place for early settlers and may have been a stopping point for the Cherokee Indians during the Trail of Tears journey. In 2010, the city of Batesville began to develop a park along the bayou, a popular swimming hole in the summer months.
Jamestown Crag
Jamestown Crag is a popular location for rock climbers. Located on private property but maintained specifically by use for climbers, the crag has over 85 well-bolted trails up the face. Visitors are asked to leave a donation to help with the maintenance of the area.
Blanchard Spring Caverns and Recreation Area
Caves, camping, hiking and more are all part of the fun at Blanchard Springs Caverns and Recreation Area. Tour the cave from March to late fall and enjoy a steady 58 degrees F year-round temperature while you view stalactites, stalagmites, columns, and flowstones and perhaps spot a bat, salamander or other cave wildlife. Just down the road, you can hike several trails, including the Mirror Lake trail, explore an old mill and swim in the icy cold waters on the hottest days of the simmer.
Website
704 Blanchard Springs Road
Fifty-Six, AR
(870) 757-2211
Jack's Fishing Resort
The White River offers some of the country's best trout fishing, and a guided fishing trip is the best way to experience this river. Experienced guides will help you find where the fish are biting and choose the best bait to collect your limit of Rainbow Trout, Cut Throat, Brown Trout and Small Mouth Bass. JoJo's has been offering guided fishing trips for over 30 years and is set up to help anglers of all ages and skill levels.
Website | Facebook
237 Jack's Resort Road
Mountain View, AR
(870) 585-2211
Loco Ropes
Kids love to climb, and Loco Ropes is just the place to do that. The three "Loco Lines" will challenge you as you climb, scale obstacles and zip through the trees. The tower adventures are lots of fun, too, and you can experience a free fall, zip line, and test your skills at rock climbing.
Website | Facebook
1025A Park Ave.
Mountain View, AR
(888) 669-6717
Syllamo Mountain Bike Trailhead
A series of interconnecting loops throughout the Ozarks make up nearly 50 miles of mountain bike trails. The trails can be reached from Blanchard Springs Recreation Area, three trailheads on Green Mountain Road and one on AR Highway 5 North. You can view a trail map here. There is a fee for using the trails. Information about fees and how to pay them is located on bulletin boards at each parking area.
Grab A Bite To Eat
One of my favorite parts of heading to new communities is trying the local restaurants, and Independence and Stone County have more than their fair share of delicious eats. Here are a handful of our favorites that alone are worth the drive.
Tadpoles Catfish Barn – Pleasant Plains
Moore's Dairy Creme – Newark
Tovolo Italian Ristorante – Batesville
Big's – Batesville
Triangle Cafe – Southside
Backwood's Steakhouse and Grill – Southside
Tommy's Famous Pizza – Mountain View
Brad N Dad's Drive-In – Timbo
Spah Grill Mountain View
Spah Grill Batesville
PJ's Rainbow Cafe – Mountain View
JoJo's Catfish Wharf – Mountain View
Did we overlook one of your favorite spots in Independence or Stone County? Leave us a comment so we can check it out!
Cover photo courtesy of Arkansas Department of Parks, Heritage and Tourism.
Via Only In Arkansas.