Things to do with Kids in Autumn – Outdoor Fun
With the daylight levels dropping and the colder nights drawing in, you may be looking for ideas on things to do with kids in autumn. It is easy for your kids to spend more time indoors soaking up screen time, but there's plenty of fun to be had in this beautiful season. Here are some ideas to get your kids (and you) outside, having adventures and learning an appreciation of nature and the outdoors. There's also some fun crafting activities that could last a lifetime, and give them some of their best childhood memories to boot.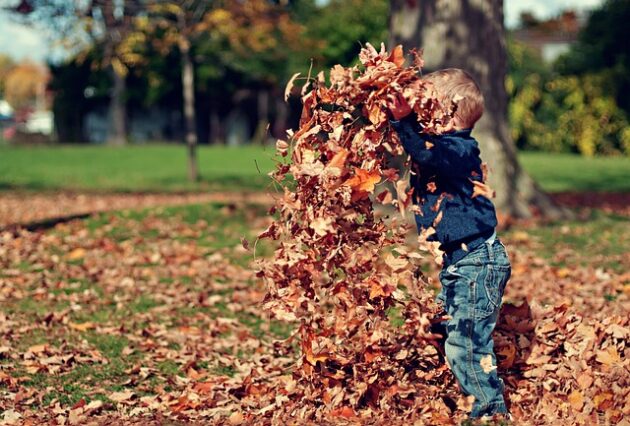 Go on a Bug Hunt
Children are drawn to bugs like a moth to a flame (excuse the expression). So, why not encourage them to get out in nature and feed that inner natural historian? In recent years there has been a steady decline in insects worldwide. Helping kids learn about the of these weird and wonderful creatures not only encourages a love of nature, but may also help bugs thrive as children grow to care about their strange and fragile lives.
Collecting bugs is easy. Use an old glass coffee jar with holes drilled in the lid, or grab a cheap purpose built one with built in magnification as well as collection tools. Maybe get your kids to do a quick sketch and really soak in those details. Remember to release the bugs back into the wild after you are finished. Or, why not create a bug friendly habitat in your garden to help them thrive? Happy Hunting!
Get Bird Watching
Another way to encourage children into the outdoors is to get them involved with birdwatching, either in your garden or out in the great outdoors. Like bugs, many bird species have gone into decline in recent years. So why not encourage kids to not only spot the vast array of colours, sizes and shapes out there, but also to help feed and water them throughout the year? Teach them to log their finds or draw what they see, helping their observation skills as they go.
Birdwatching can be as easy as offering foods to bring them into your garden, or by watching and listening when you are on your next hike, camping trip or Sunday afternoon walk. A pair of child-friendly binoculars that aren't expensive, and can take some knocks, can help bring the birds closer and could be the start of a lifelong interest.
Skimming Stones
Next time you are near a body of water, why not teach your little ones the fun in skimming stones? Help them chose the right sizes and shapes, and make a game out of how many skims they can manage. Skimming is a good way for children to have fun, integrate into nature and learn some good hand to eye co-ordination, as well as some foraging skills in looking for the right skimmer.
Make a Whistle from a Blade of Grass
Teach your kids the fun (and annoyance) of grass whistles. Put your thumbs together with a blade of grass taut between them and your palms, and blow through the hole between. You should hear a strange whistle. If not, adjust and try again. Once perfected, this skill will be with you for life.
Nature Rubbing
Using plain or coloured sheets of paper and crayons (on their sides), you can rub some amazing designs and patterns from bark, stones as well as leaves and ferns. Why not use the rubbing as a base to draw off from with a pencil to make amazing fantasy pictures?
The rubbing itself will also help your little ones see the complexity and wonders of nature with the immense details that can be achieved. Check out these nature activity printables for more crafty outdoor ideas for things to do with kids in autumn.
Go Leaf Collecting
Autumn is that amazing time of the year when so many species go from greens to bright yellows, oranges and reds. Leaf collecting is a great way to teach children the seasonal changes around them.
Collecting leaves is a great way from children to explore the variety of leaves available, and also to absorb the colour changes of trees as the seasons progress. You can also look for other wonders on your walks, such as pine cones, acorns, as well as fruits, nuts and berries.
Bring the leaves back and make collage pictures with leaves, sticks and flowers. You can also cut a leaf in half, stick it to a page and get your little one to replicate the other half. This helps them to observe nature and learn some great pencil skills too. You could also glue leaves to a page and make leaf people, letting your kids draw arms, legs and a head, and let their imagination flow.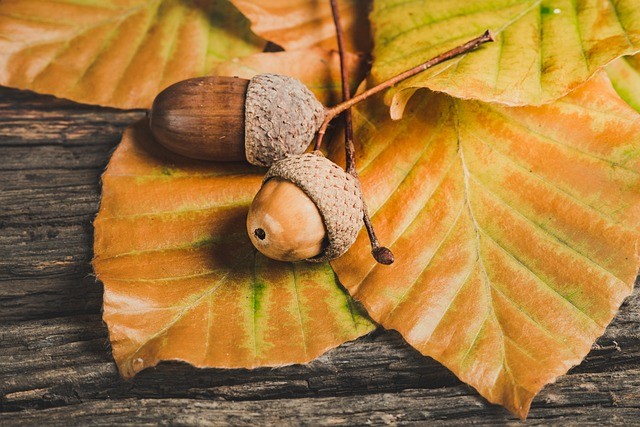 Make a Pine Cone Bird Feeder
If you are lucky enough to find pine cones on your travels, why not help your children make a pine cone bird feeder? Tie some string onto one end of the cone, smear with peanut butter and sprinkle some bird seed. A great way for your kids to make something for the garden that is sustainable, puts something back to nature, and hopefully bring some new birds to spot.
Make a Nature Scavenger Hunt
Before you go out, make a list of items for your children to find and tick off.
A five pointed leaf, a pine cone, a feather, a smooth barked tree, a red stone, a conker, the list is endless. Scavenger hunts give your kid's active minds a way to flourish while you enjoy being out in nature watching them explore and tire themselves out.
You can download scavenger hunts and other nature activities in our printable pack.
Climb a Tree
As trees drop their leaves and the bare branches are exposed, they are begging for little explorers to climb. Sadly, a quarter to a third of children have never climbed a tree. Tree climbing teaches children problem solving skills, hand-eye co-ordination, spacial reasoning, and focus. It also strengthens their muscles, and gives them a sense of accomplishment and self-esteem from a task achieved.
Obviously, precautions need to be taken. Look for healthy trees that don't have dead branches, or show signs of illness. The risks involved aren't as high as it seems, and the positives aspects far exceed the minimal danger.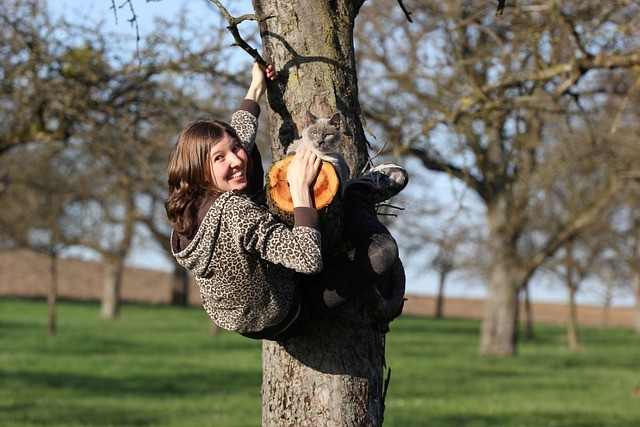 Puddle Jumping
One of the fun things to do with kids is autumn is puddle jumping! On the inevitable wet days, search out puddles to either jump over or jump into. Puddles are an exciting thing for children, look back at your own childhood for memories and you'll know its true. 
Jumping over or into puddles will give your children a chance to strengthen and exercise those larger leg muscles, help them judge distances and learn spatial awareness. A good pair of wellies or waterproof trousers will save most of the wetness, and give your little ones a chance to explore the puddle depth too.
Have a Bonfire
The thought of children and fire doesn't sound like the ideal mix, but bonfires give you the opportunity to teach your kids the correct fire safety measures, why fire is dangerous and the reasons behind starting fires too.
Bonfires also give you the chance to bond around the warmth, telling stories like our ancestors have done since the start of time, and gaining memories that will last a lifetime.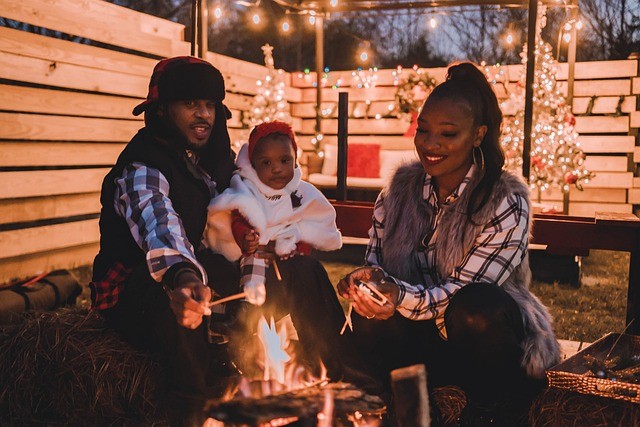 The Fun of Leaves
A fun activity for kids to do in autumn is to rake the fallen leaves into a pile and then jump into them or run through! A bonus being that when the kids have finished, the mess of leaves will be more closely bundled together than the way nature left them beforehand, making the clean up that little bit easier for you.
Play Pooh Sticks
This is a game made famous by the Winnie the Pooh books. If you are near a foot bridge with running water underneath, throw or drop sticks or leaves on the upstream side. Watch who's stick is the winner by which one comes out first on the other side. Believe it or not, there is actually an annual World Pooh-Sticks Championship held each year in Oxfordshire!
Build a Den
Building a den is a great pastime in the autumn. Go to you local woods and gather some branches and leaves, and build against a tree trunk or large rock. Start by resting the larger branches against a tree trunk and then lay leaves or moss and smaller branches against it to make a perfect kids hideout.
Another popular method is to construct a teepee by tying the branches together at the top and fanning out towards the bottom to make a cone shape and then covering.
Dens let children's imagination run away with them, let them dream of some far flung adventure in a far off land, and learn some building skills as they go.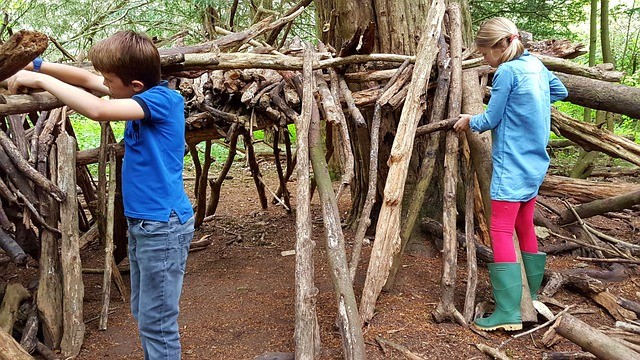 Go Stargazing
Clear skies are often accompany the cooler autumn nights, and with the sun setting earlier it gives you the chance to show your kids the sights of the night sky without impacting on their bedtime routine.
The night sky gives kids the opportunity to wonder at the vastness above and learn some constellations in the process. Stargazing also allows children and parents alike to bond over the fascinating universe, and its an activity that can easily be done from the comfort of your back garden.
Learn about the Weather
The one thing guaranteed about weather in autumn is its unpredictable nature. This is a great opportunity to teach children not only about the weather itself, but the changes throughout the seasons and how the flora and fauna reacts to it. A great website for kids to learn is the Weather Wiz Kids site.
Find a Grassy Hill to Climb and Roll Down
A quick and easy one! Find a small hill for your children to clamber up and have amazing fun rolling back down. This will let them learn the skills of body control, get close to nature, and burn off some energy while they are doing so.
Ready to Explore?
If you are looking for fun things to do with kids in autumn, getting out in nature gives you many opportunities. Not only will you and your children discover the natural world at this changing time of year, but also to bond over some fun activities and share memories that can last a lifetime. Why not give them a go and get outdoors this autumn?
The post Things to do with Kids in Autumn – Outdoor Fun appeared first on Let's Grow Wild.