Tons of Transportation Theme Crafts, Activities, and Snacks
Click here to read Tons of Transportation Theme Crafts, Activities, and Snacks on Hands On As We Grow®
---
We have gathered a wonderful collection of transportation theme crafts, snacks, sensory, and learning activities too! Give one or two a go!
Planes, trains, and automobiles, oh my!
A theme about things that go is great for kids that are on the go!
And what toddler or preschooler is not always on the go?
Incorporate fine motor practice, gross motor practice, sensory activities, shape and color recognition, and much more with these 55 transportation theme crafts, activities, and snacks.
Red light means stop. So why not stop scrolling through other websites.
Stay here and check these out!
Green light means go, go, go!
Go have fun.
Go try something new.
And go enjoy a tasty treat.
Vroom, vroom! Zoom, zoom!
Fine Motor and Gross Motor Transportation Theme Activities
Fine motor activities and gross motor activities are crucial for little ones to become more independent.
Improve hand eye coordination and get moving with the following two fine motor activities and four gross motor activities.
Want more? Download our FREE Go-To List of Fine Motor Pre-Writing Activities right here!
Sensory Transportation Theme Activities
Let kids explore with their senses.
Here are fifteen different options to choose from.
Some of these sensory activities can be used over and over again.
And some of them will be quite messy (but fun)!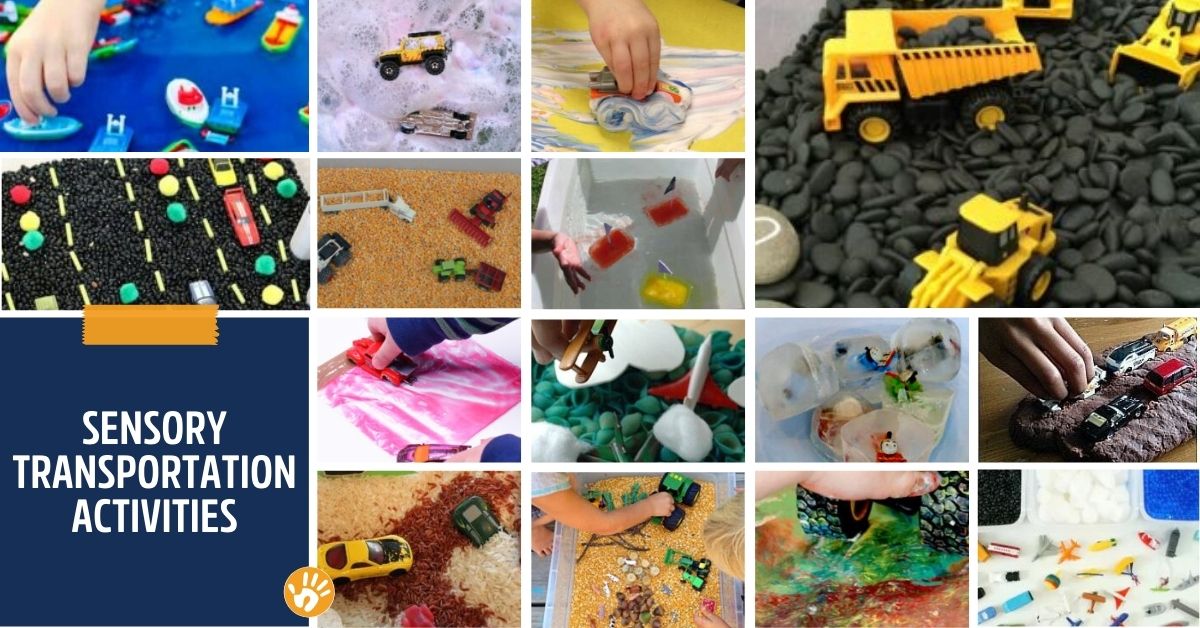 Transportation Theme Learning Crafts and Activities
Learn colors, shapes, and letters with these fun transportation-themed learning crafts and activities.
Transportation Theme Crafts
I love crafts, so I had to make sure to include a section devoted entirely to transportation crafts.
Many of these crafts use simple everyday supplies such as paper, paper plates, popsicle sticks, toilet paper rolls, and cardboard.
Transportation Snacks
All of the movement is sure to work up an appetite.
Traffic lights, boats, cars, trucks, airplanes, trains, and even bicycles make their way into these tasty transportation themed treats.
Yum, yum!
What will you try first? Let us know in the comments below!