Ultimate Extravagant USA Road Trip V: Pacific States & Territories
Have you ever considered taking a road trip to learn geography?
We're going to learn US geography the fun way—this is our final "road trip"! Only this time we're taking a cruise starting in Alaska and making our way down the west coast and out to Hawaii. From the island state, we'll make our way to our five territories. You will see some breathtaking views, enjoy delicious seafood, and venture into the Ring of Fire. Grab your navigation chart, pack your suitcase, and don't forget your swimsuit and life jacket—there's lot of miles sailing over the ocean!
On our whirlwind tour of the Pacific States and our five territories, we'll see mountains, waterfalls, geysers, coves, bays, rugged coastline, and volcanoes. The Pacific states are one extreme to the other- from the tundra in Alaska to tropical Hawaii. Our 5 inhabited territories are all in the Tropics—3 in Ocean and 3 in the Caribbean. The one thing they all have in common is seafood!
As we sail from place to place, we'll end up on a boat trip almost around the world. Let's start in Alaska.  
Alaska
Alaska isn't just the largest state—it's larger than the next 3 biggest states (Texas, California, Montana) combined! Separated by Canada and close to Russia, her capital city Juneau is larger than our 2 smallest states (Rhode Island and Delaware) combined.
Alaska is a peninsula surrounded by water on three sides-Arctic Ocean north, Bering Strait west, and Pacific Ocean south. It is separated from the rest of the continental US by Canada. Alaska has the highest Native population in percentage of the whole population.
Alaska is breathtakingly beautiful with huge mountains, glaciers, moose, caribou, bears, bison, and reindeer. One of the best ways to enjoy Alaska is by visiting one of its many National Parks & Preserves. Denali National Park and Preserve has millions of acres to explore and is home to Denali (formerly called Mt. McKinley), the highest mountain in North America. Filled with glaciers, the park is home to moose, wolves, caribou, Dali Sheep, and grizzlies. There are no reptiles in Alaska and animals just seem BIGGER! We'll take a helicopter ride, land on a glacier, and walk across it. We can hunt, ski, dog sled, or hike after our ride. I'm freezing. Let's head to the ship.
We will board our ship at the Port of Alaska in Anchorage.
Washington
Our next stop is Washington. We'll dock at Port of Olympia and take a bus to see Mount St. Helens.
On May 18, 1980, volcano Mount Saint Helens erupted! For nine hours, magma flowed, wreaking havoc, killing 57 souls, and causing billions in damage. In three hours, over 200 "geological layers" formed. In a few months, canyon systems were carved. Trees that are collecting at the bottom of Spirit Lake mimicked "ancient" petrified forests, and a layer of peat quickly formed. It didn't take a million years! In fact, that eruption was a testimony to the Word of God that declares He made the heavens and earth in six days. All these things line up with Creation scientists' belief that the earth is young.
On our way back we'll stop at Olympic National Park which includes everything from the Hoh Rainforest to the beach, from the beautiful Marymere Falls to Mount Olympus. We can hike up mountains to see glaciers near the top or explore the rainforest.
Before we leave Washington, we'll need to grab a cup of famous Seattle coffee.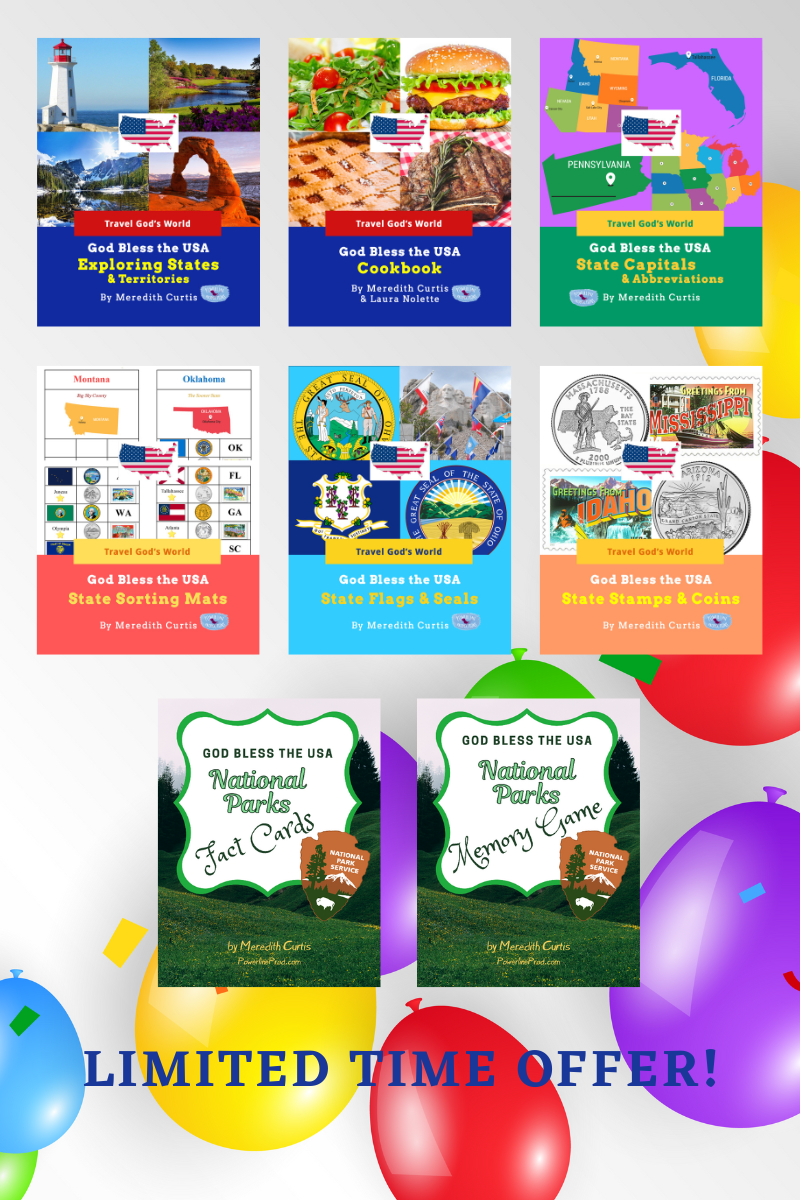 Our digital bundle: all 8 digital products totaling $215. value at the low price of $150. Plus, you can use the 40% off coupon to make the total price $90 for $215 worth of US geography digital resources! That's a deal!
Oregon
We'll dock at Port Orford and rent a car to drive east several hours to Crater Lake. Crater Lake is the deepest lake in the USA. The beautiful blue water sits in the crater of an extinct volcano. As one of the cleanest and clearest lakes in the world, visitors flock to Crater Lake National Park. In the warm months, visitors can hike, fish, hunt in the nearby forest, cycle, and drive around the lake. In the winter, it is one of the snowiest places in the USA so visitors can snowshoe, sled, ski, or snowmobile. If we camp overnight, we can star gaze. This is a good place to enjoy the constellations.
Well back to Port Orford and on to our next stop: California.
California
California is more than beautiful beaches, Hollywood movies stars, Disney Land, and hazardous freeways! Tall trees, active volcanoes, islands, mountain ranges (Sierra Nevada, Cascade), desert (Death Valley), coastal mountains, valleys, and fertile farmland are all in California. Part of the Ring of Fire, floods, droughts, wildfires, landslides, and earthquakes are common, as well as the possibility of volcanoes and tsunamis. The San Andreas Fault runs through the state, creating 37,000 earthquakes a year, but most are too small to be felt.
California is also the leading powerhouse in agriculture, growing over 200 different crops. The state produces almost all of America's almonds, apricots, dates, figs, kiwi, nectarines, olives, pistachios, prunes, and walnuts. Second only to Florida in oranges, it also leads the way in avocados, grapes, lemons, melons, peaches, plums, and strawberries.
Let's visit some special trees.
Traveling along the California coast on Highway 1 gives us stunning views. The cliffs along Big Sur, draped with redwoods inspire awe! The Redwood National Forest is home to the tallest redwood trees in the world. We can even drive right through some of these trees! Sequoia National Park is home to the largest trees in the world and Mt. Whitney, the tallest mountain in the continental US, and the famous sequoia General Sherman. Let's head south to see a plant that only grows in the Mojave Desert: the famous Joshua Tree. The tree's unique shape reminds me of Joshua from the Old Testament reaching his hands up in prayer! Also in the Mojave Desert, Death Valley, below sea level, is the hottest and driest spot in the USA.
On to Hawaii.
Hawaii
Hawaii, an archipelago, or chain of islands, located in the Pacific Ocean has eight main islands (Oahu, Maui, Kauai, Lanai, Niihau, Molokai, Kahoolawe, and Hawaii) and hundreds of smaller islands, Hawaii is in the tropics with warm balmy weather all year round. With a warm tropical climate, miles of beautiful beaches, and active volcanoes, Hawaii is a popular destination for tourists. The islands are home to a diverse population of people, exotic flora (plants), and beautiful fauna (animals). Settlers came from Korea, China, Japan, the Philippines, Samoa, Europe, Africa, and the Americas to join the native Hawaiians creating a melting pot of cultures. 
Let's visit the Coral Church in Oahu. Many Christians came to Hawaii to share the Gospel. The missionaries put the Hawaiian language into writing, translated the Bible into Hawaiian, and led many Hawaiians away from the worship of idols/gods to serve the True and Living God. Many were born again, including members of the royal family! We can go visit Coral Church, one of the most beautiful churches in the world built by these new Christians. Missionaries and Hawaiians gathered slabs of beautiful coral from the ocean and carried it to the building site. Built in Oahu and dedicated in 1812, Coral Church or Kawaiahao Church is open for visitors. Let's go!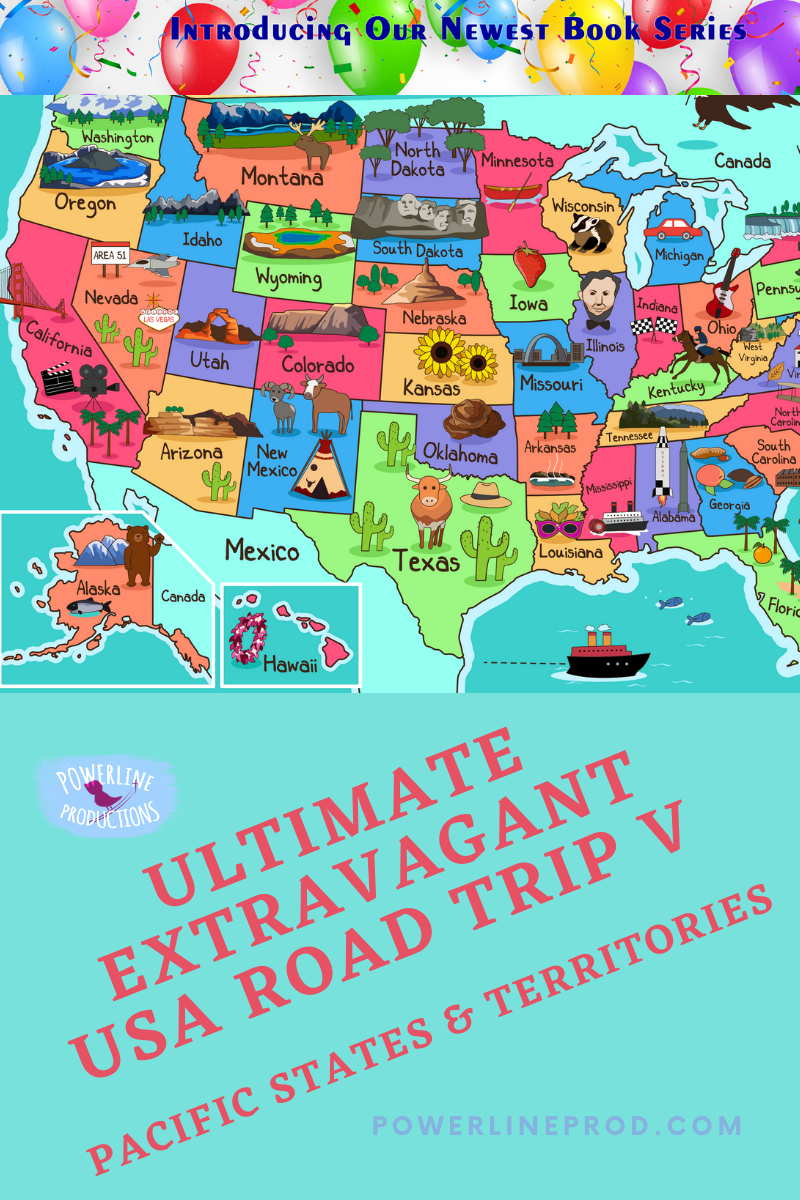 American Samoa
Rainforests, volcanoes, mountains, coral reefs, white sand beaches, and shimmering turquoise waters await visitors in American Samoa. American Samoa, located in Oceania, is close to Samoa, Cook Islands, Tonga, and Fiji in the Southern Hemisphere. Pago Pago is the capital of American Samoa located on the island of Tutuila Island with one of the finest natural harbors in the world. The harbor is huge and deep.
Ninety-eight percent of the population in American Samoa are Christians. There is a conservative atmosphere on the islands including wholesome talk, manners, and modesty. 
Visitors love attending a fiafia ("celebration" or "get-together") where they enjoy roasted pig, chicken, fish, breadfruit, coconuts, mangoes, and taro. Entertainment includes knife-fire dances where men twirl a burning knife around their neck, under their arms, and over their bodies to the beat of the music. Polynesian dances reveal the history of American Samoa and her culture, the oldest in Polynesia. These dances even include Christianity's arrival at the island.
Northern Mairana Islands
The deepest spot in the ocean is the Mariana Trench. Adjacent to the deepest water on earth is the Mariana archipelago with Guam at the southern end and the other islands making up Northern Mariana Islands. Though Guam is part of the island chain, she is a separate nation and territory of the USA.
You can visit the island of Tinian. A ferocious battle raged between the Allies and Japan on Tinian. All that fighting and other events left numerous shipwrecks off the coast of this sunny island. Why not SCUBA dive among the wrecks? Maybe you'll find some WWII weapons or artifacts.
Guam
White sand beaches and crystal-clear water await in Guam, the largest of the Mariana Islands, but a separate country. This is a great place to enjoy tropical sunshine, snorkeling, lazing on a gorgeous beach, or to learn more about World War II. The Chamorro natives have a rich history and have been influenced by Spanish, Filipino, Japanese, and American culture. They still hold traditional feasts and tell their island story through hand motions and dance.
Visit the Pacific War Museum in the capital city of Hagnatna. The museum focuses mostly on the US Marines who took the island back from the Japanese in World War II but contains weapons and exhibits recounting the events in the Pacific Theatre of WWII.
US Virgin Island
Named by Christopher Columbus on his second voyage for Saint Ursula and her virgin followers, these islands are located in the Caribbean between the British Virgin Islands and Puerto Rico. An archipelago, there are three large islands (Saint Croix, Saint John, Saint Thomas) and many small islands and islets. These islands changed hands many times between European powers, but mostly the Danish ruled the islands. Danish colonists grew sugarcane and manufactured molasses and rum. In 1917, the USA purchased the islands from the Danes and granted US citizenship to the people. You can still see British influence with the popularity of cricket, a game similar to baseball, and driving on the left side of the road.
Let's visit Sandy Point National Wildlife Refuge on the southwestern tip of St. Croix. Leatherback and sea turtles have their own nesting grounds in this remote back-to-nature (no bathrooms) beach. Nearby is the Estate Whim Plantation with a sugar mill, cookhouse, slave quarters, great house, and windmill—a restored sugarcane plantation. Slaves worked on the plantations until Danish Governor von Scholten freed the slaves on July 3, 1848.
On the other end of the island, over a mile offshore is Buck Island surrounded by coral reef. You can take a boat to the island and snorkel in the crystal-clear waters teeming with blue tangs, trumpet fish, butterfly fish, parrot fish, barracuda, and reef sharks.
Puerto Rico
Gorgeous beaches, crystal clear waters, seaside forts, and lush gardens make the country of Puerto Rico a perfect vacation destination. Enjoy Caribbean culture, tropical fruits, and delicious food. Located between the Dominican Republic and the US Virgin Islands, Puerto Rico is a tropical archipelago, or group of islands with one large island, four small islands, and several cays, or tiny islands.
You will notice several forts on Puerto Rico. Why so many? Well, Puerto Rico was often attacked by the Carib Indians as well as French, Dutch, and British pirates. Castillo San Felipe del Morro, a huge fort built in the 1500s to protect the island against pirates is a great place to see cannons, turrets, bunkers, sentry towers, and lighthouses.
Inside Fort Fortaleza is Palacio de Santa Catalina, the official residence of the Puerto Rican governors. Originally built to defend the harbors of San Juan, the complex is now the seat of government. Tour the baby blue palace where 170 governors have made their home. What a fun way to learn about history!
Well, it's time to head home. I hope you took lots of photos. Thank you so much for joining me on our final trip and whirlwind tour of the Pacific states and our 5 inhabited territories.
God Bless the USA series – Geography Resources
God Bless the USA Exploring States & Territories is at the core reimagining US geography by taking kids to each state as if they are traveling–we visit sites, landmarks, and beautiful places.
God Bless the USA Cookbook-travel from state to state in the kitchen!
There's more!
We have included all kinds of printables–use one or two or all of them to supplement your US geography studies:
Take Geography Online at True North Homeschool Academy
You can learn a lot about geography when you travel! You might want to take this trip with your family. OR join us at True North Homeschool Academy this fall and travel to every state and inhabited territory in our US Geography class (Jr. High but open to high school students). Purchase online class HERE.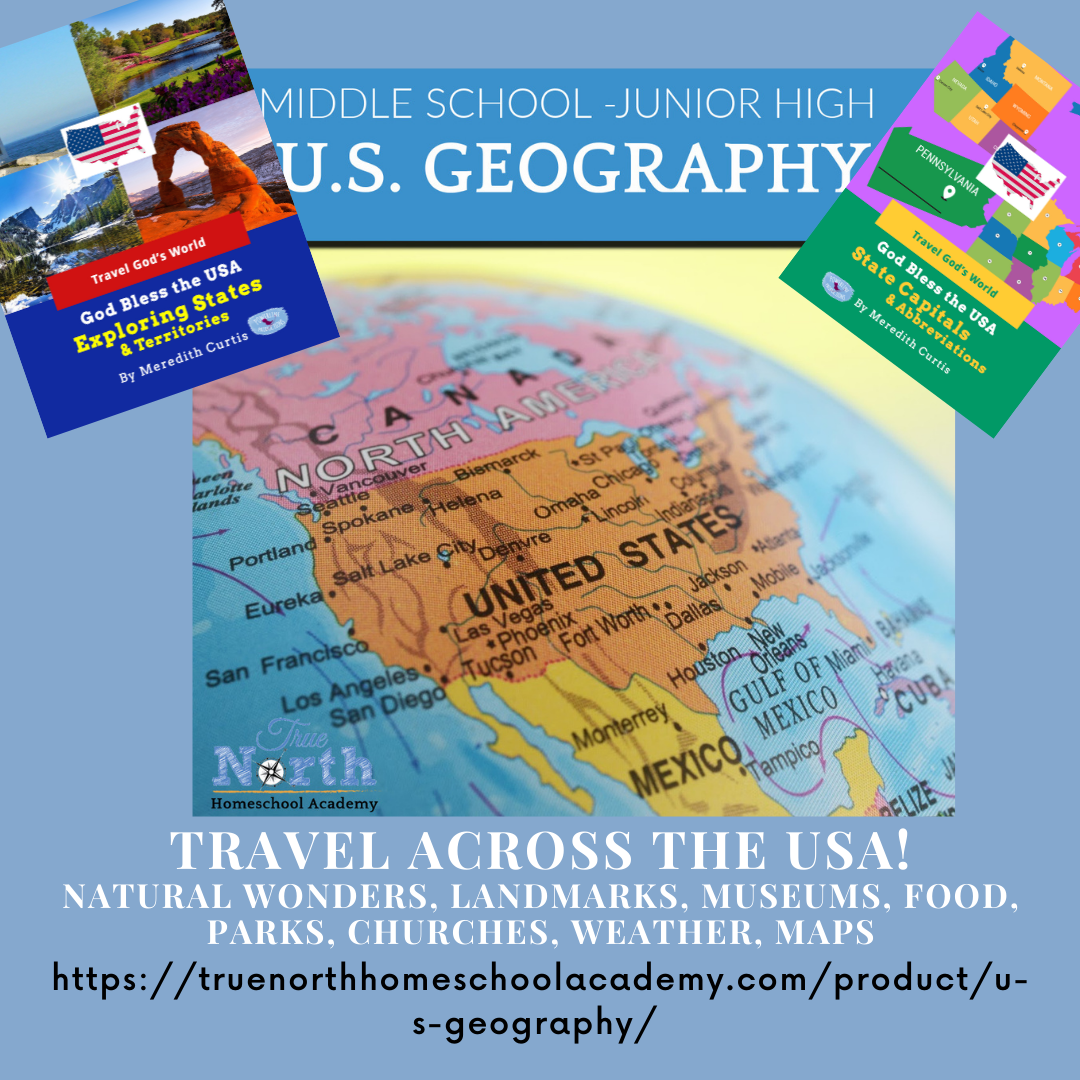 We'll be using God Bless the USA Exploring States & Territories and God Bless the USA State Capitals & Abbreviations. Purchase them at PowerlineProd.com.
Until next time, Happy Homeschooling!
Warmly,
Meredith Curtis