What Crafts Can I do With a 3-Year-Old?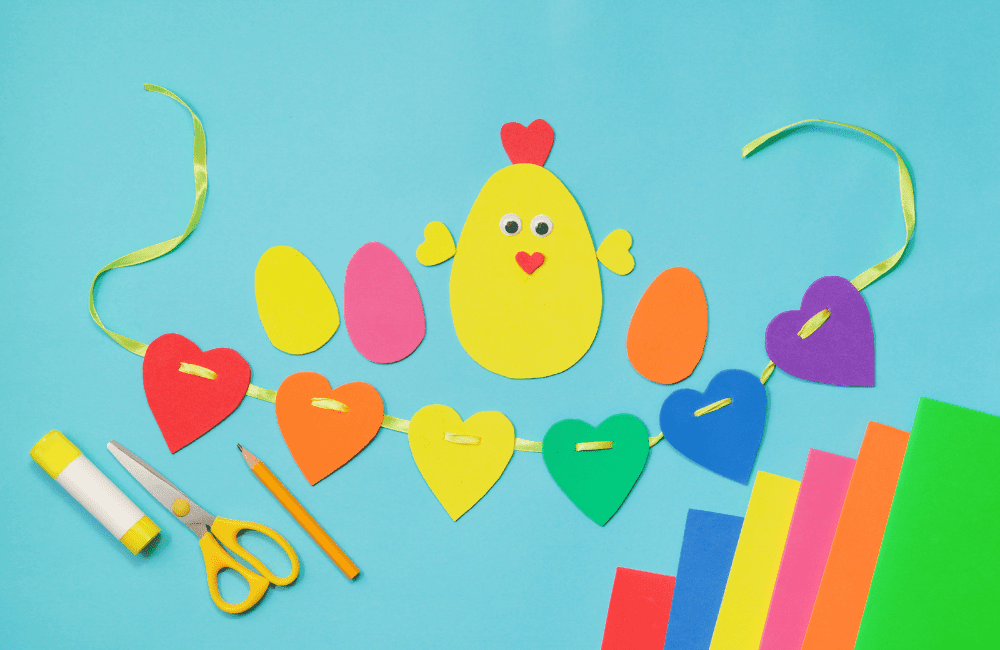 Photo Credit: Canva
By using this site, you agree to our Terms of Use. This post may contain affiliate links. Read our disclosure policy.  As an Amazon Associate I earn from qualifying purchases.
Follow us on Instagram for more fun ideas for kids!
Arts and crafts are a wonderful way to spend quality time with your child early in life while passing on skills and knowledge and having a good time together while building developmental traits with their art. 
Many simple arts and crafts can be completed with only a few supplies that you most likely already have in your home to help in child development and support. 
In addition, 3-year-olds are at an excellent age for experimenting with various crafting styles. You can experiment with different crafts with them to see which ones they prefer the most. 
Shorter, more hands-on crafts are good if your child has difficulty sitting still or following directions in the game both at home or school, no matter where they are influenced by Art. 
You can come back to the more time-consuming projects in the future once they have time to develop more skills. Here are some fun arts and crafts parents can do with their 3-year-olds!
Great Arts and Crafts for 3-Year Olds to Explore
Crafts with paper
It can be tricky to find crafts that are appropriate for young children. Some projects are too difficult, while others lack the necessary level of engagement. However, paper crafts are versatile projects that can be used to create a variety of fun and safe crafts for 3-year-olds. 
For example, simple origami projects are perfect for little fingers. Children can also make puppets out of paper bags, or collages out of construction paper. 
And of course, there's always the classic craft of making paper airplanes. With a little creativity, there are endless possibilities for crafting with paper. 
So next time you're looking for a project to do with your 3-year-old, think outside the box and reach for some construction paper.
Crafts using paint
Painting is a great activity for young children as it helps to develop their fine motor skills and allows them to express their creativity. 
There are many different painting techniques that can be used, so it's a good idea to experiment to see what works best for your child. 
Some easy painting craft ideas for 3-year-olds include finger painting, handprints, and sponge painting. All you need is some paint, paper, and a little imagination! 
Sewing crafts
Teaching a child to sew is a gift that will last a lifetime. It's a skill that can be used to create beautiful and practical items, and it's also a great way to bond with your child. If you're not sure where to start, there are plenty of easy sewing crafts that are perfect for 3-year-olds. 
One simple project is to make a simple kids' art pillow. You can find patterns for these online or in craft books, and they only require basic stitching skills. 
Another fun project is to make a fabric scrapbook. Help your child choose a selection of colorful fabrics, then cut them into different shapes. 
Your child can then arrange the pieces on the pages of an ordinary photo album, and you can sew them in place. There are tons of various projects that can be done by sewing!
Nature crafts
Nature Crafts can be as simple as collecting leaves and sticks on a walk and then gluing them onto construction paper to make a picture. Or, you can try painting rocks or acorns and then using them to decorate a flower pot or birdhouse. 
You can also help your child create a collage out of leaves, petals, and seeds. If you have access to a garden, you can even let your child plant his or her own little plot. 
Not only is crafting with natural materials a fun activity, but it's also a great way to teach your child about the natural world. 
Nature crafts are the perfect way to get your child excited about the outdoors, and they're a great way to spend some quality time together.
Recycled materials crafts
Another great option is to use recycled materials to create new and unique projects. For example, an old cardboard box can be transformed into a race car, train, or boat. Check out our new book Recycle and Play to get started with some fun ideas! 
Egg cartons can be used to make flowers or animals. And plastic bottles can be turned into anything from vases to lanterns. 
Not only is this a great way to reduce waste, but it also helps your child to develop their creativity and problem-solving skills. 
Many recycled materials can be found around the house, so there's no need to go out and buy anything special. Just start collecting those empty soda bottles and egg cartons, and you'll be on your way to some fun and unique crafts.
Edible crafts
Edible crafts are a great way to introduce your child to the world of cooking and baking, and they're also a lot of fun to eat! One simple edible craft is to make shaped Rice Krispie treats. All you need is some rice cereal, marshmallows, and butter. Simply melt the butter and marshmallows together, add the cereal, and then press into a mould or shape with your hands. 
My son started baking at two years old and even has his own baking channel on Instagram! @DashBakesTheGreats.
Check out his recipes for kids baking ideas.
Another fun edible craft is to make homemade pizzas. Start with some pre-made dough or make your own from scratch. Then let your child top the pizza with their favorite toppings.
There are many other kinds of edible crafts, so it's up to you to find what works best. Just make sure not to overdo it with sugar!
Group crafts
Group crafts can be something as simple as making homemade pizzas or decorated sugar cookies. The key is to have a few activities that everyone can participate in, without feeling overwhelmed. 
So, don't be afraid to get creative. Sometimes the best crafts are the ones that you make up as you go along, especially in a group setting. 
With a little imagination, you can come up with some truly unique and memorable crafts that your child will love and remember for a lifetime.
Takeaway
In today's world, children are constantly bombarded with new and exciting technology. While there is nothing wrong with using technology, it's essential to ensure that your child also has opportunities to use their creativity. That's where crafts come in. 
Crafting is a great way for kids to express themselves. It allows them to experiment with materials, colors, and shapes, and it helps them learn about teamwork and cooperation. 
So if you're looking for a way to help your child explore their creativity, try these fun and easy crafts! They're sure to be a blast for any kid.
You Might Also Like
Dot Marker Toddler Art 
The post What Crafts Can I do With a 3-Year-Old?  appeared first on hello, Wonderful.