Your Kids Can Pop Bubbles to Their Hearts Content With This Fidget Toy From TikTok!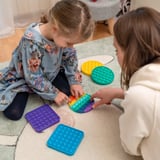 Bubble wrap is crushed within minutes in my house. Balloons are squeezed until they burst, bubbles are popped, squishy toys are squished, and what should be hours of entertainment is done over five minutes later if my toddler boys are concerned. What can I say? Poking, prodding, pushing, and popping things is just so much fun!
I'm not surprised at all that popping fidget toys are taking over TikTok. Several brands make this toy, but one of the best is the Nutty Toys Push Pop Bubble Fidget Toy ($6, originally $7) on Amazon. These sensory toys are designed for babies ages 2 months and up, but toddlers, older kids, and adults will all enjoy the surprisingly soothing sensation of popping the bubbles, then flipping over and popping on the other side.
TikToker @mrs.bench posted a video playing with one of these toys, in which she said, "Honestly, just pushing the little bubbles is super relaxing and calming." She posted another video explaining how this fidget toy can also be a two-player game!
I bought a bubble fidget toy for my 2-year-old, Liam, thinking my almost 4-year-old, Logan, might be too old for it. The first day, I gave it to Liam, and he popped the bubbles in the car for our entire 20-minute drive! Normally, I can only keep this kid happy in the car with snacks, music, or an iPad (even books don't hold his attention for this long). On the way back, Logan asked for a turn. He didn't want to give it up! At one point, I glanced back, and he was almost fully asleep - his fingers still casually popping the buttons.
In addition to making car rides smoother, I think this bubble fidget toy would also be super helpful during timeouts. I enjoy trying different timeout methods to help my kids calm down, so this toy would be another way to help de-escalate tantrums or tense situations. It would also be great for kids to play with a school to help them stay quiet and focused.
The Nutty Toys Push Pop Bubble Fidget Toy comes in rainbow colors, purple, yellow, black, green, or blue. You can also choose between the classic circle shape, or square- or octagon-shaped. It is made with chemical-free silicone, with a two-year manufacturer-backed warranty. According to Nutty Toys, "Squashing the buttons with your thumb or fingers helps you calm down and regain focus in even the most stressful of situations. Take your tiny friend everywhere." It is designed to help build fine motor skills and lessen anxiety in kids, and be a great stress reliever for adults. Other brands sell it in other shapes and colors, too!
As a mom, I'm obsessed with simple products that make a huge difference - like this squeeze-proof pouch and juice box holder - and this bubble fidget toy is no different. Even if your little ones don't seem interested at first, keep it around and try giving it to them at various times to see if they may be more interested while in the stroller or after nap time, for example. I'm planning on buying several more to have on hand while on-the-go and at home, and I wouldn't be surprised if you do too (I may even keep one in my purse to help with my own anxiety). Finally, a way for my kids to pop something to their heart's content - my kids and I couldn't be happier!