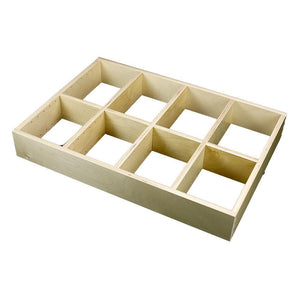 Organize:
Closet and bedroom dresser drawers for clothes organization.
Mudroom, laundry and garage cabinet drawers.
Collectors sectional display.
Commercial parts and product drawers.
Office and desk organizers.
Design Layout
Three fixed front to back divider making 4 sections, equal spaced between frame. (Side to side)
Includes 2 adjustable cross dividers with positioning pins that fit in holes for each section. (See additional photos) Allows you to create up to 12 cubicles per insert.
Construction
Constructed with UV clear cost finished 15 mm (5/8") Baltic birch plywood.
No bottom on this unit, sits directly on your drawer bottom.
Sides & Dividers are

 

screw fastened

 

to front and back components of frame. (Not as shown in main pictures)

All dividers and frame are 5/8" thick material.

Adjustable

 holes are 1 1/4" on center.
Dimensions:
Width range: 12" to 24"
Depth Range: 16 1/16" to 21"
Heights: Available in 2", 3", 4", 5", and 6". (Note: heights are product code specific in drop down list)