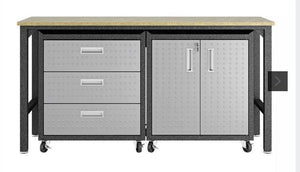 The Fortress Garage Collection gets its name for its durability, design, and craftsmanship. Included in the set is 3 highly functional units. The 2 Fortress Mobile Cabinets feature stainless steel swivel casters for easy mobility and a metal latch to lock wheels. Mobile cabinets also feature a space saving design as they fit perfectly under the Fortress Garage Table included in this set. Maximize your storage space with the Manhattan Comfort functional 3-Piece Fortress Garage Collection. Made with steel frames and textured doors. Available in Grey.

Mobile Diamond Shape Texture Steel 31.5" Storage Cabinet for Garage Use.
Upon Assembly, Cabinet Measures:30.3 in. Length, 31.5 in. Height, 18.2 in. Depth. Table Measures:72.4 in. Length, 37.6 in. Height, 20.5 in. Depth.
Includes 1 Mobile Garage Chest with 3 Full Extension Drawers, 1 Garage Cabinet with 1 Adjustable Shelf, and 1 Worktable.
Features Unique Door Lock and Key.
Stainless Steel Swivel Casters for Easy Mobility. Includes a Metal Latch to Lock Wheels.
Recessed Handle Features
Table Made of MDP Table Top with Melamine Finish and a Steel Frame and Base for Durability.
Home Assembly Required. All Hardware Included.
72.4 in. Length, 37.6 in. Height, 20.5 in. Depth
177 lbs
1 Year Manufacturer Warranty