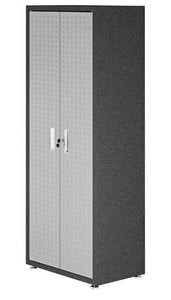 The Fortress 74.8 Tall Garage Cabinet gets its name for its durability, craftsmanship, and design. A highly functional unit, the cabinet boast three adjustable shelves and one fixed shelf concealed by two strong doors perfect for staying organized with ample storage space fit for all of your tools and garage accessories. Available in grey steel.
Diamond Shape Textured Steel 74.8" Storage Cabinet for Garage Use.
Upon Assembly, Measures:30.3 in. Length, 74.8 in. Height, 18.2 in. Depth.
Includes 3 Adjustable and 1 Fixed Shelf.
Features Unique Door Lock and Key.
Recessed Steel Handle
Wall Brackets Included for Product Durability.
Includes Stainless Steel Round Legs Lifted off the Ground.
Home Assembly Required. All Hardware Included.
Specifications: 30.3 in. Length, 74.8 in. Height, 18.2 in. Depth
Weight: 87 lbs
1 Year Manufacturer Warranty