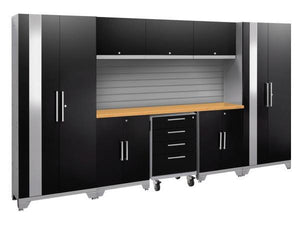 Get your power tools, seasonal decorations, gardening supplies and more organized with the Performance 2.0 Series cabinet system. With durable 24-gauge steel frames and strong double-walled doors, these cabinets are built to last, and they're fully-lockable, so you can rest easy knowing your valuables are safe. Easy-to-grab stainless steel handles give quick access to your items, and a frameless door design provides a clean, contemporary look to your space, with height-adjustable legs to accommodate for uneven garage floors.
Flip-up style doors on the Wall Cabinets allow for a wider opening for retrieving paint supplies, and cleaning items, while adjustable steel shelves in the Locker and Base cabinets give you a customizable storage solution, with plenty of room for all your belongings.
A rugged Bamboo Worktop gives you the room you need for gardening, crafts, and home repairs, while the undermount LED lights illuminate your space, providing plenty of work light. Durable steel cabinets, great for any space. With the Performance 2.0 Series Garage Cabinets, your home just got a lot more functional.
Product Features:
Your set includes: 2x Multi-Use Lockers, 1x Rolling Tool Drawer Cabinets, 2x Two-Door Base Cabinets, 3x Wall Cabinets, 1x 72 in. Bamboo Worktops and 1x 72 in. Backsplash Kits
High-strength steel Slatwall Backsplash adds style and utility to your cabinet set
Total Weight Capacities: Multi-Use Locker 800 lbs., Wall Cabinets 100 lbs., Rolling Tool Cabinet 600 lbs. and Base Cabinets 600 lbs.
Height-adjustable steel shelves accommodate different sized items
Built with 24-gauge steel frames and double-walled doors, with a powder-coat paint finish/li>
Doors are fully-lockable and have easy-to-grab stainless steel handles
Easy-to-clean and stain-resistant bamboo worktops
All fixed cabinets are designed to be secured to a wall to ensure safety
The Rolling Tool Cabinet comes with 4 in. anti-tip locking Casters, so you can safely move your tools to where you need them
132"w x 18"d x 75.25"h
560 lbs
Lifetime Limited Warranty